Trump was right to pardon Mike Flynn
Flynn was not a criminal. He was the victim of the Russia-collusion fantasy.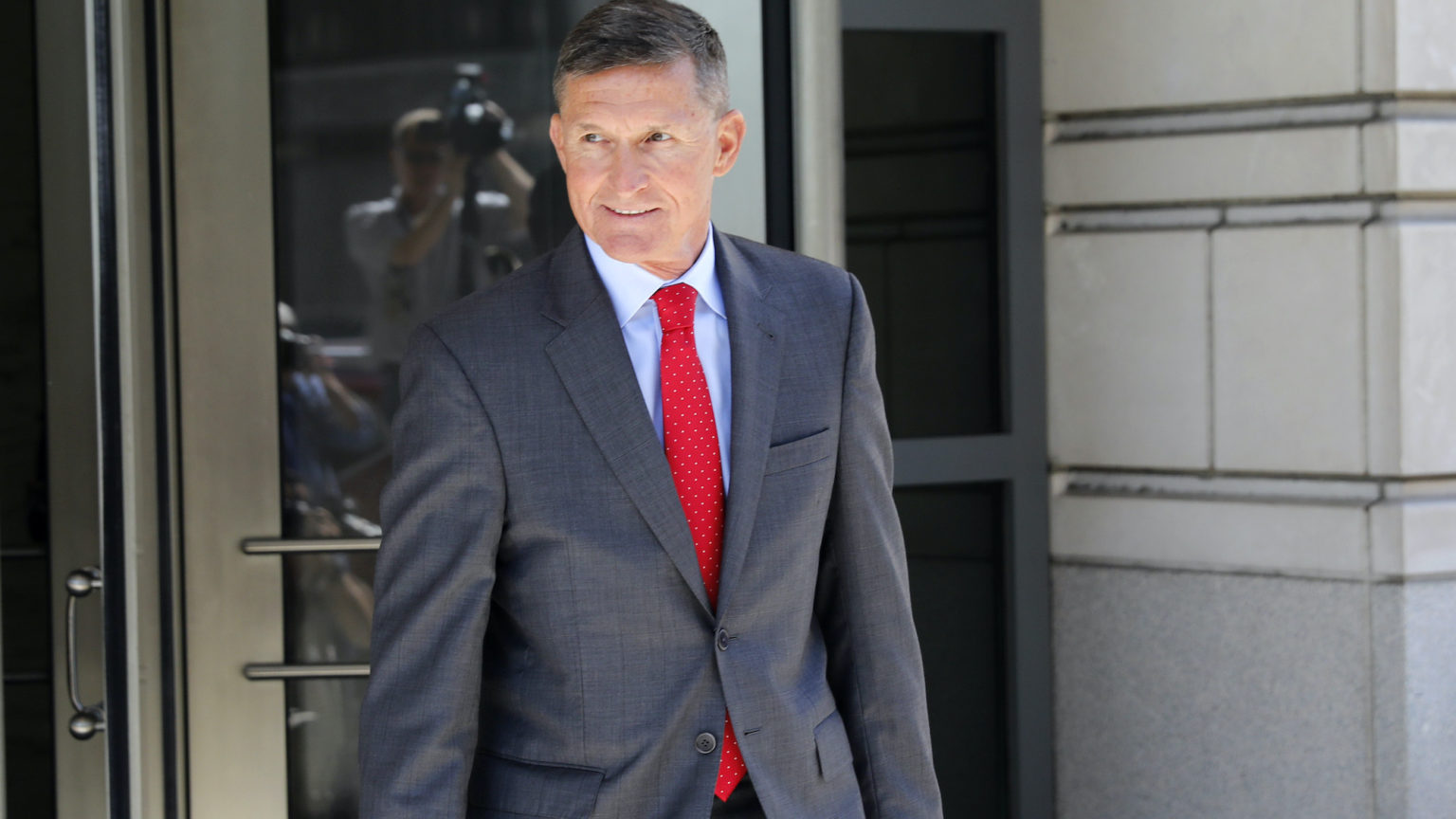 These elite conspiracy theorists just don't get it do they? Even now, they still refuse to accept that four years ago many Americans voted for Donald Trump because they – sincerely and in good conscience – wanted him to be president. It's not difficult to understand. People liked his talk of economic renewal. They appreciated his opposition to interminable conflicts overseas. And they shared his rejection of the neoliberal, globalist consensus, which benefited the professional and leadership class, but left many more immiserated and impotent.
But no, that's not what happened, say the anti-Trumpers dominating the media and political set. What happened was this: the Russian state hacked the election. It secretly and unlawfully worked, that is to say colluded, with the Trump campaign to get The Donald elected. Voters didn't elect Trump. Russia appointed him.
You would think they would have stopped spewing this conspiratorial bilge by now. After all, Robert Mueller's Special Counsel Investigation into Russian interference in the 2016 election revealed zero evidence of collusion. As US attorney general William Barr put it at the time: 'The investigation did not establish that members of the Trump campaign conspired or coordinated with the Russian government in its election interference activities.'
But no, it seems they can't let it go. Hence their demented response to Trump's decision to pardon his short-lived national security adviser Michael Flynn, who had pleaded guilty to lying to the FBI.
Nancy Pelosi, the speaker of the House, and a Russia Truther, called it 'an act of grave corruption and a brazen abuse of power'. Noah Bookbinder, executive director of Citizens for Responsibility and Ethics in Washington and a firm Russia collusionist, said Flynn's pardon 'once again shows that to Donald Trump, "law and order" does not apply to his wealthy white allies'. And House intelligence chairman, Adam Schiff, who has been one of the most prominent and disingenuous peddlers of the Russia conspiracy theory, compared Trump to a mafia boss, saying: 'This time he pardons Michael Flynn, who lied to hide his dealings with the Russians. It's no surprise that Trump would go out as he came in – crooked to the end.' Even Britain's resident Russia conspiracist, Carole Cadwalladr, contributed her cynical two penneth: 'Flynn walks free. Because of course he would.'
Unusually, Cadwalladr is right. Of course Flynn would walk free. That's because he did nothing wrong. He didn't 'lie to hide his dealings with the Russians', because his dealings with Russian officials were entirely typical of an incoming administration anxious to avoid an international conflagration during its first few weeks in office.
This really is what happened. In December 2016, a month after Trump had won the election, outgoing president Barack Obama decided to expel over 30 Russian diplomats, and impose a new raft of punitive sanctions against the Red Menace as retribution for its supposed election meddling. This was a rash, provocative and distinctly unhelpful action by Obama. So on 29 December, Flynn, at the behest of transition officials, spoke to one of Russia's most senior diplomats in the US at the time, Sergey Kislyak, in an effort to ensure Russia did not overreact to Obama's measures and, in Flynn's words, 'escalate' tensions. Which all sounds entirely sensible.
The problem for Flynn was that the FBI, spurred on by its then director James Comey, who was convinced that Russia had delivered the White House to Trump, was monitoring and recording Flynn and Kislyak's interaction. Even then, it was not clear what exactly Flynn was doing wrong. Yes, he might have technically been violating the Logan Act of 1799, which prohibits private citizens from interfering in diplomatic relations between the US and a foreign power — an act so arcane no one has been successfully prosecuted under it. But Flynn wasn't simply a private citizen – in a matter of days, he was to occupy one of the most important foreign-policy positions in the new administration.
Yet such was the political- and media-class animus towards Trump, such was the growing conviction that Russia was to blame for his victory, that the FBI felt empowered to pursue Flynn, no matter how dubious the rationale. So FBI officials called Flynn in for questioning, not over the Logan Act, but with the avowed intention it seems, as one official noted at the time, 'to get him to lie, so we can prosecute him or get him fired'. This they did by asking him what he said – even though they knew what he'd said because they had secretly recorded it – and checking for any discrepancy – the 'lie' – which they duly found. (Although even then, FBI operatives stated that 'Flynn was cooperative and provided truthful answers'.)
Then, after Flynn had given vice president Mike Pence his version of the Kislyak conversation, the FBI shockingly leaked to the determinedly anti-Trump press the discrepancy between Flynn's recollection and what was actually said. Flynn was then duly fired by Trump for lying to Pence in February 2017. And so the FBI and the broader state apparatus not only had the scalp of a senior Trump official, they also had fuel for the Russian fire they were determined to keep alight under Trump.
The response of the political and media class was even more shocking. Here was the FBI, a key part of the state security apparatus, surveilling, monitoring and rounding up an official appointed by an elected representative. And anti-Trump journalists and politicos, so deranged were they by Trump's victory, were busy cheering it on. As Weekly Standard founder Bill Kristol tweeted at the time, 'Obviously strongly prefer normal democratic and constitutional politics. But if it comes to it, prefer the deep state to the Trump state.'
It was not until the end of 2017 that Flynn, as part of the Mueller investigation, pleaded guilty to lying to the FBI. By that point, in the full heat of the Mueller crusade, what choice did Flynn have? He was technically guilty, even if he had effectively been entrapped. Better plead guilty in return for a lesser sentence than fight on and be punished more severely.
That was then. Nearly three years on, so much has come to light, from the innocuous details of Flynn's confab with Kislyak to the methods of the FBI, that Flynn's pardon always looked inevitable. Comey himself admitted in 2018 that he 'probably wouldn't have done or maybe gotten away with' the interrogation of Flynn without the White House's permission in a more organised administration.
Yet it seems the likes of Schiff or Pelosi in the US, and our retinue of blue-ticked, Brexit-hating conspiracy theorists in the UK, won't ever be able to accept the pardoning of someone like Flynn. To do so would require them to be honest with themselves. It would mean admitting that the fantasy of Russia collusion, which they invented to comfort and motivate themselves after Trump's victory, was always exactly what we now know it to be: utter bollocks.
Tim Black is a spiked columnist.
To enquire about republishing spiked's content, a right to reply or to request a correction, please contact the managing editor, Viv Regan.