Dissent is not a personality disorder
Concerns about the lockdown's effects on life, liberty and prosperity have been pathologised.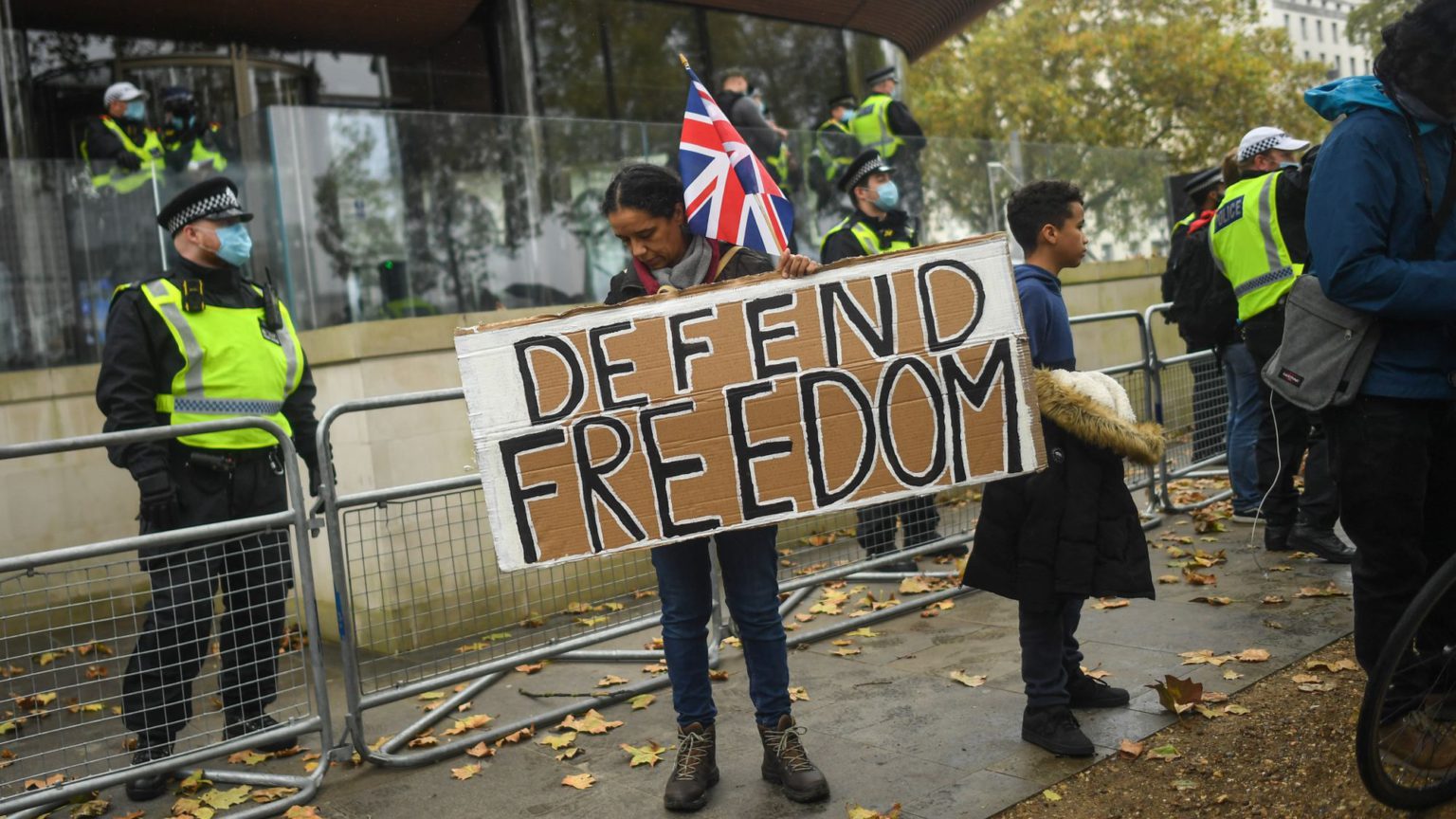 In the (first) year of Covid, the line between science and politics has become dangerously blurred.
Early on in the course of the pandemic, 'following the science' became a mantra for a government which had abdicated decision-making responsibility to a small group of academics and researchers. These experts represented – and continue to represent – only one particular viewpoint from within their professions. Despite how things often seem, there is no consensus on how best to deal with Covid.
Political doctrines and dogmas are asserted as scientific facts to justify ever-greater restrictions on our liberties. For all that conspiracy theorists are propagating absurd claims about the virus – that it is part of a global plan for a reset to 'Year Zero', for example – the pro-lockdown media are churning out their own outrageous claims.
One of the latest examples is a report which purports to show that resistance to Covid safety measures, such as wearing masks, is linked to antisocial character traits. It has been seized on by media outlets across the globe as 'proof' of the correctness of Covid authoritarianism.
The study asked participants to complete a survey assessing their 'affective resonance' – how they react to feelings provoked by another person. It also asked questions about their general behaviour, and specifically about compliance with Covid measures. It then split the respondents into two categories: an antisocial one (people who resist measures) and an empathy one (those who do not).
Those in the antisocial group were apparently more likely to show 'callousness', 'deceitfulness' and a high level of 'irresponsibility' and 'risk-taking'. The study helpfully added that these traits are 'typically present in people diagnosed with Antisocial Personality Disorder (ASPD)'.
So there you have it: people who don't support Covid restrictions probably just have a mental disorder. It's nothing to do with concerns about liberty or the economy, or their need for genuine social interaction. No, they're just mad.
This report is far from the only case. The pathologisation of Covid dissent is widespread. One psychiatrist no doubt spoke for many lockdown enthusiasts when she suggested that 'impotent personalities' and 'magical thinking' are some of the reasons people don't wear face masks.
We have all seen the videos of furious commuters lambasting others for failing to wear masks, treating them as if they are the epitome of evil. We will all remember Matt Hancock's manipulative message, 'don't kill your gran', and those digital Covid billboards showing vulnerable elderly people, implying those going against the rules are opting to kill them. The #Covidiots hashtag, too, is borne of a view of any non-compliant person as unthinking and undeveloped, unable to understand how human society works.
This is not, of course, a wholly new development. Though the medicalisation of dissent has escalated over the past year, it has been with us for some time.
The proliferation of 'phobias' – Islamophobia being among the most demonstrative – is a case in point. Here, disagreement is characterised as irrational fear, hatred and bigotry. Those who criticise Islam – as anyone is entitled to do in a free society – are seen as suffering from some kind of mental failing, who need not be taken seriously. They are equated with racists, presented as paranoid, spiteful and – usually – unable to think properly.
The same is true of 'transphobia' and 'fatphobia' – believing in biology has, paradoxically, started to be depicted as a frantic, reactionary attempt to deny an upsetting reality.
The use of the term 'denier' in distinctly political contexts is part of the same trend. Labelling those who disagree with any aspect of the environmental lobby's exact prescription for how to deal with climate change as 'deniers' paints them as people rejecting obvious facts – as people unable to engage with the real world, and therefore afflicted by a mental obstruction. Why would anyone engage with such neanderthals?
Whatever the subject, these kinds of characterisations prevent genuine debate. By depicting your opponents as mentally ill, stupid or suffering from a personality failing, you can avoid discussing their concerns. It is an incredibly regressive way to go about politics, and it inevitably provokes a backlash. And yet, it intensifies with every passing year.
We cannot allow dissent to be rebranded as a disorder.
Paddy Hannam is a spiked intern. Follow him on Twitter: @paddyhannam.
To enquire about republishing spiked's content, a right to reply or to request a correction, please contact the managing editor, Viv Regan.