No, the Proud Boys are not white supremacists
There are good reasons to dislike these 'Western chauvinists'. But racism is not one of them.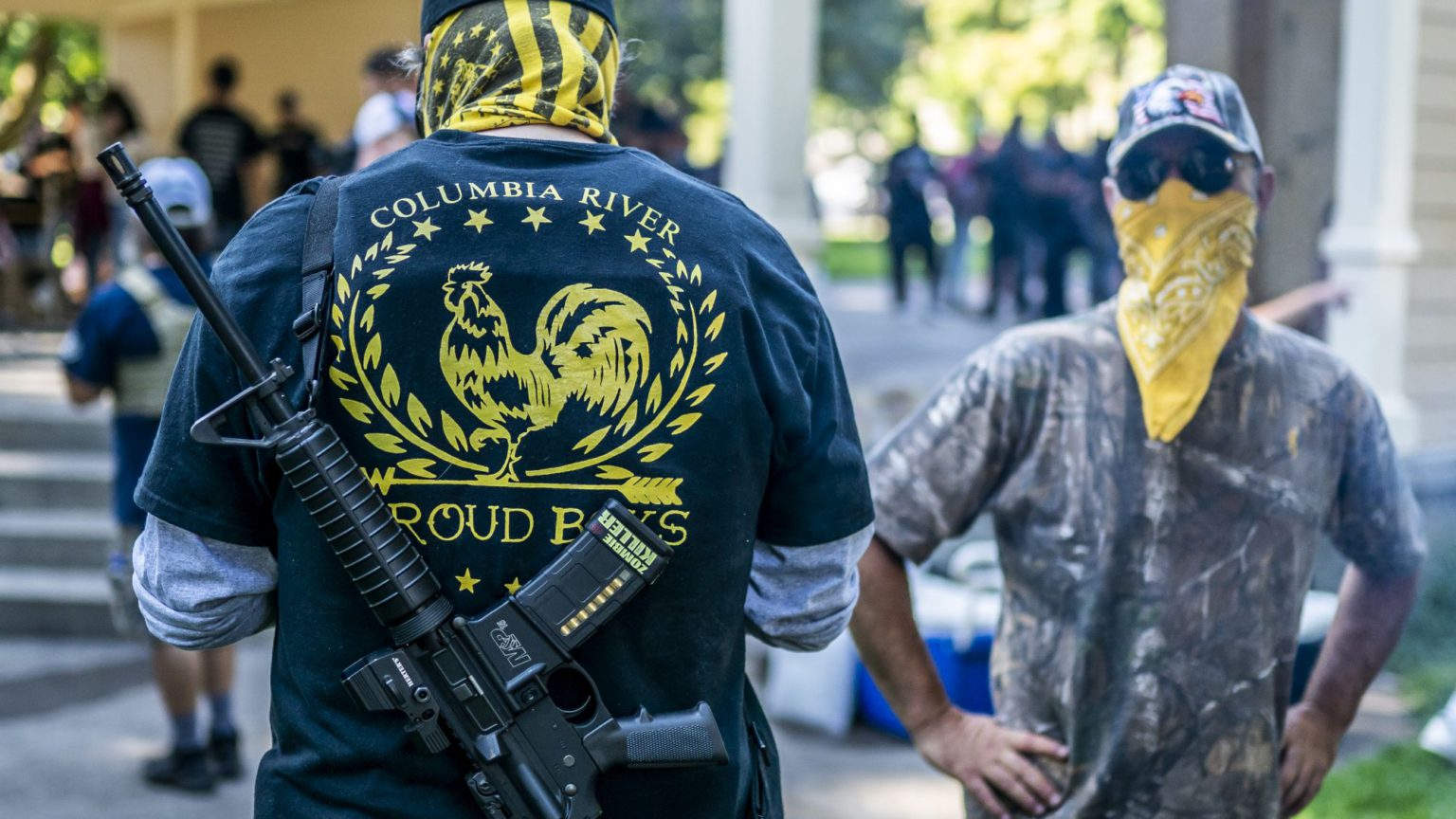 I can't say there's a hill I'm willing to die on. But there are hills I am willing to walk away from with a limp.
I received my latest limp on behalf of the Proud Boys. And I'm not even a member. I just had the temerity to point out that Antifa's archnemeses, the Fred Perry-wearing Western chauvinists, are not white supremacists.
What I've learned is this: if you are convinced the Proud Boys are white supremacists, you won't care to find out that they're not. That certainly seems to be the case for assorted news–media outlets, not to mention some of my friends on Facebook.
The link between white supremacism and the Proud Boys was established during the first presidential debate of 2020, when Fox News moderator Chris Wallace asked Donald Trump if he would condemn white supremacists and militia groups, and Joe Biden followed up by asking him to condemn the Proud Boys specifically. Thus linked to white supremacists and militia groups, the Proud Boys were found guilty by association.
Admittedly, Trump's response – 'Proud Boys, stand back and stand by' – didn't help. Although in a follow-up interview Trump denied even knowing who the Proud Boys were, and edited his command to 'stand down and let law enforcement handle things'.
That debate feels like forever ago now. Since then, Trump has contracted and defeated Covid-19. He is now apparently 'feeling so powerful' that he was up for kissing 'the guys and the beautiful women' at a recent rally in Florida. There was even a vice-presidential debate along the way.
So you might have expected that brief Proud Boys moment to have faded into the infinite scroll of social-media history. But like the fly that outshone Mike Pence and Kamala Harris in the vice-presidential debate, the Proud Boys continue to buzz around my social-media feeds.
On the Proud Boys' official website, 'white supremacy' is not listed among the group's tenets. In fact, according to the website, the 'core values of the Proud Boys', include 'anti-racism' and, in clearly stated language, a refusal to 'discriminate based upon race or sexual orientation / preference'. I guess one could argue that this is exactly what a group of white supremacists would put out if it didn't want the world to know its members were a bunch of white supremacists. But then how would said white-supremacist group attract further white supremacists to its cause?
The Proud Boys are not relying on their website to set the record straight. In Salt Lake City, Proud Boy Thad spoke 'on behalf of the entire national organisation', and said the Proud Boys 'denounce white supremacy'. This was during a joint news conference with a leader of a local Black Lives Matter chapter. The international chair of the Proud Boys, Enrique Tarrio, has also been vocal about the group's anti-white-supremacy stance.
Tarrio is Afro-Cuban and, while I don't know how Thad identifies, he certainly doesn't look white. If you search for photos of Proud Boy members you'll notice that there sure are a lot of black, brown and Asian men in their ranks. Perhaps even white-supremacist groups have diversity-and-inclusion quotas.
When I've brought this up with Proud Boy truthers, I've been met with some of the most torturous twists of logic and analogies. Didn't I know that the Aryan Brotherhood will sometimes work with Mexican cartels on drug deals? Hadn't I read that article in the Daily Beast about 'Why young men of colour are joining white-supremacist groups'?
One guy I was arguing with went so far as to share a picture of a black Confederate soldier, and followed that up with an article about Jews who collaborated with the Nazis during the Second World War. It is as if they believe racist history is repeating itself, albeit in the form of a diverse group of men who voluntarily get together to drink beer, get into street fights and try not to jerk off. I wonder what the #NoWanks equivalent was for the Southern slave who, in the last days of the Civil War, was forced to don the grey uniform and fight for the Confederacy?
I wish people would try unsheathing Occam's razor every once in a while, and accept that the reason for the Proud Boys not being discernibly white supremacist is that, well, they're not white supremacist. This group you so dislike does not have to hold every hateful belief for you to dislike it.
If you're so inclined, I'm sure you can find plenty about the Proud Boys to hate without having to make shit up about them. They don't have to be white supremacists or homophobes for you to think they're dicks. That way, if you're ever called upon to condemn them, at least you'll be condemning them for the right reasons. Then it's up to you whether to die on that hill.
To enquire about republishing spiked's content, a right to reply or to request a correction, please contact the managing editor, Viv Regan.