Locked down Spain is like a one-party state
Local and national governments bicker over technicalities, but the lockdown itself is never questioned.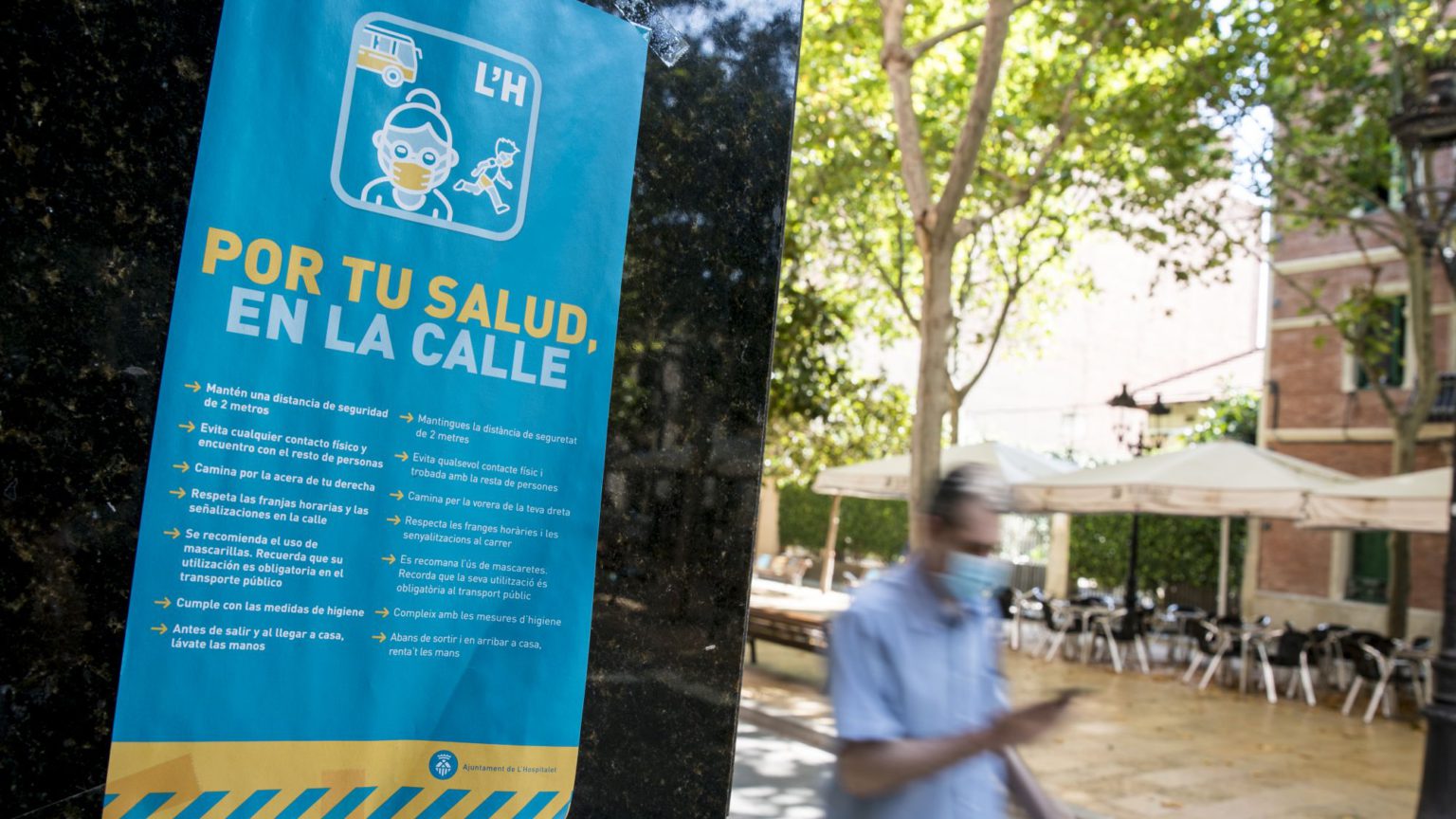 In the days before Spain's October national holiday, Fiesta Nacional de España, tensions between the national and regional governments over new lockdown measures came to a head. This time around, the conflict was largely played out between Socialist Party prime minister Pedro Sánchez and Isabel Díaz Ayuso, Madrid's regional premier from the conservative Popular Party.
In the weeks before the October fiesta, negotiations took place between the central government and the regions to establish new lockdown strategies. An agreement was reached to impose a new series of lockdown measures for regions and municipalities with infection rates above 1,000 per 100,000 people (although this is not the only indicator that can lead to lockdown). Despite this agreement, Ayuso rejected the imposition of the new measures on Madrid, warning that a Madrid-wide lockdown would be an economic 'disaster'. Lockdown this year had already cost the local economy over €6 billion. She said that Madrileños were being held hostage, holding 'the engine' of the Spanish economy back from recovery. That said, she agreed to uphold the measures in spirit, while contesting their legality through Madrid's high court.
The court returned its verdict at noon last Thursday. It seemed to vindicate Ayuso. While the court supported the need for measures, it rejected the legal framework used to apply them. Restrictions on mobility, the judges found, affect fundamental rights that can only be curtailed with legislation backed by parliament.
Following the verdict, Sánchez told Ayuso that unless her government put forward its own lockdown restrictions for Madrid, he would impose a new state of alarm on the region. Ayuso promised to propose new 'sensible, fair and balanced' measures.
Sánchez issued a high noon-style deadline for a 'detailed plan of restrictions' from the Madrid government. He was keen to find a resolution to the conflict before the holiday weekend, fearing a three-day mass migration from Madrid to the rest of the country if no restrictions were in place. The hours passed and the silence from Madrid was deafening. The deadline came and went without a peep from Ayuso and a new state of alarm was imposed by Sánchez at 5pm on Friday 9 October.
While there are certainly tensions between regional and local governments over the handling of the pandemic, what disagreements exist are merely technical in substance. All the parties in congress have proven their commitment to the elite's lockdown ideology. Lockdown has not been challenged in principle and no one has proposed an alternative vision or strategy. What divisions exist between the national and regional governments are largely questions of party politics.
However heightened this episode between Sánchez and Ayuso may appear, this is no assault on local democracy by the central government. It is an assault on the public and national democracy by both. The public disagreement between Sánchez and Ayuso is more analogous to a boardroom spat between people who fundamentally agree. It is a 'blip' in an otherwise consensual pact.
Nevertheless, even Ayuso's minor dissent from lockdown orthodoxy was met with outrage. An editorial in Spain's biggest-selling daily newspaper, El País, was quick to stomp on anything that even had a whiff of opposition to the lockdown consensus. 'Failure to apply these measures means giving the virus new opportunities for transmission, which means more infections, more hospital admissions and more deaths', it declared. Taking the central government to court was 'obstructionist… irresponsible and reckless'. Health minister Salvador Illa of the PSOE added, 'We do not want people in the intensive care unit'. Ayuso's opposition was over mere technicalities, but it was still enough to invite the wrath of the elite.
Meanwhile, the government's authoritarian Covid strategy shows no signs of softening. While we may not be locked down in our houses for 24 hours a day like in March, we are certainly locked in to never-ending restrictions that are having disastrous consequences.
The daily 'death-o-meter' count, which was broadcast every day during the height of the pandemic, has been superseded by a daily tally of those infected. It is presented in exactly the same ghoulish manner, so one could be forgiven for not knowing that there is a world of difference between a case and a death. Hysteria remains a constant. Our political elite is increasingly succumbing to Covid psychosis. Every day politicians make barely concealed threats. If you don't behave and do as we say, goes the message, you will be locked down and you will pay the price.
The only debate allowed is between continuing regional lockdowns and a full national lockdown. The national lockdown may be over, but we have leapt out of the frying pan and into the fire. Total lockdown (national economic hibernation, as it was called) has morphed into an economic, democratic and social crisis of epic proportions. Both are equally unsustainable and both have devastating consequences. The health consequences alone are likely to eclipse the disaster of Covid in the long term. Worse still, neither strategy will rid Spain of the virus.
The current dead-end 'whack-a-mole' strategy, and the constant looming threat of another national lockdown, guarantees a long, hard and debilitating year ahead, with only a recession to look forward to. The public deserves so much better. In the absence of established political leadership, Spain needs real dissenting voices.
Alex Cameron is a writer and designer based in Madrid. Visit his blog here.
To enquire about republishing spiked's content, a right to reply or to request a correction, please contact the managing editor, Viv Regan.