No, the government has not banned anti-capitalism from schools
The outrage over the government's new guidelines shows how politicised education has become.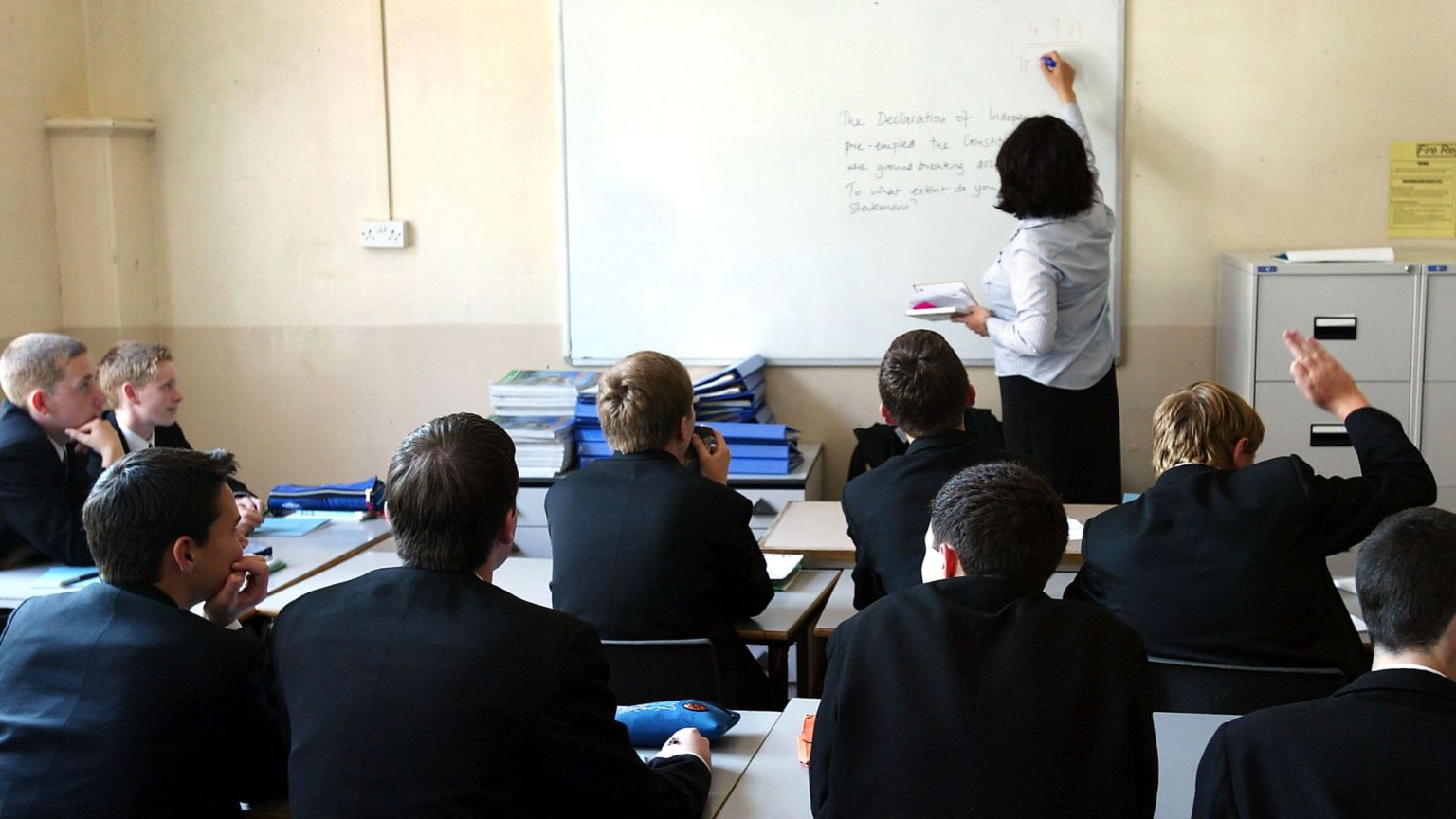 'Is it fascism yet?', US commentators ask whenever Trump opens his mouth. In the overactive imaginations of those panicking over the prospect of a second Trump term, fascism is on the rise. Unsurprisingly, then, the launch of Trump's '1776 Commission', a White House investigation into the teaching of history, and a direct response to the 1619 Project set up by the New York Times, is taken as conclusive proof that 'America is spiraling toward fascism'.
The f-word is increasingly used to describe developments in the UK, too. Boris Johnson is a 'proto-fascist', according to former shadow chancellor John McDonnell. Meanwhile, a handful of thugs harassing asylum seekers is taken as evidence of imperial British fascism. So when the Department for Education (DfE) last week warned schools against using 'resources produced by organisations that take extreme political stances on matters', and defined 'anti-capitalism' as one example of an extreme political stance, the 'fascism' klaxon sounded loudly.
McDonnell was again quick off the mark. 'This is another step in the culture war and this drift towards extreme Conservative authoritarianism is gaining pace and should worry anyone who believes that democracy requires freedom of speech and an educated populace', he said. Labour's Beth Winter described the new guidance as 'sinister and alarming'. But McDonnell then went beyond hinting at fascism to offer his own interpretation of the guidance: 'On this basis it will be illegal to refer to large tracts of British history and politics including the history of British socialism, the Labour Party and trade unionism, all of which have at different times advocated the abolition of capitalism.'
McDonnell's word was soon taken as law. A writer at the Canary tweeted: 'Under new guidelines the Johnson government is banning from schools in England works by William Godwin, William Morris, JB Priestley, Noam Chomsky, Jean-Paul Sartre, George Orwell and many others who critiqued the economic model of the established order.' Author and broadcaster Stuart Maconie joined in: 'So ironic that this would mean no teaching George Orwell.' Teachers everywhere bemoaned a ban on teaching poets like Wordsworth, Shelley and Coleridge and topics like the Peasants' Revolt, the trade-union movement and Marxism in history. The parallels between Trump and Johnson wrote themselves: two demagogues implementing fascism through the school curriculum.
Banning Animal Farm from English lessons and the Russian Revolution from history classes would indeed be truly alarming. But this is not what is happening. John McDonnell is simply wrong and the fearmongers on Twitter are spreading fake news. The new curriculum guidance says nothing about English or history – it refers specifically to 'relationships, sex and health education'.
It is in this context that the DfE warns against the use of resources produced by organisations that: desire to abolish or overthrow democracy or capitalism, or to end free and fair elections; that are opposed to free speech; that use racist language; and that endorse illegal activity. More specifically, the guidance warns that children should not be led to believe that their preference for particular clothes or toys means they may have a different gender identity. It all comes with a reminder that teachers should note their duty to impartiality and the need for a balanced treatment of political issues in the classroom.
The DfE's new guidance fires a warning shot to schools that uncritically endorse groups like transgender children's charity Mermaids or Black Lives Matter. And, sadly, this is needed. For too long the DfE itself has forged links with certain organisations and allowed them to influence directly what children are taught in relationships and sex education classes. In turn, too many school leaders see inviting LGBTQ activists to speak to pupils as a quick and easy way of ticking a diversity box. Lessons in gender, relationships and, most recently, race and racism, are rarely prompts for debate but an opportunity to inculcate particular values.
English teachers can still teach Orwell and Shelley. Indeed, I wish they would: Priestley's An Inspector Calls seems to be 2020's ubiquitous choice. And history teachers can still cover the Russian Revolution and the Chartists. Good teachers will encourage children to engage with literature and other resources before thinking critically about the text and about their own society. This bears no resemblance to treating children as a captive audience for your own views.
There should be no need for government ministers to spell out which organisations or resources can and cannot be used in schools. Teachers should be trusted to decide what's appropriate for their pupils. But this depends on there being a clear distinction between education and indoctrination, between teaching and activism. The blurring of the boundaries between these activities is not the fault of teachers alone. The very existence of relationships and sex education – a made-up subject that is entirely about influencing children's behaviour and deliberately altering their views – lends itself to imposing values and political perspectives. Worse, when traditional subjects like English and history are no longer seen as worthwhile for their own sake, they too become hollowed out receptacles for political objectives.
The government should not be dictating acceptable resources for teaching. But rather than crying fascism over made-up edicts and bad-faith interpretations of guidance, let's campaign to scrap the whole notion of relationships and sex education. Then children would have more time to learn and think critically about all kinds of topics – even anti-capitalism.
Joanna Williams is a spiked columnist and director of the think tank, Cieo.
To enquire about republishing spiked's content, a right to reply or to request a correction, please contact the managing editor, Viv Regan.