How John Hume paved the way for peace
He gave Catholics and nationalists hope when everything seemed dark.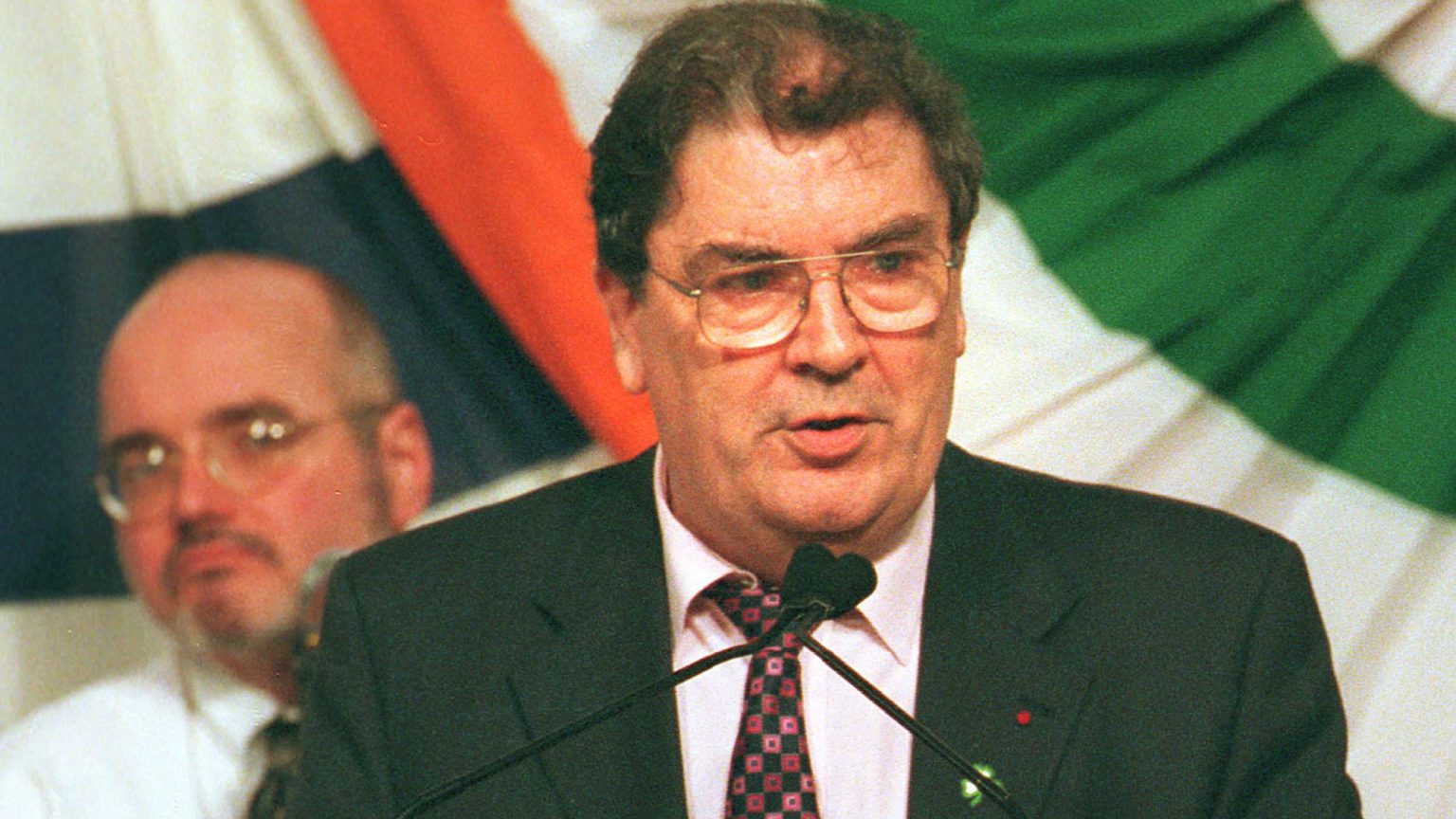 John Hume, who died yesterday, stepped down from frontline politics 16 years ago. He was old and frail, and his once brilliant mind had been ravaged by dementia. Hume stands as a giant in the pantheon of Irish constitutional nationalism, alongside the likes of Daniel O'Connell and Charles Stewart Parnell. Expressed in more simple terms by my late mother, 'He was the man who gave Catholics and nationalists hope when everything around seemed dark'.
Hume was born in 1937 into a sectarian Northern Ireland state in a partitioned Ireland. Catholics like him faced blatant social injustice in every walk of life. Institutionalised discrimination in housing, jobs, policing and voting rights were the norm. In his own city of Derry, where the majority of the population were Catholic, gerrymandering ensured Unionist rule. To paraphrase Unionist prime minister Sir James Craig, Northern Ireland was a Protestant state for Protestant people.
Long before the 'Troubles', John Hume wrote about the sense of alienation and hopelessness Catholics felt from sectarian discrimination – made worse by the fact that the British government chose to do nothing about it. Catholics also felt deserted by Irish governments who appeared to have abandoned northern nationalists to their fate. As Hume was growing up, he also observed leaders of constitutional nationalism in the north who seemed wearily resigned to this bleak fate and were lacking in energy or vision to change things for the better.
At this stage, a young John Hume had already entered the seminary to prepare for the priesthood, though he left to become a teacher. In 1964, he wrote several articles critiquing the state of constitutional nationalism in the north. Hume argued that while Irish unity was desirable in itself, it also had to embrace ideas of social justice, social democracy and reconciliation. In effect, he was arguing for what would these days be described as civic nationalism. His mantra at the time was that 'you can't eat a flag'. Having witnessed his mother and sisters borrowing from ruthless loan sharks and pawnbrokers, he set up the first credit union in the north – a lifeline for poor people that exists to this day. Anticipating one of the issues at the heart of the civil-rights movement of the late 1960s, he also got involved in a housing association in Derry, fighting to tackle the chronic shortage of housing for Catholic families.
Hume became a prominent civil-rights figure, alongside Eamonn McCann and Bernadette Devlin. While the tactics of the civil-rights movement were explicitly peaceful, TV cameras from around the world repeatedly captured unarmed civil-rights protesters being beaten senseless by the Northern Irish police and attacked by loyalist mobs. As civil disturbances began to spiral out of control and violence increased, a fundamental question faced nationalists in the six counties at the turn of 1970s: should they continue campaigning peacefully for civil rights or resort to the use of force?
Two men, living just streets away from each other, pondered that question and came to very different conclusions. John Hume insisted on the non-violent path, citing the arguments of Martin Luther King and Gandhi. His young neighbour, Martin McGuinness, influenced by the rising tide of anti-imperialist struggles sweeping the world, opted for armed struggle. In August 1970, John Hume formed the Social Democratic and Labour Party (SDLP) to peacefully campaign for equality, reconciliation and a United Ireland. Eight months earlier, the Provisional IRA had formed with the aim of ending British rule and uniting Ireland through armed struggle. The trajectories of these neighbours capture the history and tensions within Irish nationalism.
Hume was able to give northern Catholics hope that they could achieve equality. He was able to tap into Irish America and succeeded in persuading President Bill Clinton to make the fate of Northern Ireland a key issue of his presidency. He used his time as an MEP to good effect by building alliances with the EU and managing to involve the Dublin government in speaking up for the interest of nationalists in the north. His SDLP established fraternal links with the British Labour Party. He used all this influence to shine a spotlight on the discrimination faced by Catholics in the north and made it impossible for British politicians to deny the reality.
The three major attempted peace settlements in the north were the Sunningdale Agreement (1973), the Anglo-Irish Agreement (1985) and the Good Friday Agreement (1998). All three of these had John Hume's imprimatur – particularly the Good Friday Agreement.
Well known for his ability to relate to ordinary people, Hume's intellectual contribution is less recognised, but he was one of the few intellectuals involved in Irish or British politics. In many ways, the ideas he had developed in his younger life were way ahead of his time and became hugely influential in establishing the nature of the peace agreements he negotiated. For years he argued that the problem was less a physical border in Ireland, and more the division in people's minds. He long argued against 'binary identities' of British or Irish and for 'multiple identities' which could be held and celebrated alongside each other. Concepts like inclusivity, parity of esteem and consociationalism, which are written into the DNA of the peace process, are largely Hume's work.
As far back as the early 1980s, with the Field Day Theatre Company and intellectuals like Seamus Deane, Brian Friel and Seamus Heaney, Hume was exploring the concept of transcendence and a 'fifth province'. This was an attempt to overcome the conflicting claims of British and Irish territorial sovereignty over the six counties. Today, Northern Ireland is no longer like any other part of Britain. People can choose to be Irish or British, or both, can hold one or both passports, and the Republic of Ireland has the right to be consulted and have a say in the north's administration.
When Hume engaged in controversial talks with Gerry Adams and the IRA, he was excoriated by Unionist and British politicians for 'talking to murderers'. But it was these talks that paved the way for the IRA ceasefire and an end to the conflict. In a great piece of footage shown on BBC News after his death, Hume responded to those who criticised him for talking to the IRA by saying, 'I don't give two balls of rusted snow what they say' – a refreshing reminder that some politicians put conviction before media ratings.
The republican movement and the SDLP were fierce enemies, and Hume was unsparing in his criticism of IRA violence. But he lived among republicans. In the communities of Derry, like the Bogside, Creggan and Shantallow, IRA volunteers were highly regarded by many. He knew they were not mindless murderous terrorists, as they were depicted in the British media, and he did not descend to that language. Hume knew the conflict was not a simple matter of good versus evil. It was this awareness of the nuances and complexity of the conflict that led to his conviction that there could never be a military solution, and that any settlement would have to include the republican movement.
Today Irish nationalism in the north is confident, assertive and optimistic about the future. The days of a fractured, subdued and broken Irish nationalism which John Hume wrote about in the 1960s are long gone. Equality has been achieved and, within the next 10 years, there will almost certainly be a border poll on Irish unity. Tomorrow's historians will, I think, judge the historical legacy of both Hume and McGuinness as a positive one. As a republican, there was much I disagreed with in the politics of Hume's SDLP. But it would be churlish of his political opponents to fail to recognise his intellectual and political contribution to politics and to peace in Ireland.
Let me leave the last word to my late mother, who was one of Hume's great admirers for the simplest of reasons, but one that still matters in all politicians: 'He is a good man with a good heart.'
Kevin Rooney is convenor of the Academy of Ideas Education Forum and co-author of The Blood-Stained Poppy.
To enquire about republishing spiked's content, a right to reply or to request a correction, please contact the managing editor, Viv Regan.