Calm down about the Brixton marchers
Those black-clad demonstrators were more cosplayers than paramilitaries.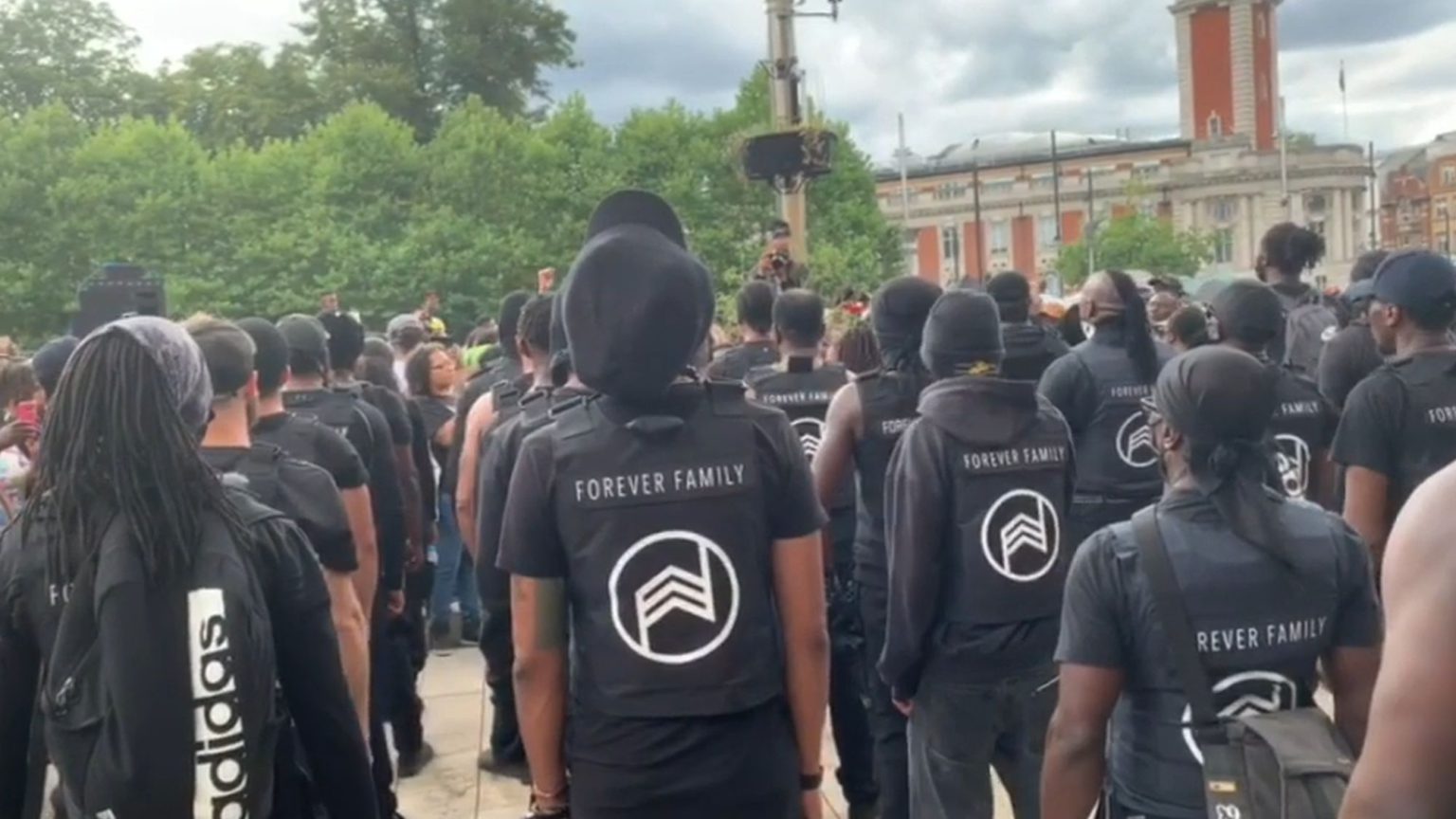 If Nigel Farage is to be believed, south London was the site of the birth of a dangerous new group on Saturday. 'Terrifying scenes in Brixton today. A paramilitary-style force marching in the streets', he tweeted. 'This is what the BLM movement wanted from the start and it will divide our society like never before.'
Terrifying scenes in Brixton today.

A paramilitary-style force marching in the streets.

This is what the BLM movement wanted from the start and it will divide our society like never before.https://t.co/7bfaSIelCM

— Nigel Farage (@Nigel_Farage) August 1, 2020
He was referring to what looked like two or three dozen people, wearing black stab vests, and one wearing a balaclava, who marched as part of the bigger annual Afrikan Emancipation Day march in Brixton on Saturday. The vests had 'FF Force' printed across the front – 'FF' apparently standing for 'Forever Family'.
Images of the group swiftly went around social media, and clips surfaced of them marching in formation and doing some military-style drills – albeit with slightly patchy execution and very hokey chants. (One call and response number went: 'I don't know what you've been told / Family is taking back our turf.')
Details of exactly what this group is, what its aims are, and who make up its membership, are thin on the ground. All the Daily Mail could turn up on this 'secretive' group was that it had posted about community organising and supporting black-owned businesses on its largely private social-media accounts.
Meanwhile, The Times found that Forever Family Ltd was incorporated on 20 June this year and that its director, 28-year-old Khari McKenzie, had previously been involved in a group that would respond to incidents of gang violence by appearing in those areas dressed in stab vests and urging residents to 'reclaim the space'.
Saturday's march passed largely without incident. Conditions were put on the protests to stop groups (reportedly including Extinction Rebellion) who planned to block the road, and three arrests were made for violence. One video is doing the rounds of a couple of protesters (not in FF gear) shouting at the police. But that's about it.
This Happened today in Brixton today

More of the video here 👇🏻👇🏻 https://t.co/ChATAukzhZ pic.twitter.com/GluT5Td2vi

— London & UK Crime (@CrimeLdn) August 1, 2020
That this has been blown up into a 'paramilitary-style march', led by an 'organised militia', has more to do with the overexcited imaginations of some commentators than what actually seems to have happened. Some are even demanding the group be prosecuted for breaking the 1936 prohibition on political uniforms.
Maybe FF Force will yet prove itself to be a violent BLM offshoot. But more likely it is engaging in a bit of radical cosplay, more Beyonce at the Super Bowl than the Black Panthers at Sacramento; like that plonker who has been running around Oxford in a black beret recently, and was one of those shouting at the cops in Brixton on Saturday.
As is so often the case with woke identitarians, these groups are more tragic than they are terrifying. No one will benefit from blowing them up into something they're not and demanding a tougher line on protests in response to a few dozen posers.
Picture by: YouTube.
To enquire about republishing spiked's content, a right to reply or to request a correction, please contact the managing editor, Viv Regan.