Keep masks out of the classroom
Teaching unions want to force children to wear masks. This inhumane policy will damage education.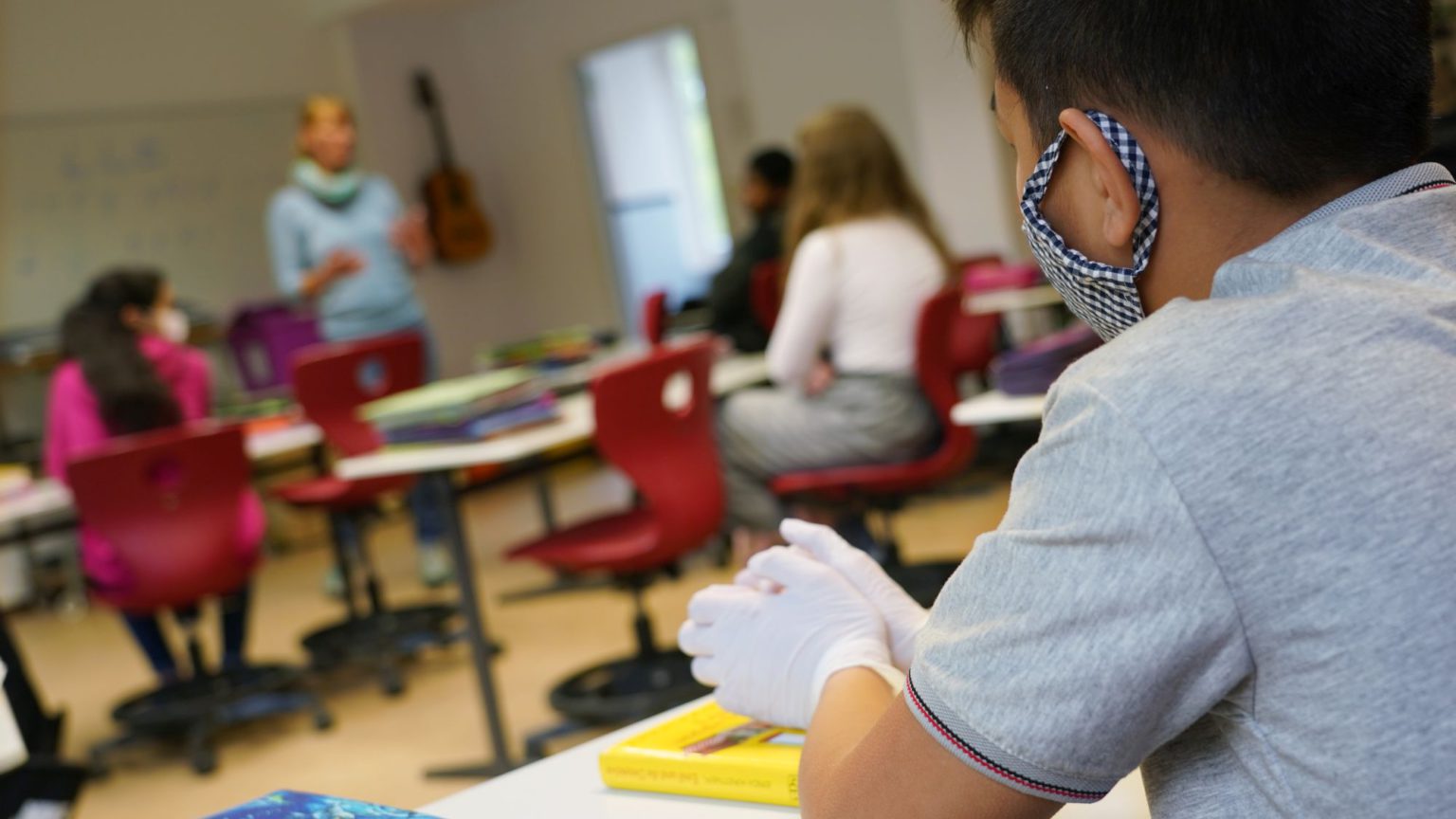 Keeping children out of school for months on end did, in the end, teach us all at least one thing. It showed us that the leaders of Britain's teaching unions really despise children. Early on in the lockdown, Mary Bousted, joint general secretary of the National Education Union, expressed her contempt for children 'who are mucky, who spread germs, who touch everything, who cry, who wipe their snot on your trousers or your dress.' She went on to argue that children should be 'sprayed front and back with disinfectant' at the school gates. I don't know if Mary has pets but I wouldn't even talk about my cats in this way.
Now, just when it seems as if a return to the classroom might be on the cards, the fear and loathing some teachers and union leaders have for children is showing again. This week, teaching unions have written to government ministers to demand that wearing face masks should be mandatory for children in all secondary schools. They are backed by a new report from the Data Evaluation and Learning for Viral Epidemics (DELVE) group, which advises government scientists. These adults want children returning to school in September, after months in isolation, to be muzzled.
Several schools, including Fallibroome Academy in Macclesfield and Brighton College, have already indicated that mask-wearing will be compulsory. At Holmes Chapel school in Cheshire, masks can be purchased at the same time as new school uniforms. That way, each child can sport an identical navy blue mask. Each face will be uniformly covered, all voices equally muffled.
Children attend school for at least six hours a day. Add to this time spent on public transport and many could be wearing masks for up to eight hours a day. That's eight hours gagged with an uncomfortable rag around their mouths and eight hours without seeing the smiles of their friends. How could anyone, let alone teachers, think this is anything other than cruel and inhumane?
Wearing a mask deprives us of the visual cues that are so fundamental to social interaction. It's virtually impossible to read someone's facial expression from their eyes alone. Schools – as progressive teachers have been reminding us for decades – are about far more than formal instruction. They are places where children learn what it means to be part of society, not through reading about it at their desks, but in practice. At school, pupils learn how to behave around children and adults who are not part of their family through sitting, working, eating and playing alongside others. Masks alienate people from each other; they place a literal barrier over each individual's face. Making friends and forging relationships becomes far less spontaneous and more difficult when delighted grins, knowing smirks and conspiratorial smiles cannot be exchanged.
Patrick Roach, general secretary of the NASUWT teachers' union, wants schools to 'be brought into line' with other workplaces. But schools are not like other workplaces. Teachers do not simply input data or fix parts on a production line. Schools are concerned with education and this occurs through a relationship between a teacher, pupils and knowledge. Good teachers adapt their lessons depending upon the subject, the time of the day and the mood of their class. To do this, they need to be able to read the room and spot the child who is stifling a yawn, the child who looks baffled and the children who have understood. They use their own facial expressions to convey interest and enthusiasm but also, importantly, discipline. For all these reasons, even the best online learning can never fully replace the experience of being in a classroom.
Proponents of mask-wearing point to the continued exam success of pupils in south-east Asian countries to argue that masks are not a barrier to learning. But this ignores the vastly different cultural contexts within which schooling takes place around the world. For decades now, children in the UK have been taught not in silent rows but in noisy classrooms where they often work in small groups. In many subjects, teachers encourage children to engage in discussion and to weigh up a range of alternative ideas before reaching their own conclusions. Expressing your own ideas and listening to the views of others are both made far more difficult when speech is muffled by a mask. It's ironic that the very same teaching unions that have railed against strict behaviour policies are happy to promote mask-wearing.
Although the union-backed campaign to get children wearing masks in schools has taken off this week, there is no new evidence to suggest that children are at risk of catching coronavirus or that they play a significant role in spreading the virus. The facts are worth repeating. Just five children in the UK are reported to have died from Covid-19. School-age children are more likely to be hit by lightning than to die from coronavirus. All the scientific evidence suggests that children play a minimal role in transmitting the virus. There have been no reported cases of a teacher catching coronavirus from children anywhere in the world. Making children wear masks is unlikely to protect children or prevent the spread of coronavirus. But it will be detrimental to their education and socialisation. That teaching-union leaders want children to be forced to wear masks is utterly shameful.
At present, there is no directive mandating mask-wearing in schools. The government has warned headteachers against making face masks compulsory. But there have been so many changes of directions in response to the pandemic that there is no room for complacency while union leaders are still championing masks. Parents and teachers who oppose this need to make their voices heard. The campaign group Us for Them has launched a petition against the wearing of masks in schools to make sure there is no backtracking from the government. I would urge everyone to sign it.
Joanna Williams is director of the Freedom, Democracy and Victimhood Project at Civitas. Covid Kids: The response of schools to coronavirus is free to download.
Picture by: Getty.
To enquire about republishing spiked's content, a right to reply or to request a correction, please contact the managing editor, Viv Regan.