Where is the solidarity with Hong Kong?
If we can march over events in Minneapolis, we can surely be moved by this assault on freedom.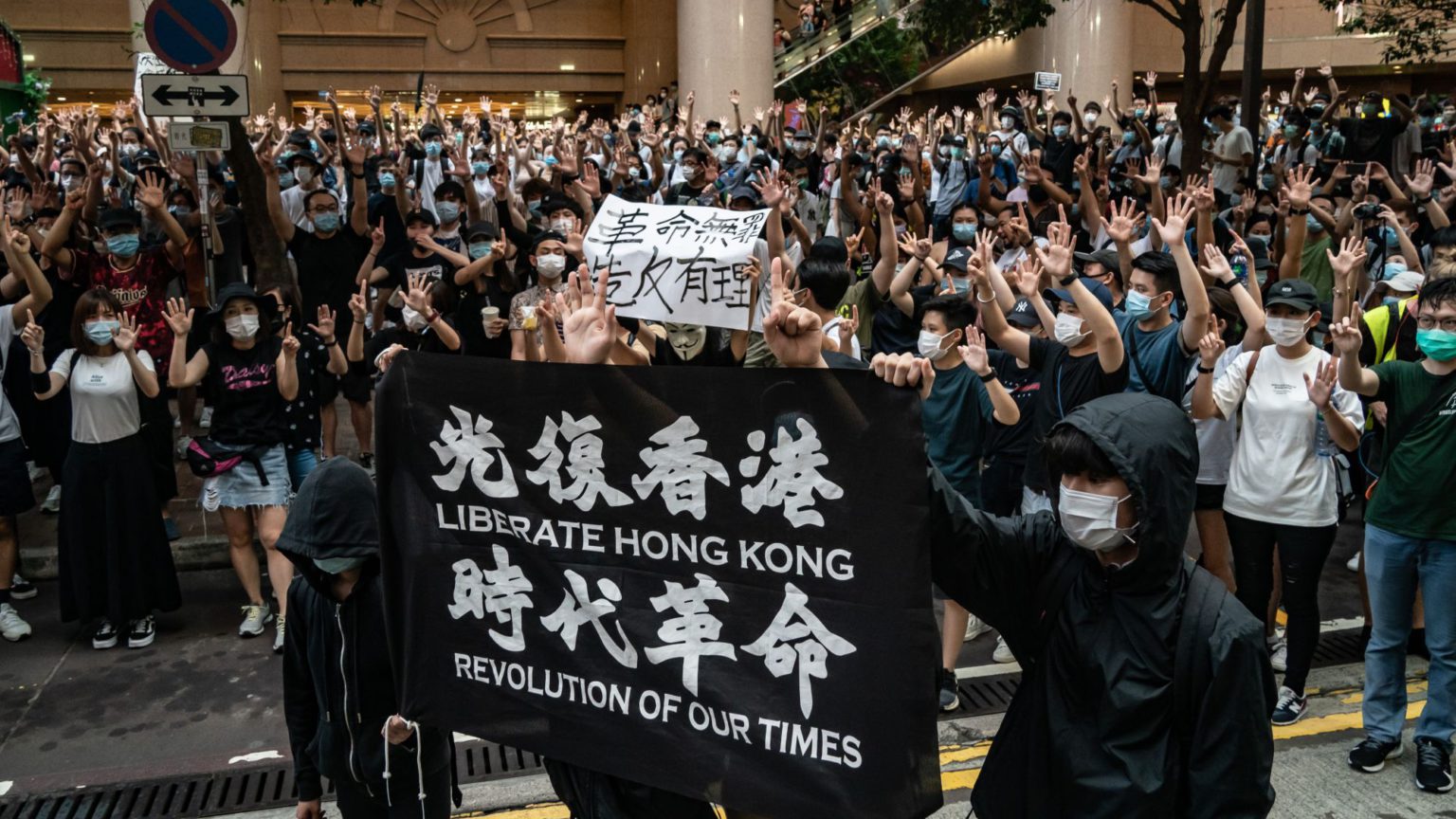 On 4 June 1989, when the Chinese military gunned down several thousand of its own citizens in Tiananmen Square, nobody captured it on a smartphone and tweeted it. In fact, hardly anybody captured it at all, and the Chinese Communist Party (CCP) made a good fist of stopping any footage of the incident from even leaving the country. It harassed, intimidated and detained some international journalists who were trying to report on what they saw by calling in the story over the phone. It even cut off satellite links to major Western news networks.
Perhaps then, in 1997, when the British handed over Hong Kong as the 'last colony', they were naive. The Sino-British Joint Declaration was an international treaty. China would uphold its obligations in order to retain the confidence of governments and business around the world – or so the theory went. That treaty was supposed to guarantee Hong Kong's 'autonomy' for 50 years – until 2047. Under 'one country, two systems', Hong Kong residents enjoyed considerable freedoms and a partial democracy, unlike their compatriots in mainland China.
Fast-forward 23 years and that treaty has been torn up. China introduced the National Security Law this week, which contains sweeping new measures that give jurisdiction to Chinese courts and police to act inside Hong Kong with impunity. It criminalises opposition to the Chinese government with a number of new spurious and vaguely defined 'crimes' that carry huge custodial sentences. The first arrests were made on the anniversary of the British handover, this Wednesday.
You might think, as an Asian democracy breathes its last breath, that the 'anti-fascist' ideologues of our Western woke brigade would have something to say. Perhaps, while an authoritarian regime with a disgraceful human-rights record tramples on a free people, there might be a march down Whitehall to demand international condemnation of China? Or maybe, in solidarity with these newly oppressed millions, we might close a few bridges in London by lying down on them, Extinction Rebellion-style? Hong Kong is a long way away, granted. But then, so is Minneapolis.
Yes, Minneapolis, where the killing of George Floyd last month spawned transatlantic Black Lives Matter protests that have dominated the cultural conversation in the ensuing weeks. Let's just remind ourselves of some of the themes that have characterised those protests: injustice, resistance to systemic oppression, solidarity against police brutality and anti-fascism. Perhaps the most memorable mantra of the movement has been: 'Silence is violence.'
Silence, indeed.
Even as the first Hong Kong detainees head to prison for years on kangaroo-court charges – the first man arrested was merely waving a banner saying 'independence' – some will argue that there is only so much bandwidth available at home for moral outrage. Yes, the jackboot of totalitarianism is on the neck of our brethren in Asia, but hey, there is a lot wrong in the world and we can't be expected to march every day.
Western activists have spent the past few weeks tearing down statues of long-dead historical figures, daubing the word 'racist' on plinths and painting slogans on to roads so that they can be seen from space. These actions all have one thing in common: they are insta-worthy. They get retweeted. The dopamine-hit engineered by Silicon Valley quite literally drives the outrage and excitement. And when viewed through that lens, so to speak, the choice of smartphone-captured subject matter makes sense. Teargas in Seattle goes viral, but water cannons in Hong Kong do not.
As for justice, where's the fun in yelling about Xi Jingping? You can't shame him. You can't get him fired. You can't cancel him. Far better to marshal the online mob to ruin the life of someone here who made a stupid comment. Easy scalps always have been the target of bullies and the unprincipled.
There is important work to be done in tackling racism, both day-to-day and systemic – hardly anyone denies that. But for too many of those who shout loudly about systemic oppression here in the UK, the message rings hollow. Being seen to take the side of 'victims' here is both socially rewarding and requires minimal effort. It is much harder to take the fight to a truly authoritarian state where virtue-signalling falls on deaf ears.
Of course, black lives matter. The slogan is so compelling because there is no escaping its ultimate truth. However, if we are to believe that it springs from protesters' genuine belief in the universal equality of mankind and justice for the oppressed, then Hong Kong's plight now demands a placard too. Or at least a tweet.
Michael Northcott is a writer.
Picture by: Getty.
To enquire about republishing spiked's content, a right to reply or to request a correction, please contact the managing editor, Viv Regan.