The danger of 'decolonising' education
A curriculum should enrich and challenge young minds, not indoctrinate them.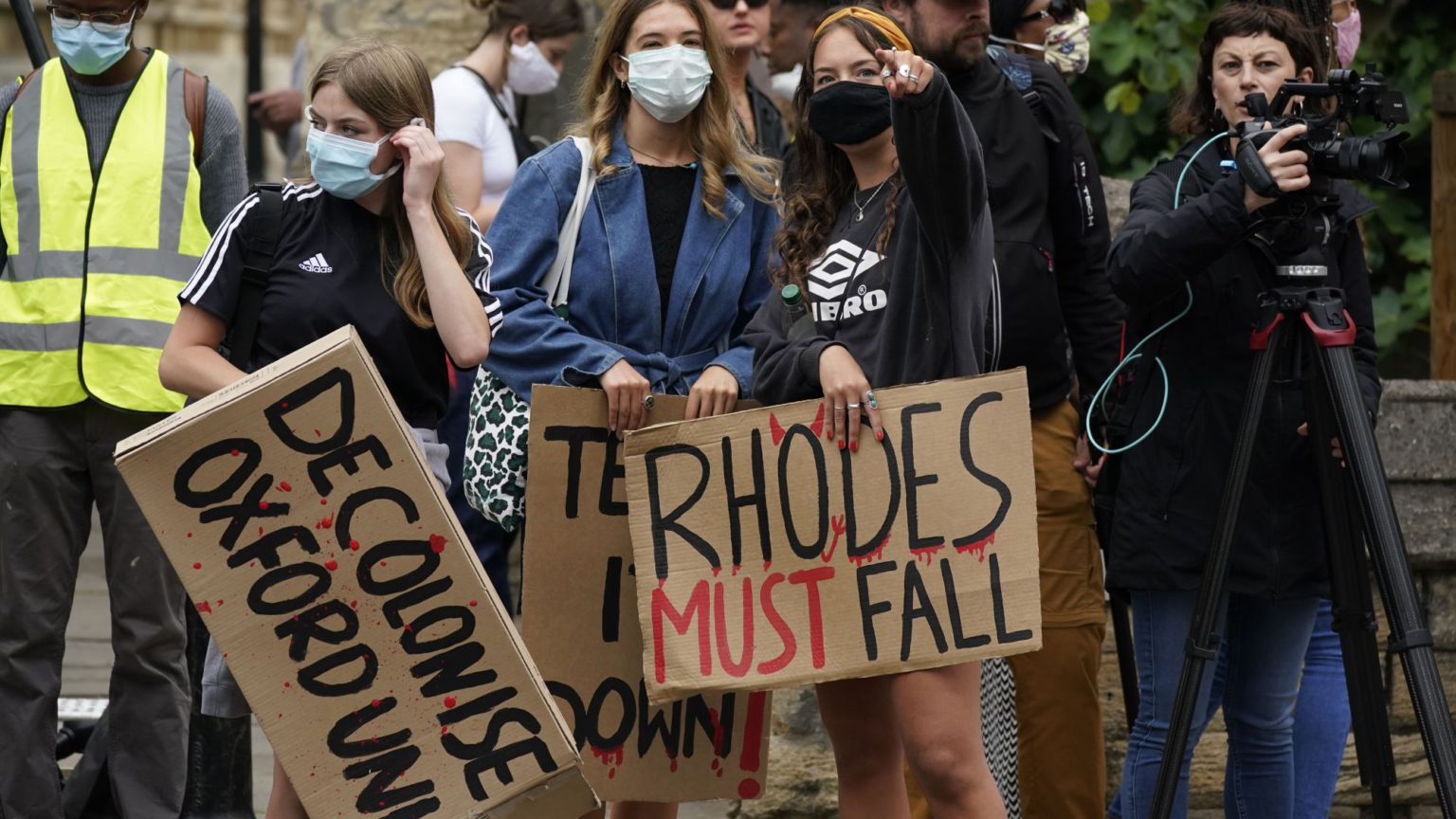 In the wake of the Black Lives Matter protests, the movement to 'decolonise' university education has picked up pace. Activists are calling for course curricula to be revised and made more representative, and for the differences in the attainment of BAME students to be addressed.
Those in charge of Britain's elite universities are clearly worried. Hence vice chancellors have been falling over themselves to wear their universities' anti-racist credentials on their sleeves. Oxford University has already published an open letter urging black students who feel traumatised by the killing of George Floyd to apply for a reduction in workload and special consideration in their exams. Meanwhile, a statement from King's College London declares that 'Racism and racial discrimination have no place at King's'. Neither, it seems, does the truth.
In truth (and this matters) BAME participation in universities has been increasing in recent years. In 2018, the BBC reported that BAME students are actually 'punching above their weight when it comes to representation at university'. For example, it revealed that while black people account for about four per cent of 18- to 24-year-olds in England and Wales, black students 'make up eight per cent of the UK university population'. Or take Oxford University specifically. It revealed that more than 22 per cent of undergraduate students starting in 2019 were Britons from BAME backgrounds – up from 18 per cent on the previous year's UCAS admissions statistics.
With admissions data refuting the idea that universities are institutionally racist, campaigners have focused on racial differentials between those getting first- and second-class degrees. Figures for 2019 show that despite the huge increase in the number of BAME students over the past decade, 71 per cent of Asian students and just 57 per cent of black students gained an upper second or first in their undergraduate degree, compared with 81 per cent of white students.
But a more compelling explanation for the discrepancy than simply shouting 'institutional racism' would require looking at a range of other variables. These could include such factors as socio-economic status and prior educational experience, and internal factors such as family attitudes to education and informal forms of support. This is a more painstaking and difficult process, and it is likely to yield a more complex account of degree outcomes. But it would also provide an account that could yield some proper recommendations.
Sadly, such an attempt to understand the reasons for racially discrepant degree outcomes seems beyond campaigners. Instead, they seem to think that the main problem is that BAME people do not see themselves represented in the UK education system in general, from the national curriculum to the literary canon. As the group Black Curriculum put it in a letter to UK education secretary Gavin Williamson, black people need to see themselves, as black people, in what they read in the curriculum. 'Learning black history should not be a choice but should be mandatory', the letter reads. 'Our curriculum should not be reinforcing the message that a sizeable part of the British population are not valued.' The claim here seems to be that if a member of a racially defined group does not see his or her group's experience reflected in the curriculum, he or she will feel devalued or psychologically harmed in some way.
The problem with this view is that it endorses a reductive and deterministic model of both education and identity-formation. Indeed, the metaphor of education as a mirror in which you expect to see your racial group's experience reflected back to you, common in decolonising discourses, fundamentally confuses education with more therapeutic practices. Because, at its best, education is not about therapy. It is about expanding and deepening pupils' capacities to become more autonomous thinkers, able to make better judgments for themselves. This process is not always comforting or comfortable. But when approached in good faith on all sides, it can be transformative at the level of the individual pupil.
Through the educational transactions between teacher and pupil, greater self-consciousness can be achieved. A pupil can develop a sense of individuality, as someone who knows and thinks for himself. Advocates of decolonising education are actually rejecting this richer concept of self-identity for a weaker understanding of identity, in which one simply sees oneself as part of a racial group.
This is not to say that we shouldn't consider revising the school curriculum. We should, but not solely or mainly in response to political pressure. That's because responding in this way is nearly always bad for education. For example, in the wake of the riots in the UK in the early 1980s, the government commissioned the 1985 Swann Report. It advocated anti-racist training in order to weed out unconscious bias, and attempted to introduce new educational content on the basis of ethnicity alone. Why not, the report suggested, use Hindu Rangoli patterns when teaching geometry in maths? How this would help a pupil understand either geometry or Hinduism remains unclear to this day. And more recent attempts to diversify the English literature GCSE course in response to political pressure have resulted in books being included that, in the words of Bennie Kara, a headteacher and founder of Colouring in the Curriculum, 'lack imagination and scope as texts . . . where's the challenge?'.
And therein lies the problem. In a 'decolonised' education system, in which every approved identity group is to see itself, there will be even less to challenge individual pupils intellectually, irrespective of their ethnicity.
A curriculum should enrich and challenge young minds, not indoctrinate them. So review curricula by all means, but we cannot let the process be dominated by activists, whose aims are not primarily educational.
If vice chancellors have anything to apologise for, it should be for their inability to stand up for education and knowledge. The principles that determine curriculum changes are important. But if those principles are purely political, be they from the left or from the right, then they are unlikely to create a better education system. And that is what we all want: a better, rather than decolonised, education.
Dr Alka Sehgal Cuthbert is an educator, researcher and writer. She is co-editor of What Should Schools Teach? Disciplines, Subjects and the Pursuit of Truth.
To enquire about republishing spiked's content, a right to reply or to request a correction, please contact the managing editor, Viv Regan.