The monumental madness of toppling Gandhi
It is true that Gandhi made racist remarks, but this does not define his legacy.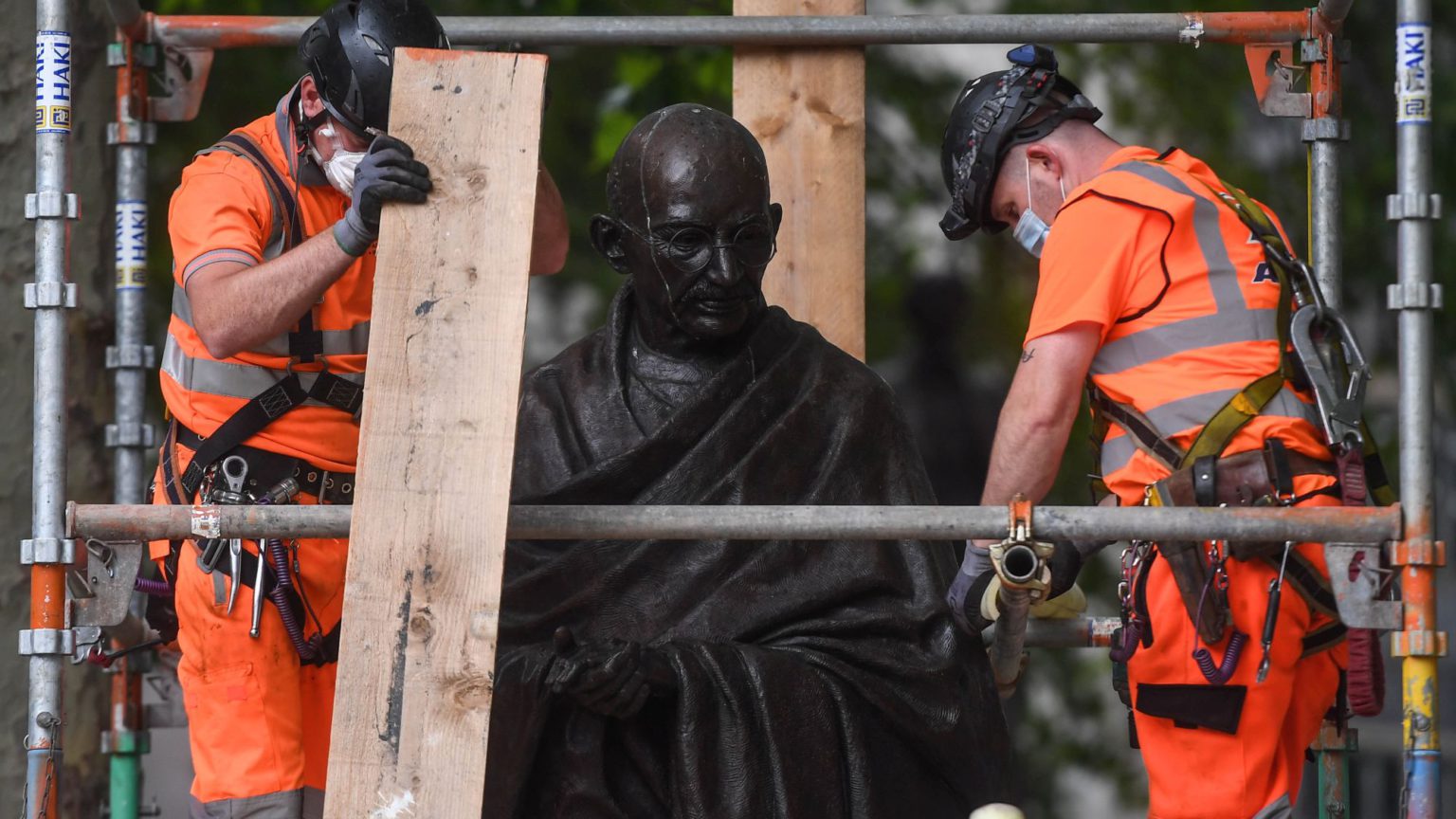 Mahatma Gandhi is now in the proverbial firing line. Statues have become a key target of the Black Lives Matter movement. Earlier this month, demonstrators protesting against the killing of George Floyd daubed 'racist' near the base of Gandhi's statue in London's Parliament Square. This mirrors the concerns of the #GandhiMustFall campaign in Manchester, which accuses Gandhi of 'virulent racism' against South African blacks and argues that celebrating Gandhi promotes the current violence in Kashmir.
Gandhi's words in South Africa were indeed diabolical. He campaigned in favour of racial segregation, arguing that Indians as a race were superior to 'savages or the natives of Africa'. He used the racial slur 'Kaffirs' to refer to black Africans. Yet the key point to remember here is that Gandhi did not live in 2020. Gandhi arrived in South Africa in 1893. He was 24 years old when he made his remarks. And since then, he went through his own spiritual reformation amid the turbulence of empire.
We should judge people from the standards of the time they lived in, not by how we might feel today. Indeed, that means there will be many monuments to people we now think of as despicable. Public sculpture is a dialogue between the past and the present. If the present finds something about the past repellent, monstrous or abhorrent, then that should certainly be reflected in education and in how statues are presented. But to tear these statues down and to satisfy an emotional bloodlust is counterproductive and intellectually bankrupt.
A free society is not maintained by the brute force of easy answers, but with sometimes incredibly difficult compromises. Tyranny offers the easy answer – eliminating all the statues that displease us. But if we embrace the easy answer, soon there won't be any statues left.
Those who want to tear down the statues are making a monumental error. The movement against historical statues seems to believe that others have a responsibility to agree with its views – anyone who fails to do so is evil and must be destroyed to the greatest extent possible.
While other social movements sought to win people over, this destruction in the name of tolerance creates an endless civil war that pits groups against each other. It stirs up division and hatred under the false facade of justice. Its only possible outcome is to force everyone to accept one myopic version of history while prohibiting everyone from having their own versions.
Gandhi, like any human being, was fallible. He had a lifetime of great work but also many instances of human frailty. Political error almost torpedoed his efforts. He narrowly escaped an early grave on innumerable occasions. In fact, that is what makes him more human and more inspirational.
One person to take inspiration from Gandhi was Martin Luther King. In 1959, King went on a five-week trip to India with his wife Coretta. During that trip, King met with Jawaharlal Nehru, G Ramachandran of the Gandhi National Memorial Fund, and Vinoba Bhave, a key disciple of Gandhi. When King arrived in New Delhi on 10 February 1959, he made his admiration for Gandhi clear. He said that Gandhian principles were a major influence on the civil-rights struggle in the American South. Given what is being said about Gandhi today, does King's tacit support of Gandhian principles make him a useful idiot for racism?
Nelson Mandela – another follower of Gandhi – was able to put Gandhi's racist remarks in context: 'The prejudice was obvious, but Gandhi was reacting here not to African natives in general but to criminalised natives.' According to Mandela, 'we are looking at the young Gandhi yet to become the Mahatma, when he would be without any human prejudice save in favour of truth and justice.' (1)
If Gandhi goes, could Mandela and King's statues and monuments soon face the same fate?
Saurav Dutt is an author and political analyst.
(1) In Search of Gandhi: Essays and Reflections, by BR Nanda, Oxford India Paperbacks, 2004.
To enquire about republishing spiked's content, a right to reply or to request a correction, please contact the managing editor, Viv Regan.