Towards Britain's Year Zero
The toppling of statues is a sign of things to come.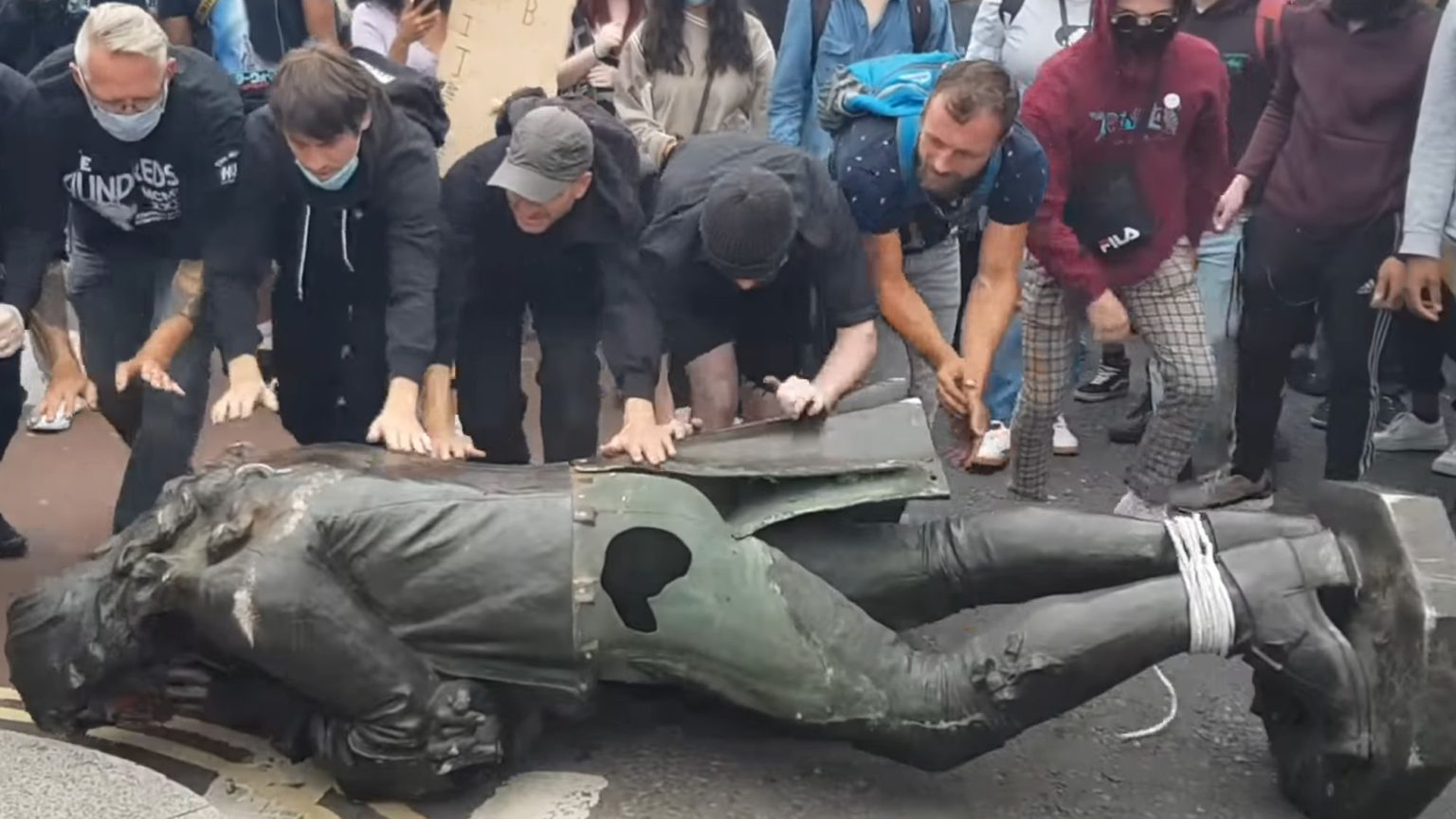 When a mob toppled a statue of merchant and slave trader Edward Colston in central Bristol on Sunday, the scenes were reminiscent of the collapse of a tyrannical regime. The mob stamped the fallen statue with rage and delight. Yet the mob was composed of individuals who had experienced no struggle or strife, and live in one of the safest, most prosperous nations in history.
Most of the crowd were white, middle-class university students who have never done anything to oppose actual slavery. Not one of those warriors against slavery will offer a word of criticism regarding the (internally disputed) Islamic practice of slavery, which persists in some parts of Africa to this day. Toppling a statue is a summer carnival; researching and criticising a world religion is a little less of a rush. For most people today, virtue is not embodied through persistent and difficult private acts. Rather, it is demonstrated through momentary public performance and posted on Instagram.
Far from fighting the power, the mob was acting in accordance with guidance it has received from schools, universities and mainstream media. Bristol council and the mayor did not decry destruction of public property, but applauded it. 'Today's protest saw around 10,000 people take to the city streets to stand against injustice and racism, with many more joining in at home by Taking the Knee', said mayor Marvin Rees in a statement. Subsequently, the council said it would preserve placards in the museum of local history. Officials were pleased with the mob. For years they have been attempting to conceal Bristol's links to slavery. The middle-class managerial elite, which has control of institutions and politics, wants revenge on history; the mob was happy to comply.
The destruction will not end here. More and more statues will be toppled, monuments defaced, books burned, sculptures smashed and paintings slashed. The police, government, elected officials, civil servants and individuals at every level of authority will not oppose escalating destruction, because they agree that Britain and the British are ineradicably tainted by racism and imperialism.
Middle-class, liberally inclined people around the country might have some sympathy with the Bristol mob because they assume action will be limited and controllable. They assume the mob will work for them rather than against them. Yet the cycle of destruction will eventually include monuments and art loved by many. There will be collateral damage, both cultural and human. Only after some deaths will authorities act to restore order. By then, people all over the country will have already erased traces of slavery. That is cowardice.
A moral crusade to cleanse history is gaining ground in institutions that are charged with preservation. Preserving material (be it inspiring or appalling) allows us better to understand our history and society today; it helps us make judicious decisions about what is right for our future. However, many entrusted with protecting the full range of our heritage see themselves as moral agents who should retrospectively punish the past. Those in charge of museums and institutions have had the story of British collective guilt inculcated in them by politically driven education and reinforced by recent activity of the Arts Council of England and the Museums Association. If they could, many curators and directors would take artefacts in their care, pile them on the street and burn them. They want to demonstrate their moral fury as much as the mob, and all the training and education they have had up to now encourages that view.
Stefan Kalmár, director of the ICA, on 9 June called for removal of all statues related to slavery. 'Not only do they all need to go, but when will we be willing to address reparation payments to all those who were forced into slavery, and to their families living here today?' Many galleries expressed support for Black Lives Matter. How far behind is the support for removal of statues of slave owners? Watch as museums nationwide eagerly engage in an escalating struggle to cleanse our history and demonstrate willingness to match violence with purging.
If we had courage and dignity we would be acknowledging slavery by keeping these historical traces and teaching about them. We should be placing plaques by statues contextualising them. After taking the Arab slave trade as a model of commercial advantage for two centuries, British attitudes reversed. Our ancestors atoned for slavery by passing laws against it, engaging in military action to prevent the slave trade, and by encouraging (or forcing) foreign countries to abolish slavery. While Britain did engage in slavery for two centuries, for two centuries since no country has done more to oppose and end slavery than Britain. We are taught the first part of the slave trade, but not the second.
We should not abase ourselves. Whatever our personal feelings, we should not submit to the demands of radical groups that wish to impose on us collective guilt. If you kneel once, you will be kneeling for the rest of your lives. No apology will ever be fully accepted; no abasement will ever be sufficient; no reparation payment will ever be the last. Whenever a sadistic ideologue or cynical hustler demands it, you will kneel again.
How can we prevent increasing cultural destruction? Protect all cultural property. Use force to disperse violent demonstrations. Prosecute criminals. Express strong condemnation publicly about destruction of property and threats to lives and livelihoods. Do not engage in debates about removing material – the only concessions that should be considered are contextualising artefacts. Criticise the managerial elite in positions of power who seek to use mob violence to destroy property. Remind civil servants, curators, directors and others in the publicly funded arts that they act as custodians and that we do not have the slightest interest in their moral and political views.
On a personal note, I should mention that I knew that statue. I passed it daily. While I did not consider it great art, it reminded me of the history of the city – both good and bad. When the mob toppled that statue, it was as though a gang had come into a park and taken a chainsaw to a venerable tree – one that was part of people's lives. Their act diminished the collective life of my city.
To enquire about republishing spiked's content, a right to reply or to request a correction, please contact the managing editor, Viv Regan.