Boycott China? Don't be stupid
China is set to become even more central to the world economy after Covid than it was before.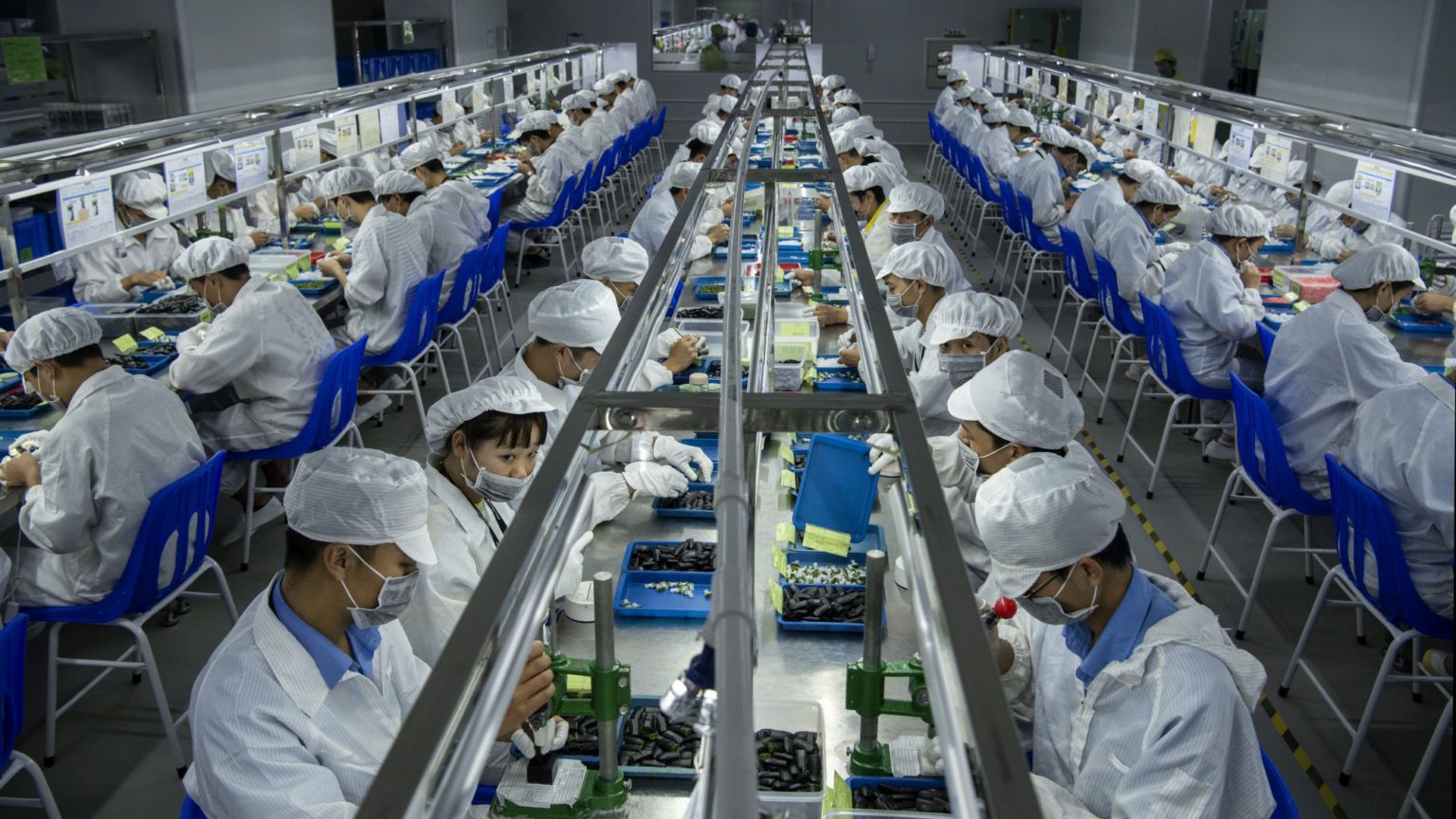 Impressionistic interpretations of China's economic situation know few bounds. Before Covid, China was supposed to have hit a big slowdown in GDP growth. In fact, though, the International Monetary Fund has China's GDP growth rate sliding from 9.5 per cent in 2011 to 6.1 per cent in 2019. Bad, but not massively so.
First into and first out of Covid, Chinese capitalism now stands to reap some rewards. It has only expanded its debt by perhaps five per cent, not nearly as much America or Britain. In an overall population of 1.4 billion, the 91million-strong Chinese Communist Party has strengthened domestic surveillance, meeting with little major dissent. The CCP also hopes to dampen some international criticism, after it signed up to a World Health Organisation enquiry into the virus, and declared it would give the WHO extra money.
Chinese capitalism is also a significant force in the world economy, and is now deeply enmeshed within it. All those who lump the Chinese masses together with the CCP in their urge to 'boycott China' make a second mistake when they think that China can simply be removed from global social and economic relations. Globalisation has simply gone too far to be reversed like that.
In share of global GDP, in 2018, America led the world, accounting for 23.9 per cent. By contrast, China stood at 15.9 per cent (Japan, Germany and the UK: 5.8, 4.6, 3.3). Yet in share of world goods exports, China took a whopping 12.8 per cent, against America's 8.5 per cent (Germany, a hefty 8.0 per cent).
Take personal protective equipment (PPE). China doesn't just export most of the world's PPE. It buys up some other countries' PPE and then exports that, too. Until Covid, it was responsible for much of the world economy's revival after the 2008 financial crisis.
Of course, in share of world services exports, China, at 4.6 per cent, is no match even for Britain, at 6.5, let alone America, at 14.0. Yet China was, until the Covid crisis, a major prop to world tourism. Now its citizens' purchase of tourist goods and services abroad may begin to revive as early as June, after a pretty total collapse due to strict CCP clampdowns on travel.
A still clearer index of China's integration with the world economy is its growing outbound and inbound foreign direct investment (FDI). Around 2017 and 2018, when for tax reasons many US multinationals brought a lot of their overseas capital back home, the world saw a glimpse of what an unlikely, extreme version of a Chinese-dominated future for world FDI might look like. At about $150 billion a year, China's outbound FDI for those two years made it No2 in the world charts, just shy of Japan.
Such is the force of Chinese outbound FDI that we can expect ever fiercer controversies about Beijing's role in 5G (Huawei), in nuclear energy (Hinkley Point, Bradwell B, Sizewell C), and in Europe generally.
What about China's performance in inbound FDI? There, in 2018, it brought in investments worth nearly $140 billion, but was no match for America, which attracted $265 billion. But again, China was still world No2 as an FDI destination. In 2018, when China's rules on foreign ownership were relaxed, US firms alone set up 60,000 companies there – 70 per cent up on 2017. Indeed, the US accounts for a hefty 10 per cent of the stock of FDI in China.
In trade and investment, then, China is a large cog in a highly interdependent mechanism – the world economy. Through its Belt and Road Initiative, it has reached Eastern Europe, Italy and Africa. It's the nation that Africa and Latin America owe most of their debt to. And while Japan owns $1.27 trillion of US Treasury Bonds, China comes in at No2, with $1.08 trillion – a 16 per cent share.
US firms are exposed not just in China, but also in third-party countries, where it has influence. As for 'reshoring' American capital back to the US, that has only created hundreds of thousands of US jobs, not millions.
No country can now easily achieve autarky; but in any race for autarky between the US and China, China is better placed. Its focus has shifted from exports toward internal markets and technologies, and that's a sign of strength. Consumer expenditure, rising before Covid, has since taken a knock, but has a long upward trajectory still to enjoy.
China has also built up its R&D as a percentage of GDP, overtaking a stagnating Britain in 2009 (1.67 per cent of GDP), and the EU in 2012 (1.91). In 2018, China spent 2.2 per cent of GDP on R&D, within touching distance of the 2.4 per cent average among OECD countries.
To mix metaphors: China is no island, but can stand on its feet more than most countries. And yet the CCP also has problems.
Government debt is only a little above half of GDP. However, add on to that corporate, banking and household debt, as well as China's shadow banking system, and there are some grounds for alarm – even though the CCP has central-bank control over China's debts, and so can easily print money.
The CCP does face internal unrest – not only in Xinjiang, but labour unrest, too, with about 300 strikes reported so far this year. It is also in dispute with its neighbours over islands in the East and South China Seas. Last, on top of its longstanding resentment for Taiwan, the CCP appears to have developed new designs on the Pratas Islands (the Dongsha, in Chinese). These lie almost midway between it, Taiwan and the Philippines.
China is also more active in Asia, and not just economically. While offering inducements to neighbours, it has also got their hackles up. Its naval sabre-rattling, especially in relation to Taiwan, upsets more than the Pentagon – and its conduct in Hong Kong is widely disliked.
Most recently, the recent turn by CCP diplomats to 'wolf warrior' postures in foreign diplomacy, plus Beijing's misinformation campaigns, have caused splits within the EU. Meanwhile, anxious to get some kind of traction in Britain, the Conservative Party right, led by House of Commons Remainer Tom Tugendhat and Leaver Iain Duncan Smith, see an opportunity. They now insist that Plucky Britain should appease 'China' no more.
Theirs is a familiar, sentimental and utterly silly journey back to Neville Chamberlain appeasing Hitler when, in the 1938 Munich Agreement, he ceded part of Czechoslovakia to the Nazis. Here our boycotters show as little wisdom about past historical parallels as they do about future economic impossibilities.
In fact, just as reparations after 1918 helped impoverish Germany, sanctions against Japan before 1941 helped usher in Pearl Harbor. The good news? The world economy has brought democrats in Britain, China and Hong Kong closer together. Our joint task, if hard, is simple enough: to unite in watching, explaining, criticising and reversing all our rulers' myopic manoeuvres – especially the military ones.
To enquire about republishing spiked's content, a right to reply or to request a correction, please contact the managing editor, Viv Regan.