Germany's locked-down state of mind
The state of emergency is proving far easier to lift than the fearful mood it has fostered.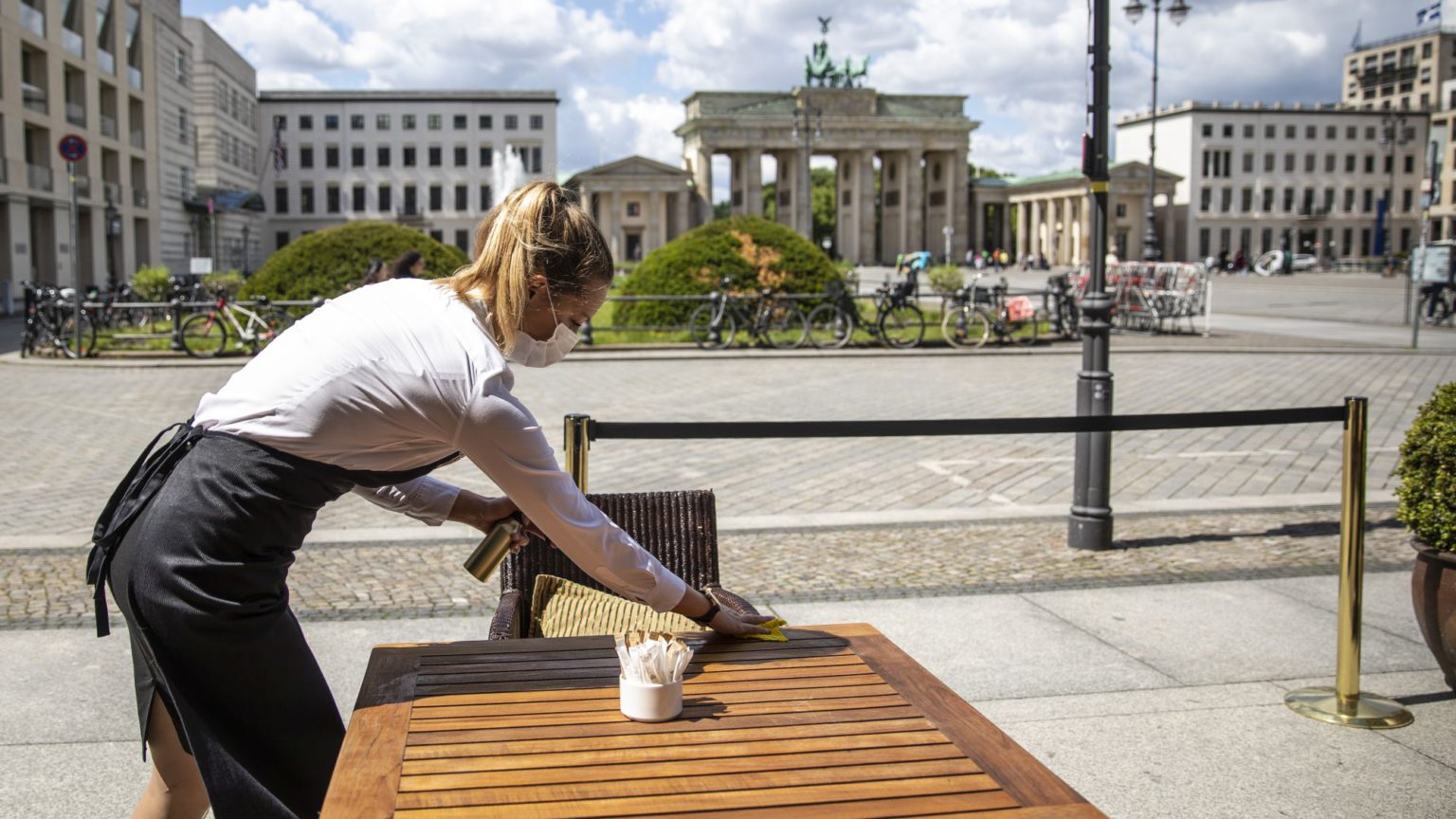 Germany has been easing lockdown restrictions for weeks. Every day, bans and restrictions are discussed, questioned and, in some cases, lifted. However, the more society opens up, the more fearful many people become. The current state of restaurants captures this predicament well. They are open, but no one wants to eat out anymore, and as a result, they are dying.
It seems the mental lockdown is proving rather harder to lift than the legal one. It is as if the state of emergency under which we have been living has been internalised, indeed normalised.
The key problem is the social-distancing rule itself. Maintaining it, while relaxing other measures, suggests that a full return to normality is beyond us. It suggests that while every other restriction can be eased, this seemingly small rule – that we must remain 1.5 metres away from others – is non-negotiable.
It may only be 1.5 metres, but it might as well be light years, given the distance that now separates people from a halfway normal, civilised life. And it's a measure that affects every sphere of human activity, from work and spor to art and love.
Cynics, nerds and misanthropes will disagree. They will see no problem in maintaining 1.5 metres distance from people at all times. But the vast majority of us want to be around other people. We want to be able to go to the football and have a drink with our friends. We want to attend the theatre, visit exhibitions, watch a movie. It is this desire to do things with others that makes the cultural sector so economically important to Germany.
Maintaining a distance of 1.5 metres has been turned into the 11th commandment in the post-corona world. Which is why the intervention of Bodo Ramelow, Thuringia state premier and Left Party politician, is so important. He has announced that he will lift all general restrictions on 6 June, including the social-distance rule.
So far, other politicians have proven themselves too risk-averse to follow Ramelow. As they see it, the distance rule should only be abolished if a vaccine or an effective antiviral becomes available. Knowing all too well that this could take months, or even years, they seek instead to normalise social-distancing as a core component of post-corona society. To break from this policy would require them to break from their long-standing risk aversion, and even the culture of fear itself.
But small steps on the post-lockdown road are not enough. A powerful statement, such as that made by Ramelow, is needed – one that breaks away from the risk obsession that characterises the contemporary zeitgeist. Only then might we move beyond the fear, not just of the virus, but of the seeming threat posed by other people, that currently holds us in thrall.
It won't be easy. We have grown accustomed to seeing the world through the prism of risk. In all policy fields, worst-case scenarios are routinely invoked in order to locate the safest course of action. The Covid-19 pandemic exploited our now deeply ingrained predisposition to fear, think about and anticipate the worst. The distance rule emerges as the means seemingly to assuage our fears, and protect us from the worst. But maintaining it won't end our fear of the pandemic — will prolong it indefinitely, as a sign that there is always something to fear.
Even if the name suggests otherwise, a high-security prison does not provide security. The same applies to a high-security society. A feeling of security can only arise when we freely and willingly confront challenges and problems that lie before us. Because only then do we feel that our fate lies in our own hands.
That is precisely what we do not feel today. We are not assessing risks, acting according to our own judgement, and assuming responsibility for our own lives. Rather, we are letting others, be they politicians or scientists, make decisions for us. We are neither taking responsibility, nor, therefore, assessing risks for ourselves. Rather, we prefer to try to avoid risk completely – even if that means that social life dies.
That is why it is so vital we break free from risk-aversion We need to be able to assess risks realistically again. We need a culture that encourages us to make decisions for ourselves. Ramelow recognised this, which is why his announcement struck a nerve.
Of course, the misanthropes and authority junkies will protest that people can't be trusted to make decisions for themselves. And, of course, people will make mistakes, and there will be setbacks, not least because personal responsibility has been eroded for decades.
But perhaps that is precisely why politicians should stop treating people like idiots who need to be protected from themselves. Because it is only through encouraging people to start judging and evaluating risk for themselves that people will be able to assume a degree of control over their lives, and overcome the fear of the pandemic.
In a democracy, allowing people to make judgements for themselves should not really be such an unusual demand. After all, we are talking about the same people who are given the task of deciding the future of the nation at every election. It seems the greatest obstacle to overcoming our fear of the virus is overcoming our fear of other people's freedom.
To enquire about republishing spiked's content, a right to reply or to request a correction, please contact the managing editor, Viv Regan.