Covid authoritarianism reigns in the regions
Metro mayors and the devolved administrations have embraced the lockdown with more zeal than the government itself.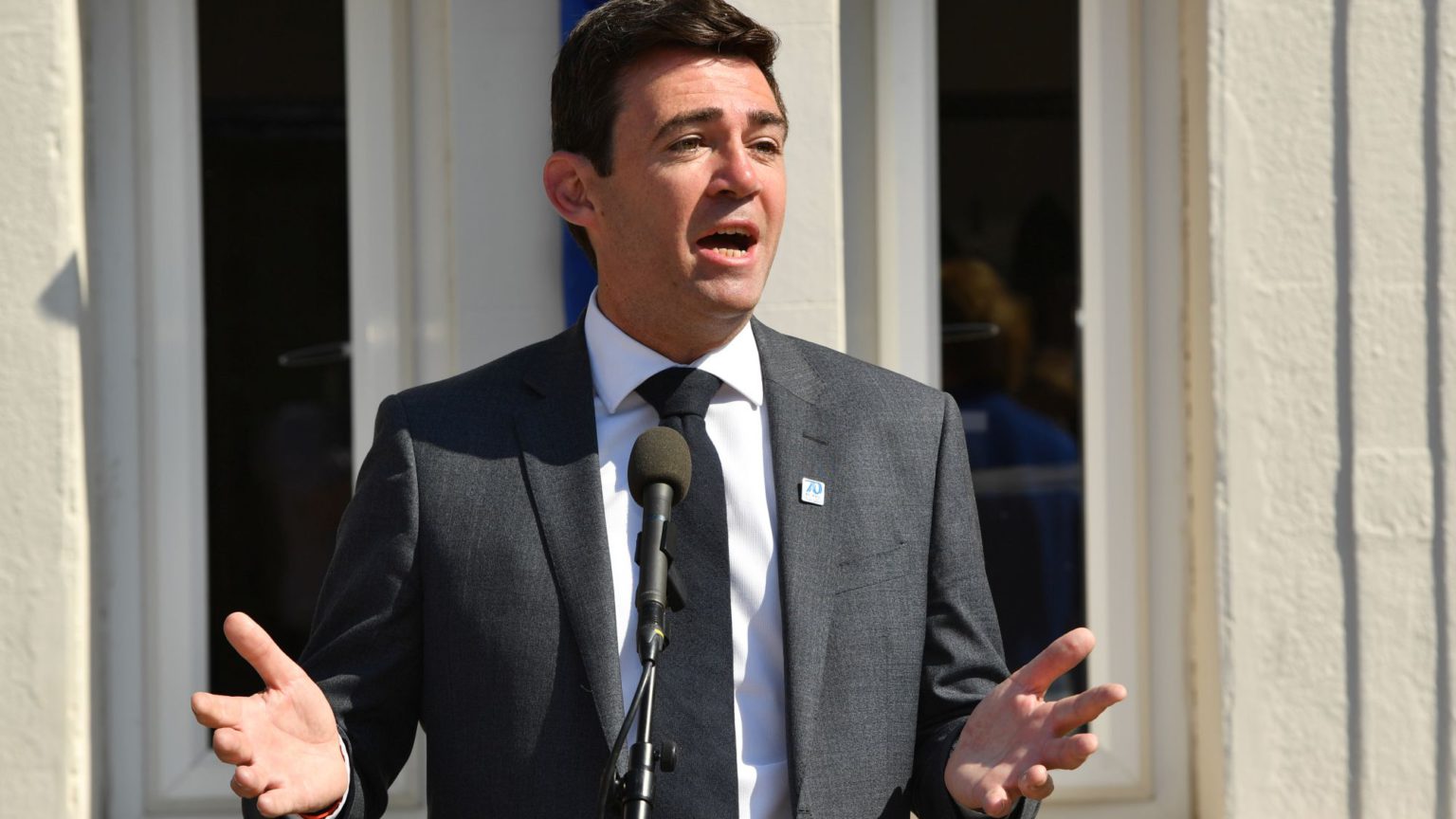 The number of people claiming unemployment benefits in the UK rose by 850,000 in April, bringing the unemployment total to over two million. The economy is forecast to have shrunk by a third this spring, and two million more people could lose their jobs. As UK chancellor Rishi Sunak put it, we can expect a 'severe recession the likes of which we haven't seen'.
Given the profound challenges we now face, you might have expected a robust policy response from our political leaders. Perhaps even some ambitious new ideas about how to inject some dynamism into the economy, improve productivity and create the conditions for growth.
Sadly, our political class has found itself wanting ambition and ideas – not just at the national level, but at the regional level, too.
In fact, the leaders of the devolved administrations and regional authorities may have been built up by sections of the media as a vital democratic challenge to the national government. But they have actually been doing very little aside from desperately trying to extend the lockdown. So, in opposition to the government's decision to drop the 'stay at home' message, and replace it with 'stay alert', Welsh first minister Mark Drakeford said, 'In Wales, the rules are that we must stay local'. Likewise, Scottish first minister Nicola Sturgeon has been consistently positioning her administration as more pro-lockdown than the UK government.
Something similar has been happening at a regional level, too. Newcastle and Gateshead councils also refused to endorse the new national 'stay alert' message, advising their residents to stay at home instead. Martin Gannon, leader of Gateshead council, said: 'We do not have the same legislative powers as Scotland, Wales, and Northern Ireland in the North East, but if we did I would be doing exactly the same as what they are doing and staying with the lockdown.'
Others such as Steve Rotheram, metro mayor of the Liverpool City Region, and Andy Burnham, metro mayor of Greater Manchester, have claimed they want to treat the pandemic as an opportunity, even launching something called the Build Back Better campaign. As Rotheram puts it, the pandemic has provided a 'unique opportunity to change how our country works for the better… [to] build on the more positive things we have experienced during lockdown… more home working and fewer crowded offices, greener cities with cleaner air, fewer cars on the road and more bikes'.
At heart, this is a set of proposals that seeks to preserve the spirit of the lockdown. Rotheram and Burnham are effectively arguing that the lockdown should go on (albeit in environmentalist form). Indeed, Burnham wanted to continue the actual lockdown, despite the government's desire to start relaxing it. This is not because of any special epidemiological insight. Rather, as Burnham himself put it, 'my gut feeling told me it was too soon for the north'.
Likewise, London mayor Sadiq Khan seems equally keen to preserve the spirit of the lockdown. He has promised to 'create more space for social distancing', which will involve ramping up the congestion charge, and confining some streets to pedestrians and cyclists, and others to buses. Black-cab driver and general secretary of the London Taxi Drivers' Association (LTDA), Steve McNamara, rightly describes it as 'a land grab to exclude Londoners from their roads'.
It makes for an absurd spectacle. Regional and devolved administrations position themselves as a challenge to the government. Yet, in practice, that challenge amounts to extending and preserving the government's own lockdown.
All this makes a mockery of claims that regional authorities are providing opposition to the government. The only difference between their approach and the government's centres on when to ease lockdown restrictions, and just how draconian and risk-averse any future approach should be.
This is a shame because, right now, we really could do with a regional, democratic counterbalance to Westminster – a mechanism through which communities in the north, the south-west and elsewhere can push back. But the metro mayors lack the authority or the legitimacy to do this. They were elected on small turnouts: 29 per cent in the Greater Manchester Region; 27 per cent in the West Midlands; 26 per cent in Liverpool City Region; and just 21 per cent in Tees Valley. Therefore, they have no real mandate.
Burnham says there is a 'gap between national government and local government in England', and it 'is growing wider by the day… We can expect to see an even greater fracturing of national unity. Different places will adopt their own messaging and policies.' And he is right. But so far, the 'messaging and policies' of the regions differ only in the degree of their risk-aversion and enthusiasm for the lockdown.
The gap between national and local government is therefore far less significant than Burnham thinks. In fact, there is a much more significant and longstanding divide — namely, that between the political class and the people. It is a divide that plays itself out in the opposition between the metropolitan elites and the residents of smaller towns, and now between those who want to remain at home and those who are determined to leave the house, get the kids back to school and get on with rebuilding their lives, their businesses and their communities.
So we do need more local and regional democracy. We need it to give voice to those who are too often put on mute by our political power holders. We also need to hear arguments out. And perhaps most fundamentally of all, we need to develop good ideas so as to engage and inspire people.
This used to be the stuff of politics before the technocrats took control. It seems we still need to take control back.
Dave Clements is a writer and policy adviser working in local government. He also chairs the Academy of Ideas Social Policy Forum. Follow him on Twitter: @daveclementsltd
On Monday 8 June, Dave will be chairing 'Behind the Frontline', an Academy of Ideas Social Policy Forum discussion about what the pandemic means for our understanding of 'essential workers'. It will be introduced by Dr Frankie Anderson and trade-union official Jon Bryan. It is free to attend, just make sure you register here.
To enquire about republishing spiked's content, a right to reply or to request a correction, please contact the managing editor, Viv Regan.