Of course the SNP loves the lockdown
It is no surprise that Nicola Sturgeon's authoritarian government is still telling people to 'stay at home'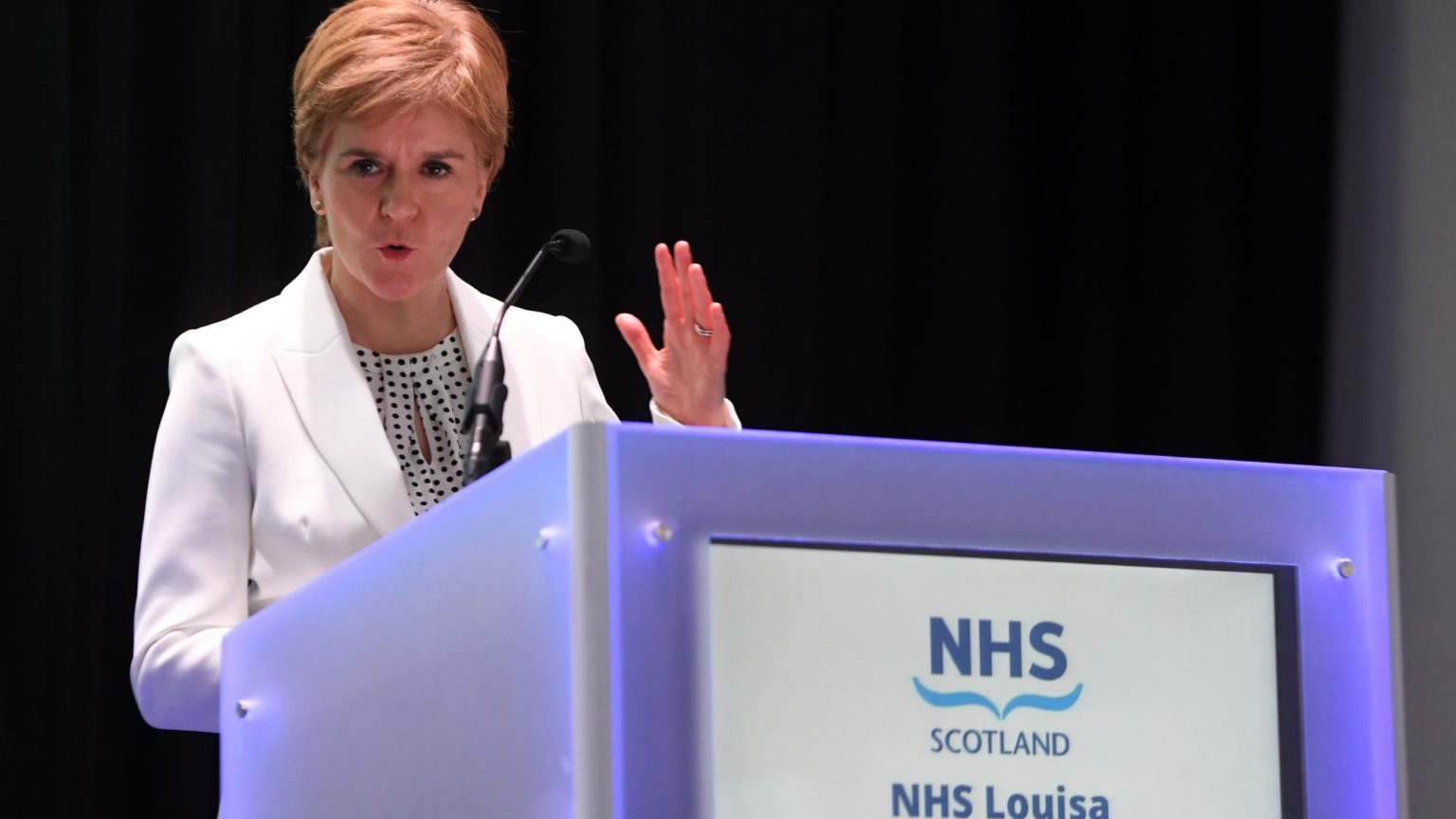 Scotland's first minister, Nicola Sturgeon, told us firmly on Sunday that the message to 'stay at home' remains unchanged. We expected little and she delivered in spades – which is handy, given that the garden centres will remain closed and spades are currently unavailable.
'For Scotland right now', she said, 'given the fragility of the progress we've made, given the critical point that we are at, it would be catastrophic for me to drop the stay-at-home message, which is why I'm not prepared to do it'. There was an inevitable dig at Boris Johnson for offering a sliver of additional freedom in England. 'And I'm particularly not prepared to do it in favour of a message that is vague and imprecise.'
Scotland's Covid-19 rules are significantly different now to England's. The only tweak north of the border is to recognise what was happening already — namely, that people have been leaving their homes more than once a day. So a rule that was pretty much unenforceable, except with the connivance of curtain-twitching neighbours, has been relaxed.
Sturgeon declared: 'All other lockdown restrictions remain in place. When you are exercising, you must stay relatively close to your own home and at all times at least two metres away from people from other households.' This is not, she added, 'a licence to start meeting up in groups, at the park or at the beach'. Heaven forbid that we use our own judgement!
The differences now between the approaches of England and Scotland are marked. Up here, police officers have been told to warn or even fine anyone who has travelled by car to take exercise, even if he or she has only travelled a short distance to do so. Down south, the rule of thumb is that the time spent exercising must be considerably longer than the time spent driving for it to be allowed. In Scotland, it's strictly a case of 'stay local'.
It was already the case that construction work has largely ground to a halt in Scotland, and there is little sign of that rule being softened. In England, construction work is, if anything, set to ramp up.
Then there are the garden centres, which have become an odd battleground in this crisis. In England, they can reopen on Wednesday. No such luck in Scotland. However, Sturgeon will look urgently at one kind of operation reopening: waste-and-recycling centres. How kind of her.
And what of education? Johnson hopes that schools can partially reopen at the start of June – for pupils in reception, year one and year six, and for older pupils due to take exams next year – Sturgeon said that schools may not open until the next school year begins in August.
Is that because Covid-19 is still raging through Scotland? Hardly. The number of patients in intensive care units or high-dependency care peaked on 12 April at 221. It was down to 82 on 10 May. Patients in hospital fell from 1,855 on 11 April to 1,484 on 10 May (with an odd spike on 21 April of 1,866). The NHS looks in no danger of being overwhelmed. Glasgow's emergency 'field hospital', the Louisa Jordan, hasn't been troubled by any patients at all.
Appearing on Good Morning Britain on Monday, Sturgeon could not say that the reproduction rate – the much touted 'R' number – was any higher in Scotland than it is in England. She said there are 'some indications' that this might be because Scotland's outbreak started slightly later than England's.
Sturgeon is clinging to the original lockdown slogan of 'Stay at home, protect the NHS, save lives'. But it doesn't look like the NHS needs that protection any longer. In fact, there is a desperate need to get the NHS back to providing the other kinds of care it is supposed to provide, particularly for patients with serious illnesses like cancer and heart disease.
Moreover, the vast majority of serious cases of Covid-19 are among an elderly cohort, and those who already have at least one significant 'underlying' condition. As National Records of Scotland notes: 'As of 3 May, there have been a total of 2,795 deaths registered in Scotland where the novel coronavirus (Covid-19) was mentioned on the death certificate.' The statistical report further states that '43 per cent of COVID-19 deaths registered to date related to deaths in care homes', although 'the number of deaths in care homes has fallen – from 339 to 310'. Three quarters of all deaths involving Covid-19 to date in Scotland were of people aged 75 or over.
So, the epidemic in Scotland is clearly in decline. Given the characteristics of those who have been seriously ill, the way forward seems to be to protect the most vulnerable and get the rest of society back to something like normality.
Instead, our politicians are extending the agony. Johnson may have been extremely conservative in his willingness to loosen restrictions, but at least we have some sort of roadmap for England on how things will be taken forward. In Scotland, we are stuck. Control is paramount; freedom – to move, to do business, to work – remains a secondary concern, not just now but in the near future, too.
Still, we should hardly be surprised. The SNP government has always been more concerned with restricting our freedom for our own good than in letting us make choices for ourselves. How ironic that the party that demands 'freedom' from the UK is so unwilling to provide it for Scotland's own citizens.
To enquire about republishing spiked's content, a right to reply or to request a correction, please contact the managing editor, Viv Regan.