Little Richard: kingmaker of rock'n'roll
Dead at 87, he lives on as the inspiration for many who followed his star.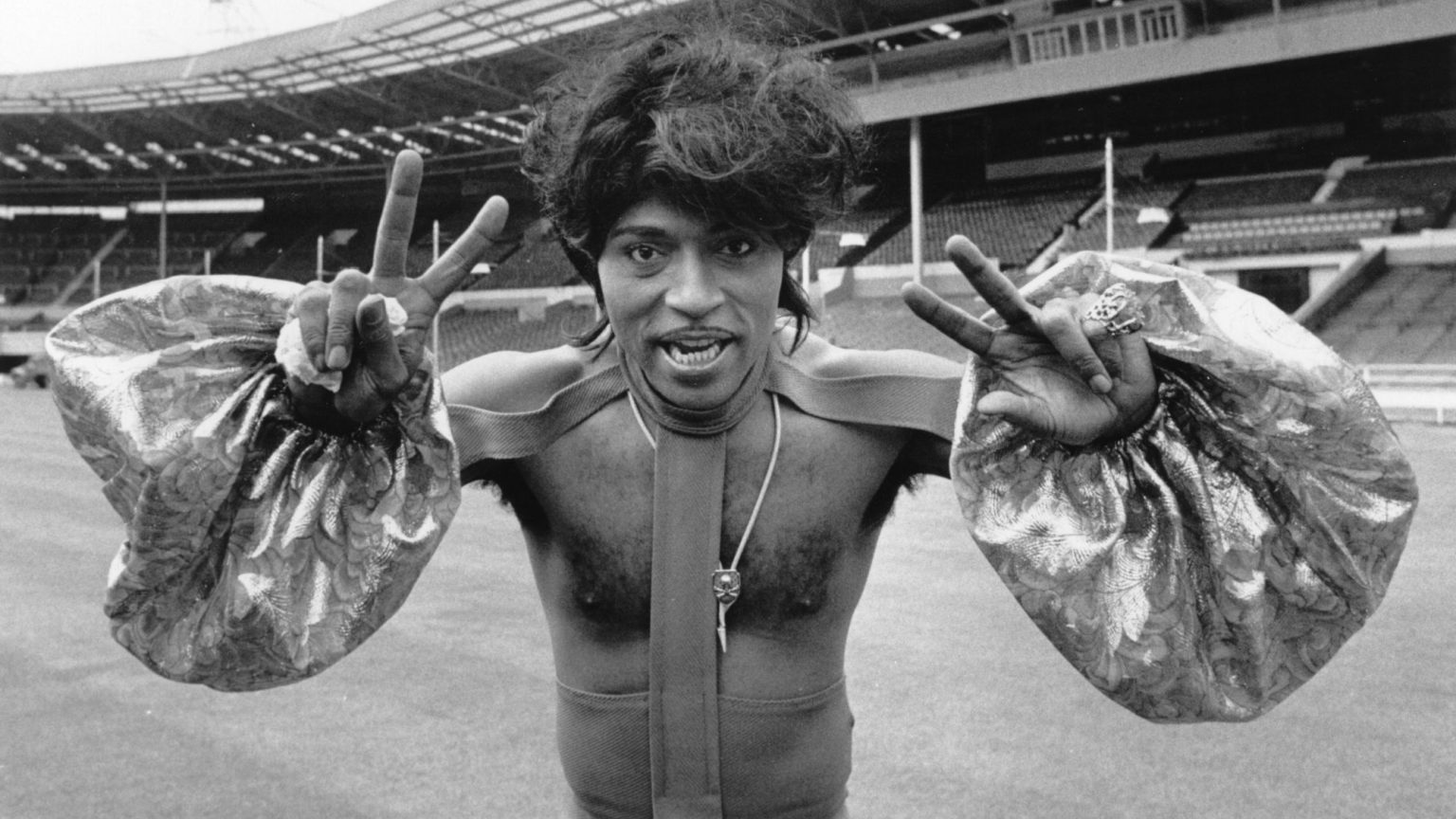 From his towering hair to his almighty voice, there was nothing small about Little Richard, the rule-breaking pioneer of rock'n'roll music who has died, aged 87. Without Little Richard the world would have been a much smaller, quieter place.
Little Richard was dubbed with assorted titles in the weekend's glowing obituaries. Steven Van Zandt, a guitarist in Bruce Springsteen's E Street Band who played strip-club owner Silvio in the The Sopranos, called him, 'The man who invented rock'n'roll. Elvis Presley popularised it. Chuck Berry was the storyteller. Richard was the archetype.'
With a justifiable lack of modesty, in his lifetime Little Richard variously described himself as the 'king and queen of rock'n'roll' (he self-identified as 'omnisexual') and its 'architect'. With hindsight we might also see him as the kingmaker of rock'n'roll. Although Little Richard's own career as a hit record-maker really only lasted a couple of years, his musical style and swagger would inspire and influence generations who followed, from The Beatles and the Rolling Stones through David Bowie to Prince – and just about everybody in between.
Born Richard Wayne Penniman in December 1932, he grew up as one of 12 siblings in the town of Macon, Georgia, which he recalled as 'a beautiful place' full of 'a lot of mud and a lot of cows and a lot of chickens and a lot of pigs'. When Richard was 19 his father, a bootlegger-turned-nightclub owner, was shot dead outside his club.
Little Richard said he always knew there must be something louder than the gospel music of his childhood – 'and it turned out to be me'. Between 1956 and 1958 he broke through the time warp and race barrier to hurl American popular music into a new age, with a string of truly electrifying singles: 'Long Tall Sally', 'Tutti Frutti', 'Rip it Up', 'Ready Teddy', 'She's Got It', 'The Girl Can't Help It', 'Good Golly Miss Molly'.
If you want to know what all the fuss is about, watch him performing those songs live on YouTube, a sound still fit to rip it up after all these years. Then think what it must have looked and sounded like more than 60 years ago. In 1970s suburban Surrey, we thought the androgynous David Bowie was like nothing we'd ever seen before. Imagine the impact the ex-drag artist Little Richard had in the 1950s, beating and kicking hell out of his piano in full mascara, pan make-up and pompadour hair-do, while shaking the foundations with the falsetto roar of his singing voice.
Charles White, author of an authorised biography, describes the explosive effect of Little Richard as being like 'a fire blizzard across an arctic waste'. Pioneers such as him and Presley didn't only shake up the frozen old world of popular music. (When 'Rip it Up' entered the UK Top 30 in December 1956, Blitz heroine Vera Lynn was still in the charts.) They also set a wild cat among the tamer pigeons of what was then passing as new, teenage music.
When the movie Rock Around the Clock arrived in Britain in 1956, starring Bill Haley and the Comets, teenagers famously rioted in cinemas. Then in 1957 came another film, The Girl Can't Help It, which unwittingly made Haley look like the ageing, rotund rockabilly singer he was. The Girl Can't Help It was ostensibly quite an old-fashioned musical comedy starring Jayne Mansfield, but with an 'ironic' subplot about teenagers liking this crazy rock'n'roll music.
Their cameo roles in that film saw Little Richard, along with remarkable teenage rocker Eddie Cochrane, Gene Vincent and Fats Domino, performing 'live' to British youth for the first time. The effect was extraordinary. Roxy Music singer Bryan Ferry recalls that Little Richard 'hit me and the rest of my generation like a bolt of lightning'. After watching the movie in Liverpool, a 16-year-old John Lennon was jolted into making his own musical ambitions a reality.
Down the half-century that followed, you can hear the sound of Little Richard in vocals from Paul McCartney to Slade's Noddy Holder and beyond (Jimi Hendrix said he wanted his guitar to sound like Little Richard's voice). And you can see his spirit moving in many more, as the likes of Bob Dylan, Mick Jagger, Keith Richards, Robert Plant and Patti Smith warmly acknowledged over the weekend. Dylan said that 'his was the original spirit that moved me to do everything I would do'. David Bowie said much the same before his own death. Even by the mid-Seventies, on the eve of the punk-rock revolt, some of us teenagers still thought the likes of Little Richard and Eddie Cochrane were the punkest rockers around.
Little Richard never received the rewards his remarkable talent deserved. Even at his peak, racial segregation ensured that pale imitators made money by covering his songs. (If you can stand more than 20 seconds of Pat Boone's bloodless murder of 'Tutti Frutti', you have a stronger stomach than mine.)
Then at the height of his short-lived success in 1957, he decided that the Soviets' Sputnik satellite was a sign from God, gave up rock'n'roll and became a preacher. For the rest of his life he would ricochet between periods of wild indulgence in sex'n'drugs'n'rock'n'roll comebacks, and ostentatious piety. Even after a life of such wop-bop-a-loo-bop, a-lop-bam-boom, he outlived many of those young rockers whom he had inspired.
Though 'the king and queen' is dead, Little Richard of course lives on through his music and legacy. As 85-year old Jerry Lee Lewis, the only other man to make wild rock'n'roll with a piano, said on Saturday, 'He will live on always in my heart with his amazing talent and his friendship! He was one of a kind and I will miss him dearly.' We have already been a long time waiting for another voice as big as Little Richard.
To enquire about republishing spiked's content, a right to reply or to request a correction, please contact the managing editor, Viv Regan.