MMA v coronavirus
The UFC's determination to hold its next big fight in spite of the pandemic sums up this brash, brilliant sport.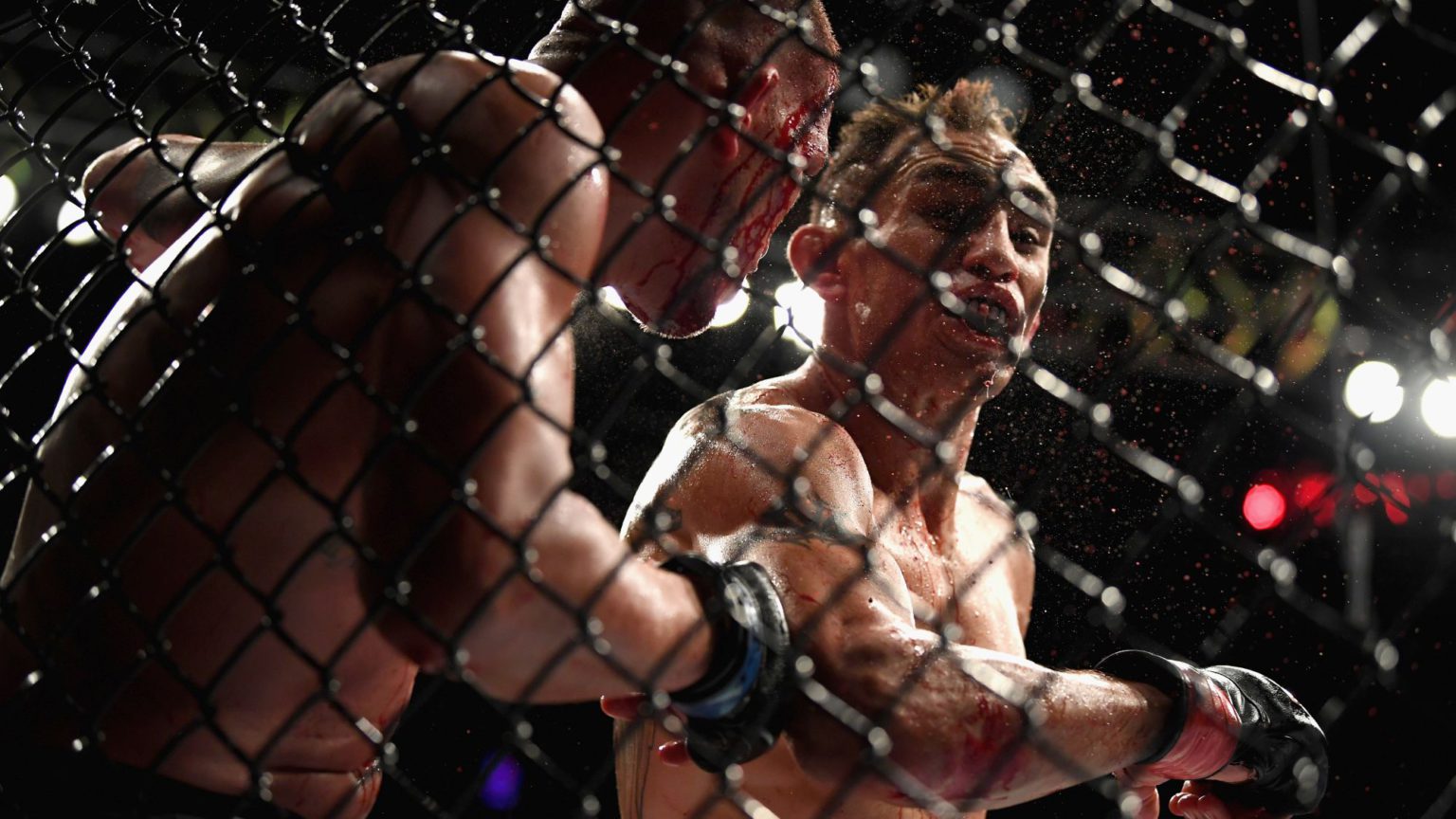 Through its frank celebration of violence, risk, money, testosterone and saying 'motherfucker' a lot in press conferences, the UFC (Ultimate Fighting Championship) has long persevered in almost surreal cultural quarantine from mainstream, polite, politically correct society.
More so perhaps than any other sport, Mixed Martial Arts repels and fascinates in equal measure. You are likely either to know nothing about it at all or a very great deal indeed.
And if you're in that former group the following will very likely prove news to you: that up until last week, the UFC was adamant that it would hold a large pay-per-view event, UFC 249, with multiple one-on-one cage fights, on 18 April, this coming weekend – in defiance of the global pandemic and lockdown.
Until a few weeks ago, in fact, the night's main event featured two of the most decorated and deadly fighters in UFC history: America's Tony 'El Cucuy' Ferguson and Russia's Khabib 'The Eagle' Nurmagomedov. With 54 wins and at least three cauliflower ears between the two men, the fight already had shades of Ali-Foreman when it was scheduled back in 2019, so the notion of it taking place when literally nothing else in the whole world was, put fight fans in a fever.
Strangely enough, the Ferguson-Nurmagomedov fight had been scheduled and cancelled, for various reasons, five times over the past few years, and was already said to be cursed. As UFC 249 started to approach, then, and the world accordingly ground to a halt, it was almost as if coronavirus had been employed by fate to thwart something that simply refused to take a hint.
Still, the fighters themselves, along with the UFC, refused to budge – right until Nurmagomedov found himself grounded, and irrevocably stuck, as in one of his own infamous choke holds, in locked-down Russia.
Rather than cancel the event, however, the UFC initially replaced Nurmagomedov with another American competitor, Justin Gaethje – himself sufficiently athletic, and psychopathic, for the ticket to remain enthralling.
Sport is primarily a celebration of the disposable, fleeting present. As much as the fights themselves, it was this prospect of a refreshing dip in our otherwise frozen temporal waters that appealed so much to those counting down the hours to UFC 249, and crossing off days on an otherwise virtually meaningless calendar.
Of course, the UFC was inclined to make some concessions to the spirit of the times. For a start, the event would be crowdless: a particularly incongruous move given that the UFC audience's raucous, savage bloodlust is second only to that of a darts crowd.
The arena, we were told, would be populated only by necessary staff, officials and commentators – all obeying strict social-distancing precepts, some probably breathing through UFC-branded facemasks. It was also confirmed that it would be held at a Californian Indian reservation – thereby escaping the state's coronavirus ban on combat sporting events.
As for the fighters themselves, a great deal was predictably, and ludicrously, made of their health and safety, giving the impression that each would be shadowed by a physician en route to the Octagon – ears cocked to their tattooed chests, listening out for a whisper of a cough – before one last temperature check and a thorough full-body rub-down in hand sanitiser.
Then, though, in front of tens of millions of pay-per-viewers worldwide (each a virtual prisoner in their own home), those fighters would have proceeded with as full-blooded a parody of social distancing as it was possible to imagine, smearing one another's blood, sweat and tears across the canvas and the cage.
That it would have also been the only show in town – the only show in the world, no less – indicates one of two things. Either it points to the universe's unfailing sense of irony. Or it points to the fact that the UFC itself is the clearest antithesis to the amalgamated force – corporate, liberal, left, authoritarian and humanitarian – that exerts still more sway in this quarantined world than it did before coronavirus.
There is a curious Trump affiliation to consider here. A longstanding UFC fan, Trump counts UFC president Dana White as a friend. And Trump's palpable initial reluctance to shut America down to combat coronavirus was echoed in White's sentiments during the build-up to this fight. This was not, White insisted, about money – certainly it was not solely about money. It was about continuing to exist, to do business, to be, in the face of every possible obstacle and danger.
No UFC follower was in any doubt that White was intent on making this event happen. And it reportedly required no less than the owners of ESPN and Disney (the UFC's major commercial partner and its owner, respectively) to call him up and demand the cancellation of the 18 April event for him to finally blink.
What, you wondered, did Trump think, his own instincts curbed by much greater risks and responsibilities? Here, after all, was a microcosm of an imaginary America, peopled exclusively by almost invulnerable citizens, that really didn't need to be shut down, that refused to, even.
That this weekend's event was shut down anyway (reportedly a result of political pressure at the state level) made as much practical sense as stalking a dog walker with a drone, despoiling a beauty spot, or stopping someone going out for a drive.
It seemed then that all that we were to be left with by way of collective entertainment was the pre-canned, on-demand Tiger King, with its eerie backdrop of caged beasts.
This week, though, Dana White popped back up. UFC 249, it seems, is back on, scheduled now for May, and due to take place on a private, undisclosed 'Fight Island'. Furthermore, it has presidential blessing. To quote Jurassic Park (a similarly precarious island project): perhaps life finds a way after all.
Tomek McGrath is a writer based in London.
Picture by: Getty.
To enquire about republishing spiked's content, a right to reply or to request a correction, please contact the managing editor, Viv Regan.