The tragic genius of Louis CK
His art probed at perversity. Then his real-life kink almost destroyed him.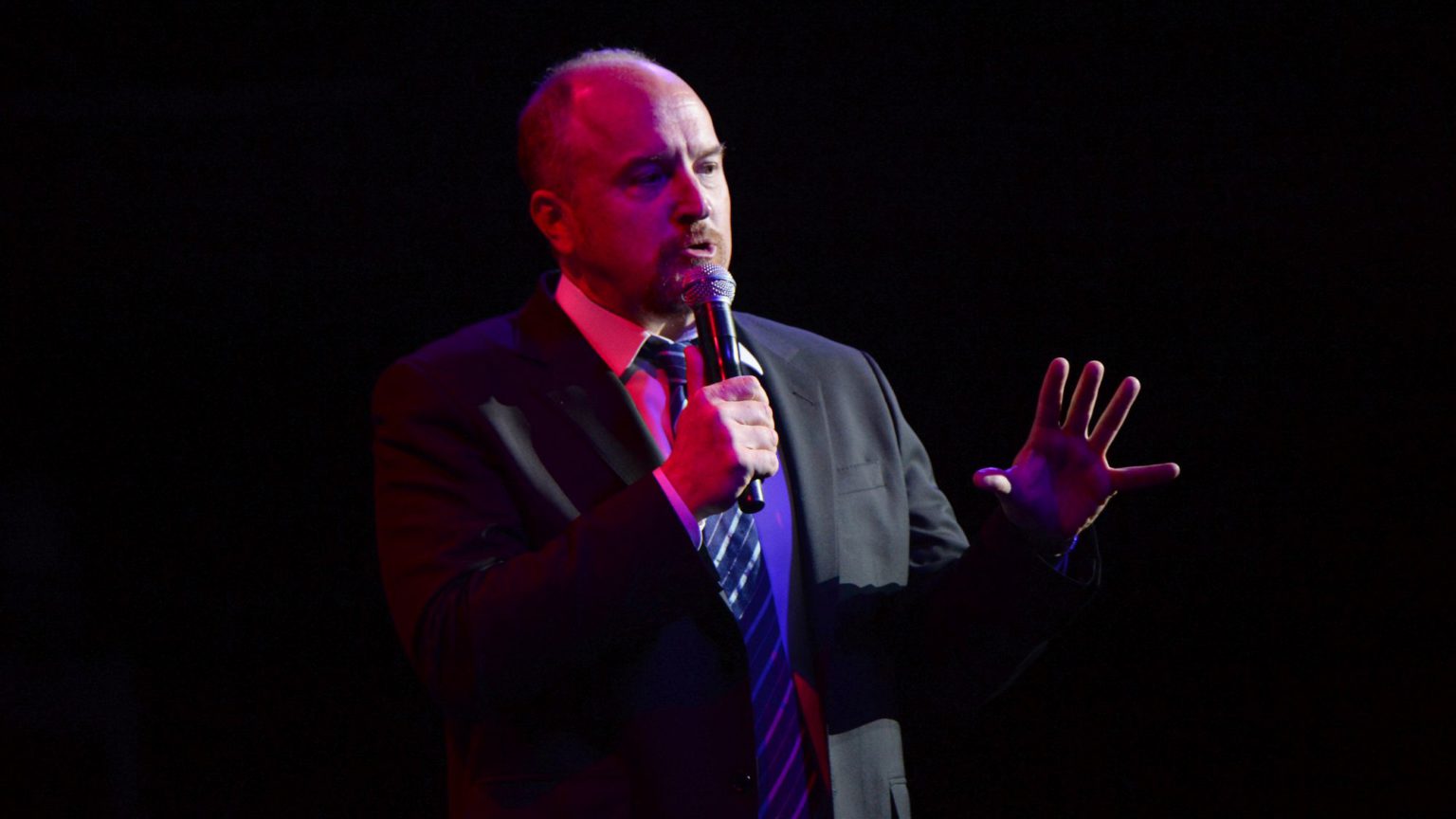 Louis CK plays a character. Be it as the lead of his film I Love You, Daddy or his TV show Louie, on stage doing stand-up, or in the media, he portrays a rough middle-aged dad, but one without restraints. He's absurd, tangential, unrefined, unfiltered, erotically frustrated and self-combusting. His comedy is one of radical self-honesty.
Some say his on-stage character is more Louis CK than Louis CK is off-stage. His art allows him to self-process in a manner incongruent with the rules of civil society. As Dave Chapelle once put it: 'The guy on stage, that's the real guy. The guy off the stage, he's the one who lies to people, or doesn't say what he actually thinks, and all this other shit, just so that that guy [on stage] can exist uninterrupted.'
CK parades his sins. He performs exposed and gets off on the audience's laughter at his bare form. And yet his perversions are not presented to us as abnormal; more the uncovered pedestrian, and that's true for all aspects of his character. He goofily smiles, laughs at himself, gestures widely, and understands himself with unflinching honesty. As one character puts it in I Love You, Daddy: 'I mean, everybody's a pervert. I'm a pervert. We're all perverts. Who cares?'
In this, CK allows us to laugh at the absurd ugliness of everybody's underbelly. It's cathartic. We envy and love his honesty. He's Diogenes relieving himself in Plato's lecture, mocking metaphysics, and masturbating in the street. He doesn't believe in shame, and so puts everything on stage.
But while his aesthetic kink made him a star, his real-life kink almost destroyed him. His balding ginger scalp was claimed during the dying thrashes of the #MeToo movement. In 2017, he was accused of, and admitted to, masturbating in front of a number of women. These women worked in the industry and felt he was exploiting the power imbalance between them. I Love You, Daddy, which he had directed, written and starred in, was about to be released. But it was scrapped after the allegations were published in the New York Times.
Since then, he has largely laid low while working on new material. But this month his mailing list was informed of the immediate release of his first special since the controversy, Sincerely Louis CK. It's not on streaming services: like his brilliant web series, Horace and Pete, it is a paid download, available on his website for $7.99.
Stepping on to the stage of a darkened theatre, the audience chanting 'Louis!', CK begins an hour-long version of the set he has been quietly performing since 2018. Finally brought into the light, it's another testimony to his comedic mastery, but it also fails fully to reckon with, and therefore transcend, the scandal that brought him down.
Throughout the special, CK is pulling off magic tricks. Despite his digressive delivery and relaxed, conversational tone, not a spare word is left hanging – every syllable providing rhythm, necessary information, or punchlines and tags to bring the house down.
Most comics leave their best bit until last, sending the audience out on a high and craving more. But CK is a comic masochist, and so takes that closing bit and opens with it. He leaves himself no breathing room, no added confidence from the knowledge that the best is to come. All that awaits him is a cliff edge, so it forces him to beat his weakest gag into brilliance.
He is able to pull off manoeuvres few comedians would even attempt, let alone master. A bit in Sincerely Louis CK about the broken English of a Japanese waiter feels, at first, bound to failure. It conjures tropes of archaic racialised jokes told in hick bars. But he deftly skates between the cracks in the ice that threaten to drown him.
Through his mentions of the Boston Marathon bombings, 9/11, his hatred of Florida, how he would rather be in Auschwitz than New York ('I mean Auschwitz now! Today Auschwitz! Not back when it was open…'), paedophilia, and the Holocaust, CK carries himself with the unwavering confidence of a master. But what makes it all work is his inherent silliness. His unacceptably flippant use of such dark references is as integral to the jokes as their punchlines.
'We're going to discuss retarded people for 20 minutes', he announces at one point, and aside from a brief detour exploring sexual attraction towards teenage boys, this is what he proceeds to do. In the bit, he says 'retarded' 41 times.
And yet, through all of this, there is an unaddressed elephant on the stage – the sexual misconduct allegations that brought his career to a halt. CK bounces around the scandal, hinting at it, in such a way that feels intended to dismiss it. He says his ostracism has given him valuable skills, like the ability to eat alone in restaurants while people flip the bird at him. But this isn't the lead into a longer opening section, as Aziz Ansari did in his last special, addressing the far less severe accusations levied against him. Instead, CK almost immediately moves on to talking about wearing blackface.
But ignoring the elephant doesn't make it disappear, and CK knows this. So, with 10 minutes to finish, he ends a bit with the line 'some people like it when sex is a little fucked up'. 'All right', he adds. 'Do you want to talk about it? Should we talk about it?'
He plays his discomfort and awkwardness with the subject for a series of laughs. Indeed, despite its immense impact on his career, the scandal creates an inherently ridiculous image – that of a schlubby, greasy, balding ginger comic asking to masturbate before a likely bemused, amused, or ambivalent onlooker. It's precisely the kind of comically sad, weird fuel he would have injected into his semi-fictitious character on Louie.
But these jokes are delivered with a more reserved, nervous, emphatic tone than those preceding them. He seems annoyed that this scandal has defined his image. But he is also concerned his joking nature will communicate ambivalence. He is unwilling to deliver a sorrowful, pathetic, emphatic explanation. He knows he is not the sexual predator he was spun into, while also knowing that his antics had an unsettling power imbalance to them. He knows how to tell jokes while walking through a minefield, but never before has he looked so uncomfortable doing so.
A quick flash in the end credits dedicates the special to his mother, who died in 2019. Throughout the show, he makes a couple of allusions to her. Bits about her body bag being thrown in the back of a van are damn funny, but they have more underlying pathos than is usual with CK. So too does his closing joke, exploring the topic of how many dicks one's mother has taken. It's well-trodden, shock-jock turf, but CK somehow fills it with heart. These mentions of his mother hint at a side rarely seen – the titular, sincere Louis CK.
Still, you can't help feeling that, by the end of this special, our Diogenes has brought a robe to hide his immodesty. In many respects, this special isn't that different from any of his others, and perhaps that's its purpose – to return him to the superstar he is rather than the sexual predator he has been characterised as. But Sincerely Louis CK needed to be more innovative, raw, introspective and exhibitionist to achieve such a feat.
Ross Anderson is a film critic and writer on politics, philosophy and technology.
To enquire about republishing spiked's content, a right to reply or to request a correction, please contact the managing editor, Viv Regan.