What our locked-down kids are going to miss out on
It's not just their education that is going to take a hit.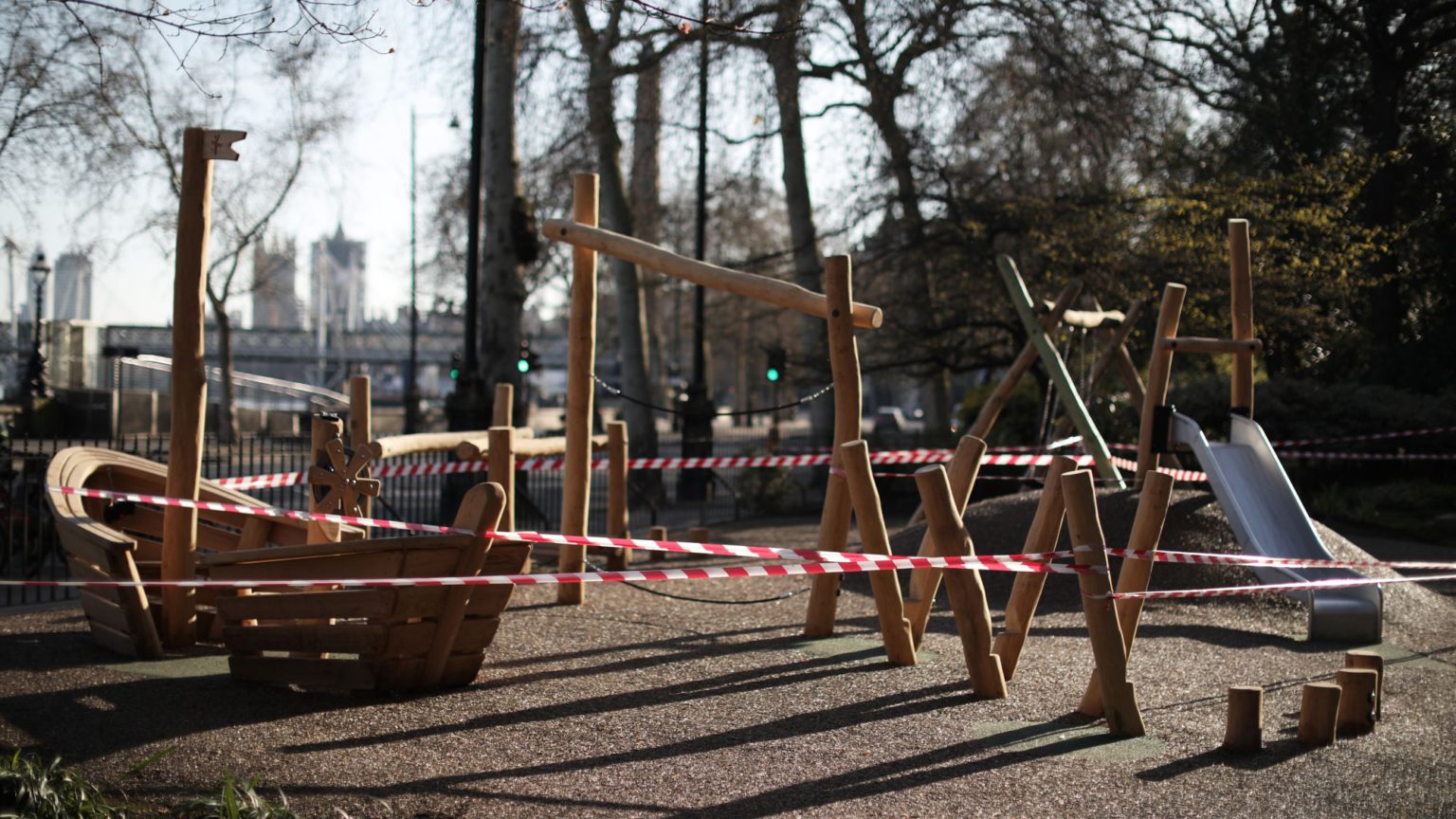 British children have been indefinitely grounded. I'm sure there's a joke in there somewhere, but the reality of keeping kids indoors for weeks on end is just too grim for a punchline.
It's not only schools that have closed in response to Covid-19. Libraries have shut their doors; many parks and almost all playgrounds are locked; shops, cafés and fast-food chains are not re-opening any time soon. The national lockdown means we are all now expected to stay at home. For children, this means weeks spent in the company of just their siblings and parents.
The government's instructions for dealing with children during the coronavirus pandemic make little sense. The children of essential workers continue to attend school – albeit for childcare rather than education. This is necessary to keep hospitals and the food supply chain operational. But what it means in practice is that 20 children can mix in a classroom, but three children can't go and sit together on a bench in a park. On Friday afternoon, children up and down the country crowded into school halls for hastily written final assemblies; just hours later the police were dispersing teenagers who had gathered for an end-of-term party.
We know, from all the data so far gathered on Covid-19, that children are least likely to display symptoms of coronavirus, rarely fall seriously ill and are extremely unlikely to die. We do not know what role children play in spreading the virus. Jonathan Ball, professor of molecular virology, writes in the Guardian that, 'While many of us suspect that children have a key role to play in this outbreak, hard evidence to support this belief is still lacking'. Our precautionary approach means that rather than celebrating children's apparent immunity, the absence of knowledge transforms children into metaphors for the virus itself. Ball says that if children are infected, then they 'could be invisible carriers' of coronavirus (my emphasis). Yet despite the uncertainty, he concludes that children are a threat – and, being invisible carriers – they pose a more pernicious threat to older generations than anyone else.
So, without any substantive evidence that this is the best approach to take, children are to be kept at home, with their parents, for the foreseeable future. We urgently need to ask what the social, physical, psychological and educational impact of this is likely to be.
In terms of education, children are clearly still learning. My daughter is surely not the only teenager now fluent in Covid-19. Where friends were once identified as gender non-conforming or lactose intolerant, she now knows who is immuno-compromised or immuno-suppressed. Phrases like social distancing, self-isolation and lockdown pepper her vocabulary.
Many teachers are setting children work via emails home. But not knowing whether this will ever be marked or even looked at lends an air of futility to each exercise completed. School tasks become, for the large part, simply a distraction, something to fill up the endless hours. Of course, some parents with the time, energy and resources – not to mention peculiarly biddable children – are enthusiastically embracing home schooling. Good luck to them. But this does mean that coronavirus will most likely exacerbate further the class inequalities already apparent throughout our education system.
But it's not just in terms of education where the costs of keeping children at home will be felt. Young children especially need to expend energy. They need to be able to run around, jump and climb. Their muscles need to be worked, their lungs need to be filled. They need to test their growing bodies against the world and each other. A daily YouTube workout on the living-room carpet is a poor substitute for fresh air and sunlight.
Perhaps most concerning of all is the social impact of keeping children isolated. It is through daily interactions with people outside of their immediate family that children learn how to behave in public and how to make sense of themselves and other people. When children leave their family behind, even just for a few hours in school, they gain independence. This is especially important for teenagers, who are now expected to hit pause on hanging around in town after school, jostling for position on the bus, sharing an illicit bottle of cider, shopping, flirting, teasing, talking, and just being with each other. Individually, each of these interactions may seem trivial, but collectively they enable children to forge relationships and to be a person in the world instead of just existing individually.
Rather than encouraging real interaction, we are now pushing our children into using the technology that just a fortnight ago we were wrestling off them. The past week has seen the invention of the online playdate and the virtual sleepover: children remain cocooned, but can smile at each other through screens. This is undoubtedly better than nothing, but it's a poor substitute for face-to-face engagement.
Of course, Covid-19 needs to be taken incredibly seriously. Children need to know about it and they should have an appropriate awareness of the risks it poses. For older children this might mean conveying some sense of uncertainty: not all scientists agree on the best approach to tackling the virus. In addition, we need to enable children to put risk into some perspective. We could catch coronavirus on a trip to the supermarket, but we all need to eat – so as long as we are healthy it is less risky to get the shopping in.
Covid-19 is a global medical emergency. But there are educational, social and psychological costs to isolating children that are not necessarily borne out by what we know of the risks children pose in transmitting the virus. At present, there's a danger that all children are hearing is that at a time of national crisis our only option is one of passivity and defeat. Not only do they have nothing to do and no useful role to play – worse, they are getting the message that they are poisonous to their relatives and those around them and must stay hidden away for everyone's benefit.
There are alternatives. Older children could be encouraged to rise to the occasion, to embrace a sense of public service, taking responsibility for checking on elderly neighbours and family members, delivering food and medical supplies or even cleaning public spaces. If they must remain at home, rather than teachers struggling to come up with time-filling exercises for bedroom-bound pupils to complete, perhaps each child could simply be sent a list of classic books to struggle through, think about and discuss with each other online – with the expectation that by the time school restarts children will have read every one. At least that way, even in the middle of a pandemic, children can continue to learn about what makes us human.
Joanna Williams is a spiked columnist and director of the think tank, Cieo.
Picture by: Getty.
To enquire about republishing spiked's content, a right to reply or to request a correction, please contact the managing editor, Viv Regan.