John Bercow: unspeakable bollocks
The former speaker's autobiography is an unpleasant exercise in score-settling and self-aggrandisement.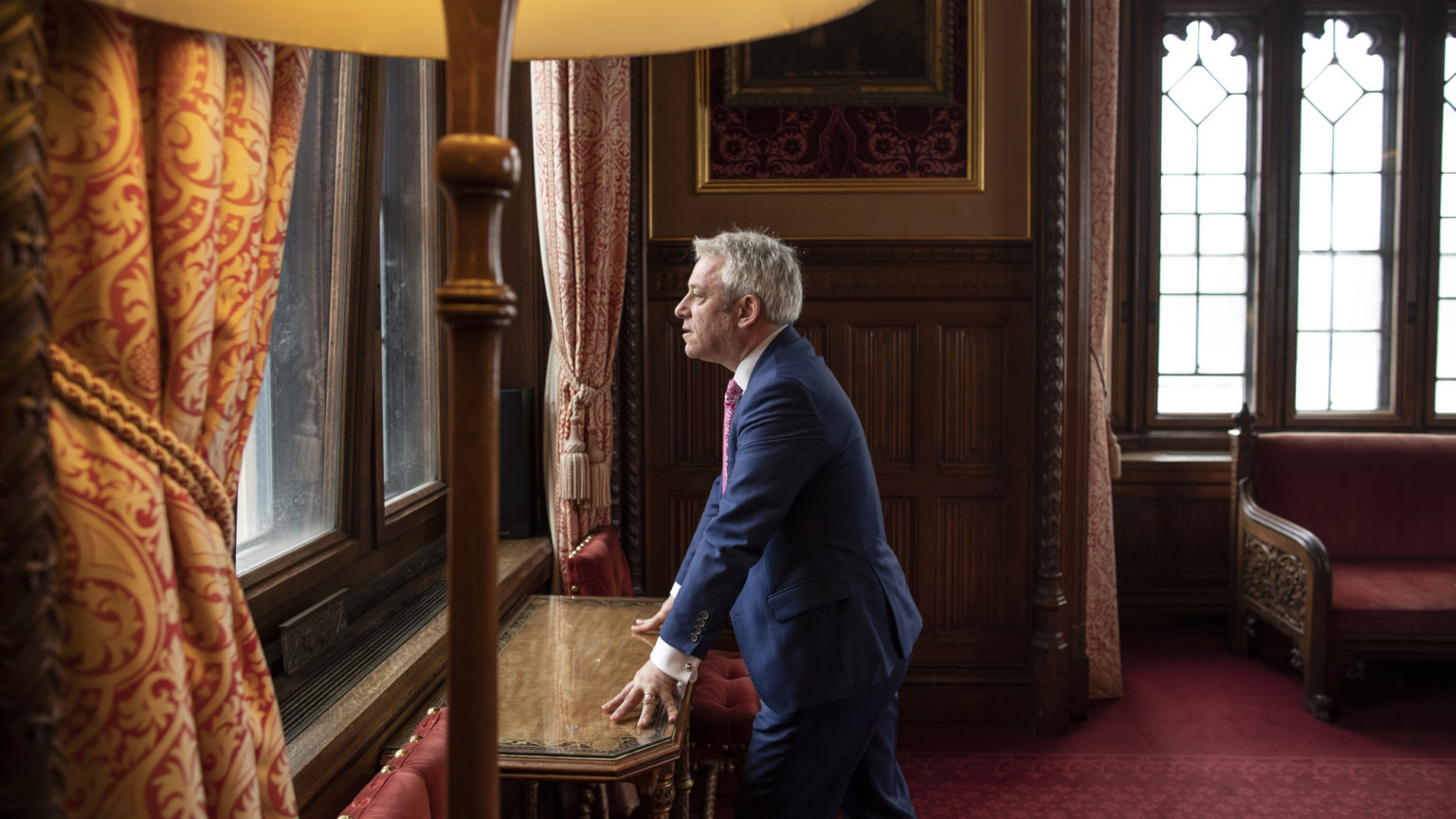 No ghostwriters here. John Bercow has clearly written this autobiography. There is no way that Unspeakable could have been penned by anyone other than the former House of Commons speaker. It is self-important, snide and pompous. And, most telling of all, it is arse-numbingly dull. It reads like an extended cover letter for a job application, charting the uninteresting career of an unremarkable man.
Bercow often treats Unspeakable as little more than an opportunity to show off his own perceived intelligence, not to mention, on occasion, his vocab. He describes Michael Gove not as 'oily' or 'smarmy', but as 'oleaginous', a word no one has ever used in normal conversation.
But then, for vast swathes of Unspeakable, he appears to have misplaced his thesaurus, describing himself over and over again as 'fluent' and 'robust', as if he were a sturdy kitchen tap. He also uses the phrase 'hold the government to account' so often one imagines he must have been saying it in his sleep.
Bercow begins with a prologue, hilariously titled 'Prorogue' (geddit?), a reference to Boris Johnson's attempt last autumn to suspend, or 'prorogue', parliament in order to try to get Brexit done before the 31 October deadline. 'Prorogue' is a chance for Bercow to revisit those heady days of the Brexit crisis last autumn, when, as Commons speaker, he stood up for the Remainer-dominated parliament against Brexit and the 17.4million people who voted for it. This was Bercow's moment of glory, when Remainers across the land celebrated him.
But incredibly, Bercow doesn't address Brexit properly again until the end of Unspeakable. It is as if he has arranged the chapters like a one-hit-wonder band arranges its festival setlist, putting its biggest hit last to stop punters buggering off early.
The early chapters detail his life before politics. He reveals how his parents met, how much he likes tennis, how he suffered with acne as a boy, how he fluffed his A-levels the first time and how he became interested in politics at school. Then it is on to how he came to join the Conservative Party, which, astonishingly, seemed determined to find him a winnable seat. It even literally helicoptered him into the Buckingham constituency for which he finally became an MP at the 1997 General Election. It goes without saying that his speeches during his election campaign were 'fluent and robust'.
It is obvious that once Bercow forced his bottom on to the Commons' green benches, the vast majority of his Tory colleagues didn't think much of him. An inordinate amount of Unspeakable is devoted to slagging off his fellow Tories, all of whom failed to appreciate how fluently robust he is. He calls Boris Johnson 'disingenuous', Andrea Leadsom 'bigoted', William Hague 'a mechanical weirdo', Theresa May 'dull as ditch water', David Cameron 'a 24-carat snob'… the list goes on and on. Conversely, he cannot praise the other side of the house enough, paying fawning tributes to Tony Blair, Gordon Brown, and a host of other Labour MPs.
Running alongside his parliamentary career is the saga of his love affair with Sally Illman. He pursued her for years, before eventually convincing her to marry him using predictably fluent and robust seduction techniques. Never one to dodge a humblebrag, Bercow mentions that when the two wed, his colleagues were quick to point out he was 'punching above his weight'.
Throughout Unspeakable, he vigorously defends his wife. Notably, he denounces any negative press coverage, including that generated by her very public affair with his cousin, as 'chauvinism and snobbery from the right-wing press'.
In one chapter, entitled 'Ambassador and Diplomat', Bercow gives us his view on world leaders. Barack Obama, obviously, is unfailingly wonderful; Myanmar's prime minister Aung San Suu Kyi was also brilliant at the time, 'although her reputation has taken a hammering since'; and Chinese premier Xi Jinping was platitudinous and boring (a damning indictment indeed coming from Bercow). But for him the absolute worst is Donald Trump. Bercow famously spoke out against Trump being allowed to speak in parliament, calling him 'a bigot, a menace and a global embarrassment'. Insightful stuff from the former speaker.
When Bercow is not indulging in self-aggrandisement, Unspeakable veers back towards being dull and unfailingly PC. His quest to install a creche in parliament takes up an inordinate chunk of one chapter, and he is at pains to point out and name virtually every BAME person he appointed during his tenure. He is certainly an inspiration to himself, but to few others, one imagines.
In some ways, it is the inconstancy of Bercow – his ever-shifting allegiances – that is most striking. He comes across as either easily influenced or willing to believe whatever he thinks will benefit his career at any given moment. So, when he joined the Tory party in the early 1980s, he was an enormous fan of Enoch Powell, chiefly, it seems, because his father was also an enormous fan of Enoch Powell. Then, as he rises through the ranks of the student wing of the Conservative Party, he is avowedly Thatcherite. Then, after getting elected in 1997, and chasing the Labour-voting Sally, he shifts from 'thrusting young right-winger', to someone so Blairite he is actively courted by Labour to cross the floor before he becomes speaker. By the time he is in the chair, he is a soft-left, social-justice-obsessed Europhile, noisily shouting that fact to anyone who will listen. It is a career rich in opportunism, but one lacking principle or strongly held belief.
All in all, Unspeakable tells the tedious tale of an unlikeable man. He thinks he is cleverer, funnier and nicer than he is. He dismisses all criticism of himself and his behaviour as being motivated by snobbery or bigotry. And he never fails to mention an instance when praise was lavished upon him.
Bercow clearly loves himself. Which is just as well, because it's doubtful many others do.
Guy Birchall is a writer based in London.
Unspeakable: The Autobiography, by John Becow, is published by W&N. (Buy this book from Amazon(UK).)
To enquire about republishing spiked's content, a right to reply or to request a correction, please contact the managing editor, Viv Regan.