Super Tuesday: why Biden beat Bernie
Sanders' 'political revolution' keeps failing to show up at the polls.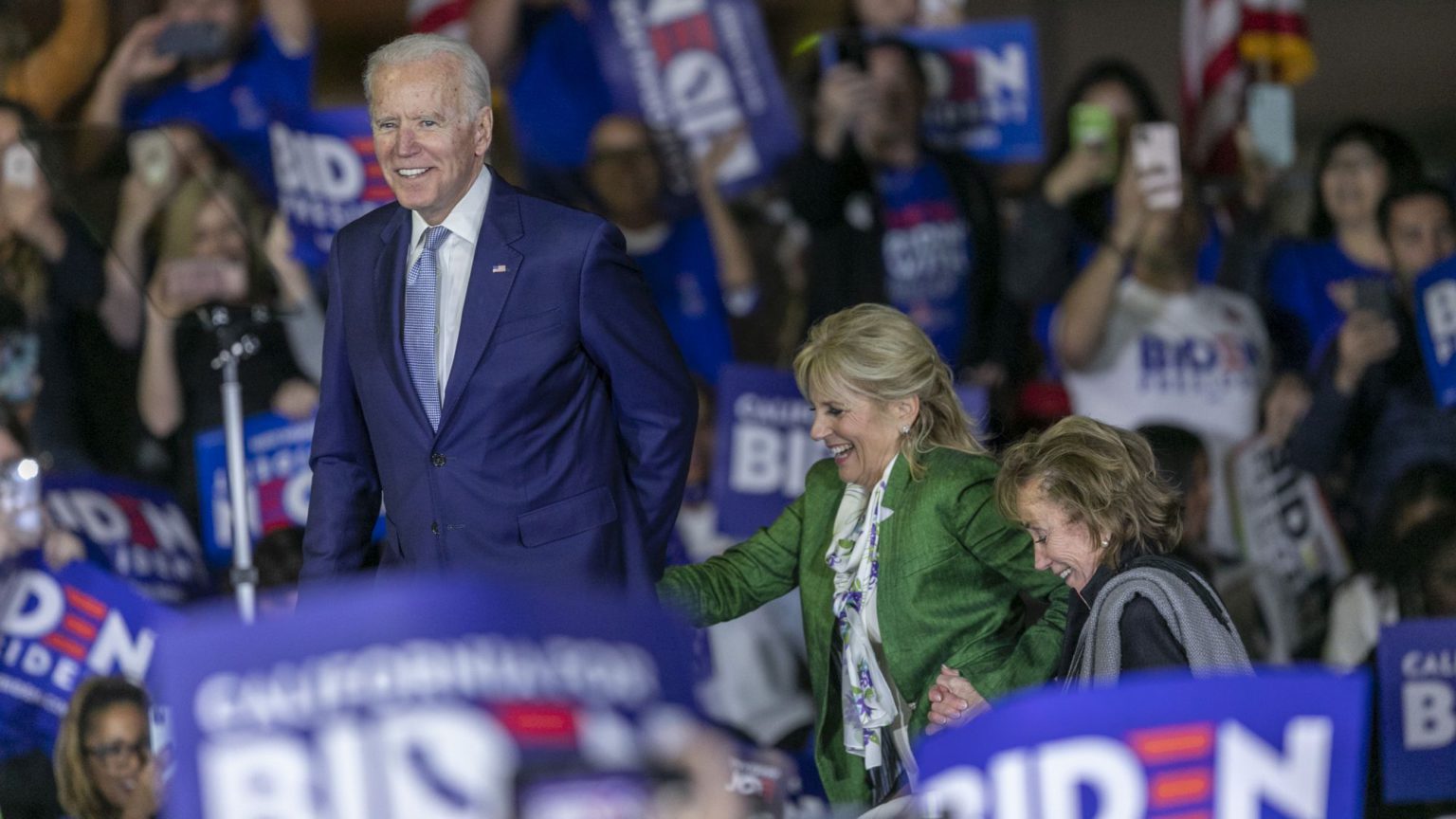 In American politics, there have been few reversals of fortunes like this. Only a week or so ago, Joe Biden's campaign for president was widely thought to be on its deathbed. All of the focus was on Bernie Sanders and his apparent march to the Democratic nomination. But after Super Tuesday's remarkable series of upsets, Biden has managed, in a matter of days, to flip the narrative and become the frontrunner.
Biden's stunning comeback began with his win in the South Carolina primary on Saturday. His lead in the polls in the run-up to that primary had dwindled to single digits, but on the day of the vote he trounced Sanders. But even after South Carolina, the most optimistic scenario for Biden had him trailing Sanders by 200 delegates after Super Tuesday. Yet, by this morning, Biden had overtaken Sanders in delegates, and is projected to remain in the lead after the California results are announced.
Watching the vote tallies as they came in, state by state, it was one surprising win for Biden after another. First, he won across the south, including in Virginia and North Carolina, by larger-than-expected margins. Next, in the Bernie-friendly north-east region, in a huge upset, Biden won Massachusetts, beating Sanders and sending Elizabeth Warren to an embarrassing third place in her home state. Then he took Minnesota, benefitting from Amy Klobuchar's withdrawal. Finally, in perhaps the most surprising result of them all, Biden somehow managed a come-from-behind win in delegate-rich Texas.
It's worth noting that, in many of these states, Biden did not even campaign. He didn't have offices. He barely had money for advertising and was outspent by a huge margin by Sanders and Michael Bloomberg (who had a dismal night and has now dropped out, proving that money – even half a billion dollars – doesn't buy votes).
Much of Biden's support was driven by momentum from South Carolina, and backed by media coverage that followed that primary. But it is rare for the boost from a primary victory in one state to yield results so quickly – in just three days – in other states. This rapid shift indicates that many Democrats had not really settled on a candidate prior to Super Tuesday. About half of voters in Virginia and Oklahoma, for example, said they made up their minds in the past few days. Across the 12 states in which exit polls were conducted, Biden won 47 per cent of voters who made their decision in the past few days, compared to 26 per cent who had decided earlier.
Biden was clearly given a big boost from the withdrawal of Klobuchar, Pete Buttigieg and Tom Steyer from the race. Those drop-outs, and their endorsements of him, provided him with an open path to secure the so-called 'moderate lane' of Democratic voters. Likewise, many of the party's establishment figures came off the sidelines, and began to publicly back Biden. And on Super Tuesday, Biden capitalised on this party support. The results show that he came close to restoring the Obama coalition, gaining votes from a range of constituencies – African-Americans, college-educated whites, women in the suburbs, and Baby Boomers. Biden's victories and the re-emergence of this coalition will boost his argument among the party that he is the most electable Democrat.
Despite wins in California and some other states, Super Tuesday was a major setback for Sanders. He underperformed in polls in almost every state, including his home state of Vermont and other parts of New England, as well as progressive California, where he was predicted to win by a landslide. Bernie claims he is creating 'an unprecedented grassroots, multi-generational, multi-racial movement', but there was no sign of that last night (nor in earlier primaries). His support is neither multi-generational nor multi-racial, as older Americans and black voters clearly back Biden. His vote is solid among the younger Democrats who vote, but fewer young people turn up to the polls. Bernie isn't creating the new surge of voters that he promised. On Super Tuesday there were big increases in turnout in many states – in Virginia, it amazingly almost doubled compared with 2016 – but they were energised to come out to vote for Biden, not Sanders.
Sanders and his supporters are blaming the Democratic Party establishment for his poor showing. But this is unconvincing. Sure, the establishment wants to stop Sanders, but that is to be expected. Until a few days ago, the party hierarchy has been pretty disorganised and ineffective, and they gave Sanders (who wasn't even a member of the party until recently) plenty of opportunity to get his message out. More to the point, it is hard to blame the 'economic and political establishment' when African-American voters were so prominent and decisive in rejecting Sanders – unless you want to argue that they are tools of the establishment as well.
The reality is that, so far, Sanders has had difficulty increasing his support above the 30 per cent level in many states. After his win in New Hampshire, he was tagged the frontrunner. For many Americans, it was the first time they took his candidacy seriously. But the past few weeks have not gone well for him. His shouty and defensive debate performance in Nevada didn't help; nor did his 60 Minutes interview, in which he continued to say positive things about Cuba.
Super Tuesday exposed a problem Sanders has with significant numbers of voters outside of his base – cultural differences. Large segments of working-class voters, who are supposed to be Bernie's constituency, went for Biden. That includes African-Americans and sections of white workers, especially in the south, middle America, and rural areas, where Sanders' vote collapsed.
One thing these groups have in common is that they are more culturally moderate or conservative than Sanders and his supporters. Some political commentators argue that Sanders only cares about class issues, that he only wants Medicare for All. But many, especially in non-urban areas, recognise what the pundits don't – that Bernie has got woke. Sure, he is no cultural warrior. But the 'always consistent' Bernie has changed his tune on a range of cultural-signifier issues – including new support for open borders, gun controls and a fracking ban – that are perceived in traditional working-class areas as attacks on their way of life, and as undemocratic impositions. On top of this, everyone notices that Bernie's handpicked, most prominent surrogates are Alexandria Ocasio-Cortez and Ilhan Omar, who are among the wokest the Democratic Party has to offer.
Many of these non-urban, working-class Democratic voters may have switched to Trump in 2016, and may not be returning to the Democrats. But it's not like Trump's support is rock solid, especially given his erratic performance in office. It's not as if these voters can't be persuaded to come back to the Democrats. Yet Bernie's reactions to Trump have also cost him with these working-class Trump voters. For one thing, he was one of the loudest cheerleaders for the Russia-gate hysteria, going as far as introducing his own bill condemning Russia and Trump. For another, he was a prominent supporter of impeachment, one of the most flagrant attempts to overturn the people's democratic vote.
Beyond Sanders' own shortcomings, it may just be that this is not a year for his politics. In 2016, we saw the dams break, with both major parties facing challenges from outsiders claiming the populist mantle. The spirit that animated 2016 was change – a break-up of the old, and the rise of new political actors. In 2020, neither Trump nor Sanders is new. Indeed, the election in 2020 seems to be about rendering a verdict on Trump, who dominates American politics. And that verdict appears to be shaping up to be a question of whether or not to continue his chaotic rule, or to restore a more stable order without him.
Among many Democrats, Biden's appeal seems to rest with the desire for stability. Biden himself talks about 'healing'. It's notable that the endorsements of Biden stress his personal qualities, such as his decency and empathy, rather than his ideology or policies. Representative Jim Clyburn, who was so decisive in turning black support towards Biden in South Carolina, praised Biden's 'goodness'. It seems that many Democrats are willing to overlook Biden's gaffes, much in the way that Trump supporters give him the benefit of the doubt.
Of course, the race for the Democratic nomination is far from over. It is now a two-man contest, and Sanders still has a chance to prove himself. Biden's senior moments and waffle on policy issues do remain a big liability for him. In many ways, the Democrats turned away from Biden months ago, checked out the other candidates, found them wanting, and are only settling for Biden now. The resurrection of his candidacy says a lot about the lack of political talent among the younger Democrats.
Once again, the voters have upended expectations. They have proved to be more engaged, attentive and critical than they are often given credit for. That's a good thing, whatever the outcome.
Sean Collins is a writer based in New York. Visit his blog, The American Situation.
To enquire about republishing spiked's content, a right to reply or to request a correction, please contact the managing editor, Viv Regan.