The Heathrow decision is an affront to democracy
The law has become a friend of climate-change activists and an enemy of the people.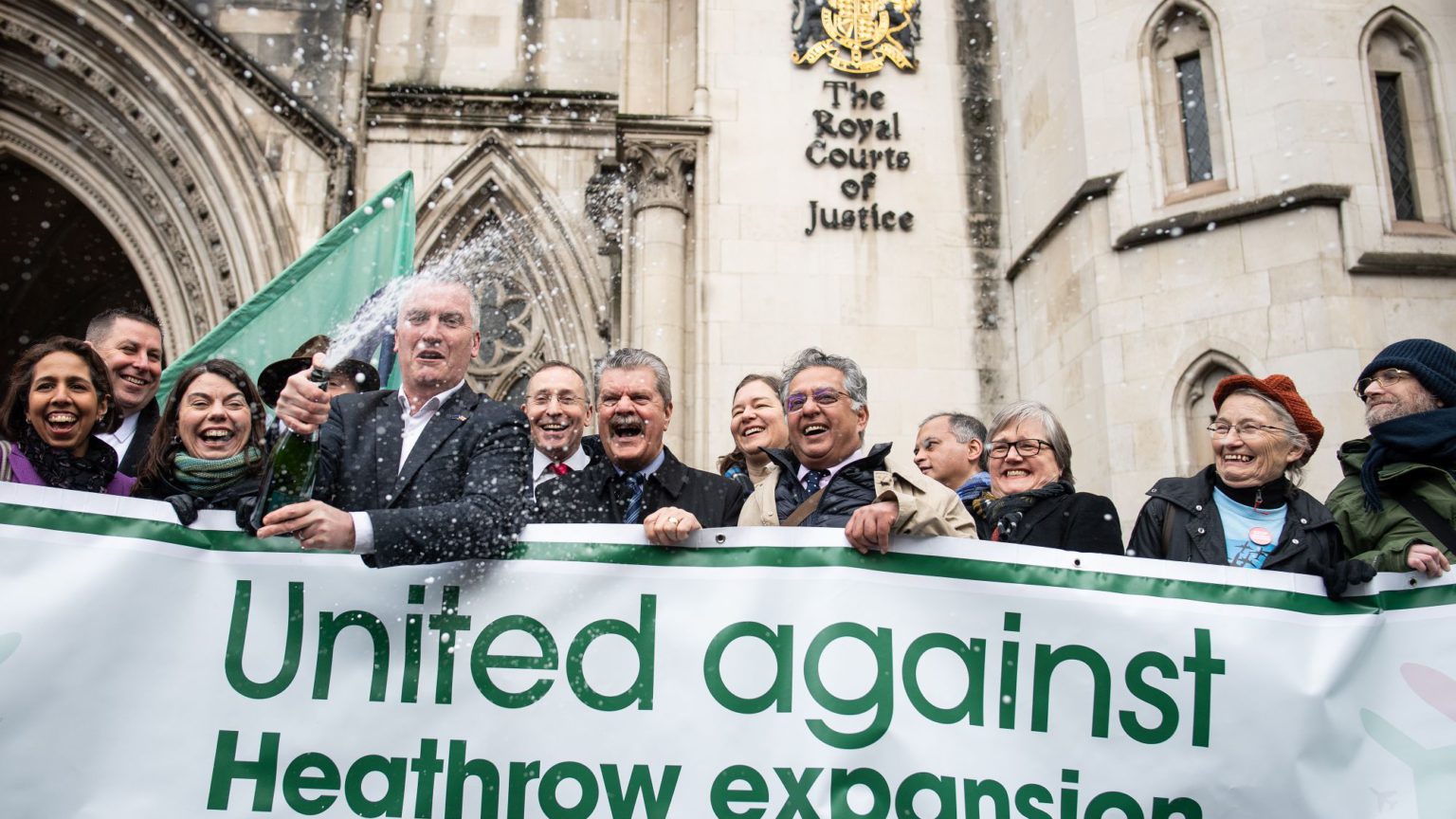 In June 2018, the UK parliament voted by an overwhelming majority of 415 votes to 119 to support proposals for a third runway at Heathrow Airport. A political debate that had run for years seemed to be over. Our elected representatives had finally made a decision.
The vote was a triumph for parliamentary democracy. During a four-hour debate, transport secretary Chris Grayling said Heathrow was full, and a new runway was needed to secure 'a clear path to our future as a global nation in the post-Brexit world.' Much of the opposition came from MPs with particular concerns about climate change, and air and noise pollution. These arguments were forcefully expressed, but so too were many arguments in favour of Heathrow expansion. The majority of MPs pointed out that climate-change emissions would not be reduced by rejecting Heathrow expansion because the same airplanes would merely fly into rival continental airports. Above all, they stressed that Heathrow was the busiest airport in the world, and that if it was to retain its status as a leading aviation hub its capacity had to increase.
MPs opposing Heathrow expansion tended to express the particular views of their particular constituents. For example, all the Tory MPs who voted against Heathrow expansion came from better-off parts of London and the south east, be it Adam Afriyie (Windsor), or Zac Goldsmith (Richmond Park). Those in favour of Heathrow expansion won because their arguments had a greater resonance with more MPs, and, no doubt, with more constituents, too. Heathrow expansion was seen to be in the national interest.
In a democracy all views count, but, importantly, majority opinion must prevail. And if the views of a particular interest, demographic or location are outweighed by broader concerns, then the particular interests cannot expect to carry the day. Democracy means treating all equally. In a parliamentary democracy, that means each MP has one vote and the policy with majority support should be carried out.
Yet on the day that parliament voted to support Heathrow expansion, there was a distinct lack of losers' consent. In partnership with the London mayor, Sadiq Khan, and four west London boroughs, Greenpeace UK executive director, John Sauven, threatened to take the government to court over the plans. Sauven accused ministers of not upholding 'laws protecting us from toxic fumes and climate change'. Instead of accepting the will of parliament, Greenpeace was 'going to ask a court' to overrule it in the interests of the environment.
'See you in court' used to be the parting shot of an aggrieved individual denied a personal right. In recent years, it has become the rallying cry of an aggrieved pressure group that has lost a political debate. Last week's ruling by the Court of Appeal, which blocked the government's plans for Heathrow expansion, shows why losing a political debate has now often become a pretext to winning a legal one. This is because the law has been bent in favour of minority interests to such an extent that it can now be used to trump parliamentary majorities. Parliament may have voted by four to one in favour of expanding Heathrow, but, when faced with the authority of law, that counts for nothing. Three judges ruled that a policy approved by parliament was unlawful, and of no effect. In the eyes of the law, parliament's clearly expressed view counted for nothing.
Responsibility for this affront to democracy does not rest with the judiciary, who seemed almost apologetic in ruling against the government on this occasion. Responsibility rests, rather, with the law's makers (MPs) rather than the law's interpreters (judges). In 2008, parliament passed the Planning Act, which had two adverse consequences for democracy. First, it empowered the judiciary to rule on the legality of any infrastructure policy. It did this by stipulating that a secretary of state has to take into account certain issues when formulating a infrastructure policy. This means that the judiciary is empowered to rule on whether the minister did as the law required.
In a democracy it is imperative that the political arms of the constitution – that is, parliament and government – are free to devise policy with regard to whatever issues they consider relevant. When that freedom is curtailed, the policy focus ceases to be on 'what is right?' and becomes 'what is lawful?'. These are different questions. If the extent of legal regulation is light, the issue of legality may have little impact on what is right. But in recent years, the extent of legal regulation has deepened, which means that policy decisions are now increasingly impacted on by the issue of legality.
If government policymakers were honest with themselves, they would admit that every policy debate begins not by asking 'what is right?', but by asking 'what does the law permit?'. And once that question of legality has been answered, policymakers then have little room for manoeuvre. We have seen the way in which human-rights and equality statutes have long constrained policymakers. But as the Heathrow decision highlights, the Planning Act 2008 also contains plenty of fetters of its own.
But the problem is not just that the Planning Act, in this case, constrains policymakers — it is also that it is used to fortify minority opinion. There is a logic here. If an objective had majority support it would not need to be bolstered by law. But in recent years politicians have been distrustful of majorities, and have tended to see minority opinion as enlightened and worthy of legal protection. Hence the Planning Act requires the secretary of state, when framing infrastructure policy, to have regard to government policy on climate change.
The issue of climate change had already been considered in the parliamentary debate of June 2018. And it failed to carry the day. All that ought to have mattered in a parliamentary democracy is the fact that 650 representatives of the British people felt climate change to be an insufficient reason to stop Heathrow expansion.
But the Planning Act sees it differently. It required the secretary of state to take into account an issue, in this case climate change, that parliament had already taken into account, and rejected as grounds for opposing Heathrow expansion. That's the problem with laws that skew the policymaking process. Issues that are dealt with and dismissed in debates are given a status by the law that they would not otherwise have. The law, then, ends up bolstering minority interests in opposition to majority opinion.
The three (yes, three) court cases that concluded in the Court of Appeal last week were brought by claimants who do not represent majority opinion. Backed by three environmental campaign groups, the claimants consisted of four London boroughs, plus one other English authority, and the mayor of London. The 29 other London boroughs and 320 other English authorities that accepted parliament's decision were ignored. Anyone concerned for the health of British democracy should be alarmed at the ability of well-connected campaign groups, and a select few London boroughs, to challenge a government policy passed overwhelmingly by elected representatives in parliament.
To enquire about republishing spiked's content, a right to reply or to request a correction, please contact the managing editor, Viv Regan.