Bernie Sanders, Joe Rogan and the folly of purity politics
Too many on the left seem only to want to associate with people who think exactly as they do.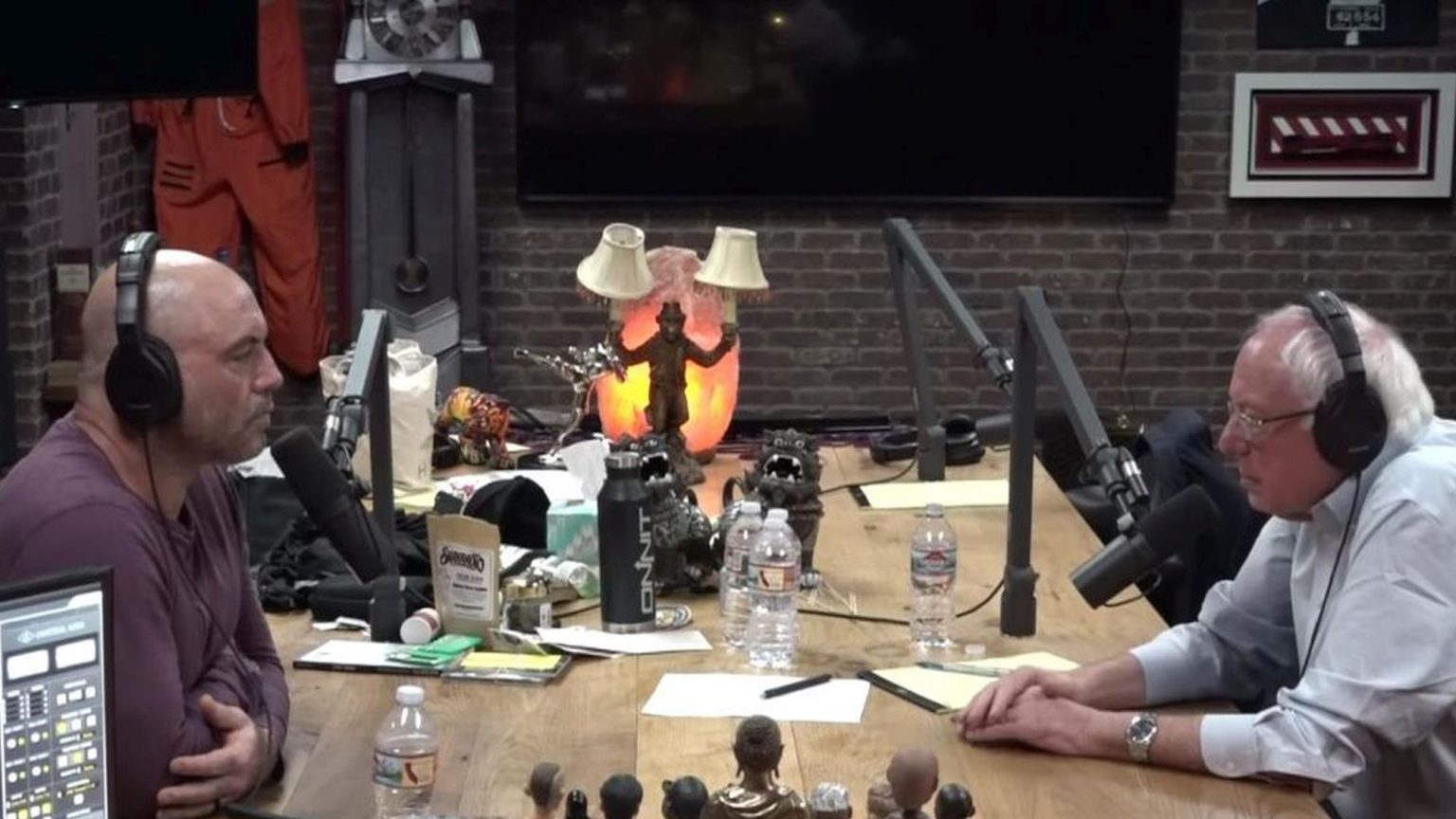 The row over Joe Rogan's endorsement of Democratic presidential candidate Bernie Sanders offers a useful insight into how thoroughly the left has lost the plot.
Rogan – for the benefit of those who aren't moderately to very online – is a stand-up comic and actor turned podcaster and UFC commentator. His podcast, The Joe Rogan Experience, is among the most popular in America, listened to by millions each week.
Recently one of his guests asked him who he was planning to vote for in the Democratic primaries, and he said Bernie Sanders. 'I believe in him, I like him – I like him a lot', he said, nodding to the time he'd interviewed Sanders on his show last year. 'He's been insanely consistent his entire life.'
The Sanders campaign naturally leapt on this and tweeted out a video of Rogan's endorsement. After all, Rogan has a huge audience, which is presumably skewed towards precisely the sort of young people Sanders is trying to galvanise.
But then all hell broke loose.
An LGBT group said Sanders 'must reconsider' the video, claiming Rogan had 'attacked transgender people, gay men, women, people of colour and countless marginalised groups at every opportunity'. Progressive organisation MoveOn also urged Sanders to recant, adding that Rogan had also apparently promoted Islamophobia.
The woke commentariat was none too pleased, either. Media critic Carlos Maza said 'Rogan is an incredibly influential bigot and Democrats should be marginalising him'. A writer for Slate, nodding to Rogan's alleged hatred of Muslims, said 'Sanders' acceptance of Rogan feels like an affront to my religious dignity'.
Ouch. So what has Rogan said to prompt such outrage? And how did Sanders' campaign fail to realise that they had just linked arms with a racist, trans-bashing, woman-hating, homophobic religious bigot? The reality of course is that all of the epithets hurled at Rogan are completely untrue.
When these critics say he 'promotes' hatred of one sort or another, what they largely mean is that his show has featured controversial right-wing guests, including conspiracy theorist Alex Jones and professional troll Milo Yiannopoulos. What this conveniently ignores is that he also provides a regular platform to staunch left-wingers. His style is being curious, open-minded and sceptical.
Yes, some of his guests have aired some pretty dodgy opinions. He's also a comedian, with a high tolerance for offensive language and jokes, which is definitely not something that is shared by today's pearl-clutching left. But it is ludicrous to suggest that he is some sort of hate-fuelled bigot.
The most convincing thing his critics have tried to pin on him personally is that he's 'transphobic' – purely, it seems, on the grounds that he doesn't think trans women, who have developed a male frame, should be allowed to fight women competitively.
'If you want to be a woman in the bedroom and… you feel like you have, your body is really a woman's body trapped inside a man's frame and so you got an operation, that's all good in the hood', the monster is quoted as saying. 'But you can't fight chicks.'
That such a statement is even treated as so heretical, despite the fact that most people will see that as pure commonsense, tells you something about how out-of-touch these people really are.
Thankfully, the Sanders campaign hasn't backed down. 'Sharing a big tent requires including those who do not share every one of our beliefs', a spokesperson said in response. 'The truth is that by standing together in solidarity, we share the values of love and respect that will move us in the direction of a more humane, more equal world.'
This is completely right. It is also just practical politics, regardless of what you think of Rogan's views. The alternative would be refusing to engage with anyone who enjoys a bit of fruity language and thinks people who went through male puberty shouldn't be allowed to physically fight women. Good luck with that.
There was a big dose of cynicism behind this Twitterstorm, of course. More centrist Democrats have long perpetuated the myth of the 'Bernie Bros', the idea that Sanders' supporters are a bunch of hipster sexists who patronise feminists at house parties. Rogan's anti-woke reputation is helpful for those looking to revive that 2016-vintage smear.
The Rogan controversy has also been gleefully leapt on by supporters of fellow Democratic hopeful Elizabeth Warren, no doubt smarting that Sanders has pulled ahead in the wake of the two candidates' very public falling-out. (Though it's worth noting that, according to Rogan, Warren had also inquired about appearing on his show.)
Still, this mad row also reflects something very real. Namely, an intolerant streak on the left that has become deeply ingrained and completely self-destructive. Many have become more interested in preening than politics; in denunciation rather than winning the argument; in distinguishing themselves from others rather than building the broad support necessary to take power.
This kind of insane purity politics is part of the reason why the Western left, after a series of crushing defeats, is still going nowhere fast.
Tom Slater is deputy editor at spiked. Follow him on Twitter: @Tom_Slater_
Picture by: YouTube.
To enquire about republishing spiked's content, a right to reply or to request a correction, please contact the managing editor, Viv Regan.