What does Keir Starmer actually believe in?
His refusal to say anything of substance is deeply revealing.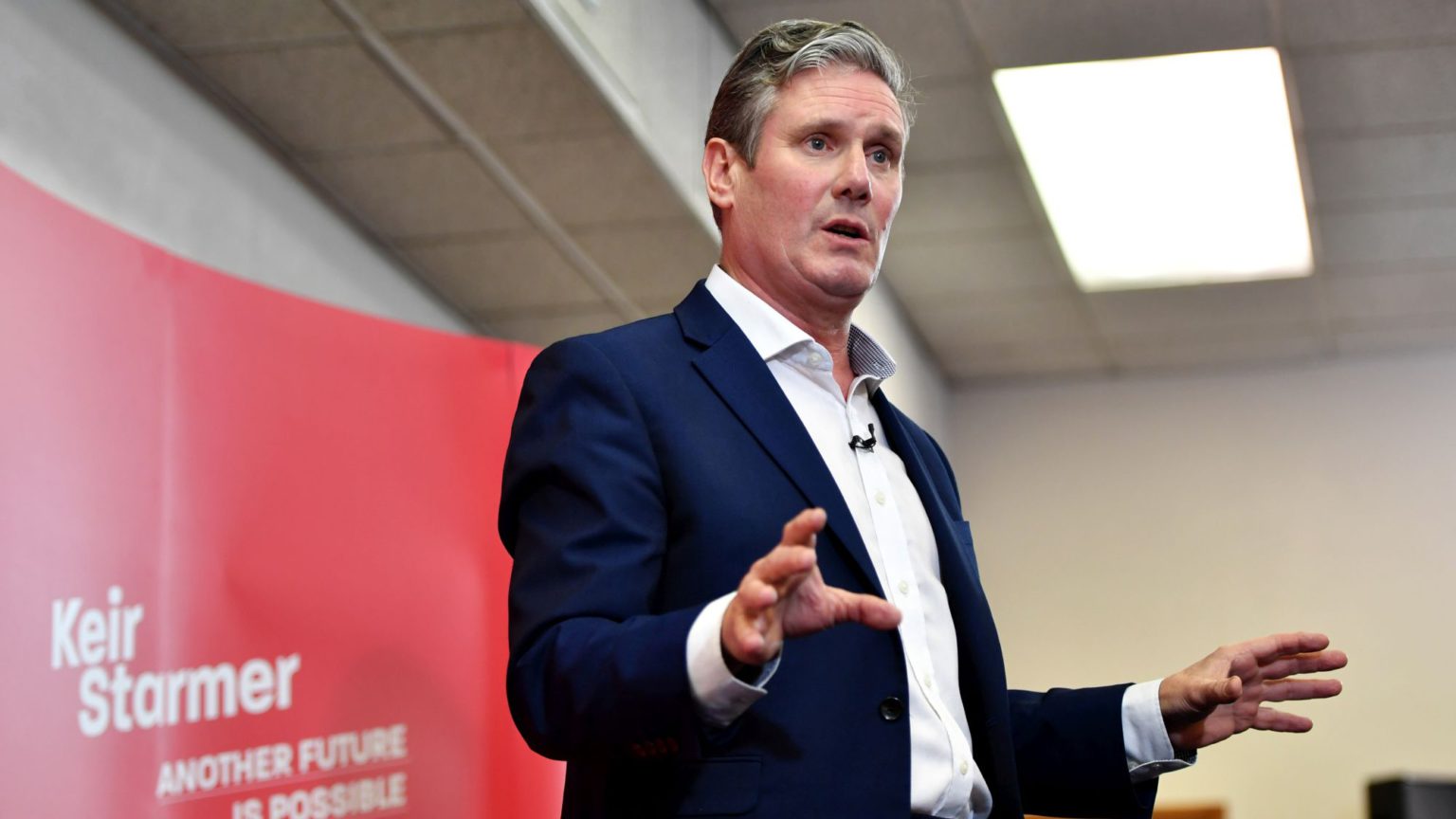 Sir Keir Starmer, former director of public prosecutions and serving shadow Brexit secretary, has consolidated his position as the frontrunner in the Labour leadership race.
Last night, he secured the endorsement of Usdaw, one of the biggest trade unions. Having already secured the support of Unison and another affiliated group, he is the first to make it on to the ballot paper. And there is still a good chance GMB will back him today.
There's a long way to go, in a contest that is already groaning with tedium, but polls suggest Starmer has reasons to be confident in his chances: the latest YouGov poll has him beating close rival Rebecca Long-Bailey by 63 per cent to 37 per cent.
There's only one real snag with his campaign so far: no one is quite sure what it is he believes in. Indeed, his campaign has been a committed exercise in triangulation and obfuscation, to the supposed end of bringing the party together.
His leadership team includes people who worked for Jeremy Corbyn as well as those who worked for Liz Kendall, the Blairite candidate in the 2015 race.
He is effectively telling both the left and right of his party what they want to hear. At his campaign launch in Manchester a few weeks back, he said: 'We are not going to trash the last Labour government… nor are we going to trash the last four years.'
His recent op-eds are marvels of meaningless word soup, replete with talk of his 'values' with little or no attempt to define them. 'I have always been motivated by a burning desire to tackle inequality and injustice, to stand up for the powerless against the powerful', he wrote in the Guardian last week. 'That's my socialism.'
Here, the s-word is reduced from a serious, once-central ideology to meaning little more than being a good person – and being on the right side of liberal-progressive causes.
Starmer's slick leadership videos have tried to posit his career as a barrister – in which he represented striking print workers, environmental activists and others – as proof of his left-wing credentials.
But, as Luke Gittos has argued on spiked, what cases Starmer took while being a jobbing barrister tells us little about his politics or general worldview.
More significant, says Gittos, is Starmer's tenure as DPP, during which his shift in guidance laid the groundwork for the VIP paedophile panic. He also, incidentally, led a crackdown on benefit cheats, a fact conveniently ignored by his more leftish supporters.
To the extent that a picture of Starmer's politics has emerged, it is one of a legalist and a technocrat, at most a leftish 'moderate'. His prime selling point seems to be that he looks like he could be prime minister and he is good on the detail of policy, in a way that Boris Johnson often isn't.
That such an uninspiring proposition is currently the frontrunner is revealing, in a couple of ways.
First, the Labour membership is clearly not nearly as radical and ideological as centrists and right-wingers would have us believe. That Sir Keir has been able to sort-of claim the mantle of Corbynism, by just paying a bit of lip service to socialism, lays testament to this.
You might say that the Corbynistas are just waking up to a historic defeat and think they now need a more vanilla, centrist leader. But then again, Starmer was named as the most likely to succeed Corbyn in a survey of members in January last year.
Second, the Labour Party is clearly completely out of ideas: having spent much of the past five years having an internal cage match between left and right of the parliamentary party, the two sides have almost collapsed in on each other, which is why Starmer's empty platitudes about unity are so appealing.
Third, Labour has not really reckoned with the scale of the rebuke it was given by the electorate in December. Labour has lost its old heartlands and more broadly the public's trust, particularly on the issue of Brexit. And Starmer is not the man to win that trust back.
Indeed, Starmer was among the most passionate supporters of Remain in the shadow cabinet. He pushed the leadership towards reneging on its 2017 commitment to respect the referendum result and instead switch to campaigning for another do-over vote.
The Liberal Democrats were reduced to a rump in the 2015 election, in part because they broke the public's trust on tuition fees. They have never really recovered from it. And that u-turn pales in comparison with Labour breaking its promise to uphold the vote for Brexit, backed by millions of its own voters.
The idea that steady Starmer, and his eye for detail, are enough to win people back feels like a stretch – not least because he is still calling for a 'close relationship' with Brussels that would somewhat undermine the point of Brexit.
At the end of the day, if there's one thing we can be sure that Starmer believes in, it's that Brexit is a mad idea that really should have been reversed. For all Starmer's vague allusions to his 'values', there's nothing progressive about that.
But then again, there's nothing progressive about the party he is seeking to lead, either.
Tom Slater is deputy editor at spiked. Follow him on Twitter: @Tom_Slater_
Picture by: Getty
To enquire about republishing spiked's content, a right to reply or to request a correction, please contact the managing editor, Viv Regan.