Woke class hatred
The loathing of ordinary people is now plain for all to see.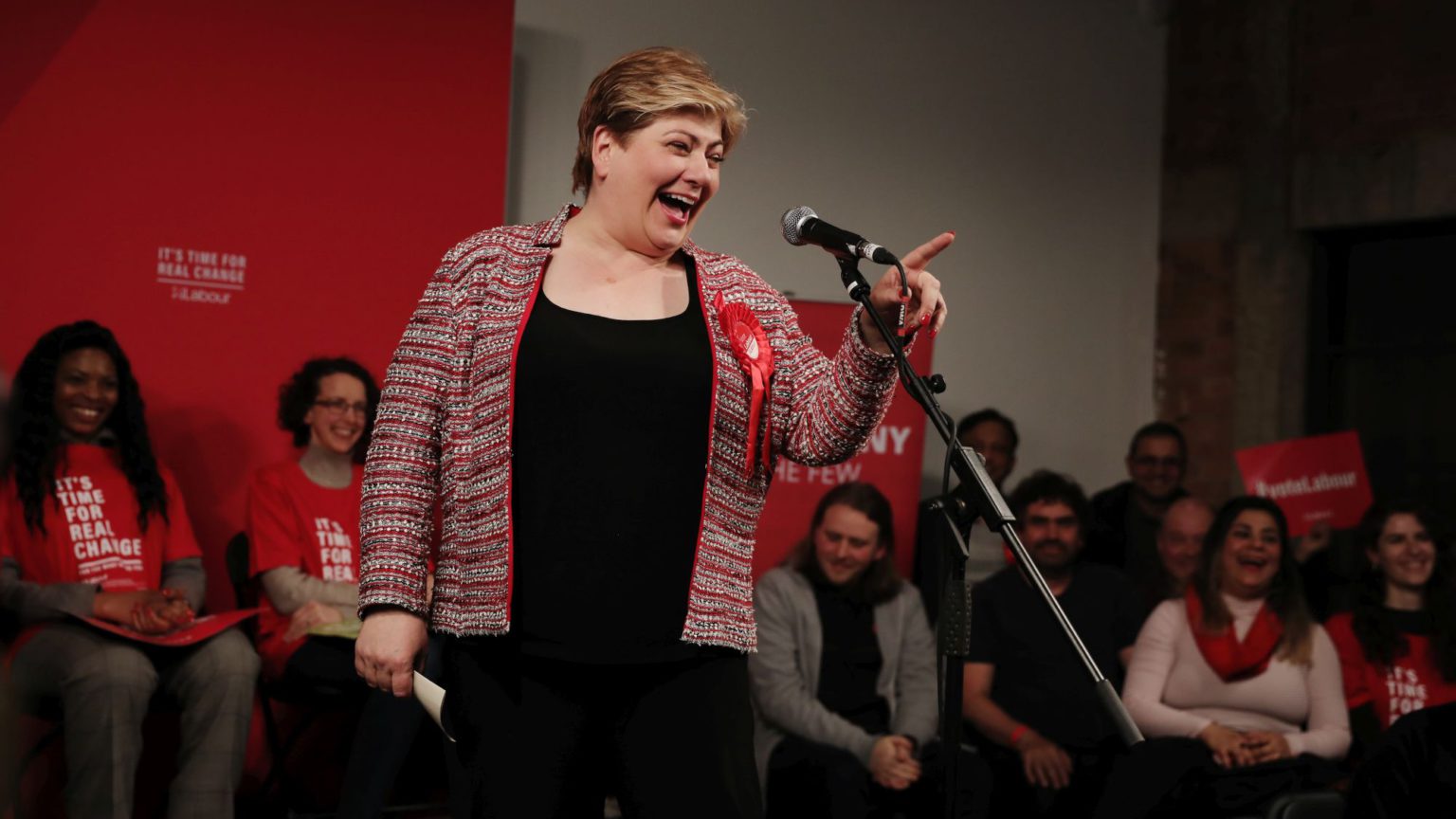 This is a hard article to write, for legal rather than emotional reasons. You see, the main hook for this – an allegation from former Labour MP Caroline Flint that shadow foreign secretary Emily Thornberry told an MP in a Labour Leave seat she was 'glad my constituents aren't as stupid as yours' – has now become the subject of a legal battle. (Thornberry strongly rejects the allegation and is suing Flint, who she has accused of 'making up shit' about her.) I leave readers to make up their own minds.
Luckily, as we're talking about Labourites' and Remainers' brewing disdain for the masses, you don't have to look far for other examples of it. Not least from Emily Thornberry herself. In 2014, after all, she had to resign from the front bench after tweeting a picture of a house in Rochester and Strood, draped in St George's flags with a white van outside. It was widely interpreted as sneering. More recently, she was videoed bursting out laughing as Dawn Butler MP declared 'I think if anyone doesn't hate Brexit, even if you voted for it, there's something wrong with you'.
Following last week's remarkable election result, in which scores of working-class, Leave-backing Labour seats went Tory for the first time ever, anti-working-class bile was spewing from various prominent Labour supporters in the media. Labour activist and journalist Paul Mason wrote in the New Statesman that 'at no point did Labour "desert" the working class. But a section of it deserted us last night, and I am not going to flinch from stating that in the places it did so there is now a toxic narrative of nativism and xenophobia'.
We would expect nothing less from Paul. As we would from pop star and Labour supporter Lily Allen, who has said Boris Johnson won the election due to 'this country's deep rooted racism and misogyny'. She has now quit Twitter because she says it 'gives a voice to the far right'. In a similar vein, Scottish actor John Hannah – the one from Four Weddings and a Funeral – has said 'we're a country of racists and Brexit/EU scepticism is the cover'.
Now, Leave voters have been accused of racism and stupidity time and again since 2016. But up to now, Remainers would at least pretend, some of the time, that they were talking about middle-class Leavers in the Tory shires. But the defection of working-class Leavers to the Tories has brought to the surface the clear class-hatred element of all this. Months of left-Remainers spuriously suggesting that working-class people didn't really back Brexit, or did so somewhat reticently, has now been blown out of the water. And Labourites' and Remainers' loathing of ordinary people is now on full show.
Most troubling in all this is the way in which anti-working-class bigotry is now laundered through apparent anti-racism. Despite the clear decline in racism in recent decades, the cultural and political elites have carved out a narrative that it is worse than ever before, particularly among Those People who drive white vans, support Brexit and dislike Jeremy Corbyn. In doing so, alleged left-wingers have made class hatred respectable and anti-racist politics look cut-off and vaguely ridiculous. Which is bad news for both class politics and anti-racist politics.
That the left needs to learn lessons from this historic defeat is obvious. What I'm wondering is if they are even capable of doing so. Many Labourites and liberals don't only misunderstand working-class people — they genuinely despise them. It's less that they don't know how to win over the people of Blyth Valley or Wrexham, and more that they kind of don't want to. That is at least part of the reason why Labour prioritised the votes of middle-class Remainers over working-class Leavers, and why so many of its prominent supporters have doubled down on the prole-bashing in the wake of the result.
Tom Slater is deputy editor at spiked. Follow him on Twitter: @Tom_Slater_
Picture by: Getty
To enquire about republishing spiked's content, a right to reply or to request a correction, please contact the managing editor, Viv Regan.