No, passports should not have a third gender option
Society should not transform itself around the confusions of a small group of people.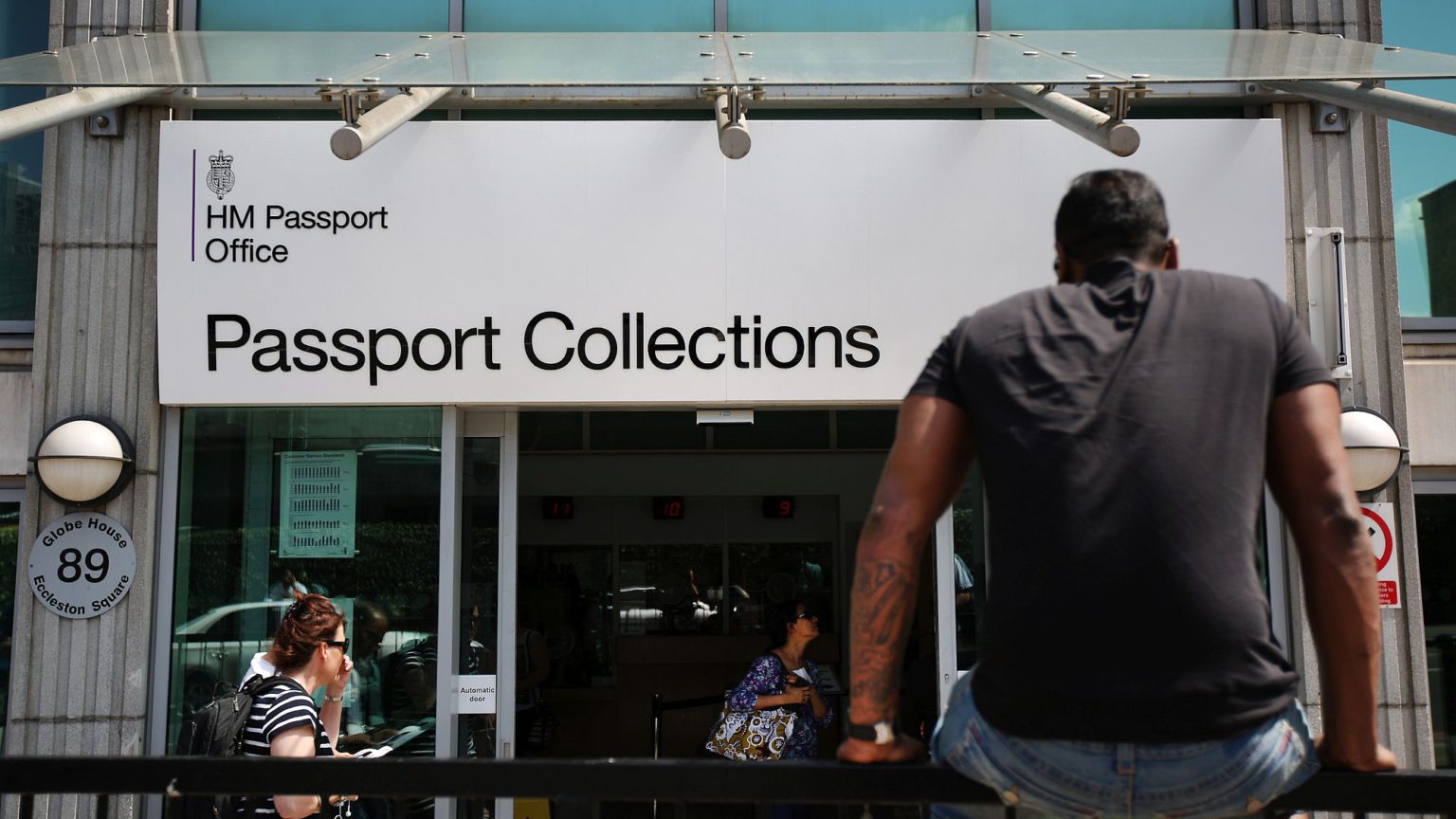 Christie Elan-Cane, a 'non-gendered activist', is taking on the Home Office in a case being heard in the Court of Appeal this week. Elan-Cane wants British passports changed so that people are no longer bound by a choice between 'male' or 'female', but can opt instead for a gender neutral 'X' category. The 62-year-old Elan-Cane, who has spent the past 25 years campaigning to achieve legal and social recognition for non-gendered identity, believes the UK's passport process is 'inherently discriminatory'. The High Court rejected her case last year, but granted permission to appeal. If she is successful, the handful of people who consider themselves to be neither male nor female will be able to gain an official stamp of approval for their confusion.
Lots of people get cross about how much passports cost. Many get frustrated with the complicated forms that need to be completed. And anyone who has ever tried to get a toddler to comply with the photo requirements no doubt swore with exasperation. But tears at the need to tick a box indicating sex? Not so much. Yet more than 80 MPs – our delegates in parliament – have signed up to a House of Commons early day motion demanding 'X passports for people who do not identify with a particular gender'. Jeremy Corbyn, Caroline Lucas, Sir Vince Cable and Tory Crispin Blunt are among the signatories.
Layla Moran, Lib Dem spokesperson for education, has tweeted her support for Elan-Cane's appeal: 'It is @LibDems policy to include a gender-neutral option on passports. Society recognises non-binary gender and so should our official documents.' But who comprises this 'society'? And what gives Layla Moran the right to speak on behalf of all of us? When it comes to attitudes towards gender we have yet another example of the huge gulf between the views of the political class and everyone else. Go to a pub in Middlesbrough, a bus stop in Doncaster or a market stall in Plymouth and you will meet people who know that there are men and women and find the made-up notion of 'gender neutrality' to be either baffling or hilarious. Perhaps Moran does not think such people are fit to be included in her definition of society.
As even the Guardian begrudgingly reports, 'The Home Office has argued that issuing passports with an X marker would have widespread implications and lead to additional costs across the whole of government. It would be a disproportionate burden, it maintains, since only a few people would benefit from the change.' Indeed. Including a gender-neutral option on passports would not only prompt an expensive administrative change but, far more fundamentally, it would also mean changing the status of an official document that people use as a form of legal identification, at the behest of a handful of activists. It would enshrine in law the idea that biological sex is less relevant than a feeling we have about our identity.
Elan-Cane's appeal may or may not be successful. But the fact that it has gone so far and has the backing of so many of our senior political figures is significant. We need to ask how a tiny proportion of gender ideologues are able to hold such sway over our institutions.
Writing at the Spectator this week, James Kirkup shines a light on a report called Only Adults? Good Practices in Legal Gender Recognition for Youth. It was produced by Dentons, which is, apparently, 'the world's biggest law firm', along with the Thomson Reuters Foundation and the International Lesbian, Gay, Bisexual, Transgender, Queer and Intersex Youth and Student Organisation. Kirkup explains that the report's purpose is to help trans activists instigate changes in the law that would 'allow children to legally change their gender, without adult approval and without needing the approval of any authorities'.
Only Adults? offers a rare glimpse into the tactics employed by trans activists. One suggestion is that campaigners should 'intervene early in the legislative process and ideally before it has even started' in order to have 'a far greater ability to shape the government agenda'. Another recommendation is that activists should tie their demands to 'more popular reforms'. We know that this has already been carried out with some degree of success: in countries around the world, efforts have been made to align the transgender movement with gay-rights groups. This has allowed access to already established networks and funding at a time when, with same-sex marriage, gay rights had largely been achieved and campaigners for groups such as Stonewall were in search of a cause. Revealingly, a key recommendation is that trans activists should 'avoid excessive press coverage and exposure'. Unsurprisingly, it turns out that the more people find out about the changes proposed by trans activists, the less supportive they are. So, very similar to the effect Lib Dem leader Jo Swinson has on the electorate, then.
Transgender campaigners employ underhand strategies to achieve their goals. This is hardly surprising to those who have followed the rapid shifts in policy and language that have come about in a very short space of time. But having a whole arsenal of tactics does not explain why so many of our politicians are so ready to jump to the trans activists' tune. Conservative Penny Mordaunt, responsible for leading the government's push to liberalise the Gender Recognition Act, found herself unable to answer straightforward questions such as: 'what is a woman?'; 'can humans change sex?'; and 'in what circumstances is it necessary to distinguish between males and females?', in an interview on Mumsnet earlier this year. Such deliberate befuddlement is not down to wily strategies alone.
Crucially, there has been a readiness from people outside of the transgender community and in positions of authority to enforce new laws, speech codes and behaviour codes in line with the new trans orthodoxy. A fear of being labelled transphobic seems to override even the most basic degree of common sense. More than this, defending trans rights allows politicians with little democratic legitimacy to act on behalf of the oppressed. Transgender people – always, so we are repeatedly told, on the brink of committing suicide – are apparently the most victimised group around today. Providing the trans community with protection from harm provides an important source of moral authority for those in positions of power.
Assuming the moral authority of the oppressed and acting on behalf of the transgender community legitimises censorship and the introduction of fundamental social change with serious implications for women's rights. Whoever wins next week's General Election, we urgently need a government willing and genuinely able to speak on behalf of society: that is, the overwhelming majority of citizens who still recognise the existence and importance of biological sex.
Joanna Williams is associate editor at spiked. She is the director of the new think tank, Cieo. Find out more about it here.
To enquire about republishing spiked's content, a right to reply or to request a correction, please contact the managing editor, Viv Regan.