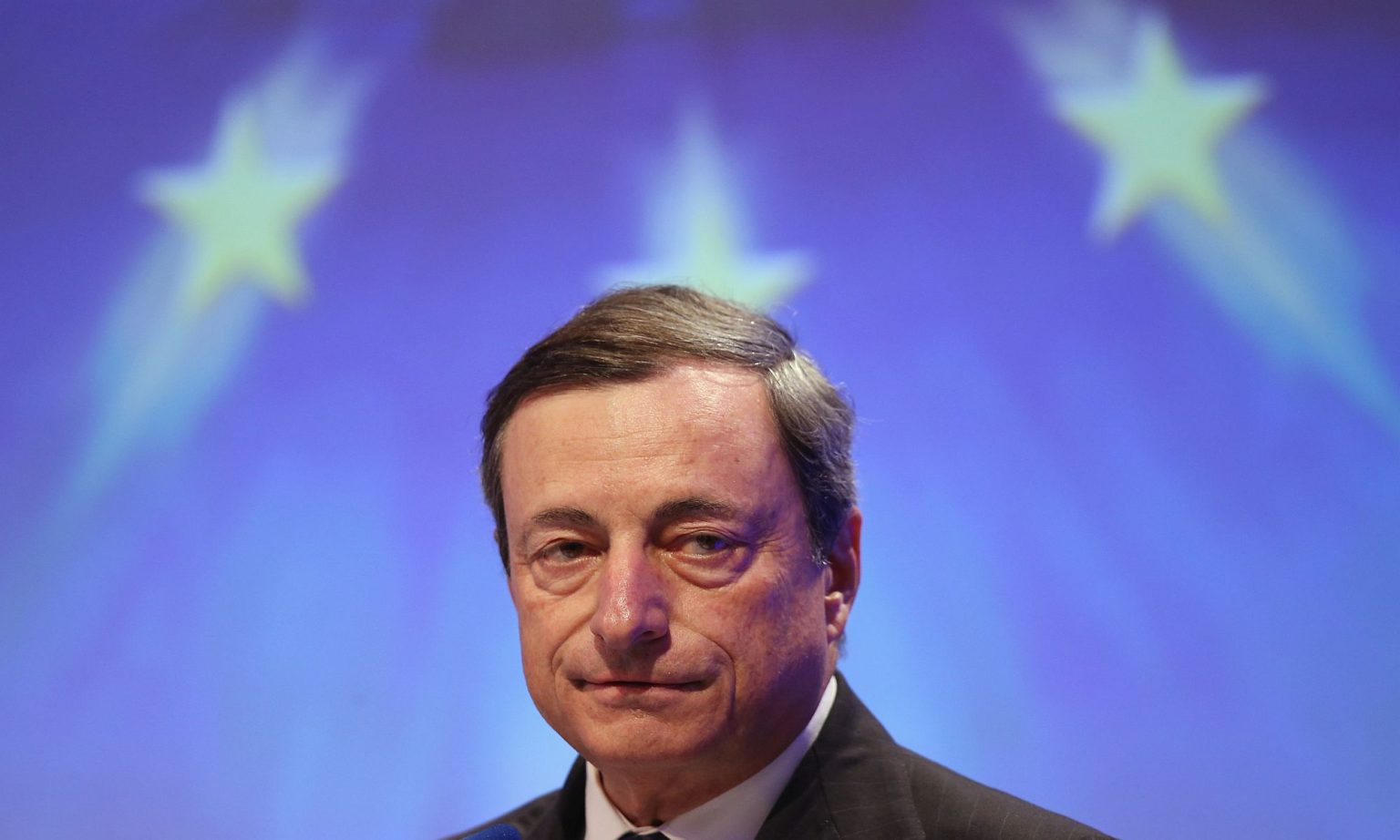 Long-read
Mario Draghi and the grand folly of the eurozone
The EU's European 'dream' is divisive, technocratic and economically disastrous.
On 14 June 2011, Mario Draghi appeared at the European Parliament to audition for the job of president of the European Central Bank (ECB). It was a delicate moment. Economic and financial tensions in the eurozone were escalating rapidly. To the dismay of most observers, the ECB had raised its policy interest rate in April and, more worryingly, was threatening to do so again in July. Ignoring the anxiety, Draghi aligned himself with the ECB's eccentric position. Monetary policy, he said, was 'still very accommodative'; it was time to take 'pre-emptive' measures to prevent runaway inflation. His message was clear: he would support another interest-rate hike. That hike came on 7 July even as financial tensions intensified. The next day Draghi defended the rate increase. 'Expansionary policies have exhausted their margins of manoeuvre', he said. Draghi added: 'The need to end the exceptional support to the economies provided by fiscal and monetary policies in the past three years is undisputed.'
Thus, on the threshold of becoming ECB president, Mario Draghi fitted firmly in the euro's ideological austerity framework. It was this that threw the eurozone into a renewed crisis in the summer of 2011.
Fast forward to 28 October 2019. European leaders showered glowing accolades on Draghi as he departed from his eight-year term as ECB president. The leaders paid him tribute for sticking to the mythology of the euro; namely, that it spread economic prosperity and brought member nations together in a closer political embrace. But with perhaps the exception of his celebrated 'whatever-it-takes' statement in July 2012, in which he pledged to save the euro – a statement that appeared to work magic only because of German chancellor Angela Merkel's unwavering support – the rest of Draghi's term was a continuation of the eurozone's intrinsic economic slide, amid increasingly aggravated political tensions.
Merkel lends Draghi her support
At an investor conference in London on July 26, 2012, just over a year after the disastrous rate hike that precipitated the renewed eurozone crisis, Draghi famously said, 'Within our mandate the ECB is ready to do whatever it takes to preserve the euro. And believe me, it will be enough.' The next day, even before anyone knew what exactly Draghi meant, Merkel gave him her unconditional support. Germany, she said, was 'committed to do everything to protect the eurozone'. She had no choice. She would face a domestic revolt if she offered German financial assistance to Spain and Italy, the two countries in the throes of the crisis. For her, an ECB bailout of the crisis countries was desperately welcome.
Rejecting his chancellor's preference, Jens Weidmann, Bundesbank president and former senior aide to Merkel, fiercely opposed the plan, which was to buy the crisis country's bonds in 'unlimited quantities' and thus prevent the yield on bonds from skyrocketing. Weidmann made the same case against the proposal as the Nobel Laureate Christopher Sims had done a short time earlier. If the ECB were to buy such large quantities of a single country's bonds and the country defaulted on those bonds, then other eurozone members would bear the losses. Sims emphasised that ECB authority to buy unlimited quantities of a member country's bonds needed the backing of a democratically legitimate eurozone budget. But a eurozone budget was precisely what Merkel wanted to avoid – and while everyone paid lip service to European democratic legitimacy, no one had a clue how to achieve it.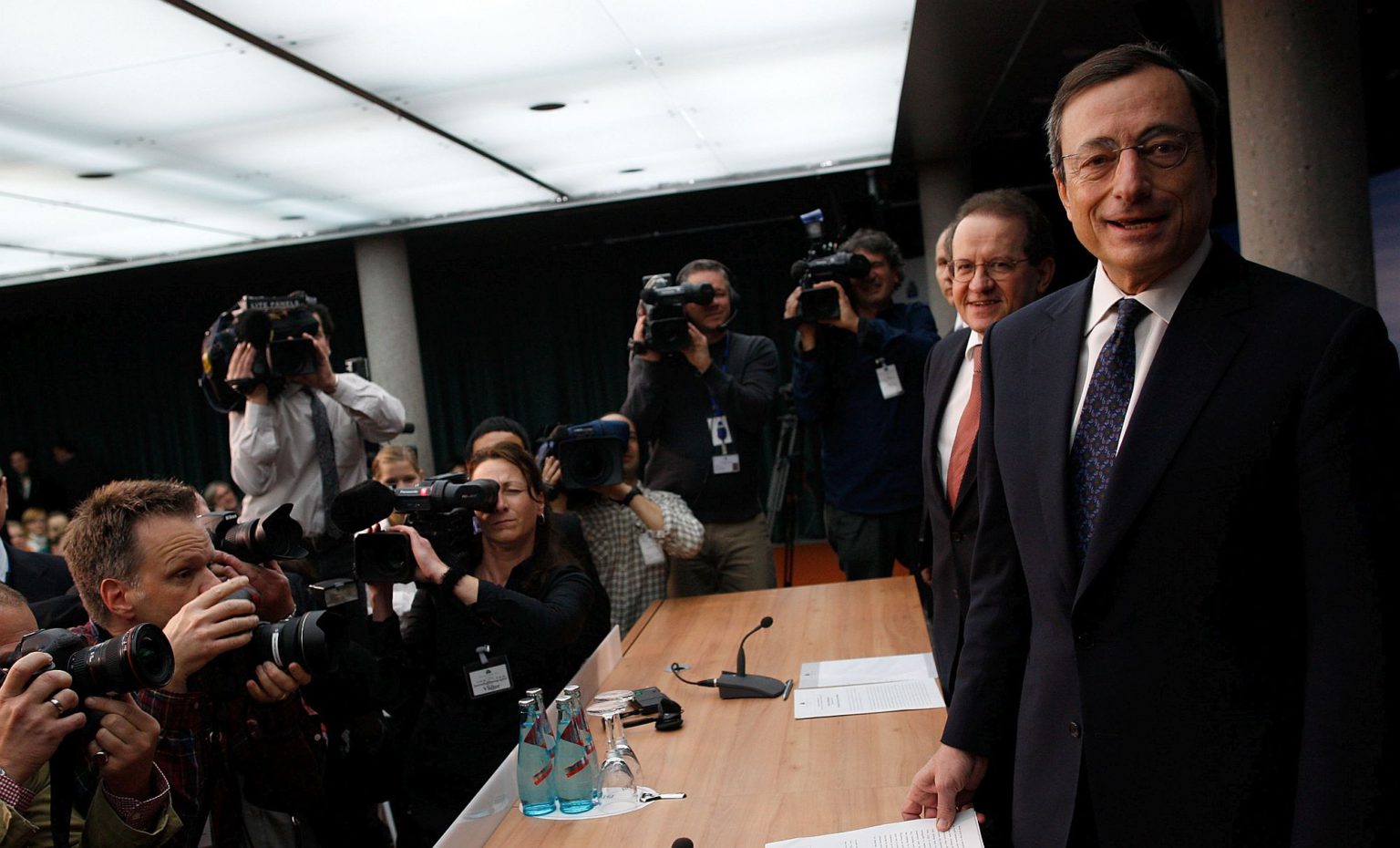 Mario Draghi at a news conference in Frankfurt am Main, Germany, following his first meeting, as ECB president, of the governing council, 3 November 2011.
As Weidmann continued his relentless opposition, Merkel continued to support Draghi through the workings of the German constitutional court and eventually the European Court of Justice. The so-called 'whatever-it-takes' programme, labeled Outright Monetary Transactions (OMTs) became part of the ECB's toolkit. Mario Draghi took the bows before the cameras, but as Jeroen Dijsselbloem, former Dutch finance minister, recently recalled, Merkel's public backing was essential to reassure markets that OMTs were for real.
The anchor drifts, the eurozone sinks: July 2012 to December 2014
The unlimited bond-purchase promise diffused the crisis, but the task of monetary policy still lay ahead. The ECB's policy interest rate was still too high for the eurozone economy, – most countries were either still in recession or barely out of it. Merkel had no further interest in an expansive ECB policy. She was now in line with Weidmann, who opposed any policy easing, an opposition which gained the support of ECB Governing Council members from other 'northern' member states. In southern eurozone economies, unemployment rates and government debt ratios climbed to painful levels. The threat of a crisis remained ever present.
The eurozone faced the threat of deflationary tendencies taking hold. The risk was that price inflation would remain very low, which would raise the real interest rate (the nominal interest rate adjusted for inflation), which, in turn, would tend to keep debt burdens elevated and depress consumer spending and business investment. By May 2013, the eurozone's 'core inflation rate', the rate that strips out volatile energy and food prices, was falling sharply. But at an ECB press conference that month, Draghi said there was no cause for worry. He insisted three times that the eurozone's inflation rate was 'firmly anchored' near its target of two per cent or less.
Perhaps, in the face of northern opposition, Draghi was helpless. If so, he did not let on. As the eurozone inflation rate drifted down to around one per cent, Draghi insisted that inflation was firmly anchored.
Instead, Draghi donned the garb of a political philosopher. Some eurozone member nations, he said, were not delivering the 'essential services that people expect from their governments'. Such governments, he said, had no right to claim 'sovereignty'. European technocrats were right to take over governmental tasks. To better serve the people, to create 'a more perfect union'.
Such claims to overriding national sovereignty were music to the ears of so-called pro-Europeans. The Draghi mystique took deeper root. The phrase 'a more perfect union' was, of course, from the preamble to the US constitution. Draghi dared to compare the US constitution – ratified by the states to establish an elected federal government – to the EU's messy and arbitrary system, which gave free reign to unelected technocrats and assertive national leaders who imposed directives they believed were in the best interests of the people.
January 2015: the QE is not too little, but it is too late
By late 2014, the eurozone's core inflation rate had dropped below one per cent. Even Draghi and the ECB could not look the other way. In January 2015, the ECB introduced its quantitative easing (QE) program to buy long-term bonds of member states and thus help reduce long-term interest rates. The expectation was that the lower interest rates would stimulate demand and thereby push up economic growth and inflation rates.
But here's the rub: the ECB laid out all this money, and the eurozone's average inflation rate remained stubbornly unchanged, moving in a small range of around one per cent. Actually, matters were worse than suggested by the one per cent eurozone average. The German inflation rate was closer to 1.5 per cent, and the Italian inflation rate was around 0.5 percent. For Germans, the outcome was congenial. With a nominal interest close to zero – in fact, negative recently – the German real interest rate was -1.5 per cent, or thereabouts. ECB monetary policy provided a boost to the German economy. But for Italy, with its higher nominal rate, the real interest rate was closer to +1.5 per cent. Even recently with the fall in the nominal rates on Italian bonds, the Italian real interest rate is positive. With a productivity growth rate below 0.5 per cent a year, the Italian economy needs a real interest of minus-two to minus-three per cent, not a positive rate.
The bottom line here is that ECB monetary policy is making the stronger country – Germany – stronger, and the weaker country – Italy – weaker. This is the original sin of a one-size-for-all monetary policy, which with certainty harms the short-term interests of some member states.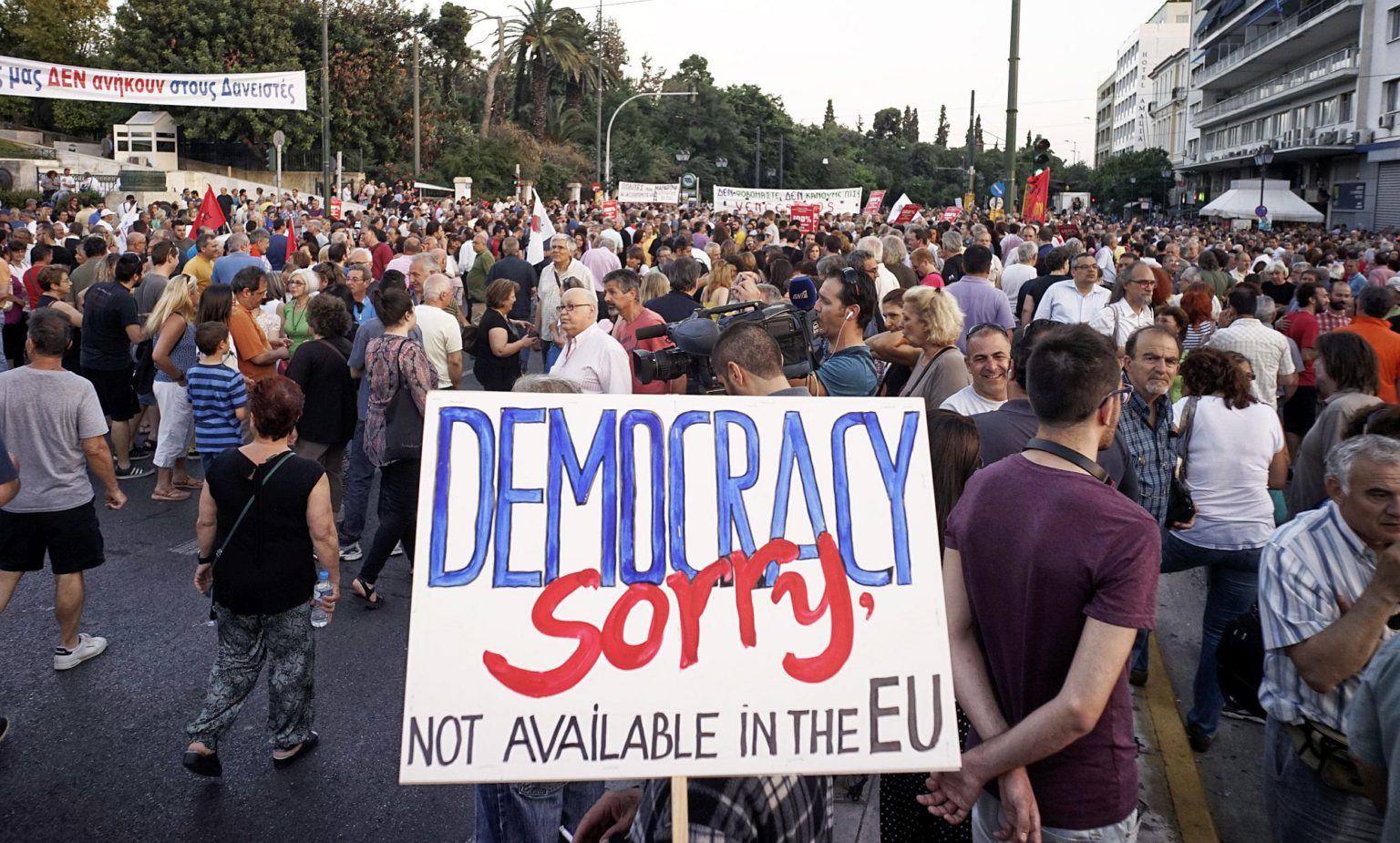 Greek protesters during a rally in Athens against the treatment of Greece by European and International Monetary creditors, 17 June 2015.
ECB quantitative easing did not help raise economic growth either. Growth languished until late 2016, when it picked up because Europe benefited from a China-induced boost in world trade. Draghi and other European leaders took credit: in November 2017, Draghi said that ECB monetary policy had helped create 'unabated growth'. But the self-congratulation was disingenuous, and the celebration proved to be premature. In early 2018, China dialed back its domestic stimulus, world trade began to slow, and so did the European economies. Despite that slowdown, in June 2018, Draghi "announced that the ECB was planning to turn off quantitative easing. In December, amid further slowdown, Draghi declared that eurozone inflation and growth were set to rise and, therefore, it was time to bring QE to an end.
Thus, ECB had wasted its QE firepower and achieved little, if anything at all.
In January 2019, Draghi endeared himself to his pro-European admirers by perpetuating long-refuted myths. By now, multiple studies (here, here, and here) had confirmed that the euro had not promoted greater trade among its member states, despite frequent claims that it had done so. Draghi had made such a claim in November 2013. But by January 2019, the evidence to the contrary was overwhelming. Draghi even said that a single European currency was essential for a single market. This was also not true. Germany's fastest growing trade within the European single market was with the Czech Republic, Hungary, and Poland – three countries that had not adopted the euro. In contrast, Germany's trade share with France and Italy, two original euro members, was falling.
Draghi made other claims. He said that countries that had their own monetary policies made a mess of things. Also not true. Poland, Sweden, and the United Kingdom – three countries very different in economic development, size, and political philosophy – had done a good, even remarkable, job with their monetary policy management. And he offered the discredited but self-incriminating defence: the single currency was needed to prop up the egregious common agricultural policy – the dark blot on Europe's much-touted environmental and humanitarian values.
By the time of the ECB Governing Council meeting in September 2019, the growth slowdown had continued, but the ECB had run out of rope. The ECB resumed quantitative easing, although with interest rates already very low, the additional bond purchases could do little to stimulate spending. The low rates did do damage though. They hurt euro-area banks whose lending rates had fallen faster than the rates they paid on the deposits they received. Making matters worse, the ECB lowered its own deposit rate to -0.5 per cent. Banks had to pay a maximum of 0.5 per cent if they parked their funds at the ECB. This measure was intended to induce banks to lend instead of keeping their money idle. But with weak demand, some banks preferred to keep their money idle at the ECB's negative deposit rates, which chewed further into the banks' profitability. Thus, Draghi, in his bid to chalk up one last triumph, made the mess worse. By now, several banks were trading at market-to-book value ratios well below one, implying that financial markets valued banks' assets much less than the banks themselves did.
Draghi wins applause in the EU bubble
On October 28, at the star-studded farewell party, Merkel praised Draghi for navigating the euro through 'restless seas'. French president Emmanuel Macron lauded Draghi for keeping alive the 'European dream'. Italian president Sergio Mattarella, speaking from his alternative reality, declared that the vibrant Italian economy and sound Italian banking sector were a tribute to the euro, led by Draghi.
The stage was now set to elevate Draghi the saviour to the ranks of recent European saints, which include former German Chancellor Helmut Kohl and former European Commission President Jacques Delors. Following their lead, Draghi mind-numbingly repeated at his farewell: 'The euro is an eminently political project, a fundamental step towards the goal of greater political integration.'
What is this fairytale 'political project?' What is 'greater political integration?' Is the destination a federal United States of Europe? Or will Europe remain a confederation of states, in the manner of the United States between the War of Independence in 1776 to ratification of the constitution in 1788? If Europe's postwar history is a guide, Europe is destined, for now, to stay a confederation of states, in which case it will remain trapped in repetitive Groundhog Day-style mantras that European leaders love to repeat.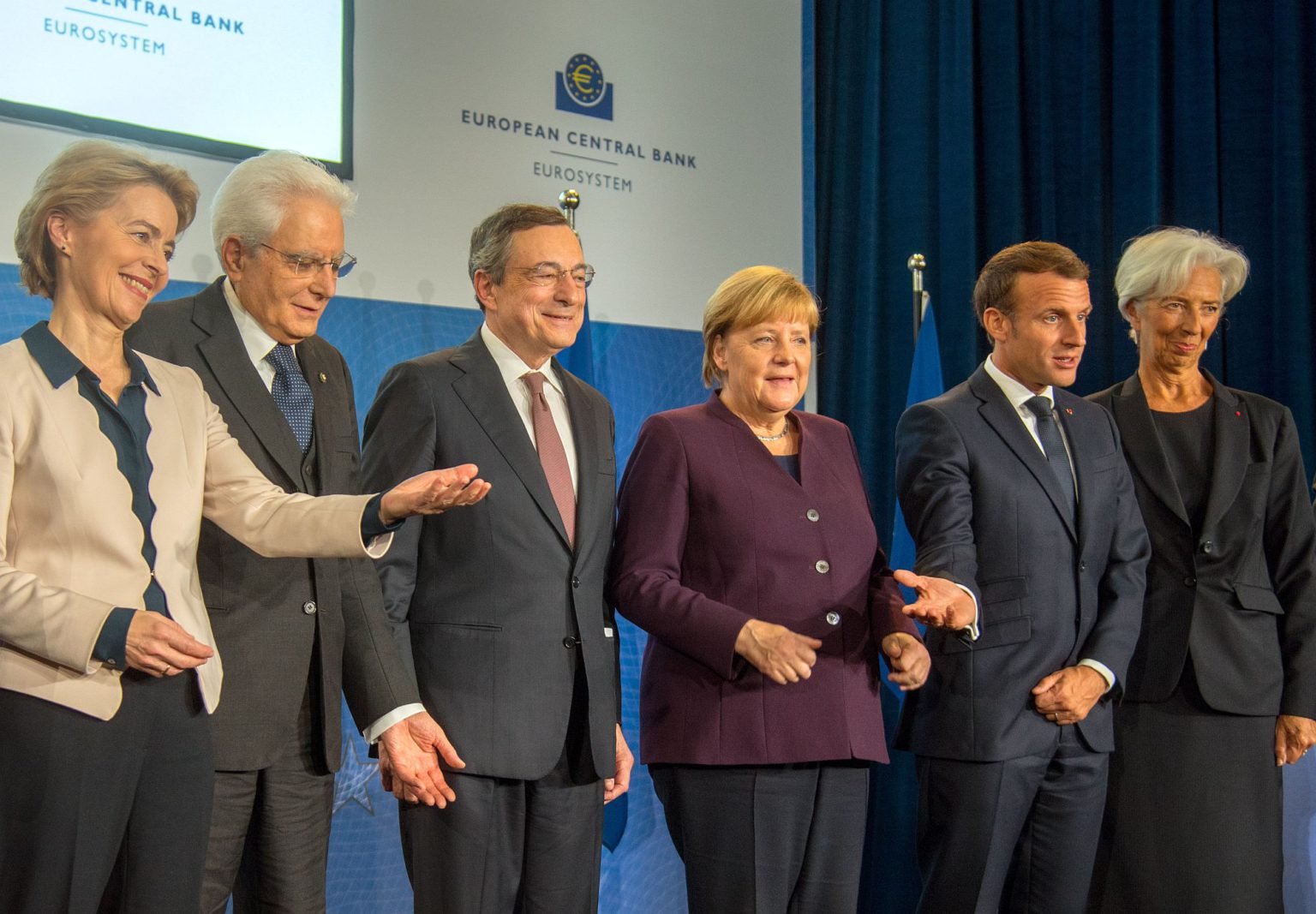 Mario Draghi, standing with Angela Merkel and Emmanuel Macron, during his farewell ceremony, 28 October 2019, in Frankfurt am Main, Germany.
In fact, though, it will take all the goodwill and more to maintain the confederation structure, given the striking conflicts between European leaders on the strategic direction of Europe, from common defence and the role of NATO, to EU enlargement and sharing the burden of immigrants. Draghi's happy prognosis of greater European political integration sits brutally at odds with French president Emmanuel Macron's shrill declaration: 'I can tell you this with certainty. We know that civilisations are disappearing; countries as well. Europe will disappear.'
In Draghi's own recent backyard, the fierce differences were manifest at the September meeting of the ECB's Governing Council. With monetary policy having run its course, new policy initiatives could do little good, but could do much damage to the fragile banking sector. Right after the meeting, Draghi acknowledged the presence of 'two camps' on the Governing Council, those who opposed new measures and those who supported them. The knives came out quickly in public. In an interview with the German tabloid Bild, Jens Weidmann said the policy package had 'overshot the mark'. In granting that interview, Weidmann associated himself with the Bild's repugnant photomontage of Draghi with fangs and dressed as a vampire. To highlight the low-interest earnings of German households on their savings, the headline accompanying the montage read: 'Count Draghila is sucking our accounts dry… The horror for German savers goes on and on.' Others who opposed the September stimulus included the French, Austrian, Estonian, and Slovenian members of the Governing Council, along with the particularly vociferous Dutch member.
Hence, Draghi's final exhortation for a 'euro-area fiscal capacity' to complement monetary policy may have been well meaning, but it lacked even a modicum of political sensibility. His cumbersomely worded call for a euro-area budget 'of adequate size and design: large enough to stabilise the monetary union, but designed not to create excessive moral hazard' was calculated to skirt every member state's red lines and, hence, had the hallmark of EU communiques – satisfying everyone but, for that very reason, lacking operational legs.
Indeed the aspiration for a eurozone budget goes back a half-a-century to the original proposal for a common currency in the Werner Report. Since then, for the umpteenth time this summer, EU members rejected a proposal for a common fiscal capacity for stabilising the monetary union. Draghi won brownie points, however, for raising the fiscal capacity idea one more time, as if his words could erase the history of repeated failures and create new incentives for forward movement.
Will Italy be the nemesis of Draghi's legacy?
At Maastricht in 1991, as Italy's chief representative during the negotiations for the single currency's design and membership, Draghi pushed for Italian entry into what came to be called the eurozone. The single currency, Draghi argued, would be Italy's vincolo esterno, an external constraint that would force wayward Italian politicians on to a narrow path of policy discipline. Nearly three decades later, the brew of political and economic dysfunction in Italy continues to churn. The anemic Italian economy has been at near stand-still for the past seven quarters. The government's already high debt ratio is creeping up. Social stresses are bearing down on people as the unemployment rate remains stuck around 10 per cent, and most jobs on offer are on precarious, short-term contracts.
Draghi may have left on a high note, but the Italian financial crisis will be the test of his legacy. Will the ECB then have the political backing to trigger 'unlimited' bond purchases under OMTs? Or will the tortuous process of triggering that bazooka scare investors, adding to the panic and magnifying the financial havoc that will then run through global financial systems.
Ashoka Mody is a visiting professor in international economic policy and lecturer in public and international affairs at Princeton University. He is the author of EuroTragedy: A Drama in Nine Acts, published by OUP. (Buy this book from Amazon(UK).)
Pictures by: Getty.
No paywall. No subscriptions.
spiked is free for all.
Donate today to keep us fighting.
Donate online
To enquire about republishing spiked's content, a right to reply or to request a correction, please contact the managing editor, Viv Regan.