Prince Andrew humiliated himself, but the joke is on us
Why should we foot the bill for this heinously overprivileged narcissist?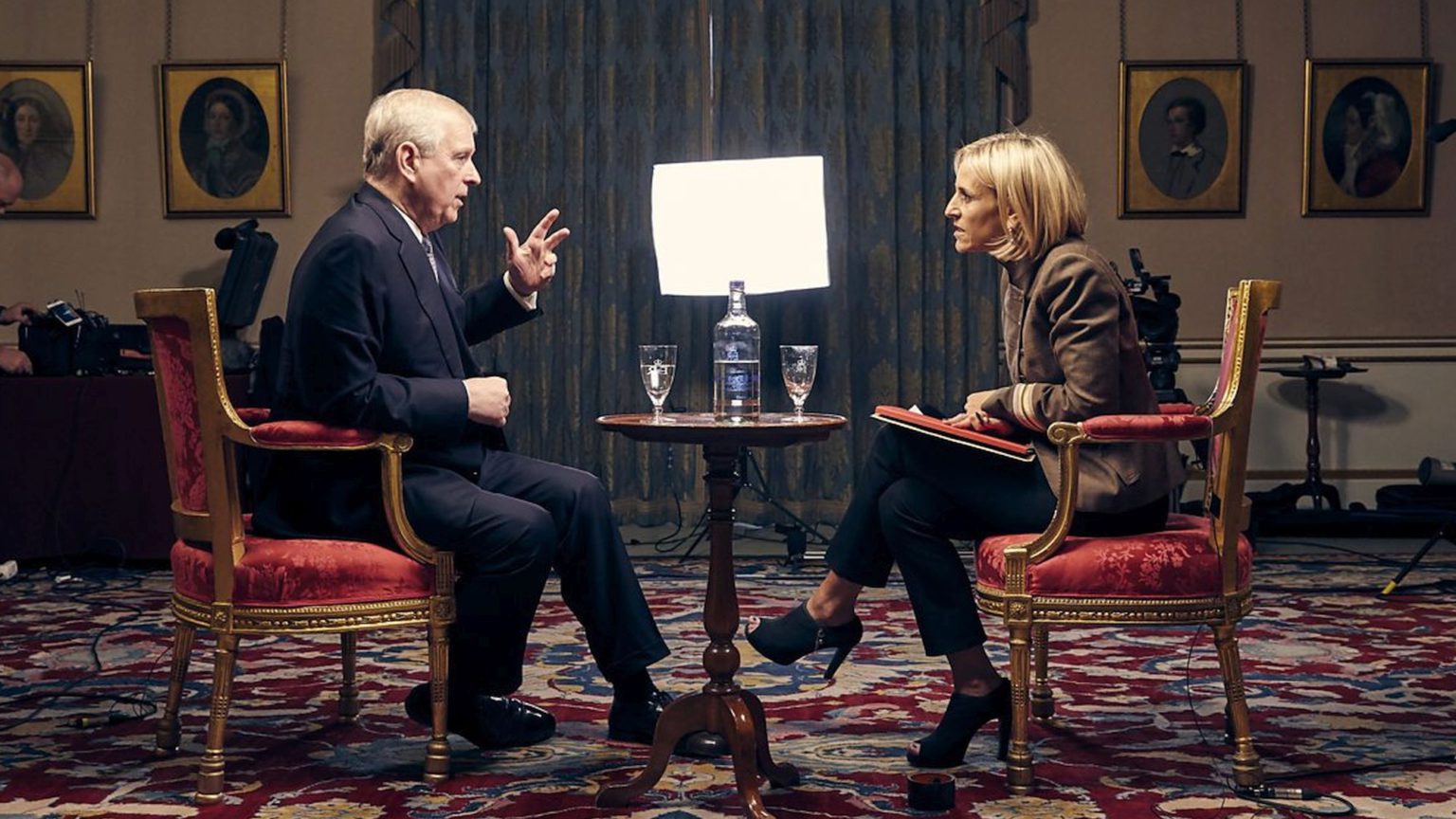 'My tendency to be too honourable… I'd taken Beatrice to a Pizza Express in Woking… I don't sweat.' Whatever his intention, Prince Andrew has provided the internet with a lifetime's supply of meme-ready content. His BBC interview, broadcast last night, was comedy gold.
Only, as Andrew tried to explain away his friendship with convicted sex offender Jeffrey Epstein and convince Newsnight's Emily Maitlis that he hadn't had sex with the then 17-year-old Virginia Roberts, it became apparent the joke was on us, the British public.
He was known back in the day as 'Randy Andy' or 'Airmiles Andy', yet we are now expected to believe that photos of His Royal Highness and Roberts are fake. We're expected to buy the story that Andrew travelled to New York to see Epstein following his release from prison in 2010 simply to break off their friendship. This took four days and at least one dinner party because, well, Andrew is so honourable.
The prince clearly thinks we are so stupid that we will accept that despite his inability to remember almost anything at all about the time he spent with Epstein, he can recall the exact date, time and location of the pizza restaurant he visited when the alleged sexual encounter with Roberts was said to have taken place. This is not just arrogant – it shows that Andrew holds the British public in contempt. To add insult to injury, it is us, British taxpayers, who fund his lavish lifestyle and justify his public position.
The excruciatingly awkward interview was presumably intended to rehabilitate Andrew's reputation. Andrew stands accused of poor judgement in maintaining his friendship with Epstein even after he had been convicted for procuring an underage girl for prostitution. Worse, Andrew is accused of having had sex with Virginia Roberts on three separate occasions: once in the US when she would have been legally below the age of consent, and twice when Roberts claims she was a victim of trafficking and forced into having sex by Epstein.
Of course, Andrew should be considered innocent until proven guilty. His testimony should be heard under oath. It should be for a jury – not television viewers or social-media commenters – to find him innocent or guilty. The problem is that Andrew used his position, bestowed on him simply by his birth, to secure last night's high-profile media interview. He has, so far, shown that he would prefer to avoid the American legal system and instead invite the BBC round to Buckingham Palace for a chat. Andrew wants us to absolve him so he can avoid legal scrutiny. This is not an option available to most people, especially not those accused of such a serious crime.
Invited to pass judgment, we find a man so privileged he leads a life unrecognisable to the vast majority of British citizens. A birthday party is apparently not a big affair if it's just a few friends round for a shooting weekend on the Sandringham Estate. Private jets to private islands are so run-of-the-mill that each trip blurs with the next and none is especially memorable. People in Epstein's orbit are indistinguishable because they are all assumed to be staff. Appearing as a guest of honour at a dinner party for 10 in Epstein's New York mansion is no big deal.
The product of all this privilege is a man so unable to see beyond the perceived slights to his own reputation and his own feelings that he was unable – even when prompted repeatedly by Maitlis as to whether there is anything else he would like to say – to express sympathy for the girls Epstein was found guilty of abusing. He has no regrets at having provided a layer of respectability and a potential path back into polite society for the convicted Epstein. It is clear that Andrew's only concern is himself.
Some are now questioning the extent to which Andrew has damaged the entire institution of the monarchy. Certainly the only members of the royal family likely to be cheering him on will be Harry and Meghan. No one is talking about where they will spend Christmas now. Meanwhile, the rest of us not only have to pay to keep this royal farce on the road, but we are also expected to show deference to this bunch of over-privileged narcissists. We need to do away with this outdated institution once and for all.
Joanna Williams is associate editor at spiked. She is the director of the new think tank, Cieo. Find out more about it here.
Picture by: Getty
No paywall. No subscriptions.
spiked is free for all.
Donate today to keep us fighting.
Donate online
To enquire about republishing spiked's content, a right to reply or to request a correction, please contact the managing editor, Viv Regan.