How trans activists made 'woman' a dirty word
Calling women 'cervix owners' or 'menstruators' is ridiculous and insulting.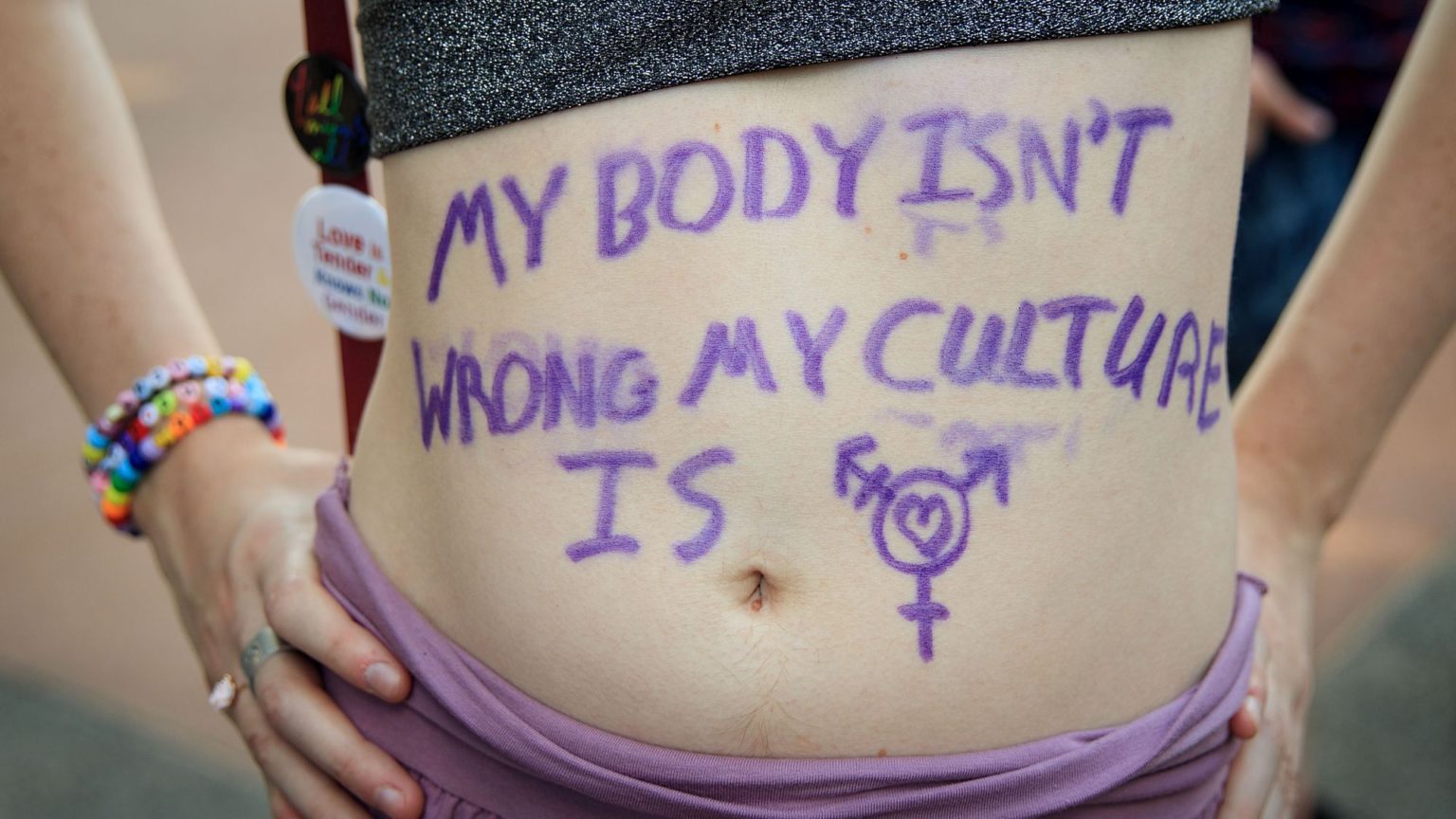 As the genderfluid movement becomes ever more self-important and pretentious, I sometimes wonder whether it's soon due to drown in its own fraudulent solipsism and vanity. This week, it descended to new levels of imbecility and fascistic megalomania.
First, as The Times reported on Monday, we had the case of a birth coach resigning from her professional organisation, Doula UK, after being criticised over a Facebook post that said only women were able to have babies. Lynsey McCarthy-Calvert, 45, was suspended as a spokesperson for Doula UK, and, after an inquiry, was compelled to quit the organisation.
The British Medical Association has for some time irritatingly recommended using the term 'pregnant person' in place of 'pregnant woman'. Similarly, Cancer Research UK recently decided to drop the word 'woman' from smear-test materials, replacing it with 'anyone with a cervix'. McCarthy-Calvert posted about this on her Facebook page: 'I am not a "cervix owner", I am not a "menstruator". I am not a "feeling". I am not defined by wearing a dress and lipstick. I am a woman: an adult human female.' Doula UK confirmed that the post breached its code of conduct.
Less sinisterly, but just as ludicrously, the next day it was reported that the singleton actress Emma Watson had told Vogue magazine: 'I never believed the whole "I'm happy single" spiel. It took me a long time but I'm very happy. I call it being self-partnered.'
If the first case illustrates how intolerant and authoritarian the genderfluid movement has become in its war against reality, the second case illustrates how those who subscribe to the fantasy that one can be one's own partner have become so narcissistic. Presumably people who utter these nonsensical neologisms do so to demonstrate how they are greater, wiser and purer than you and me. For 'self-partner', instead read 'singleton', 'spinster' or 'onanist'.
The genderfluid movement made a categorical error from the start: confusing gender with sex. While the former is a social construct that changes over time, differs between cultures and can be deliberately altered, sex isn't malleable, only cosmetically. Men and women have different chromosomes, and, on average, different physiques. One sex, by definition, can give birth and the other can't.
Sexual persuasion is also inherent. This is why Stonewall recently split. Most gays and lesbians don't accept that their sexuality is a lifestyle choice; for them it's who they intrinsically are.
We used to laugh at the Ancient Greeks for believing the uterus could move about the body, and Medieval types for believing that the body was composed of four humours. I suspect that future generations will look upon us with risible scorn for this absurd fad. The irony, too, is that while it's dressed up as liberal, transgenderism, with its language of 'choice' of innumerable genders, embodies consumer capitalism at its most crass and vulgar.
---
The fall of the Berlin Wall was not a surprise
Ever since November 1989, it's been the received wisdom that no one remotely foresaw the fall of the Berlin Wall, and the consequent collapse of Communism. This idea that it took everybody by total surprise was repeated last week by the veteran broadcaster John Simpson. Alas, it's a myth.
Perhaps 'no one' saw it coming because most reporters and academics are atheists or agnostics, and don't see or understand the significance and power of religion. But my mum, a Catholic journalist in the 1980s, certainly saw the writing on the wall, when she visited Gdansk in 1982 and saw Polish dockers in open revolt. There she witnessed the astonishing spectacle of trade unionist Lech Walesa leading a recital of the rosary at Lenin Shipyard. Others were savvy to what was going on, too. The Daily Telegraph's cartoonist, Nick Garland, consequently drew an illustration featuring the ghost of Stalin hovering above those assembled, the dictator uttering his famous boastful words, 'but how many divisions does the pope have?'.
My family and I went to West and East Berlin in the Easter of 1986, and even this 11-year-old noticed something amiss in East Berlin. While the West was free and people had Burger King and Lego and Coca-Cola, the East was grim and oppressive. We were told to hide our newspapers while going through Checkpoint Charlie. Scary, ghostly East German guards on trains had growling Alsatian dogs, and checked our papers with a scowl, just like in Top Secret!. Even East German cola was revolting.
While the East Germans weren't in revolt as the Poles had been, the Lutheran Church had become active again in the GDR. The miserable, worn-down faces of the East Germans said so much.
---
The not-so-noble savage
Another group of people who have believed that human behaviour is entirely shaped by society and culture has been anthropologists, who have typically depicted people who live in jungles as peaceable and communistic. One exception was Napoleon Chagnon, an American who became embedded in the Amazon jungle in the 1960s, where he encountered the Yanomamö people. He found them to be far from peaceful.
The late Chagnon, whose obituary appeared in The Times last month, later recalled: 'I looked up and gasped when I saw a dozen burly, naked men staring at us down the shafts of their drawn arrows.' Upon entering their village, he realised that he had been lucky not to be killed on sight, especially considering the Yanomamö menfolk had just fought the men of a neighbouring village for the ownership of their wives.
As he began studying the tribe, Chagnon and his colleagues were disabused of one myth after another. He discovered that the villagers resolved their disputes by hitting each other over their heads with wooden clubs until one was unconscious. He discovered that violence was not just intrinsic to the Yanomamö, but celebrated. About 44 per cent of tribesmen over 25 had participated in violence, and violent tribesmen were more likely to have more wives.
While his monograph, The Yanomamö: The Fierce People, sold almost a million copies after its publication in 1968, fellow anthropologists were furious, accusing Chagnon of repeating stereotypes of brutal savages. Many were especially livid when he concluded that they had come to be this way as a result of Darwinian selection. Chagnon believed that the violence of Yanomamö societies was perfectly rational. 'It's an economics game', he said. 'Big villages tend to exploit small villages.'
One of Western society's longest myths, that of the Noble Savage, had been shaken to the core.
Patrick West is a spiked columnist. His latest book, Get Over Yourself: Nietzsche For Our Times, is published by Societas.
To enquire about republishing spiked's content, a right to reply or to request a correction, please contact the managing editor, Viv Regan.