The brutal crackdown in Catalonia
The Spanish state's repression of protests is pouring gasoline on the separatist fire.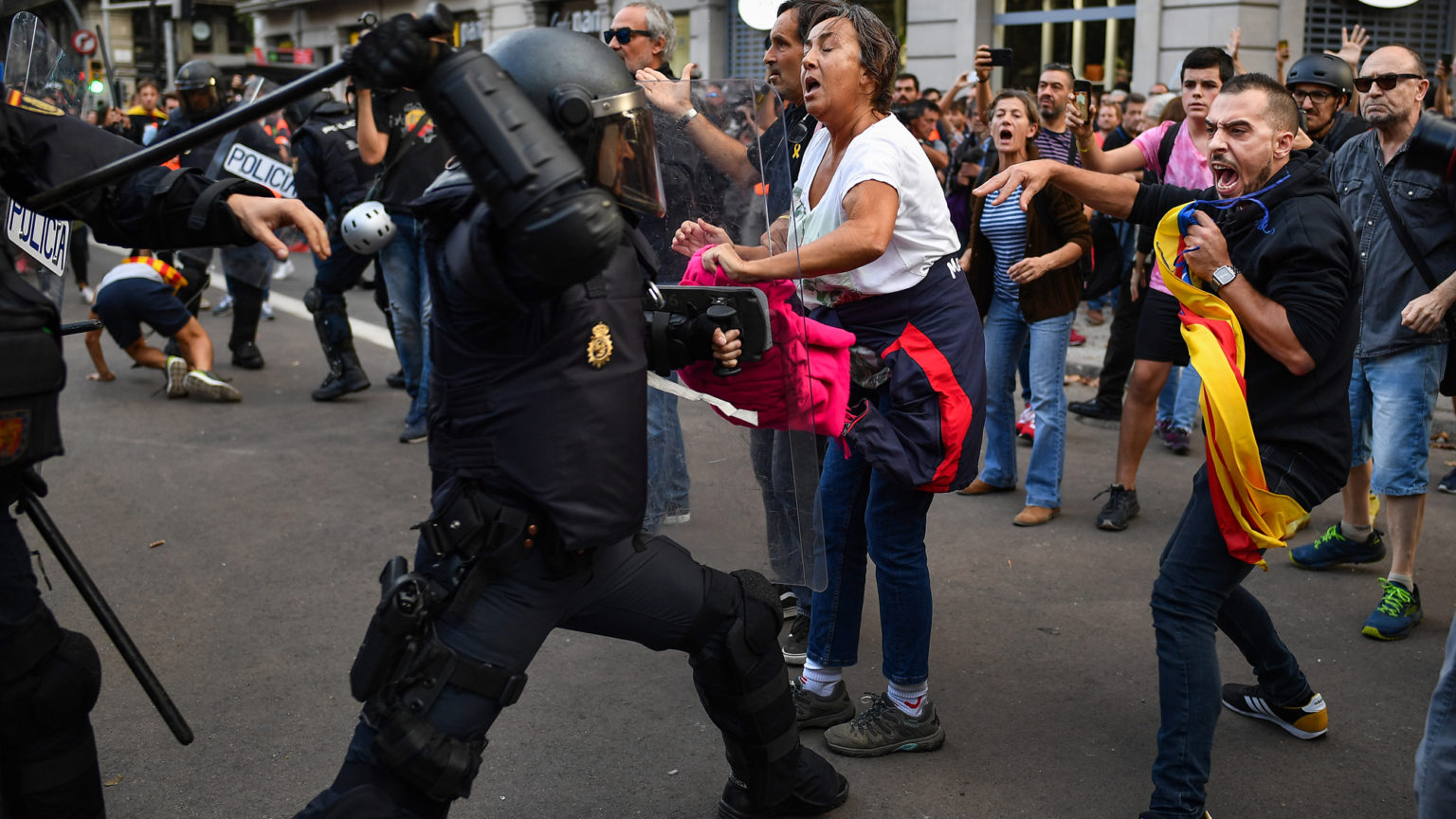 Barcelona, usually a laid-back Mediterranean metropolis, has recently come to resemble a warzone. Since the Supreme Court of Spain sentenced nine Catalan independence leaders to between nine and 13 years behind bars, protests have raged in the Catalan capital and beyond.
One would have thought the Spanish state would have wanted a bit of positive PR after its missteps two years ago. The world was shocked when voters, including the elderly, were beaten with batons and dragged away from polling stations by overzealous policemen sent in to quash the independence referendum. The Spanish state rightly received widespread condemnation for its heavy-handedness. However, two years later, it does not seem to have learned anything from this.
Since the latest wave of protests erupted, Amnesty International has condemnedthe Spanish police's use of excessive force and its deployment of anti-riot equipment and munitions. Officers have used batons on peaceful and subdued protesters. Four protesters have so far lost eyes from rubber bullets fired at close range. One protester required surgery after receiving a shot to the testicles. Officially, these bullets are banned in the region.
Amnesty has also condemned the police's use of the 'carousel': the practice of driving vans at full speed towards crowds of protesters to disperse them. The police have also used tear gas and water cannon on demonstrators. The crackdown has not been limited to Barcelona, either. Twenty-six people were injured at a solidarity protest in Madrid last week. In total, close to 600 protesters have been injured during the latest wave of demonstrations. Some 200 have been arrested.
Journalists have also been hassled by police during the protests. A photojournalist from El País was manhandled and detained after attempting to photograph a protester being arrested. Other journalists have reportedly been roughed up by police, including one from Catalunya Ràdio and two teams from public-service TV network TVE.
The political response to the crisis has been wanting. The prime minister Pedro Sánchez has refused to meet or even take phone calls from Catalan president Quim Torra. Sánchez was also criticised for visiting injured police officers but not meeting injured protesters during a visit to a Barcelona hospital. His caretaker government has, in an undiplomatic fit of pique, threatened to suspend the Catalan government and assume direct rule of the region. Sánchez's opponents in the People's Party have criticised the government's response but only to say it has not been tough enough.
Spain's judiciary has also been complicit in the crackdown on the protesters. Spain's criminal court has announced that it will investigate the separatist group, Democratic Tsunami, which has organised protests and occupations, for aiding and abetting terrorism. A national judge has also ordered the removal of a number of web pages belonging to the group.
The protesters have not all behaved angelically, either. Masked youths have set fire to cars and street furniture. They have attacked residents who have tried to put out their fires and have assaulted elderly, peaceful counter-demonstrators. Walls, bus shelters and storefronts have been vandalised; the damage to Barcelona has run into the millions of euros. The protesters' closure of Barcelona-El Prat airport caused over 100 flights to be cancelled.
The protesters have reserved most of their ire for the police, attacking them with rocks, flares, Molotov cocktails, acid and allegedly chainsaws. A group of protesters aimed fireworks at a police helicopter. In total, nearly 300 officers have been injured.
While there is much to condemn on both sides, the inconvenience for the national government is that the protest groups are not, at least officially, affiliated with the Catalan regional government, whereas the national police, parliament and judiciary are undeniably representatives of the Spanish state.
The Spanish state's heavy-handedness is backfiring severely. Though less than half of the Catalan electorate currently backs independence, there has been a surge in support. Recent polls show that only a fifth of Catalans believe the trial of the Catalan independence leaders was fair. Around 70 per cent want an officially sanctioned independence referendum – an issue on which successive Spanish governments have been unhelpfully intransigent.
While the No and Remain campaigns in the UK were criticised for using 'Project Fear' to (successfully) campaign against Scottish independence and (unsuccessfully) campaign to keep the UK in the EU respectively, Spain has gone a step further in essentially employing 'Project Repression' to try to quash Catalonia's aspirations for independence.
The Spanish government must change course if it wants to avoid harking back to its pre-democratic era, especially if it wants to win the ideological battle against the separatists. Right now, it is shooting itself in the foot.
William McGee is a spiked intern.
Picture by: Getty.
To enquire about republishing spiked's content, a right to reply or to request a correction, please contact the managing editor, Viv Regan.