Kamala, Chris and all kinds of cringe
Harris sharing her pronouns was far more embarrassing than Cuomo joking about his.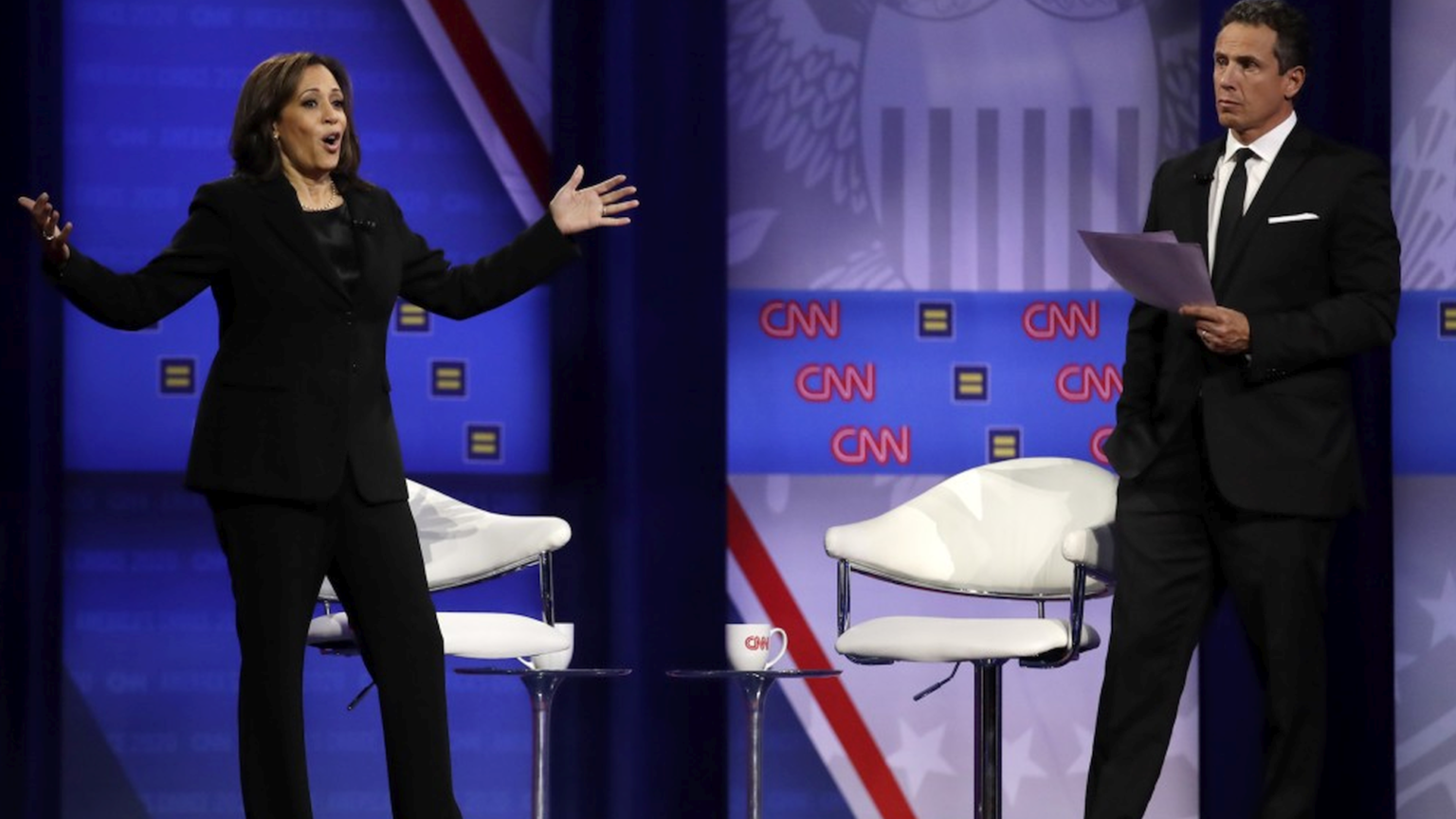 The wokening of the Democratic Party continues. Last night, at a CNN town hall focused on LGBT issues, presidential hopeful Kamala Harris took to the stage, and immediately announced her pronouns. But according to blue-tick Twitter, it was host Chris Cuomo's jokey response to her that was the truly embarrassing moment.
KAMALA HARRIS: My pronouns are she, her and hers.

CHRIS CUOMO: Mine, too.

HARRIS: Alright. pic.twitter.com/09gJ2pygjd

— Dan Diamond (@ddiamond) October 11, 2019
Yes, the sight of a leading woman in public life, who everyone knows is a woman, and is a woman, announcing she is a woman, was to be applauded. Whereas a bloke reacting with humour to this obvious absurdity is not. Clearly, Cuomo didn't know what he was letting himself in for, and he issued a swift apology:
PLEASE READ: When Sen. Harris said her pronouns were she her and her's, I said mine too. I should not have. I apologize. I am an ally of the LGBTQ community, and I am sorry because I am committed to helping us achieve equality. Thank you for watching our townhall.

— Christopher C. Cuomo (@ChrisCuomo) October 11, 2019
It doesn't take much to be a heretic these days. But apparently it does take a lot to get the idea into leading Democrats' heads that ludicrous woke politics is a surefire vote-loser. At a recent event in Iowa, Harris responded to a woman who feared Donald Trump would win again in 2020 by saying '2020 will not be 2016… People are woke.'
Well, the people beg to differ. According to research by More in Common, 80 per cent of Americans believe 'political correctness is a problem in our country'. And this isn't just angry white people, either: whites are slightly less likely than average to agree with that statement.
PC or wokeness may not be neatly defined, but having to announce your gender, even when it is blatantly obvious, and being chastised for making a joke about it, surely fits most people's definition of them. If the Democrats think this kind of woke nonsense helps them, they've got another thing coming. Cuomo didn't embarrass himself last night. Harris did.
Picture by: YouTube.
No paywall. No subscriptions.
spiked is free for all.
Donate today to keep us fighting.
Donate online
To enquire about republishing spiked's content, a right to reply or to request a correction, please contact the managing editor, Viv Regan.