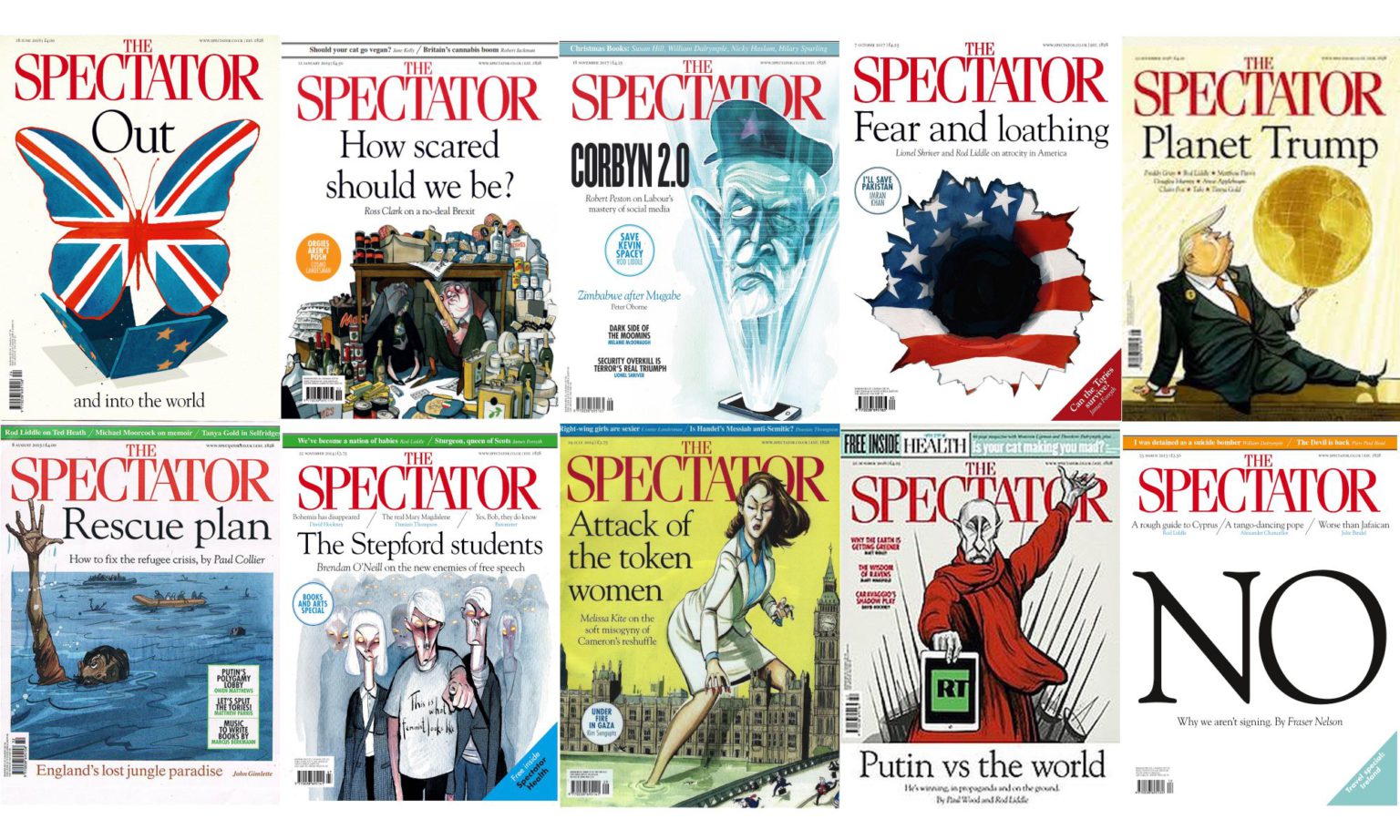 Long-read
'We're the magazine for the queen and the scaffolder'
Fraser Nelson talks to Emily Hill about his 10 years editing the Spectator.
Fraser Nelson is the man who runs the magazine that might well be running Britain. (I'm saying 'maybe' because it's impossible to tell what will be happening in Britain by the time you read this.) This month marks his 10th anniversary in the job, surpassing Alexander Chancellor's nine-year stint to become the longest-serving editor in the modern Spectator era. (It's been going since 1828, or 1711, depending on how you want to look at it.) And Nelson doesn't just edit the Spectator… he's in love with it. So he says he's not got the slightest intention of leaving – unless he's sacked, and with trusty chairman Andrew Neil very happy with his sales diagrams, there's next to no chance of that. Circulation is up, up, up, according to freshly printed postcards lying in a pile in the offices at Old Queen Street, emblazoned with a red zig-zag that meanders up and down before triumphantly overwhelming the bounds of the graph in 2019.
'Roughly speaking we're at 80,000', Nelson announces. 'There's a lot of smoke and mirrors that the industry uses but the figure I've given you is a clean figure… print plus digital.' He has the air of a man who can't quite believe his luck. 'It does feel incredibly strange', he says, looking about his office, sitting in the chair from which he conducts editorial conferences, one foot propped up on the PM's old green Chesterfield. 'I sometimes feel as if I'm going to wake up…'
The rest of the country is pretty equally startled. Overnight, denizens of the Spectator have seized power. Early on in Margaret Thatcher's reign, she is said to have startled guests at a Downing Street reception by leaping on a sofa to declare: 'I am the rebel head of an establishment government.' One wonders if the staff at the Spectator aren't now taking it in turns to bounce up and down on former editor Boris Johnson's old couch (certainly the springs are broken) because, if anyone's in charge today, it is the ex-employees of this magazine (which coined the very term The Establishment).
The Spectator declared for Leave, at the same time that opinion polls were confidently predicting nothing of the sort. 'I would not claim to be the Mystic Meg of politics', Nelson admits. 'I never expected Brexit to win.' Ever since, there has been a steady stream of traffic to his website from the nation's ever-expanding horde of the utterly and completely baffled. 'Some of the best-read articles that we've had have been relatively nerdy ones by lawyers explaining the Withdrawal Agreement', he says.
His predecessor's predecessor is (obviously) in Number 10. Dominic Cummings – a former Spectator online editor – is the power behind the door. Cummings' wife, Mary Wakefield, has been at the Spectator even longer than Nelson has. With Carrie Symonds more interested in cleaning up the oceans and posing with rescue puppies, one wonders if Wakefield might be the closest thing Brexit has to a First Lady. If David Cameron was the essay-crisis prime minister, Boris Johnson's reign so far seems to encapsulate the anarchy of a Spectator conference.
And then there's Andrew Neil, who presides over it all, and tears his ex-editor apart with such relish that he might be the closest thing the country has to an effective opposition. Consider Neil's probing around the obscure trade rule 'Article 5B in GATT 24…'
'Get the detail right, Andrew, get the detail right', Boris ordered, mid-interview, splitting blond hairs. 'It's Article 24, paragraph B.'
'And how would you handle paragraph 5C?', Neil asks, coolly.
'I would confide entirely in paragraph B', Boris insists.
'But how would you get round what's in 5C…?'
[Pause.]
'Do you know what's in 5C…?'
[Pause.]
'No', admits Boris.
As political interviews go, it was beyond Paxman-esque – it was absolutely hysterical.
When it comes to what's going to happen to us all Brexit-wise, Nelson remains coy. 'I wouldn't like to predict that right now', he says. 'In a decade you can ask me…' He's not scared of No Deal. 'Not for economic reasons. I think there'll be a few months of disruption but things will get back to normal reasonably quickly. The advantage of it is that we can turn the page to get this wretched chapter behind us.' And he's not rushing off to secure EU passports for his children (they're half-Swedish.) 'I'd actually love to get a British passport for my wife – she hasn't got one yet. I'm hoping that Boris won't kick her out.' Mrs Nelson will probably be all right, but it's an issue important to her husband. He demanded assurances from Theresa May about EU citizens' right to remain.
'Boris Johnson is a liberal in the way that the Spectator is liberal'
Nelson loves the idea of a Spectator-style government: 'Boris did project this form of Merrie England Conservatism and I like to think he will govern in that way as well. Fundamentally, he's a liberal in the way that the Spectator is liberal and his values are very similar to the magazine's values… I think he's got a real chance to heal the Brexit divide… I'd like to think he's got an opportunity to define a global-minded Brexit.'
As for Cummings, any Brexiteers secretly hoping he's as bloody-minded as insiders suggest might want to invest in a copy of David Butterfield's biography of the magazine, The Spectator: A Historical Sketch (out next spring). If the Spectator can be said to have a radical cause – in the present context – it's freedom of speech. This, Cummings pressed to its ultimate extent, in 2006, by publishing a Danish cartoon that depicted the prophet Muhammad with a bomb in his turban. Every other publication was alluding to the cartoon, since it was causing widespread protests across the Muslim world. As soon as others at the Spectator noticed, the cartoon was taken down, but it means the Spectator was the only UK publication which, however temporarily, published the kind of image that, a few years later, led to a massacre at Charlie Hebdo.
(Reading Butterfield's very entertaining work finally made sense of the chatter of the Spectator's eccentrically be-scarfed, intensely lovable and constantly vaping receptionist, Fiona, who, when I worked there in 2016, used to confide, every so often, that she was preserving the Spectator from terrorists. Like Nelson – and almost everyone else in the building – she is committed.)
For they're all in the trenches, prepared to go down for the Spectator cause… To mark his 500th issue in charge, Nelson wrote a piece describing himself – and his favourite columnist, Rod Liddle – as the Thelma and Louise of the commentariat, seeming perfectly at peace with the idea that, sooner or later, Rod, 'being Rod', would with a flick of his furious-typing, nicotine-stained fingers accelerate them both towards total oblivion. 'There's still a reasonable chance that is what happens', he says. 'You stand by your writers to the end. That's what you do. And if Rod has written something in the magazine because I, as an editor, think it's okay… it's on me more than it is on him.' There was a crisis in 2012 when one of Liddle's columns might have caused the collapse of the Stephen Lawrence trial. 'From the moment I took this job, I thought for a start it would be relatively short-lived and that sooner or later there would be a screw-up and the editor would take the bullet for it.'
It's important to stand by basic principles. 'I take Twitterstorms really seriously and I think not enough editors do', he says. 'There's a temptation to think, oh, it's Twitter, it's nonsense. But Twitterstorms felled Kelvin MacKenzie, one of the giants of journalism, and lost Ian Buruma his job. Even David Remnick – one of the most successful editors the New Yorker has ever had – was forced into a retreat because he wanted to interview Steve Bannon. A Twitterstorm told him he shouldn't and he had to cave. That was really quite remarkable.'
As a measure of how the Spectator informs the new government's policy, one only has to look at the case of Sir Roger Scruton. He was sacked in April by the May government following comments he made in a New Statesman interview, and reinstated as one of Boris's first acts. All thanks to the Spectator, which went to war with the New Statesman after its then deputy, George Eaton, was less than complete in his reporting of what Scruton said to him and who uploaded a picture of himself swigging champagne when Scruton was felled. The Spectator's Douglas Murray wasn't standing for it – he unearthed a recording of the interview which showed that Scruton's remarks had been taken out of context.
As a hack myself I struggle to understand how Murray got hold of the tape – unless Eaton is too grand to type up his own transcripts or there was hacking involved. But Nelson's not confessing how Murray managed it. 'Ha ha, no. It will forever remain a secret… I was on holiday in Italy at the time actually when it came through and that was… it was just huge. My main concern, actually, was that it wouldn't hold. That someone else would get it.'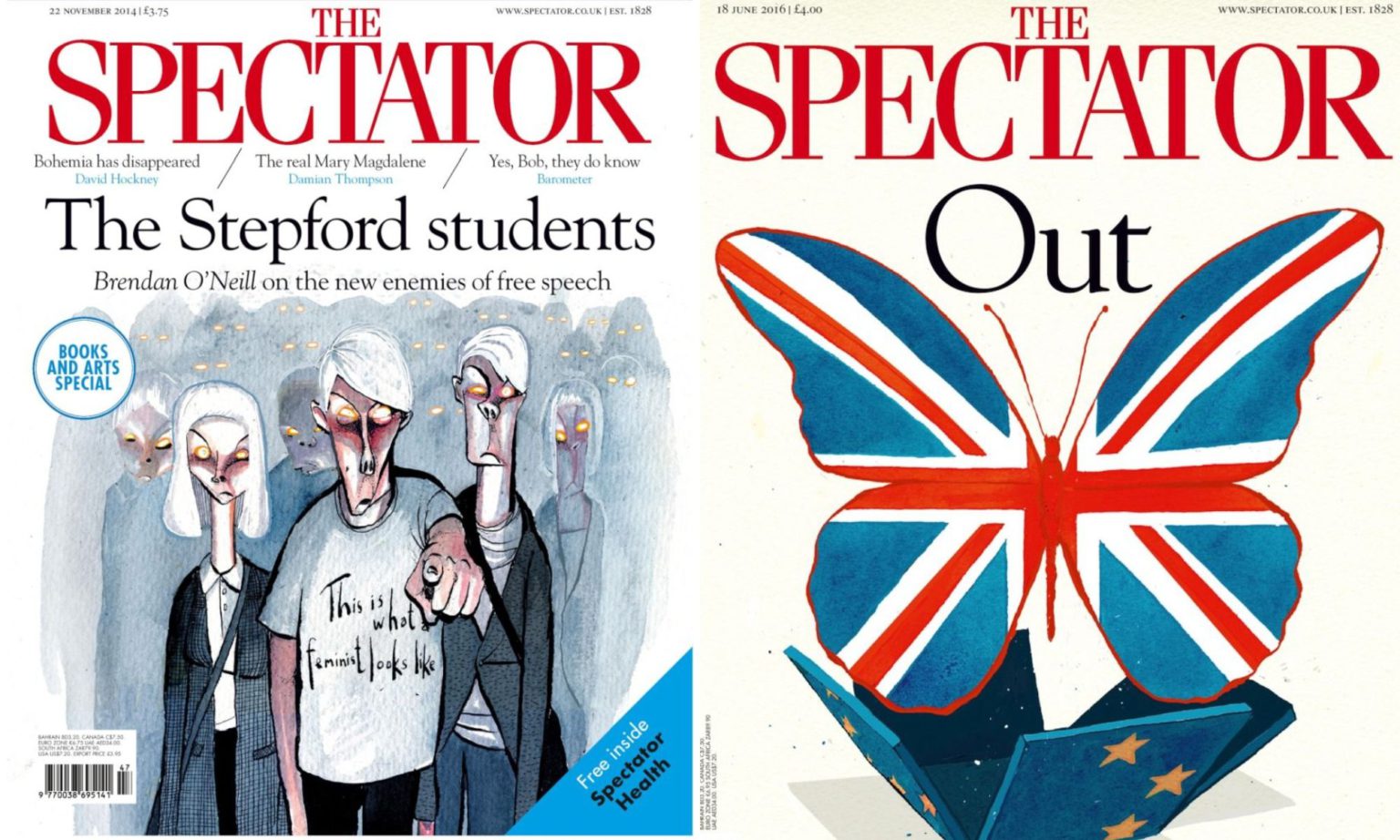 Covers on 22 November 2014, and 18 June 2016
He's proud of all his readers, from the PM up. On one of the Spectator's walls, there's a photograph that shows a copy of the magazine in Her Maj's helicopter door. Not far from it is a framed letter to the magazine signed by Marx and Engels. 'We're the magazine for the queen and the scaffolder', Nelson declares. 'I've got in my wallet this letter from a scaffolder who reads us. He wrote this really nice letter saying he got to the podcast and then he bought a magazine and he loves it, though he'd never admit to his friends [that] he does something as posh as reading the Spectator… To be honest, that means more to me than any number of celebrity endorsements because that's who we are.'
(His revolutionary bent once ran to revamping the look of the whole magazine – taking inspiration from Soviet-era propaganda posters – and it's a serious achievement. Morten Morland's sublime satirical portraiture means Spectator covers are delicious to look at, whether or not you like what's printed inside. Nelson compares Morland to Gillray – and he's not exaggerating.)
When Boris was in charge of the magazine it became famous for extramarital shenanigans. The Spectator became known as 'The Sextator' as the editor slept with his deputy, a (married) Liddle slept with the receptionist (pre-Fiona), David Blunkett slept with the magazine's then publisher, and so on and so on. But where once you might have turned up to work in the hopes of meeting your next mistress, under the uxorious Nelson it's all much more romantic. He even lets his staff (deputy political editor, Katy Balls) and ex-staff (the FT's Sebastian Payne) hold their engagement parties in the garden.
He insists he doesn't much like socialising but every year the magazine hosts a summer party that London society is desperate to get into. Essentially, it's a tarts and vicars party: you stand in an unholy crush as everyone peers over your shoulder hoping to speak to someone more celebrated, with actual bishops and the sex worker who used to service Wayne Rooney. 'Helen', Nelson nods. 'She's a retired prostitute now. Very nice writer. But that's what the Spectator is. Its target market is all of these people. Anybody who loves good writing.'
His enthusiasm for all-comers may derive from feeling he doesn't naturally belong himself. 'I'm culturally not your typical Spectator reader', he explains of his ascendancy. Born in 1973 in Truro, his father was in the airforce, his mother a home maker, and he has a younger sister, Jane. He went to boarding school on the RAF's tab. 'The airforce just created the path for my dad to go from a milk round with not a GCSE to his name to be able to give his children basically every luxury that you can reasonably ask for', he recalls. 'I remember asking dad when I was young if we were rich and he said, "Yes, because we own this house." That was his definition of a rich person.'
As a teenager he says he was 'an unpromising drifter' who had no idea what he wanted to do with his life. 'I sat tests for the RAF and I was so uncoordinated they thought I was lucky to be able to walk.' His father wanted more for him. 'He was like, "I had to join the RAF, I had no other choices. You've gone to university. You're the first person in your whole family to ever get a degree, so you should use it."'
'You stand by your writers to the end. That's what you do'
At Glasgow University, he first fell in love – with the student paper – and met Andrew Neil. 'He did Down Your Way for Radio 4 – that's when they would take somebody famous and go through their backstory. Andrew [had been] editor of the student newspaper at Glasgow and… there was I. The two of us were interviewed together. I would have been about 20… I still have the tape somewhere.'
Last year, Nelson tweeted the pictorial evidence of this fateful moment. Neil has lots more hair than he does now but not as much as Nelson – if you didn't know what was going on, you'd think he was being recruited for a boyband. Certainly, he had the requisite musical talent. He earned £50 an hour playing piano in Glaswegian shopping malls.
But it wasn't until years later that another meeting with Neil changed his fate. They were at a party; he neglected to point out they'd met already, and it culminated in a job offer. Nelson followed Neil from the Scotsman, to the Sunday Business, and on to the Spectator.
Of his promotion, 10 years ago, he says: 'I wasn't expecting to be made editor and it was quite a surprise when Andrew offered me the job… it was really a surprise to be offered the editing job given that I had no experience, really, in editing.' He's still modestly incredulous. 'Editing', he insists, 'was never something I thought I had in me. But he did think I had it in me.'
It's almost impossible to predict what the hell's going to happen Brexit-wise or Boris-wise, but I'd bet everything I have on Nelson editing the Spectator for longer than its former editor gets to stay in Number 10.
'I remember not so long ago that guy Owen Jones went on some kind of jihad against the Spectator', he says. 'He found a couple of headlines he didn't like and the net result of that was people came to the website to see if the Spectator was as bad as he suggested…'
They came for the Rod-rage and found themselves seduced by Dear Mary, the cartoons, the incomparably brilliant books section… All this makes Nelson beam – as if his most exquisite pleasure in life subsists in that red wiggly line he charts going up and up and up.
Emily Hill is author of the short-story collection Bad Romance, published by Unbound.
Pictures by: Spectator.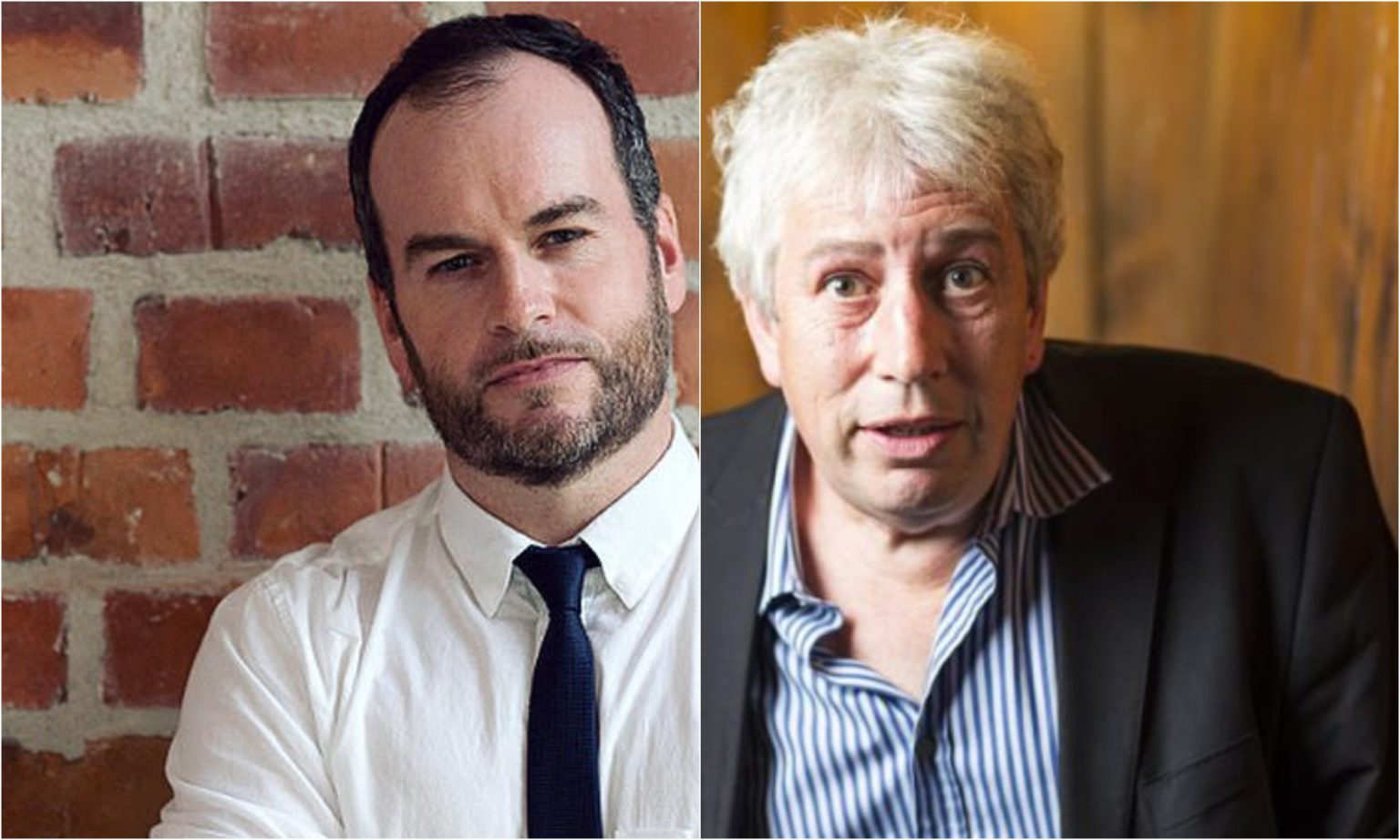 Rod Liddle and Brendan O'Neill
– live in London
Podcast Live
Podcast Live, Friends House, London, NW1 2BJ – 5 October 2019, 2.30pm-3.30pm
To get tickets, click the button below, then scroll down to The Brendan O'Neill Show logo on the Podcast Live page.
To enquire about republishing spiked's content, a right to reply or to request a correction, please contact the managing editor, Viv Regan.