Why the silence over the behaviour of pro-Remain protesters?
If you call Anna Soubry a 'fascist', you get arrested. If you call pro-Brexit protesters 'fascists'... nothing.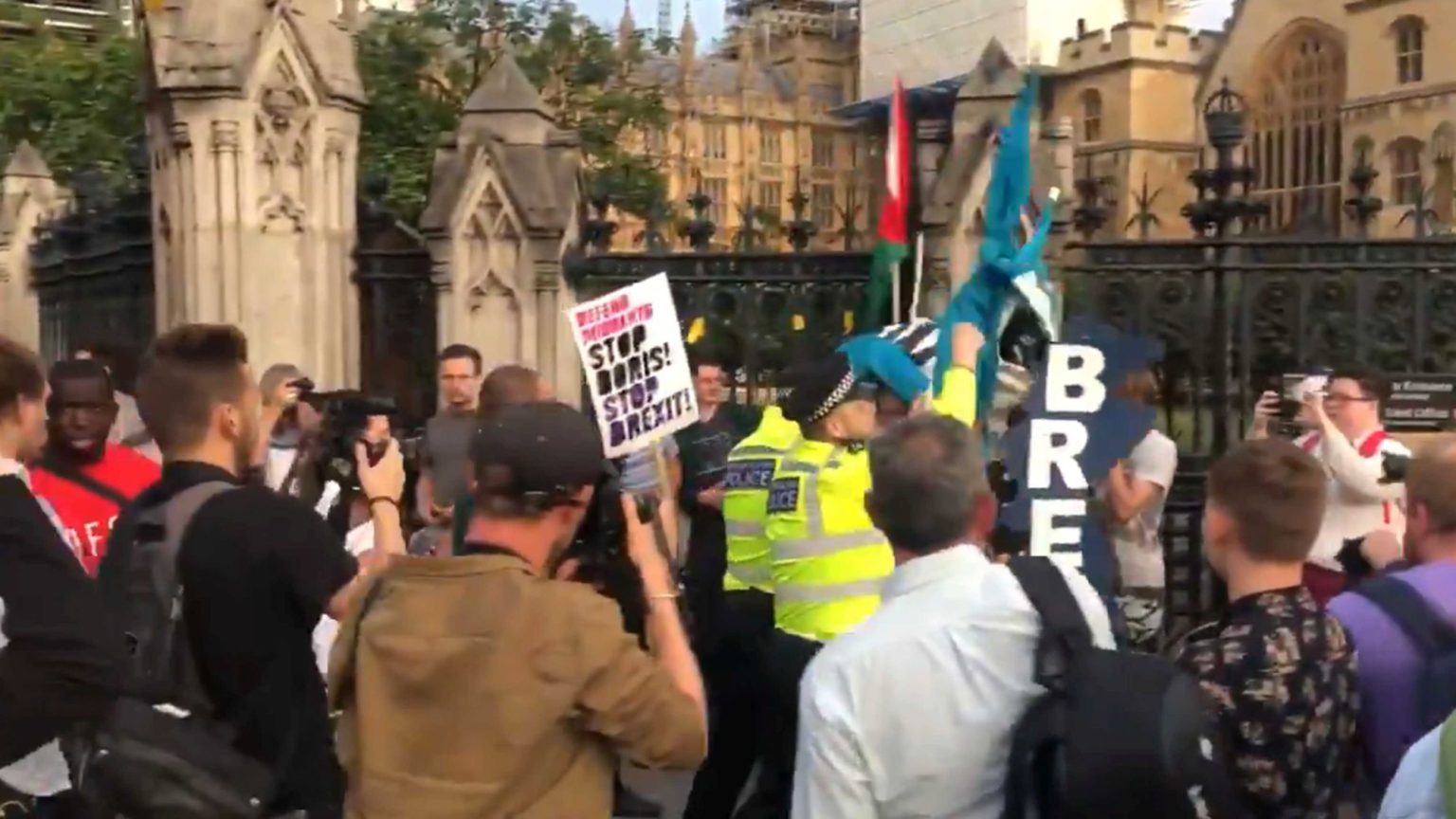 A clip emerged last night on Twitter of two men unfurling a banner at the Westminster #StopTheCoup demo. It read 'Brexit Now' on a blue background that mirrored the logo of the Brexit Party. The Remainer protesters went batshit crazy. The men carrying the banner were surrounded. The crowd started yelling 'fascists out' and grabbing at the banner. One protester tried to set it on fire. It really did look like the men were about to be attacked. The police were forced to intervene and even told the men that they 'should leave'. They eventually moved the men further into Parliament Square and away from the main group of Remainer protesters, who applauded as the men were moved on.
Compare this clip to the clips that circulated in January showing abuse being hurled at Anna Soubry MP and Guardian journalist Owen Jones. In January, Soubry was apoplectic when a small group of protesters chanted 'Soubry is a Nazi' from a distance, interrupting her BBC interview. She said the behaviour was 'astonishing'. 'This is what has happened to our country', she said. She was then approached by the protesters as she walked towards parliament. They questioned her on her Brexit stance and called her a fascist again. Owen Jones encountered the same protesters in Westminster. They called him, among other things, a 'tampon' and a 'horrible little man'.
The reaction to these incidents involving Soubry and Jones, both of whom campaigned for Remain, was instant. MPs called for tougher laws. Nicola Sturgeon called the incidents 'appalling' and said 'we all have a duty to stand against this kind of behaviour'. David Lammy MP said the abuse was 'not only appalling' but also 'historically illiterate'. There were immediate calls for legal reform. Dozens of MPs wrote to the Metropolitan Police expressing 'serious concerns' about the 'deteriorating public order and security situation' in Westminster. Two of the protesters, James Goddard and Brian Phillips, were eventually arrested, charged and convicted for the incidents involving Soubry. Both men received suspended prison sentences.
Yet, so far, there is silence from MPs about the treatment of the Brexiteer protesters yesterday. On one level, this is good. No one should be arrested for spirited protest. But there is also a remarkable double standard. The behaviour of those Remain protesters yesterday was far worse than that of the 'yellow vest' protesters who confronted Jones and Soubry. Yet there have been no calls for 'tougher laws'. No calls for arrests. No one pointing out how historically illiterate it is to call pro-Brexit people fascists.
The hypocrisy is astonishing. Remainers are happy for Brexiteers to be mobbed, but cry 'harassment' the moment a Remainer MP or journalist is approached in the street. They are happy if Brexiteer banners get vandalised, or if Brexit-leaning MPs get milkshaked. They are certainly happy to call Brexiteers 'Nazis' and 'fascists', while calling for anyone who uses the same language against Remainers to be locked up. Remainers use the law to their own ends, which is why Brexiteers are arrested and prosecuted for what they say while Remainers are left alone. What a dreadful double standard.
Luke Gittos is a spiked columnist. His new book, Human Rights – Illusory Freedom: Why We Should Repeal the Human Rights Act, is published by Zero Books. Order it here.
Picture by: Getty.
To enquire about republishing spiked's content, a right to reply or to request a correction, please contact the managing editor, Viv Regan.