Night of the Iguana: an all-star flop
For a character-driven play, the characters aren't terribly interesting.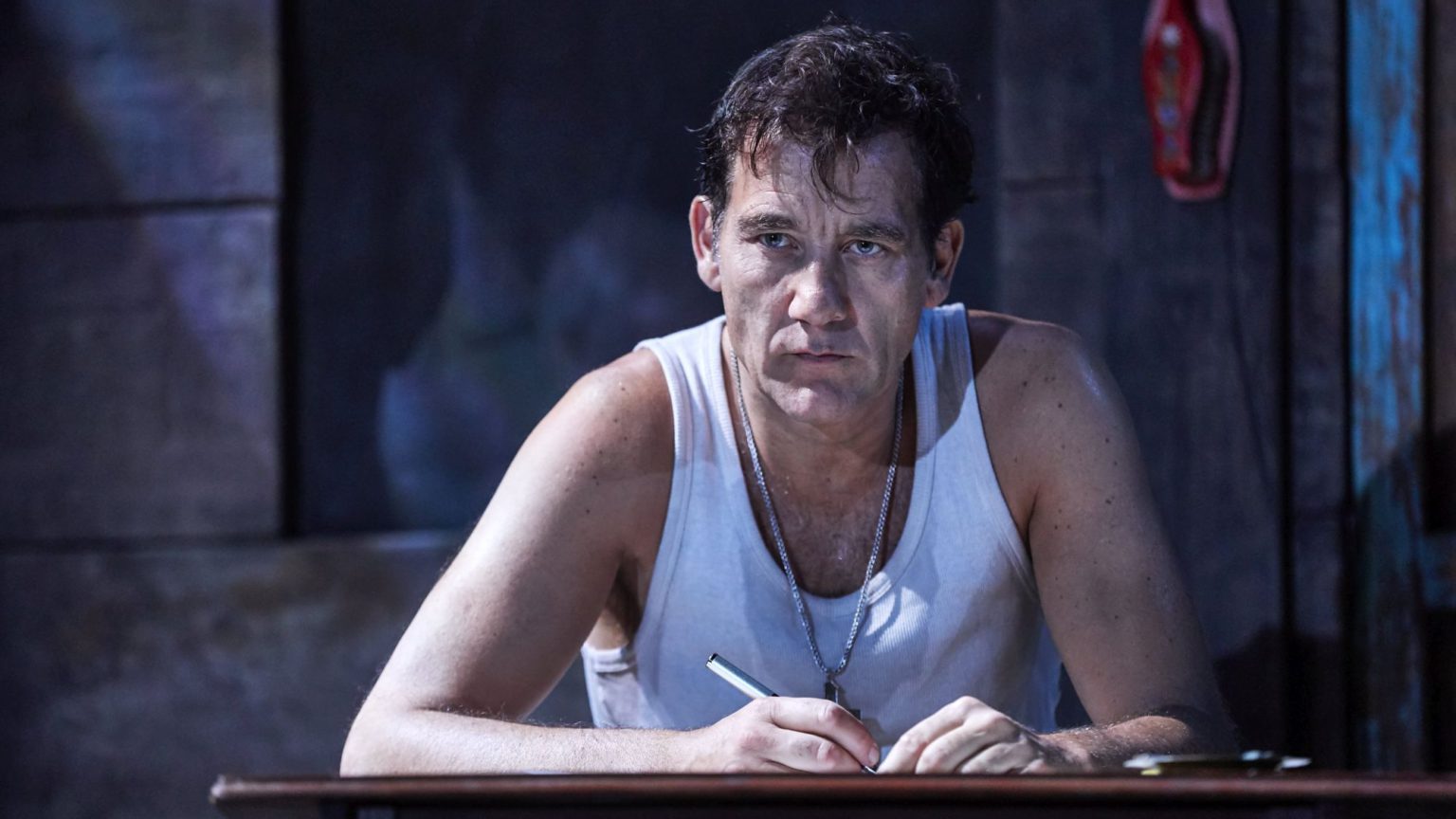 The Night of the Iguana is a play to avoid in a heatwave. You plan to escape the suffocating heat only to find the inside of the Noël Coward Theatre has been turned into a scorching Central American jungle. Literally.
Even without the heat, the transformation would be convincing. Tropical crickets chirp away against a stunning canyon-top set as a half-dressed straggler stumbles around, fanning his glistening forehead. There's a scene in The Simpsons where the family moans longingly as Reverend Lovejoy describes the fiery pits of hell during a freezing Sunday sermon. Watching this on a sweltering day is basically the opposite of that.
Written some 15 years after A Streetcar Named Desire, The Night of the Iguana is often named as Tennessee Williams's last great play. But I suspect what is really meant is that it was the last one to make serious money in Hollywood.
Iguana is a slightly meandering tale about two lonely dreamers and their hapless companions who cross paths in a ramshackle Mexican hotel. This being Tennessee Williams, the main characters include a hustler, an artist, a widow and a womaniser (consider them the four suits in the Tennessee Williams deck of cards). They are played, in turn, by Lia Williams, Julian Glover, Anna Gunn (Skyler from Breaking Bad) and Clive Owen. Which is about as good a line-up as you will ever see in the West End. A lot of money has been thrown at this production – and it shows.
For all the star quality, though, Iguana doesn't really come to life. Act one is dominated by a silly comedy subplot about the womaniser – a disgraced young priest called Shannon – trying to escape a busload of matronly Catholic schoolmistresses. Clive Owen tries his best, but it's never actually funny. Perhaps this is to be expected. I've seen more Tennessee Williams plays than anyone I know and I can't remember the last time he made me laugh.
Things pick up when the hustler and her geriatric grandfather (apparently a renowned poet) arrive at the hotel looking for board. The widow eyes them suspiciously but Shannon, all shaky hands and crumpled linen, feels more generous. By the time their booking is confirmed an hour has passed. After some rum cocktails, Shannon starts to confide in Lia Williams about his various sexual misadventures and then the lights go out for the interval.
Action-wise, the second half is even slimmer pickings, although it does explore the characters in more depth. Shannon and his new friend spill their hearts about their various secrets and deceits. It all gets a bit 'will they, won't they?', to the widow's annoyance. Glover's character, on the other hand, is left snoozing in his dorm. Thanks to a completely unnecessary bit of a set design – a front window on a private cabin – he is forced to do this in full view of the audience. Given Julian Glover is in his mid-80s, would it not have been kinder to give him a half-hour break and mic in some snoring?
The big problem here, though, is that for a character-led play, the four leads aren't terribly interesting. One of the things I generally love about Tennessee Williams is just how believable his characters are. I've always suspected most are based on real-life stragglers and queens that he met during his time in New Orleans. They feel too real to be entirely fictional. The same can't be said for the characters in Iguana.
This really takes the potency out of the ending. The titular iguana, captured by the hotel's adolescent bell-hops and held tethered for next week's dinner, is eventually cut loose by the reinvigorated priest. This is supposed to symbolise the four characters being freed from their own despair (in the elderly poet's case by finally embarking on the big sleep). In a better play, this moment would have had me welling up.
One real shame is that with a cast this good there will be plenty of West End first-timers in the house. Hopefully some will want to come again – even if they are left unmoved on this occasion.
Robert Jackman is assistant features editor at the Spectator. Follow him on Twitter: @robertjackman88.
The Night of the Iguana is at the Noël Coward Theatre until 28 September.
To enquire about republishing spiked's content, a right to reply or to request a correction, please contact the managing editor, Viv Regan.