Why on Earth is Banksy Britain's favourite artist?
A new poll is surely having a laugh.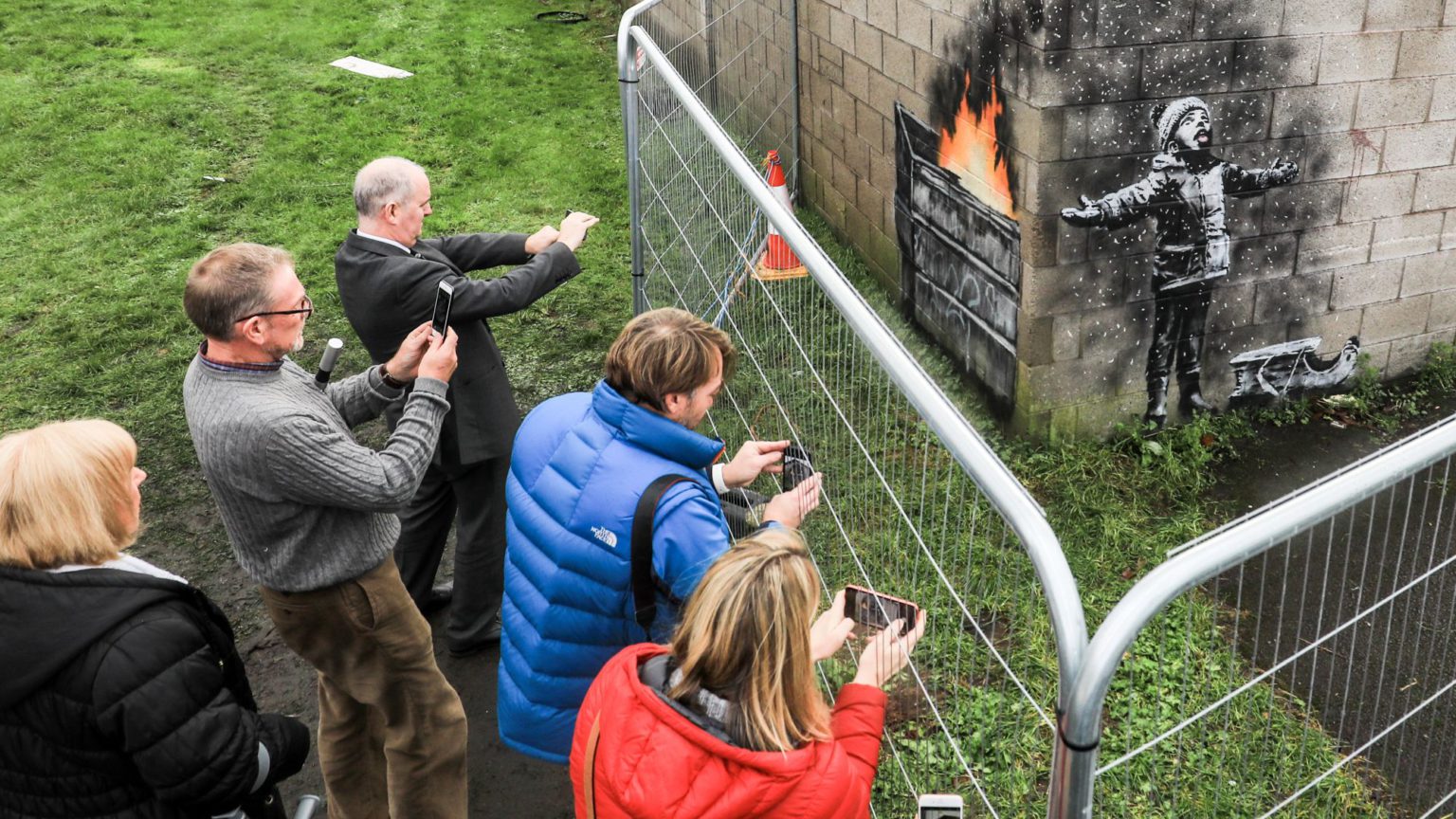 Street artist Banksy has been announced as Britain's favourite artist of all time. This is according to a YouGov poll, commissioned by Homes & Antiques magazine, which was then picked up by the national press.
There is a risk here of taking the poll too seriously. After all, how representative of Britain can the 2,000 respondents be? Are they really the cultural voice of an entire nation? And how reliable is Homes & Antiques as a cultural authority? It's certainly not doing itself any favours when it spells Van Gogh, who came third on the list, 'Van Gough'.
But then the poll was never really meant to be a serious exploration of national taste. It was, I would wager, commissioned for PR purposes. It was a chance to generate headlines – which it did – both by elevating Banksy above the likes of Monet and Michaelangelo, and simultaneously attaching Home & Antiques's less than on-the-pulse brand to probably the most high-profile, zeitgeisty artist in the UK right now.
Because there is no doubting Banksy's contemporary prominence. He may be famed as much for his anonymity as for his witty artworks, which pop up in various places around the world, but he does persistently prod and probe our cultural and political moment, offering comment on all manner of contemporary issues. Few others even approach his level of relevancy.
So, in a sense, it is possible that Banksy genuinely is the country's favourite artist right now. And it is also possible to explain why that might be the case, in terms of three main contributory factors: the decline of art history teaching; the politicisation of debates about art and culture; and the vagaries of the art market.
On the first, art schools no longer see the study of art history as important to a young artist's development. And only a tiny minority of students now study art history at school and university. This means that the awareness of an art canon is limited, even among art students and graduates. And this in turn diminishes the capacity for judgement and, therefore, for the evaluation of the relative merits of artists.
Secondly, art galleries re-evaluating their historic collections, and curating their contemporary ones, are driven more by contemporary political considerations than by aesthetic and art-historical ones. The extent to which an artist adheres to a certain PC worldview, which Banksy certainly does, is often more important than the art itself.
And third, most collectors focus on the money-making capacity of art. And, given the newest area for making money in the arts is street art, one can see why they might be drawn to Banksy. Collectors' interest, in turn, drives further interest in his work.
So, you can see why Banksy might be popular. He ticks a lot of boxes: he's accessible, anti-consumerist, politically correct and sellable. That he's now our favourite artist is eminently believable. But what's troubling about this verdict is that it has little to do with the quality of his art, which, while often witty and well-executed, is generally shallow and opportunistic. Homes & Antiques might have done well from its headline-grabbing poll, but I'm not sure art has.
To enquire about republishing spiked's content, a right to reply or to request a correction, please contact the managing editor, Viv Regan.