Let Northern Ireland have a say on abortion
The Northern Ireland bill raises difficult questions about the north's relationship with the UK.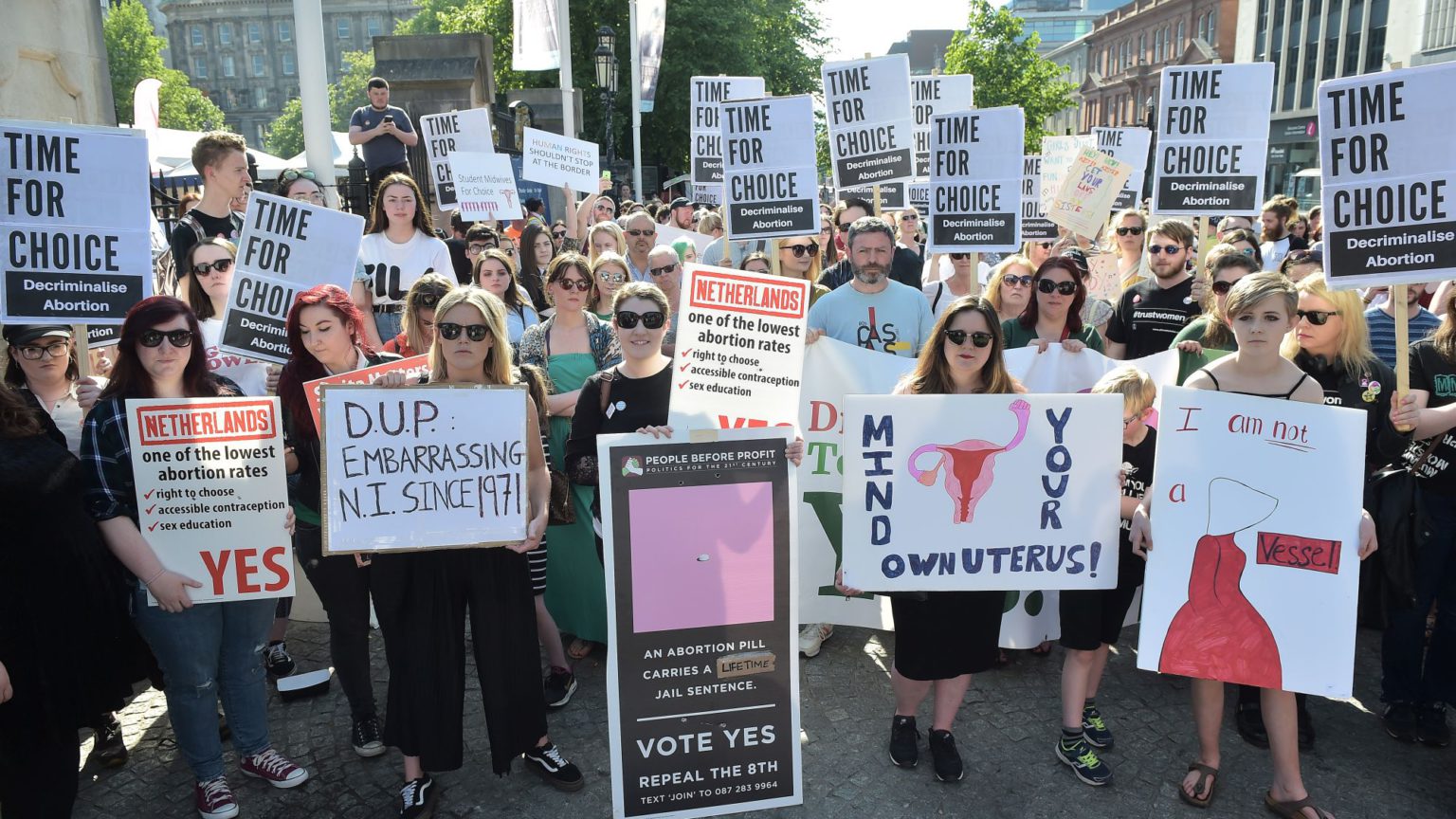 Pro-choice campaigners are celebrating this week after British MPs voted to bring Northern Ireland one step closer to liberalising its abortion laws. Labour MP Stella Creasy's amendment to the Northern Ireland Executive Formation Bill passed by a large majority of 332 to 99. It ensures that Northern Ireland's ban on abortion will be lifted unless the Stormont assembly – Northern Ireland's devolved parliament – is restored by 21 October.
spiked has long called for abortion rights in Northern Ireland. The UK's 1967 Abortion Act only partially decriminalises abortion. Abortion should be fully decriminalised, once and for all, so that women can have full control over their bodies and life decisions.
But despite the understandable cheer about the prospect of increased rights for women and gay people in Northern Ireland (the amendment also included provisions to secure same-sex marriage), there is something wrong here. Just because MPs have voted in support of something positive – women's freedom – doesn't mean we shouldn't question the means through which the victory was secured.
The anti-abortion Democratic Unionist Party (DUP) has voiced concerns about the undermining of devolution. Many pro-choice commentators and MPs have lambasted the DUP, but it does have a point. You don't have to be the biggest fan of Stormont to see that English MPs have decided to trample over the pre-agreed arrangements in Northern Irish politics. In her speech in parliament, Creasy even admitted that 'none of us wanted the governance of Northern Ireland to be in this position today'. MPs often wax lyrical about their dedication to devolution. But when it comes to a tricky situation like this, when commitments are truly tested, it seems that many have ditched the idea of devolved power altogether.
Northern Irish politics is a mess. Negotiations to resume power-sharing in Stormont have been deadlocked for close to two-and-a-half years. It all started with a squabble over a green-energy bill. Now, Sinn Fein, on the one hand, won't back down on its demands to make Irish an official language in the Six Counties. On the other hand, the DUP won't give ground on abortion rights – despite the obvious desire for change within Ireland as a whole following last year's referendum in the republic.
But let's not forget that this dysfunctional, ridiculous power-sharing agreement is a product of British rule in Ireland. The Good Friday Agreement, which is treated as gospel by ignorant British MPs, is said to be the sole guarantor of peace in Northern Ireland. In practice, it merely stifles political progress. Britain has instituted an untenable political arrangement, gifted to Northern Ireland under the pretence of devolution. But the recent passage of the amendment proves how easy it is to wade back into Belfast and strongarm Northern Irish politics from Westminster.
Creasy, Diana Johnson and many other committed pro-choice MPs are right to condemn Northern Ireland for leaving women without access to abortion for so long. Northern Irish women are being forced to live in the Dark Ages, denied access to abortion rights, even in extreme cases of rape and fatal fetal abnormality. They are treated like criminals if they dare to take pills that are perfectly safe and legal across the Irish Sea. They are denied the prospect of making decisions about when and with whom to have children.
Anyone who is pro-choice should cheer the passage of this pro-choice amendment. But we cannot duck the questions it raises about the relationship between Britain and Ireland. Not all of us are in favour of devolution – the power-sharing agreement at Stormont is neither democratic nor functional. Now that it has collapsed, Westminster has naturally stepped in to fill the vacuum. The problem with this is that in the debate about abortion rights in Northern Ireland, the one voice we haven't heard from is that of the Northern Irish people.
So, let's celebrate the growing support for women's bodily autonomy. But let's also think about how we can take these much-needed steps towards women's freedom in the most democratic way possible.
To enquire about republishing spiked's content, a right to reply or to request a correction, please contact the managing editor, Viv Regan.