Free all nipples
New Facebook guidelines on nudity show how middle-class the boobs debate has become.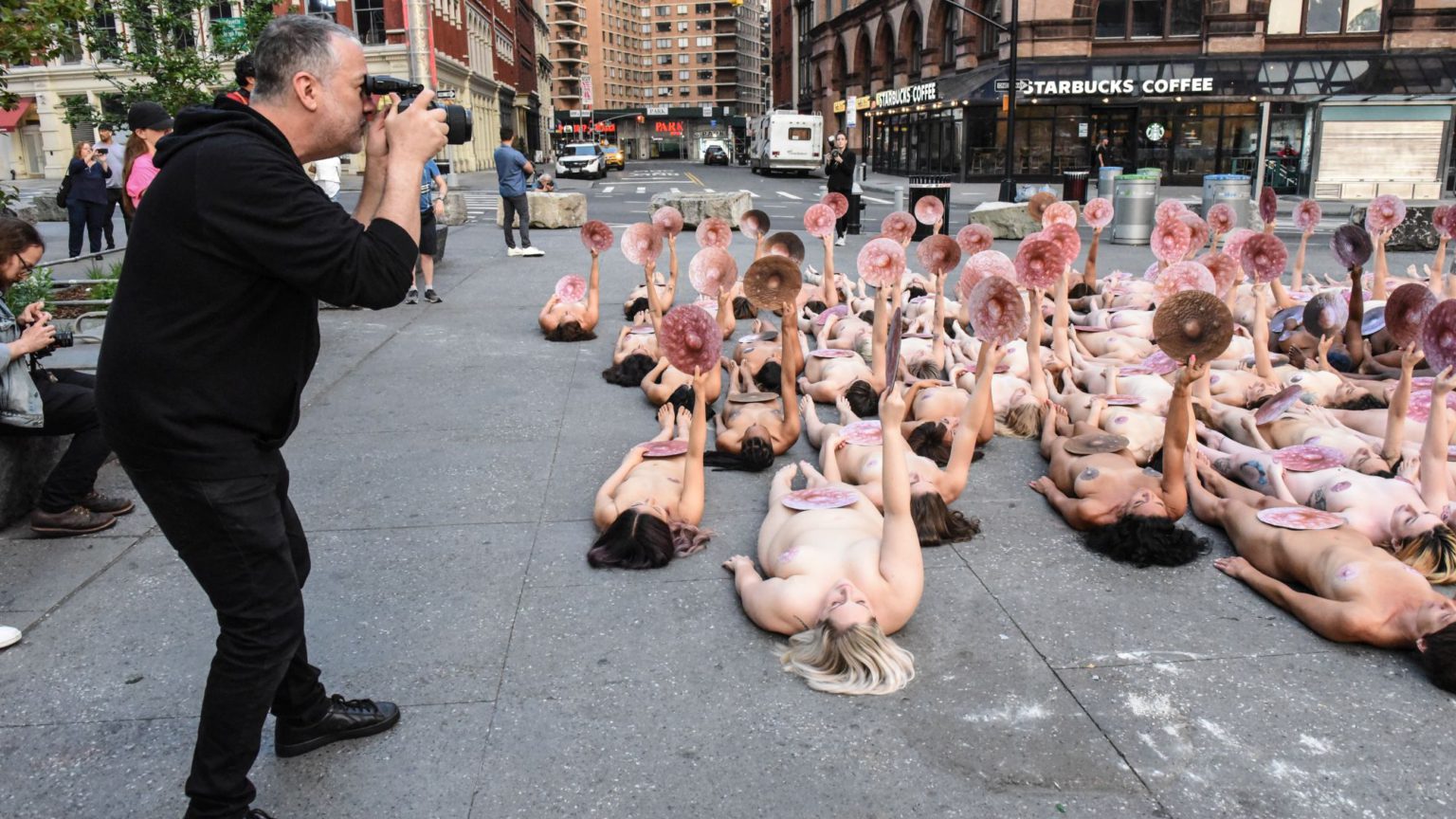 Forget #FreeTheNipple – there's a new boob-centred campaign in town. Naked protesters took to the streets outside Facebook HQ last week to launch #WeTheNipple, a new campaign from the National Coalition Against Censorship (NCAC) that is putting pressure on Facebook and Instagram to 'allow photographic artistic nudity'. Protesters carried pictures of female nipples and were photographed by Spencer Tunick – an American artist known for his photos of mass gatherings of naked people.
It seems that the sight of cold nipples on a Sunday morning actually worked. The NCAC says Facebook officials have 'committed to convening a group of stakeholders, including artists, art educators, museum curators, activists [and] Facebook employees, to examine how to better serve artists, including considering a new approach to nudity guidelines'.
Facebook claims it is already 'nuanced' when it comes to the censorship of images of women's breasts: 'We understand that nudity can be shared for a variety of reasons, including as a form of protest, to raise awareness about a cause, or for educational or medical reasons. Where such intent is clear, we make allowances for the content.' NCAC wants Facebook to go further and allow artistic depictions of female breasts, too.
Does this mean women are free to upload topless shots? Not quite. In fact, the NCAC campaign seems to centre around a very specific type of nipple, one that belongs to a certain kind of woman. In a letter to Facebook's head of global policy management, the NCAC acknowledged that Facebook can't just allow any old nudity. The problem, apparently, is that the current 'nudity ban' is 'punishing for photographers' and it particularly 'harms artists whose work focuses on their own bodies, including queer and gender-nonconforming artists'.
This isn't a campaign against censorship of the female body – it's a campaign to free up artists' and influencers' ability to promote their woke work. The NCAC goes so far as to ask Facebook bosses to be the ones who decide what constitutes an artistic display of nipples. It admits that 'drawing the line between art and images that are not art is notoriously hard', but it nonetheless asks Facebook to do just this, with the help of a few creatives.
This is the problem with these nipple campaigns: they've always made a distinction between good, creative, acceptable boobs and other types of tits that should apparently be kept behind closed doors, banned from newspapers, and blocked online. It will be interesting to see how the NCAC / Facebook coalition deals with the artistic intent of a glamour shoot. Would Facebook allow pictures of Titian's Venus of Urbino but not UK glamour model Katie Price? Anti-censorship protesters bemoan the fact that celebrities like Rihanna have had their nipple shots removed from Instagram but they don't make the same defence of Lucy from Bournemouth who might want to sell topless pics online.
The issue of women's breasts has been colonised by middle-class creatives. If you're protesting against climate change or the closing down of a local arts centre or the Tory government, apparently getting naked and sharing pics online is all good. If you're an attractive young millennial with a big following, and you use hashtags like #bodypositivity, #freethenipple, #everybodyisbeautiful, then your nipples are good and proper and permissible. And if you're breastfeeding and your doting husband takes a close-up shot of your nipples, that is allowed too. But Page 3 girls? Young working-class women taking glamour shots? That is bad. Those nipples must be covered up.
The problem, apparently, is women who want their breasts to be seen in a sexual way. The NCAC is right to challenge Facebook's ridiculous ban on nudity. Nipples are hardly outrageous. In season six of Sex and the City Miranda even wore fake ones, now available to buy online for women who want to achieve the smuggling-raisins look all year round. But changing Facebook's outright ban on nipples to a partial restriction based on artistic merit shows how middle-class and snobby the debate about women's bodies has become.
If we really believe that women's bodies should be free – to be pondered over in oil paint or ogled at on film – then let's scrap nudity restrictions once and for all. Trusting Facebook and a group of artists to decide between good boobs and bad boobs is perverse.
To enquire about republishing spiked's content, a right to reply or to request a correction, please contact the managing editor, Viv Regan.