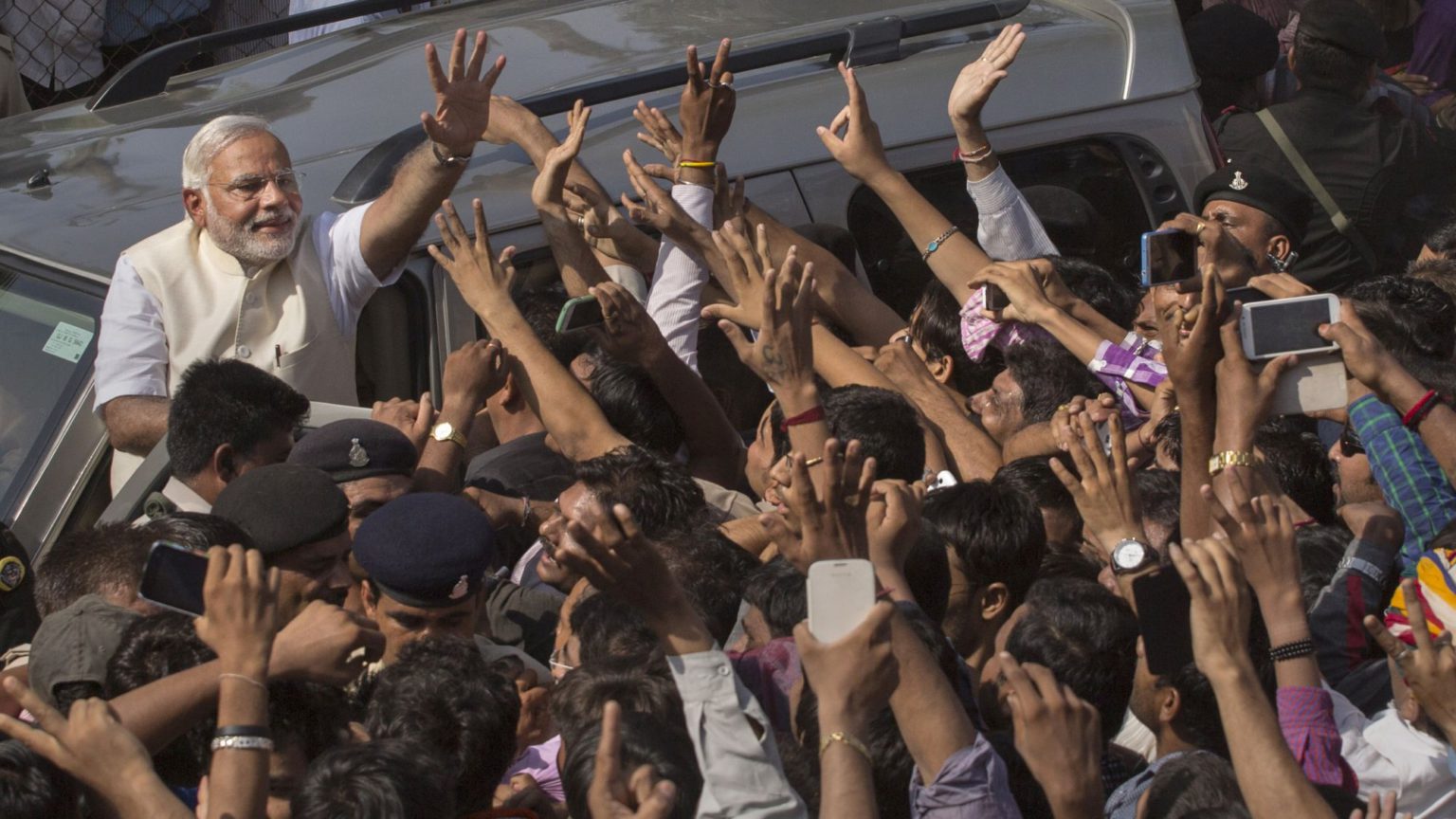 India: who's afraid of majoritarianism?
The rise of the Narendra Modi is not simply about bigotry.
The Bharatiya Janata Party (BJP) has been returned to power with a sweeping victory in India's General Election. Prime minister Narendra Modi now has a fresh mandate to pursue his right-wing agenda of economic development paired with Hindu nationalism and a hard line on national security.
Few if any observers foresaw the extent of Modi's triumph, and so, coming soon after the shock re-election of Australia's conservative coalition, the result fitted all too easily into the overarching narrative that has prevailed since the Brexit and Trump shocks of 2016. Somehow the liberal consensus that has held sway throughout the democratic world since the end of the Cold War is breaking down, shock by shock. Right-wing populism is breaking out everywhere from the US to Hungary, from Turkey to Brazil. And now this.
When Modi was first elected in 2014, many observers were willing to acknowledge that his appeal had as much to do with the promise of renewed economic growth after years of sluggishness as with Hindu nationalism. The previously ruling Congress party seemed to have little to offer, while much was made of the economic success of the state of Gujarat, where Modi had been chief minister. There was optimism in the Modi wave. But India's growth in the past five years has been far from stellar. Modi's most eye-catching economic policy – recalling and replacing high-denomination bank notes in order to curtail the shadow economy – seemed to do more harm than good.
For this reason, many suppose this year's victory can only be an endorsement of the other part of Modi's agenda: Hindu nationalism (or Hindutva), majoritarianism, anti-Muslim bigotry, Masala populism. No doubt the BJP does project the idea that India is above all a Hindu nation and that minorities should be made to remember that. Freedom of speech is precarious, to say the least. Modi's victory is not particularly good news for those who favour a freer and more inclusive India, but is it really best understood as a victory for bigotry?
Ultimately, it is for Indians to decide whether their country is taking a sinister turn, or whether, in the absence of credible alternatives, voters have stuck with Modi because they hope he can achieve in 10 years what he could not in five. Western commentators would do well to ask whether their impression of what is happening in India owes more to the global narrative about populism than to actual developments in Uttar Pradesh and West Bengal.
Many portray Modi as an Indian Trump; both are keen on strong borders, after all. But the comparison is not only Western-centric — it is also back to front. Modi won his first landslide victory in India two years before Trump even emerged as a political phenomenon in the US. If anything, Trump is a pale imitation of Modi, complete with his very own saffron wave. But the more important objection is that India is not the US, and vice versa. And perhaps the very particularity of the various political developments bracketed together as populist is as much an affront to the liberal worldview as their superficial similarities. The world is not converging around a liberal consensus. Or anything else.
In fact, it is hard not to suspect that one reason Westerners do not warm to Modi is that he is just too Indian. He rarely speaks English and seems to have little interest in courting the affections of foreigners. Instead, he is on a mission to remake India as a stronger and more confident nation united around a common (and very narrow) idea of what it is to be Indian.
Significantly, an early favourite to attempt the task of reviving the moribund Congress party is former UN diplomat Shashi Tharoor, who speaks English with a cut-glass accent and has a vocabulary to match. He is no less Indian for that, of course, but his cosmopolitan vision of India is one with diminishing appeal. After the election, Tharoor wrote candidly that Modi's 'new India' has him yearning for the old one: 'The worry for many Indian liberals is that our long-cherished idea of our country as a benign, inclusive state – thriving in its astonishing diversity of religions, ethnicities, languages, and castes – is collapsing.'
Certainly, Modi seems to have little time for 'unity in diversity', but the cliché has been wearing thin for a long time. And note that last category of diversity to celebrate: caste! Elsewhere, Tharoor has described India not as a melting pot or even a salad bowl, but as a thali – the Indian dish in which the various components are served in separate little pots. Even the most enthusiastic Indian food lover can surely see something disheartening about this as a model for society.
Moreover, a defining feature of the 'old India' was (and is) manipulation of the caste system for political purposes. While the Congress party was founded to bring Indians together to overthrow the British Raj, in recent decades its nationalism has given way to a slicing and dicing of the electorate by religion and caste in order to win power. Depending on the constituency, the party will make an appeal, for example, to Muslims plus this or that caste or other minority. Other parties do the same, and the BJP is not above caste politics, but its Hindutva ideology increasingly cuts across these divisions, to the horror of liberals.
As political theorist Pratap Bhanu Mehta told the New Yorker, 'One hope was that a lot of caste-based parties or region-based parties will never let a consolidated Hindu majoritarianism emerge. I think one of the striking things about this result is how it completely throws that hope out with the bathwater.' The tragedy is that opponents of Hindutva were content to let their hopes of national unity languish in the bathwater of division. There has been no serious attempt to forge a more inclusive majority cutting across religion as well as caste by offering a positive vision based on development (which is at least part of Modi's appeal).
That's easier said than done, of course, but Mehta argues that Modi's success is born of political imagination: 'Most other political parties were in thrall of a certain kind of sociological determinism that says, so long as I can keep this caste behind me or create some sort of [caste] alignment, I will be successful. What he does as a politician is to say, "You can create a new reality. You are not trapped by inherited categories of thinking."'
In other words, politics makes a difference.
The BJP is just the party-political wing of a wider family of civil-society and other organisations led by the Rashtriya Swayamsevak Sangh (RSS). Writing in 2015, Congress analyst Pushparaj Deshpande explained the difference between its political approach and that of its opponents: 'The Sangh has rigorously engaged with society, hoping to embed radical Hindutva norms in India's collective consciousness. It is because of their tireless efforts that large sections of India have been socialised to orthodox norms. In stark contrast, the numerous conscientious individuals and groups of people who oppose the RSS's talibanised idea of India keep pinning their hopes on the state. They hope against hope that the state will leash the madness that is the RSS.'
Clearly, though, it does not seem like madness to the millions who identify with this movement, or who voted for Modi despite his association with it. And if secularism is enshrined at state level but not embedded in the collective consciousness, it will not be able to leash anything. In the same article, Deshpande quoted BR Ambedkar, the principal author of India's constitution, who argued that 'rights are not protected by law but by the social and moral conscience of society. If social conscience is such that it is prepared to recognise the rights which law chooses to enact rights will be safe and secure. But if the fundamental rights are opposed by the community, no law no parliament, no judiciary can guarantee them in the real sense of the word.'
Modi's opponents have failed to learn this lesson and to offer a genuine political alternative that engages with the 'social and moral conscience of society'. If the majoritarian India emerging from the election is chauvinistic and illiberal, it is because that was the only substantive vision on offer. In a sense, Hindu nationalism has supplanted the Congress party's shop-worn Indian nationalism. It is a paradox of all nationalisms that they simultaneously unite and divide, but the desire to be part of something bigger than oneself and even one's particular community is a powerful one and need not be aggressively exclusive.
In focusing on the BJP's reactionary rhetoric about outsiders, infiltrators and enemies within, critics fail to notice Hindu nationalism's positive appeal to voters who are frustrated by a politics of stasis and cronyism dressed up as diversity. A real alternative to Modi will not disdain majoritarianism, but redefine it. And that will require the kind of political imagination shown by Modi himself, an imagination not trapped by inherited categories of thinking like the global populism narrative. Indeed, the rest of the world would benefit from more of that kind of imagination.
Dolan Cummings is a writer based in London. That Existential Leap: A Crime Story is published by Zero Books. (Buy this book from Amazon(UK).)
To enquire about republishing spiked's content, a right to reply or to request a correction, please contact the managing editor, Viv Regan.