Barca Nostra – is this art?
A fishing boat that sank, killing 800 migrants, is being exhibited at the Venice Biennale.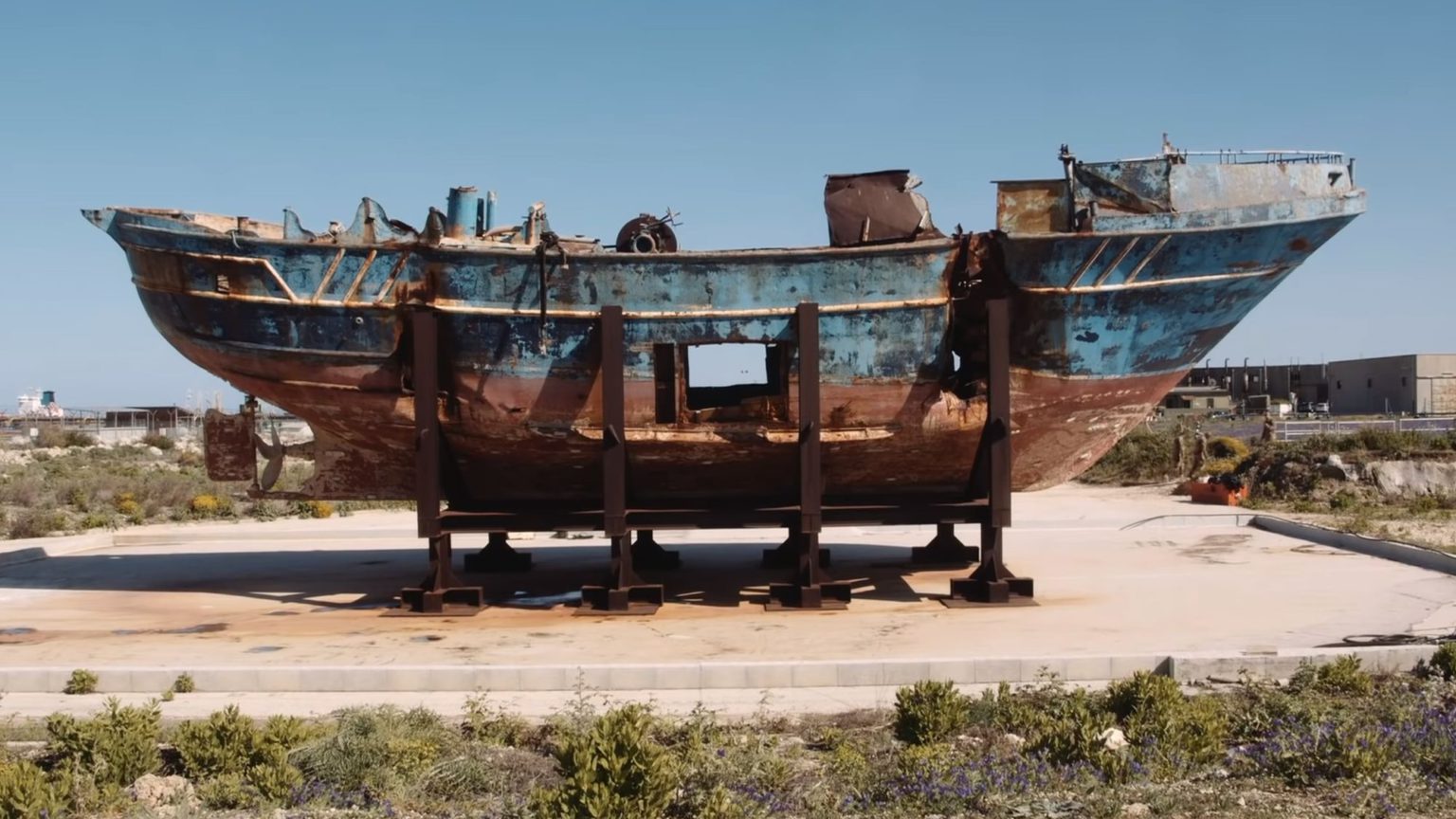 What is the difference between a work of art and a moral imperative? If you are a member of the contemporary art world, perhaps the two are the same. At this year's Venice Biennale, Swiss-Icelandic artist Christoph Büchel's installation Barca Nostra (Our Boat) is making headlines. It is the wreckage of a real fishing boat that sank in the Mediterranean in 2015 on its way to Europe. Most of its passengers, migrants departing from Libya and headed to Europe, drowned, trapped in its hull. The work demands an unequivocal moral response. But should it be considered a work of art?
The boat was raised so as to excavate the bodies in 2016, and has been in storage at a NATO base in Sicily since then. According to the press release, it is being displayed in Venice to highlight the tragedy of migrant deaths in the Mediterranean. The intention is to use it as a 'vehicle of significant socio-political, ethical, and historical importance'. It is intended to represent not just this one shocking disaster, but the many migrants who have lost their lives in the Mediterranean and elsewhere, hoping for a better life in Europe.
'We are living in a tragic moment without memory. We all watch the news, and it seems so far away; someone is dead at sea and we change the channel', Büchel's collaborator, curator Maria Chiara di Trapani, tells the Guardian. She hopes visitors to the Biennale 'feel respect for it and look at it in silence – just give two minutes of silence to listen and reflect'. If you are one of those who 'changes the channel', here it seems is your chance to make reparations by going to Venice and contemplating this object and all that it represents.
There is a long history of art depicting disastrous shipwrecks and deaths at sea, and it is worth comparing Büchel's installation to a painting on a similar theme first exhibited 200 years ago. Théodore Géricault's The Raft of the Medusa (1819) depicts the scandalous story of a ship wrecked off the coast of modern-day Mauritania due to the incompetence of its captain. Most of its 400 crew and passengers died, and the few who survived endured starvation and dehydration and practised cannibalism before they were rescued.
Géricault chose the subject partly in response to public outrage in France over the incident. His painting was deliberately confrontational, artistically and politically, and generated considerable controversy at the time. Both the brutal realism of the painting and its anti-establishment implications were alternately condemned and praised. Some critics complained about the gruesome 'pile of corpses' and sombre colours, while others praised its implied social critique and Géricault's imaginative and innovative approach. The painting transcends its historic moment and continues to enthral viewers today, generations later, with its dark, dynamic expressiveness. It forces us to imagine, graphically, the horrors of being abandoned at sea.
In contemplating Géricault's Raft, the viewer can consider its composition, its symbolism, the skill of its execution and the many layers of thought, feeling and experience embedded in the painting. We can choose how we respond. We can immerse ourselves in the emotional horror of the moment depicted, and / or we can step back to consider the artistry of the painting. Our engagement with the painting is freely given and we are free to think what we like about it, separating it – if we wish – from its political implications.
In contrast, Barca Nostra seems to take away our freedom to choose. It turns a judgemental eye on us, the viewer. It is intended to make viewers engage with the issues it evokes. As a moral person, you have no choice but to be repelled by the migrants' deaths. Those who fail to engage in this way – who walk by ignoring it, drinking lattes under its bow, or taking selfies in front of it – are implicitly judged as morally deficient. You are compelled to respond moralistically or appear heartless. There is no separation between art and morality.
This is reflected in the commentary about it: there has been no discussion of it as a work of art. People seem embarrassed to consider its artistic merit in the face of its moral message. Indeed, where it has been criticised, it has been criticised for exploiting people's suffering in the name of art. 'The truth is that, despite Büchel's good intentions', one commentator notes, 'turning the commemoration of such tragedies into a spectacle risks diminishing – if not exploiting – the suffering associated with the migrant crisis'. Others say there is something morally bankrupt and macabre about turning the wreckage, a coffin for 800 people, into something for the art elite to weep or beat their chests over.
Engaging with art often means distancing ourselves from the immediate demands of the real world, to engage in speculative and imaginative thought. Through this we can begin to contend with the ineffable experiences of human existence through art. But we can also take pleasure in the artwork as a physical object. As Susan Sontag put it, 'To become involved with a work of art entails, to be sure, the experience of detaching oneself from the world. But the work of art itself is also a vibrant, magical and exemplary object which returns us to the world in some way more open and enriched.'
Géricault's Raft offers us this kind of thoughtful experience – it offers us enrichment through art. Barca Nostra, by contrast, is a moral message that we can't refuse. Trying to take pleasure in it as an art object seems repugnant. There are plenty of ways in which contemporary art might productively engage with the migrant crisis, and the lives so tragically lost, but this is not one of them.
Wendy Earle is convenor of the Academy of Ideas Arts and Society Forum.
To enquire about republishing spiked's content, a right to reply or to request a correction, please contact the managing editor, Viv Regan.