Happy birthday, Comedy Bang Bang
Here's to another 10 years of this joyful, absurd podcast.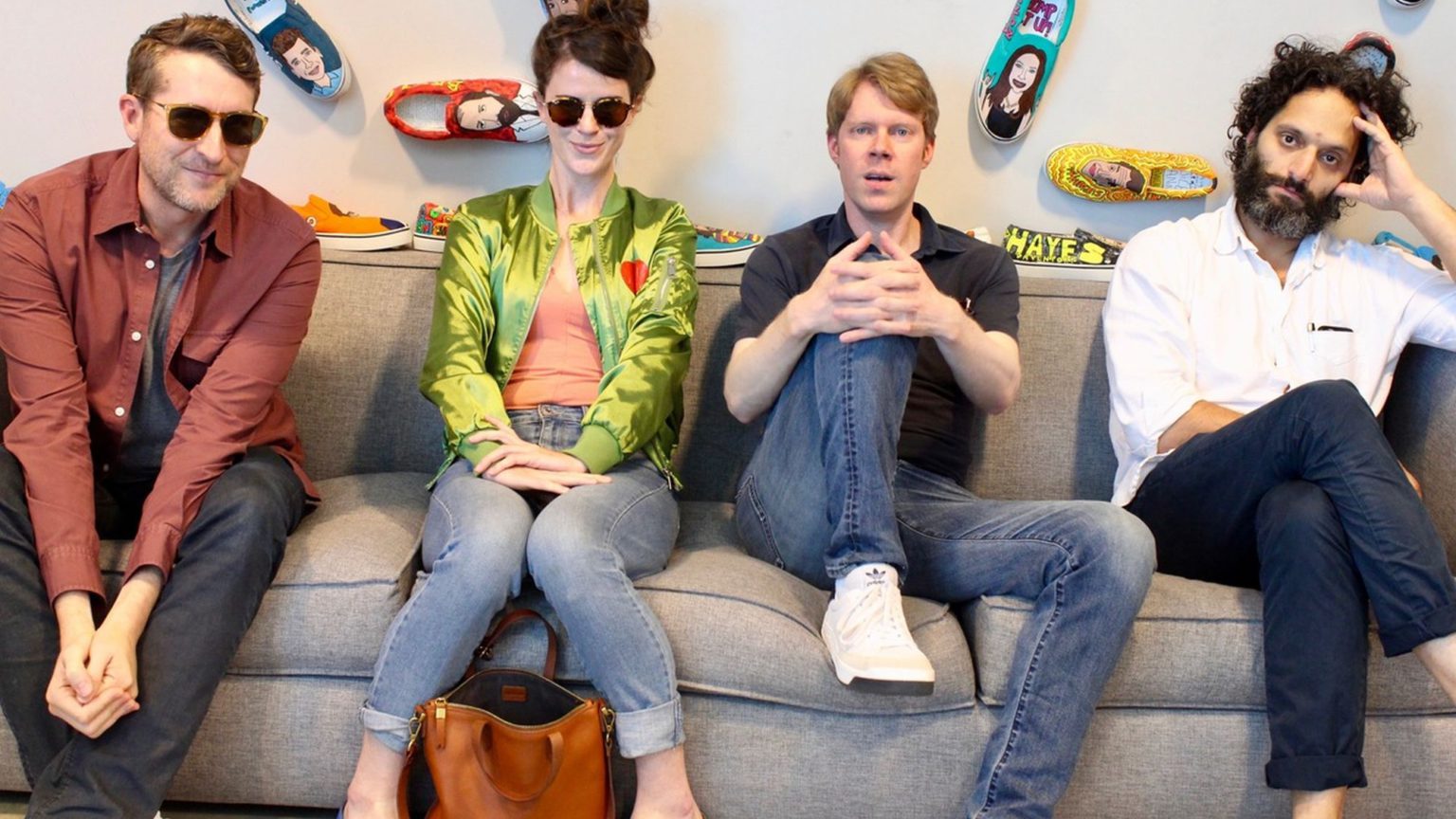 The pioneering American comedy podcast celebrated its 10th anniversary last week by releasing a 10-hour-long episode, featuring 41 guest performers including household names such as Jon Hamm (Mad Men), Adam Scott (Parks and Recreation), Chelsea Peretti (Brooklyn Nine-Nine), 'Weird Al' Yankovic, Thomas Middleditch (Silicon Valley), Lauren Lapkus (Orange is the New Black), Ben Schwartz (Parks and Recreation), and Thomas Lennon (The State).
Committing hard to a ridiculous gag is typical of the show. A 10-hour episode is the sort of ambitious, almost unnecessarily complicated stunt that makes total sense in the CBB universe, but outside it is a bit… off. At the same time, Comedy Bang Bang's ability to pull in big names, who are also old friends of the show, just goes to show how well-loved it is by its guests and audience, and how influential it has become.
Comedy Bang Bang began in 2009 with a relatively straight interview format. It was intended as a platform for comics to talk about their work, but it quickly became something weirder, more interesting and enduring. It now has thousands of fans, has been made into five seasons of a TV show and has toured around the world, even coming to the UK in 2016. It helped turn the medium of podcasting from a marginal concern into the phenomenon it is today.
The formula is simple. The host, writer and comedian Scott Aukerman (Mr Show, Between Two Ferns), interviews someone, usually an actor, comedian or musician, about a project they want to plug. This in itself is nicely satisfying, as Aukerman understands performers and knows how to talk to them. The guests themselves are usually up for a laugh and enjoy the atypical style of questioning.
But each episode really comes into its own when the host and main guest are joined by a 'guest' or 'guests' who are in fact comedians or comedic actors, improvising and playing characters. The joy is in listening to the interactions. There's the real-world guest, usually amused. There's Scott, the host, who, through 'impartial' and 'straight' questions, is helping the comedy character build. And there's the comedian who is, on the fly, developing a character and the world they live in.
This probably sounds too haphazard to be funny, but you only need to listen to episode 323 to hear comedian Paul F Tompkins pretending to be The Pie Master (it's a long story) and interacting with a delightfully dry, bemused Tears For Fears to see how well it can work, how the irrelevant details of a bit can become a central motif, and how clashing comic sensibilities can spark off and complement one another.
Some of the comic performances are so transcendent they seem to defy the laws of logic. For one whole episode (334), supremely talented comedian James Adomian pretends to be the Slovenian philosopher Slavoj Zizek, not only capturing the infamous voice and tics to perfection but also inventing elliptical political insights and cryptic jokes worthy of Zizek himself.
Both the TV show and the podcast are much loved by fans for their warmth and unthreatening, welcoming strangeness. What goes unremarked about the show is that, without being overtly political, it can be read as a product of the Obama years. The show's striking lack of political edge, while definitely being part of the charm, is also symptomatic of a period of political and comedic complacency.
It is notable that the show came into being close to the beginning of Obama's tenure. The strikingly goofy, playful, childish atmosphere of the show, combined with the roster of inevitably liberal-left showbiz guests and performers (some more obviously so than others – David Cross being a prime example), often creates an oddly insular atmosphere, an otherworldliness that could be interpreted as a complacent 'liberal' Hollywood bubble, if one were so inclined. The comedy is pure absurdity, without obligation to the real world. The jokes, motored by the golden rule of improv – 'yes, and' – heighten and heighten, and drift further and further from reality.
'Yes, and' is the essence of improv comedy. For a joke to work, two or more performers have to agree on what is funny about it – that's the 'yes'. Just agreeing, though, is not funny. The joke needs to move forward. That's the 'and'. The performers have to explore the idea and find more funny things in it. As the most successful improv school, The Upright Citizen's Brigade, drills into its students – 'if this is true, what else is true?'. It's a useful tool in the hands of skilled performers, but built into it is a natural tendency for absurdity to build and build, and for comedy bits to become increasingly disconnected from reality. In this sense, Comedy Bang Bang's strength is also its weakness.
But, of course, comedy has no obligation to be political. Comedy Bang Bang has transformed comedy without a doubt, both in the way it is broadcast and in the astonishing list of talented performers it has found and turned loose on the world. Its finest moments are glorious escapism, pure joy, and are up there with the best comedy the world has to offer. Here's to more 'yes, and'.
Alex Dale is a designer based in London.
Picture by: Earwolf.
To enquire about republishing spiked's content, a right to reply or to request a correction, please contact the managing editor, Viv Regan.