So now they care about violence in Northern Ireland
Many of the politicians at Lyra McKee's funeral have presided over a broken system.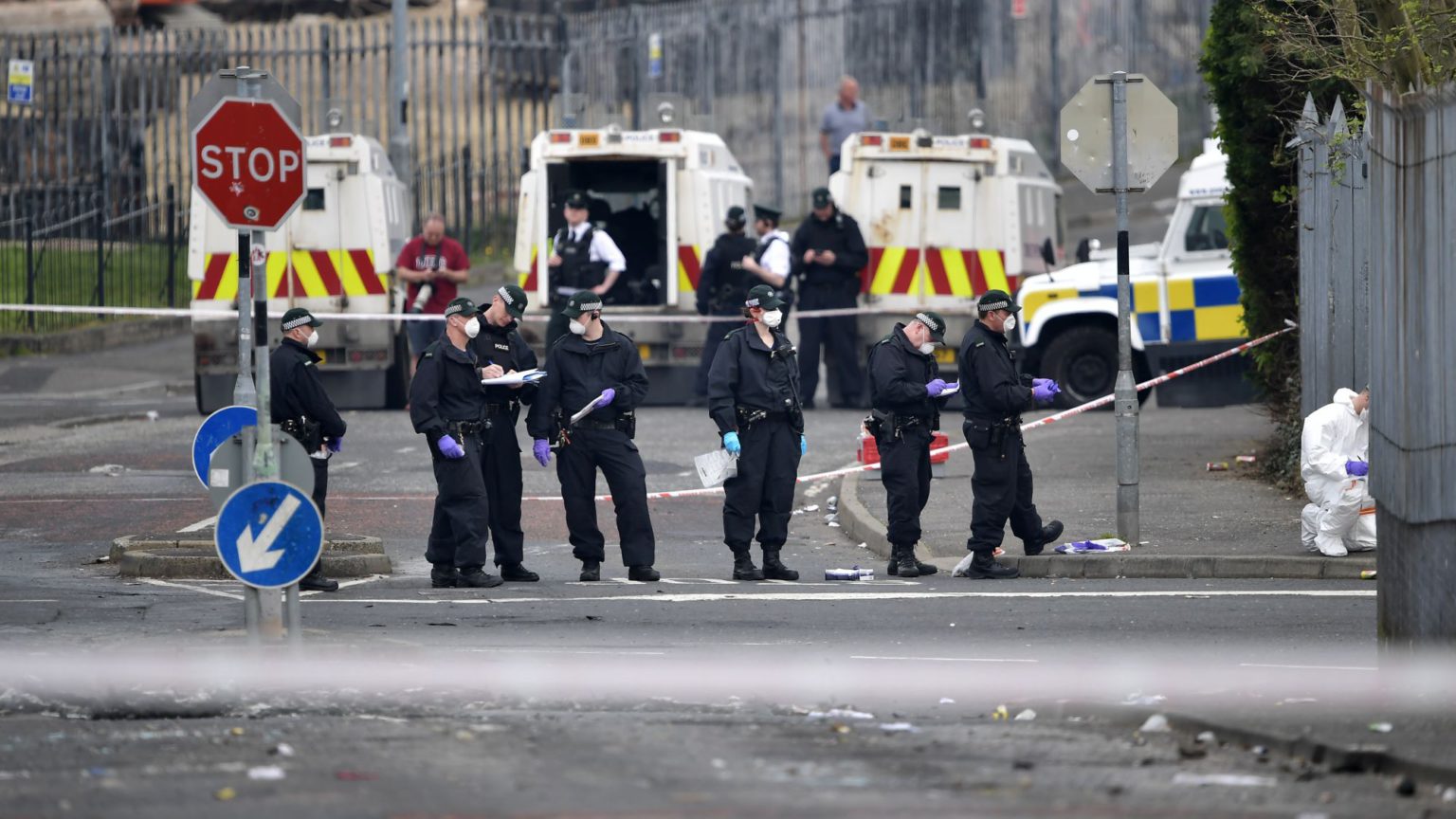 The fatal shooting of journalist Lyra McKee in Derry was a reminder that beneath the fiction of 'post-conflict' normalisation and the sentimental narrative of peacebuilding, Northern Ireland remains a violent, divided and fundamentally unstable society. The events leading up to the tragedy followed a well-rehearsed choreography familiar to seasoned observers and local residents. In the words of Eamonn McCann, veteran activist and People Before Profit Alliance candidate in the coming Derry City and Strabane local elections: 'Everybody knew there was going to be bother.'
The Police Service of Northern Ireland (PSNI) had entered the nationalist Creggan estate to conduct security searches ahead of an unlawful 1916 Rising commemorative parade planned for Easter Monday. Young people – some as young as 12 – responded with petrol bombs, stockpiled in readiness for the now traditional post-commemoration riot. The PSNI withdrew to contain the violence. So far, so familiar. Then, in a variation on these established themes, a man emerged and fired shots towards the lines of police Landrovers. What happened next turned an act of low-level community violence into a political event of national and international significance.
Amid widespread public revulsion, politicians in Ireland, Britain and internationally responded to the shooting with the usual chorus of condemnation. In a rare show of unity, Sinn Fein leader Mary Lou McDonald and Democratic Unionist Party leader Arlene Foster stood together at a vigil in Creggan. In an even rarer show of unity, British prime minister Theresa May and leader of the opposition Jeremy Corbyn put aside their political disagreements to join Irish Taoiseach Leo Vardakar and President Michael D Higgins alongside political and community leaders at a 'cross-community, cross-border and multicultural' funeral in Belfast's St Anne's Cathedral.
It was in this climate that dissident republican group the New IRA issued a statement admitting responsibility for carrying out the attack and offering its 'full and sincere apologies'. With its claim that the shooting had been provoked in response to 'an incursion by British armed forces', the apology further incensed public opinion.
Some blamed the collapse of power-sharing in the Northern Ireland assembly – there has been no functioning government for two years – for bringing regional politics to a standstill and creating a dangerous power vacuum. Others blamed austerity, which is preventing young people from realising their futures. However, PSNI detective superintendent Jason Murphy proffered another explanation, warning that the attack was the work of a 'new breed of terrorist coming through the ranks'. This poses the question: does the new IRA represent a new form of political threat or is it simply a continuation of historical patterns?
The New IRA emerged from the fragments of dissident republican groups that had peeled away at different points during the peace process as the Provisional movement journeyed from the margins to the mainstream of government. The New IRA brings with it many facets of the old, including an analysis of the conflict as an anti-imperialist struggle and a strategy for mobilising the 'resistance community' against the British state. The one crucial resource that the New IRA has been unable to wrest from their former comrades is the support of the wider nationalist community. Without a mass political base it is easily confined within the poor and marginalised communities that comprise its support. These are the deviant areas, which Murphy identifies as breeding grounds for radicalisation. In reality, they have been abandoned as the price for maintaining the fiction of cross-community power-sharing in post-Good Friday Agreement Northern Ireland.
After Ireland was partitioned, Britain devolved authority to a local sectarian clique in the northern six counties and turned a blind eye to the discrimination and oppression that resulted. Since the Good Friday Agreement, Britain and Ireland have done something similar, abandoning entire communities into the grip of the ethno-nationalist tribune parties who agreed to enter into the political process. The supposed 'genius' of the Good Friday Agreement was to resolve the border question by creating 'a political space that is claimed by nobody'.
Instead, the agreement has created a political no man's land and normalised a culture of brutal violence and sectarianism.
During Lyra McKee's funeral, Father Martin Magill sparked a standing ovation from the mourners when, during his homily, he asked: 'Why does it take the death of a 29-year-old woman with her whole life in front of her to get to this point?'
The applause was rather sheepishly taken up by the assembled politicians and community leaders. They may well squirm in their seats and rise reluctantly. 'Security-related killings', punishment beatings and shootings have become normalised during the so-called peace process. Since the ceasefires, much of the violence has turned inwards, with local punishment squads attacking members of their 'own' community. Children and young people are frequently subjected to extreme violence, including shootings and beatings with iron bars, hammers and hurley sticks.
Largely contained within deprived neighbourhoods, out of sight and out of mind, only a small number attract any significant media and political attention. The performance of shame and concern by the very politicians who preside over this broken system has a hollow ring. As empty as their promises to bring about meaningful change.
Pauline Hadaway is a writer and co-founder of the Liverpool Salon. She is currently undertaking a professional doctorate at the University of Manchester's Institute of Cultural Practices.
To enquire about republishing spiked's content, a right to reply or to request a correction, please contact the managing editor, Viv Regan.