Attenbollocks
No, those walruses did not kill themselves because of climate change.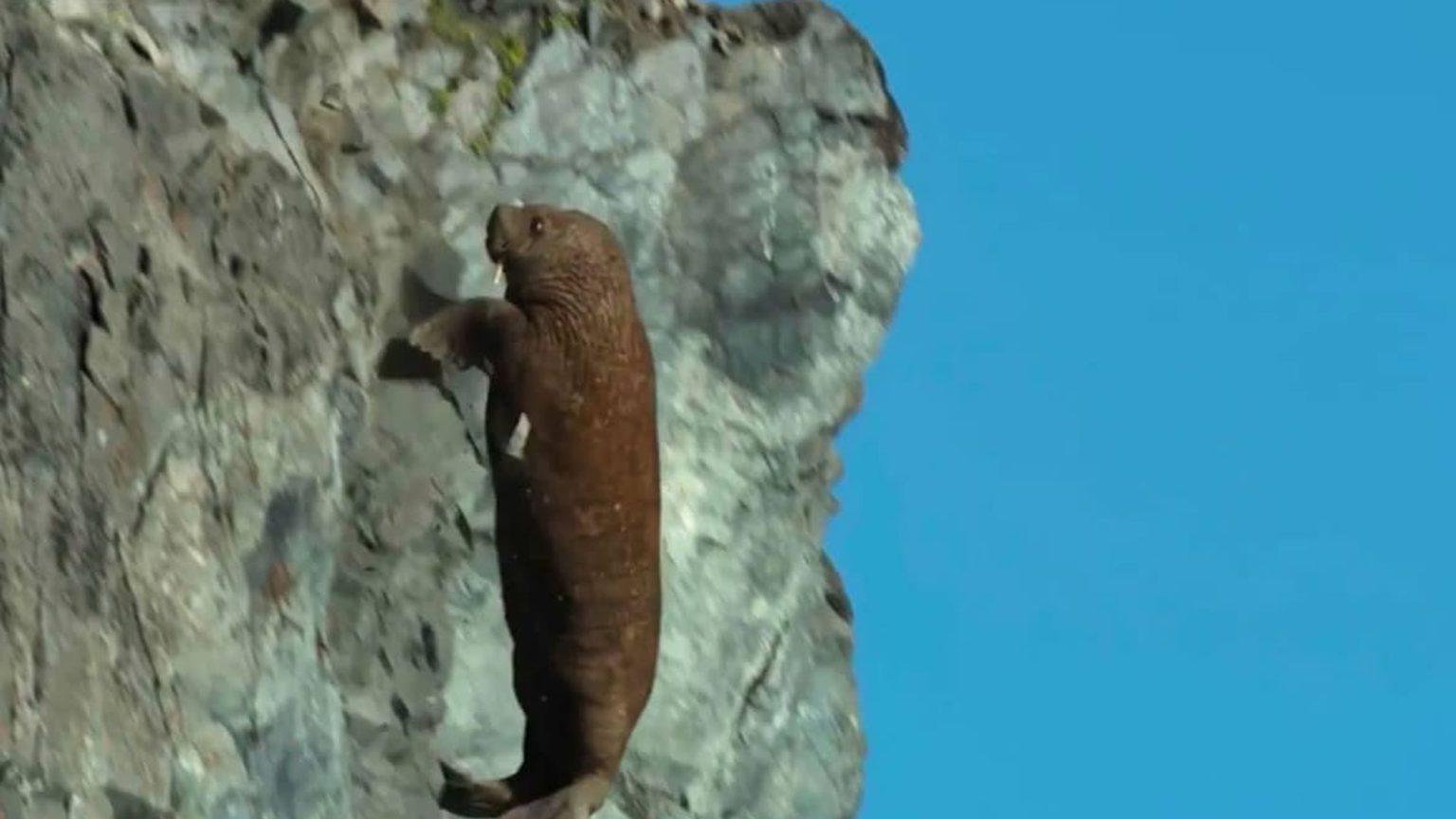 Viewers of David Attenborough's Our Planet series on Netflix have been left distraught after it showed scenes of walruses plunging to their death. According to Attenborough and the many emotionally drenched headlines his new show has generated, the walruses became confused by a lack of ice, so they climbed a cliff and jumped off. This is, of course, all our fault. Climate change has melted all the ice, causing the walruses to become disorientated.
But it isn't true. Walrus haul-outs – large congregations of the animal on the shore – have always occurred. Haul-outs on land were documented by biologists as far back as the early 1930s. It is normal behaviour. Moreover, large haul-outs on land may in fact reflect a growing walrus population, rather than being, as environmental campaigners claim, evidence of the walrus population's vulnerability to climate change.
Even more catastrophically for Our Planet, it seems that the phenomenon of walruses plunging to their doom is not new, either. After the show aired, archive film from the 1990s emerged, in which US wildlife officials attributed walrus clifftop suicide to overpopulation. It seems that what drove the walruses in Our Planet to top themselves was not the thawing of their habitat, but the presence of polar bears panicking the assembly. To escape from the raid, some walruses scaled the hill leading up to the cliff top and couldn't figure a way back except down.
Slow, stupid, myopic, easily frightened, anxious away from their group, prone to poor judgement, incapable of independent thought… we can see why natural-history TV producers might have an affinity with the walrus. But their stories that depict Arctic tragedies as unusual are the imposition of contemporary political narratives on to the natural world, not evidence of climate change. It is not enough, however, to blame filmmakers alone for the transparently ideological excesses of seeming 'factual' broadcasting.
The Arctic has become the symbolic battleground of the climate debate. For years now, environmentalists, politicians, journalists and infants on climate 'strike' have claimed that the Arctic ice would melt completely in the Summer. It hasn't. They have claimed that the polar bear population would diminish. But polar bear numbers appear to be rising. And in 2014, environmental campaigning organisations began using walrus haul-outs as evidence of mankind's destruction.
The problem with trading in symbols is that they tend to get in the way of facts. Scientists have been unable to bring much sense to wild claims that the Arctic is the harbinger of environmental catastrophe. Worse, many researchers are not merely complicit in the politicisation of their own 'science' – they are active agents of it. Dissenting opinion is no more welcome in institutional science than it is on the BBC, least of all in its natural-history output.
The veteran broadcaster Attenborough is an icon himself. And this is not the first time he has eschewed natural history to use his status to promote political messages. Consequently, the nature documentary has ceased depicting nature, and has ceased being a documentary. Attenborough and colleagues decided that it was not enough merely to satisfy the public's insatiable desire for natural-history broadcasting. Instead, they have decided that natural-history broadcasting must be a political platform that stretches facts to service green ideology.
What should we call it? Natural fiction? Attenbollocks? Either way, the politicisation of natural-history shows is no less tragic than the walruses stumbling to their ugly deaths. Urged on by blind groupthink, nature shows will cease engaging young minds in the world, and instead promote a bleak, dark and dispiriting view.
Ben Pile blogs at Climate Resistance.
Picture by: YouTube.
To enquire about republishing spiked's content, a right to reply or to request a correction, please contact the managing editor, Viv Regan.