Raise a glass to Top Girls
The National Theatre's revival of the feminist classic is a triumph.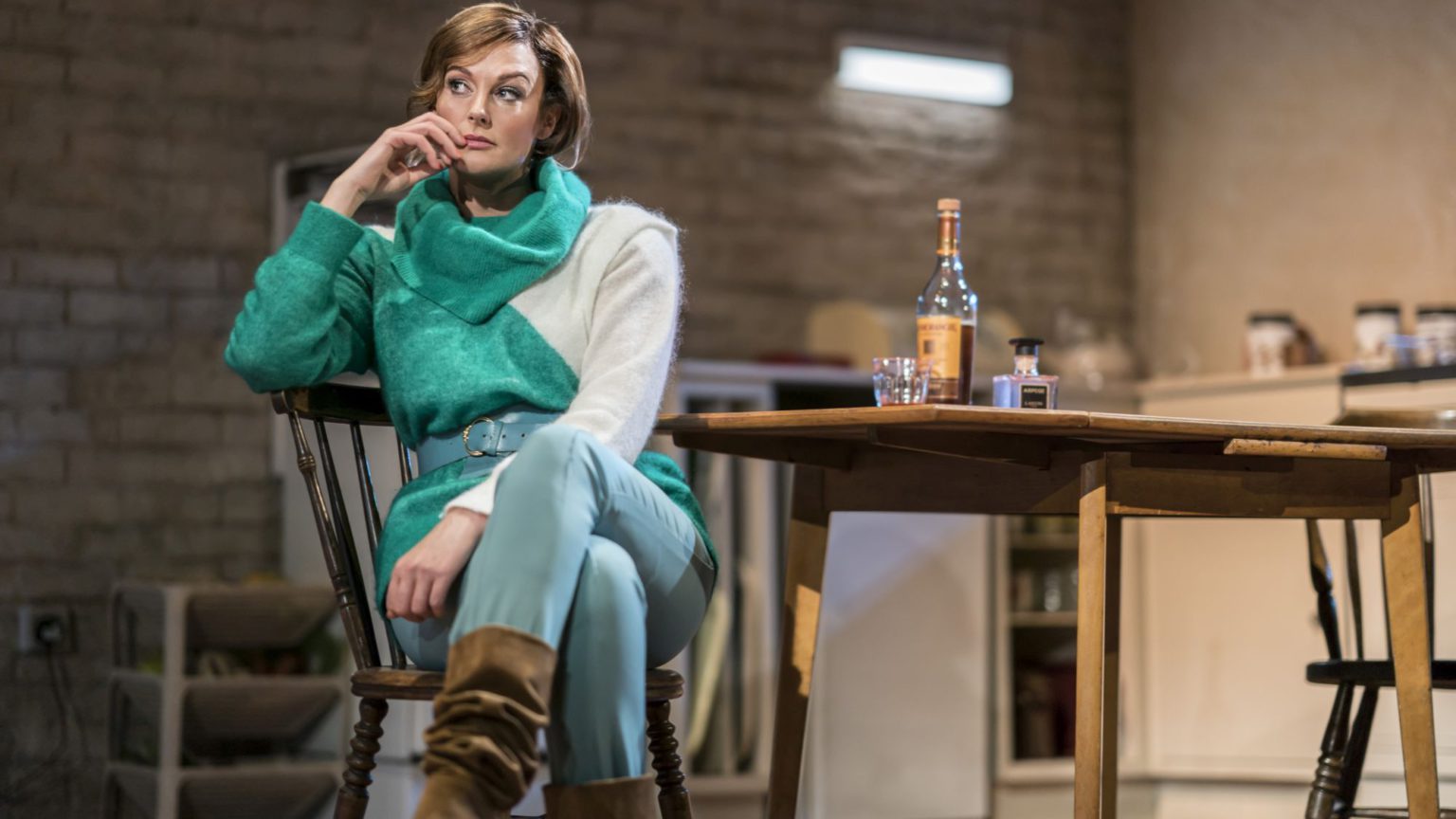 Hurrah – Top Girls is back. Ten years since its last West End outing, the National Theatre has revived Caryl Churchill's 1982 feminist classic (in part as an attempt to fix its own feminism problem – the NT having taken some flak for announcing a new season without a single woman playwright).
A shame about the circumstances, then, but, either way, what a pleasure to see it again. As plays go, Top Girls is nothing short of brilliant: clever, sad, funny, and just so wonderfully human. It really does deserve its classic status.
A quick recap for those who haven't seen it (or who didn't study it at A-level): Marlene, played here by Olivier-nominated Katherine Kingsley, is a hot-shot recruitment consultant who bags a promotion at a swanky talent agency. To celebrate, she gets sloshed with some accomplished women from history (most memorably Pope Joan but also the explorer Isabella Bird) as they debate the pitfalls of success in a nouveau-riche London restaurant.
After some brandy chasers and drunken antics, the curtain falls. A short interlude and we're in Marlene's offices – the Top Girls agency – as she and her ambitious headhunters grill some hapless female jobseekers. Then, in a brilliant third act, we zip back a year to see jet-setting Marlene pay an awkward visit to her semi-estranged sister: a luckless and crestfallen single mother, burdened with a special-needs daughter and, until recently, an elderly mother to care for. Then, there's some more booze followed by a heart-rending argument.
That's the plot in a nutshell. Needless to say, there's some clever stuff underneath which really makes it sing. There's a recurring theme about success and fairness: what does it mean to be successful, what sacrifices does it require, what do we owe (if anything) to those we leave behind? Do women owe more than men? But like all the best political plays, Top Girls doesn't force any answers down your throat. Instead, it uses its characters gently to probe the questions. This is how it's done: lead, don't lecture.
Great play then, and a great revival too. Hats off to director Lyndsey Turner (theatreland's own top girl) in sticking as close as possible to the brief. Usually, when I see a big revival of a classic, I spend most of the evening fretting about how the director might mess it up. Not this time. Rather than gimmicks or cringey attempts at 'deconstruction', Turner makes the wise decision just to put the play on stage and let it breathe.
All of this meant that I was able to focus my energies on the much more pleasurable task of working out exactly which part of Top Girls I liked best. I've decided, after some deliberation, to go with the last part: Marlene's doomed attempt to bridge the gap with her sister. It's an incredibly sad scene and so relatable, too. I knew it was coming and it still got to me.
But there's something else sad about Top Girls: how did Caryl Churchill, a writer so clearly capable of nuance and understanding, go from this brilliance to writing Seven Jewish Children – the 2009 stinker which was condemned by pretty much the entirety of Britain's Jewish establishment?
Seven Jewish Children was everything Top Girls isn't. Shallow, ranty and seemingly preoccupied – in its script and structure – with hammering home a single point: that Israel's 2008 aggression in Gaza was morally comparable to the Holocaust. That modern-day Jews had gone from the victims of genocide to its knowing perpetrators. For bonus points, it even used the phrase 'chosen people'.
Was the play anti-Semitic? Much ink was spilled arguing the toss. Its supporters, of course, insisted it was merely pro-Palestine (despite the fact that not a single Palestinian appears in it). Many agreed with them: Jeremy Corbyn's son, Tommy, was involved in producing the play at university.
Politics aside, Seven Jewish Children showed that Churchill had lost it artistically: here was one of the most promising 20th-century playwrights reduced to pumping out joyless polemic. Like other Israel/Palestine obsessives (the indignant bores who go on shouty demos and go apoplectic over SodaStream), Churchill had become so consumed by the conflict, she had forgotten how to write. Or to write well anyhow. Watching Top Girls, you realise just how much was lost.
So welcome back Top Girls – and welcome back Caryl Churchill. Let's raise a glass to the National Theatre. Doubles all around, as Marlene might say.
Robert Jackman is assistant features editor at the Spectator. Follow him on Twitter: @robertjackman88.
To enquire about republishing spiked's content, a right to reply or to request a correction, please contact the managing editor, Viv Regan.