Why Universal Basic Income is a bad idea
Cheered by both left and right, UBI would be merely a sticking plaster for the status quo.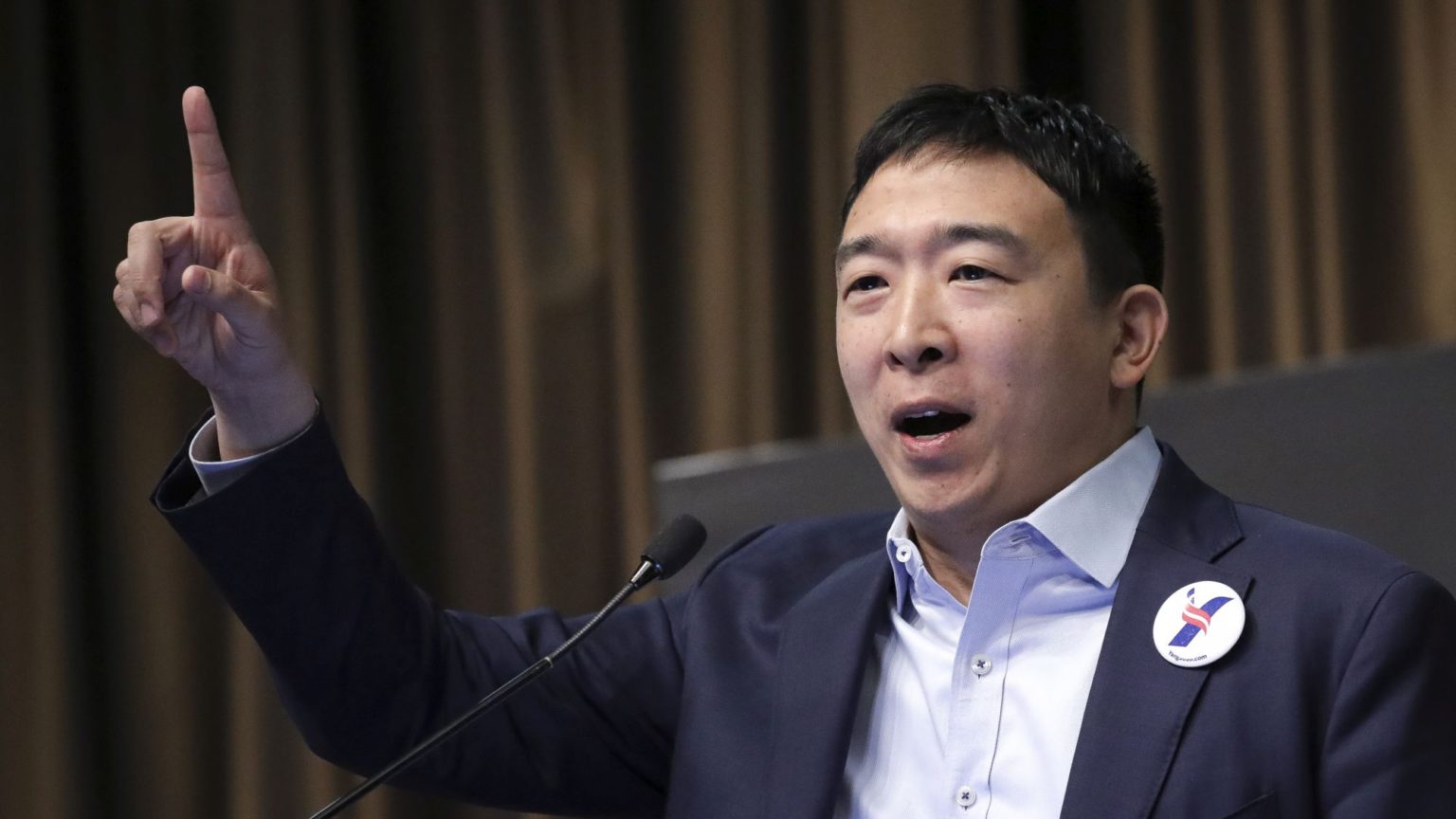 Businessman Andrew Yang may be a long shot for the Democratic nomination in the 2020 US presidential election – he is a rank outsider compared with current frontrunners Kamala Harris and Bernie Sanders. But Yang is causing a stir with the central policy pledge of his campaign: what he calls a 'Freedom Dividend' for every citizen, better known as Universal Basic Income (UBI).
Yang's UBI proposal would provide every US citizen over the age of 18 with a no-strings-attached federal payment of $1,000 per month from January 2021. Yang proposes to fund this through a federal value-added tax of 10 per cent and by consolidating existing welfare programmes. (Current welfare recipients will be given the choice of whether to accept the payment in full or in part with existing payments.)
Over the past few years, interest in a basic income has been growing across the Western world. The main justification is the belief that improvements in technology will automate vast swathes of jobs out of existence. A UBI, it is argued, would provide a cushion against rapid economic dislocation, providing people with support as they move or retrain. Yang has spoken a great deal about the prospects of the Midwestern truckers, who he claims will be automated out of existence through self-driving trucks in the near future.
One of Yang's hopes is that his UBI will begin to replace current welfare provisions, saving money on administration within state bureaucracies. But if it is implemented alongside existing welfare structures, as Yang currently envisages, some of the problems with the policy will likely reveal themselves. To be affordable to the taxpayer, the amount of money given to each citizen would have to be so low as to erase any of its hoped-for benefits. It would be an extra cost on top of the existing welfare system, but with little impact. Alternatively, if payments are maintained at a high level, it would be unaffordable without tax rises across the board. This could have major unintended consequences for the economy. UBI has never been attempted on a mass scale and its second- and third-order economic effects are unknown. We should, therefore, take its proponents' grand claims about its supposed benefits for economic growth and reduced welfare costs with a mountain of salt.
One major problem is that a basic income seems to be all things to all people. It is supported by alternative thinkers on the left and the right, sometimes for entirely different reasons. In fact, the idea has been around since at least the 1970s. An early right-wing proponent was Milton Friedman, who termed it a 'negative income tax'. This would be used to eliminate welfare and ease the transition to a more liberalised economy. Some green thinkers have argued for a guaranteed income to encourage people to work less, thereby reducing their carbon output. Fears about the 'coming of the robots' have been a constant theme for both millennial leftists and techno-optimist Silicon Valley libertarians, with UBI often touted as a possible solution to mass redundancy. The online right has also expressed a great deal of interest in Yang's proposals. 4chan, for instance, is a notoriously pro-Trump forum, but many users have started referring to themselves as the 'Yang Gang'.
The interest in UBI tends to come from political groups that have found themselves frozen out of power or whose ideas have been forgotten or discredited. The online alt-right are embracing Yang only now that 'their guy', Trump, has not delivered their expectations of draining the swamp in Washington (or has not created an ethno-state, as some far-right white nationalists had hoped). Similarly, UBI started to interest the radical left after they failed to capitalise on the financial crisis of 2008, and after the high-water mark of street resistance in 2011 failed to translate into any meaningful challenge to the current order.
Fundamentally, UBI is a technocratic solution for maintaining the status quo. Yang's ideas are a red herring that is masking deeper truths about American society and the economy that are being avoided by the political elites. UBI does not represent a call to dismantle ruling-elite interests or remove the capital-wage relationship. Instead, it attempts to bandage over the existing cracks which many believe will widen with technological change.
The dream of UBI may be attractive to some young voters struggling to get on the housing market – to pay their college debts or to live the aspiring middle-class dream. For politicians like Yang, it is far easier to promise the electorate that you will give them 'free' money than it is to tell the truth about ongoing geographical, class, racial and other group inequalities, let alone radically transform society through democratic politics.
Rob Harries is a writer.
Picture by: Getty.
To enquire about republishing spiked's content, a right to reply or to request a correction, please contact the managing editor, Viv Regan.