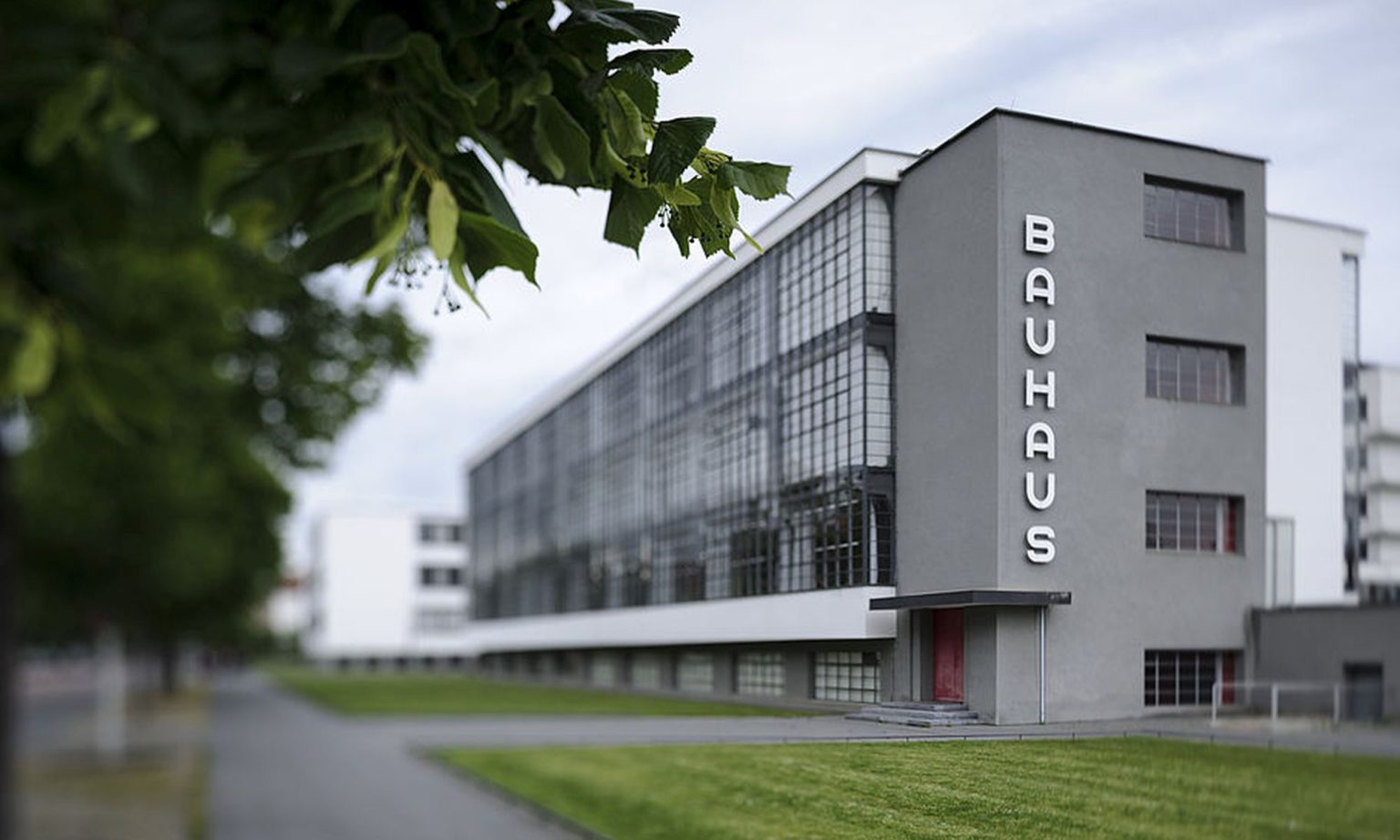 Long-read
Beyond the Bauhaus myth
Is the short-lived German art school now famous simply for being famous?
Just now, it seems to be all about the Bauhaus, that short-lived school of art and design founded officially on 1 April 1919. And while there is much to be celebrated in this, its centenary year, there should also be a pause for thought. Since it closed in 1933, the Bauhaus has become famous beyond any other art school in the whole of history, but this reputation is seldom measured against any other criteria. It is as if Bauhaus has become famous for being famous. As a result, people freely attribute anything and everything to its supposed 'influence', whether they consider it good or bad. I have described this inflated rampant reputation as the zombie Bauhaus.
Does this matter? Maybe only to historians, who have lost control of Bauhaus as an object of study to the forces of media and marketing. Members of the Bauhaus, most of all its founder-director, Walter Gropius, carry some responsibility for this distortion, but arguably we now have a different responsibility to prevent Bauhaus disappearing into the realm of 'post-truth'. If historians have a role, it should be to serve the reality principle, if only because truth is usually more interesting than fiction, and can alter our perceptions in the present. So while Bauhaus's significance is by no means negligible, Bauhaus needs to be seen more clearly in the light of historical evidence. We need to calibrate its vaunted influence and determine what actually happened to it.
The education offered by the Bauhaus was fruitful, but far from perfect. Although the curriculum was new in some respects, it was essentially an assemblage of things that had already been tried elsewhere, and in many cases originated from the British arts-and-crafts revolution in education, led by William Morris, in the 1890s. It took the long way around its objectives, planning to arrive at architecture as the hub of a longer formation, a destination that few students reached or, in most cases, wished to reach. Indeed, actual architecture classes were only introduced halfway through the 14-year life of the school.
Gropius did a heroic job in holding together a diverse group of staff, among whom there were brilliant appointments. But some of the 'form-masters' (artistic directors) were put in charge of workshops for which they had no technical background. It is questionable whether it was the right model for any of the people concerned. So far as industrial design was concerned, there was a longer tradition exemplified by the Deutsche Werkbund, the association of architects, industrialists and designers founded in 1907, and it is not clear that similar products would not have emerged without the Bauhaus ever having existed. Many students dropped out before getting their diplomas, but still gained something from the experience. Looking back in the 1940s at former staff and students she had met, the English designer Enid Marx said it was the versatility of Bauhaus people that marked them out, rather than their specific skills.
In embracing the zombie Bauhaus, British culture has ignored or misunderstood much of its own positive achievement in art and design
As for the contemporary rival schools in Germany or elsewhere in Europe, there is only a small amount of literature compared to the yards of shelving occupied by books about the Bauhaus. One that remains largely unknown, despite two books dedicated to it, is the Reimann School, founded in Berlin in 1902 and operating independently, without the local-government subsidies on which the Bauhaus relied. Two notable students went on to the Bauhaus from there, the toy designer Alma Siedhoff-Buscher and the Japanese architect Takehiko Mizutani. Its ethos was modern but more practically oriented, specialising in fashion, graphics, posters, packaging, retail display and photography.
The Reimann School is significant from a British viewpoint because it transferred to London in the second half of the 1930s with 40 staff and capital of £30,000, which helped to pay for a building and set-up costs. It flourished – and recruited staff who would go on to become key postwar figures, from poster artist Austin Cooper and designer Milner Gray, to the artists Richard Hamilton and Leonard Rosoman – until the war caused closure in 1940. This is in contrast to the half-hearted attempts by the three key Bauhaus personnel who came to London in the 1930s – Gropius, Marcel Breuer and László Moholy-Nagy – to recreate their school in some form. The Reimann was more oriented to financially productive skills compared to the Bauhaus, where theoretical studies occupied a greater part of the time. It was an immediate success in London, proving that a fresh Modernist outlook was wanted, while suggesting the Bauhaus model no longer met that need.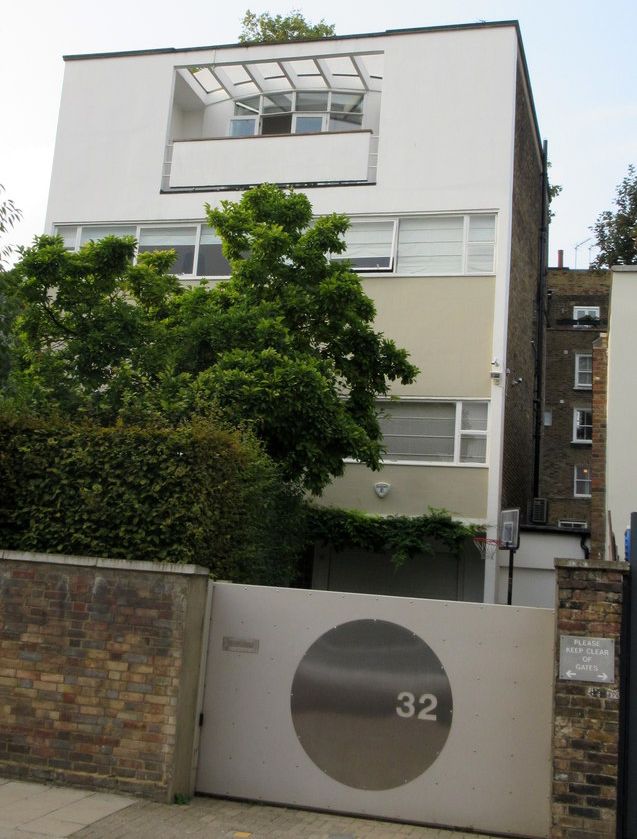 Denys Lasdun's studio house at 32 Newton Road, Paddington, owed much to Le Corbusier.
When it comes to looking at the impression made in Britain by German architecture of the 1920s, it was not so much Gropius himself who excited interest in terms of buildings as his contemporary, Erich Mendelsohn, with his strong romantic streak leaving its Art Deco mark in Shrubs Wood in Buckinghamshire, and Cohen House in Chelsea. Both Gropius and Mendelsohn, however, were outshone by the abiding influence of Le Corbusier who offered a piquancy and variety within Modernism that appealed to English taste and can be seen in the early work of Denys Lasdun, especially in his first significant building, a studio house at 32 Newton Road, Paddington.
Insofar as Gropius had an influence, it was less in the look of buildings than in his advocacy of collaborative design and, through this, a principle of self-effacement. Eric Lyons, the architect of the Span housing developments of the 1950s and 60s, had worked alongside Gropius when he was in London and claimed him as a guiding star. You might not immediately guess this, but Lyons' mixture of unassertive terraced housing fronting on to shared grass and landscape exemplifies Gropius's mission for a better experience of living simply while sacrificing the individual for the communal better than anything Gropius did himself.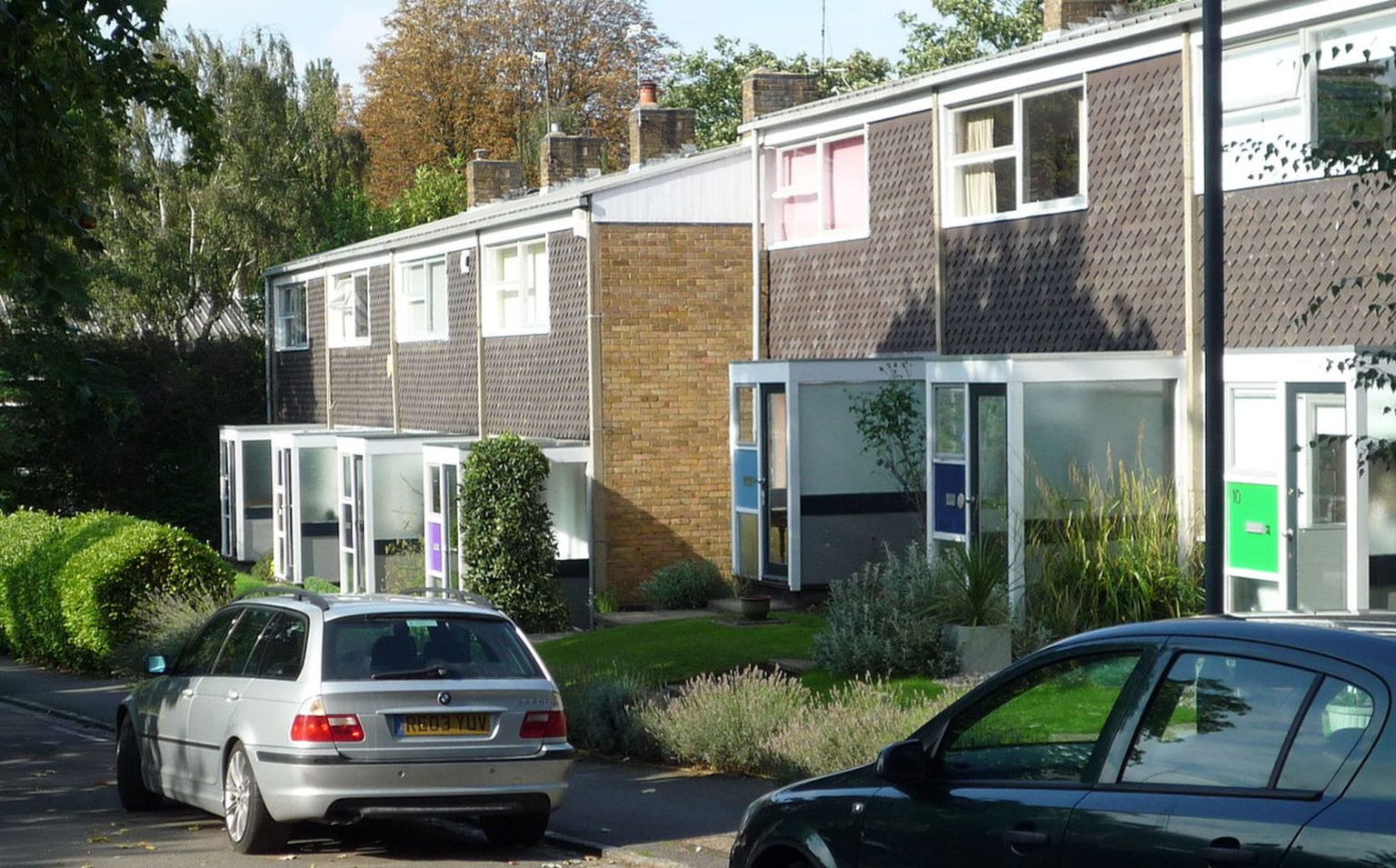 The Keep, in Blackheath, London, built in the late 1950s by Span Estates, using the designs of Eric Lyons.
The Bauhaus and its supporters, such as Herbert Read, claimed that hand craft would only have a valid place in the modern world as a preparation for industrial mass production. They were proved wrong by the resurgence of small craft workshops of all kinds, which valued older techniques for the effects of texture and accidental variety that only they could produce, which were perfectly consonant with a Modernist aesthetic. Despite being written off as obsolete, they became, over time, an important aspect of national identity, especially in Britain, offering satisfying ways of life for the makers and acting as an enjoyable field for patronage from buyers. The claim to have achieved a seamless transition from workshop to factory at the Bauhaus was to some extent a sham (as I describe below), but the conviction that 'design' through mass production is the only true pathway remains rooted in our institutional structures. Hence money was lavished to create a new home for London's Design Museum, with its emphasis on mass production, while the Crafts Council has now been without a gallery of its own since 2006.
Since the 1930s, one argument in favour of the Bauhaus (and Modernism more generally) is that the Nazis were against it. This, again, is at best a partial truth, as Paul Betts, Winfried Nerdinger and other historians have convincingly shown. Apart from the better-known buildings in classical and vernacular styles produced by the Nazis for propaganda effect, the Nazis continued to commission and support Modernism in more utilitarian spheres and, with little alteration, as the correct style for the German home. Several Bauhaus people worked for them, including Gropius's former right-hand assistant, Ernst Neufert. Among the handful of buildings erected to Gropius's designs in England, one is built of timber with a sloping roof and another, his well-known school at Impington, outside Cambridge, is politely faced in local brick and includes a row of almost suburban bow windows. Thus the old lines of demarcation, based, as the historian John Summerson once wrote, on the certainty that 'Hitler hates flat roofs', can no longer reliably tell us the difference between good and bad.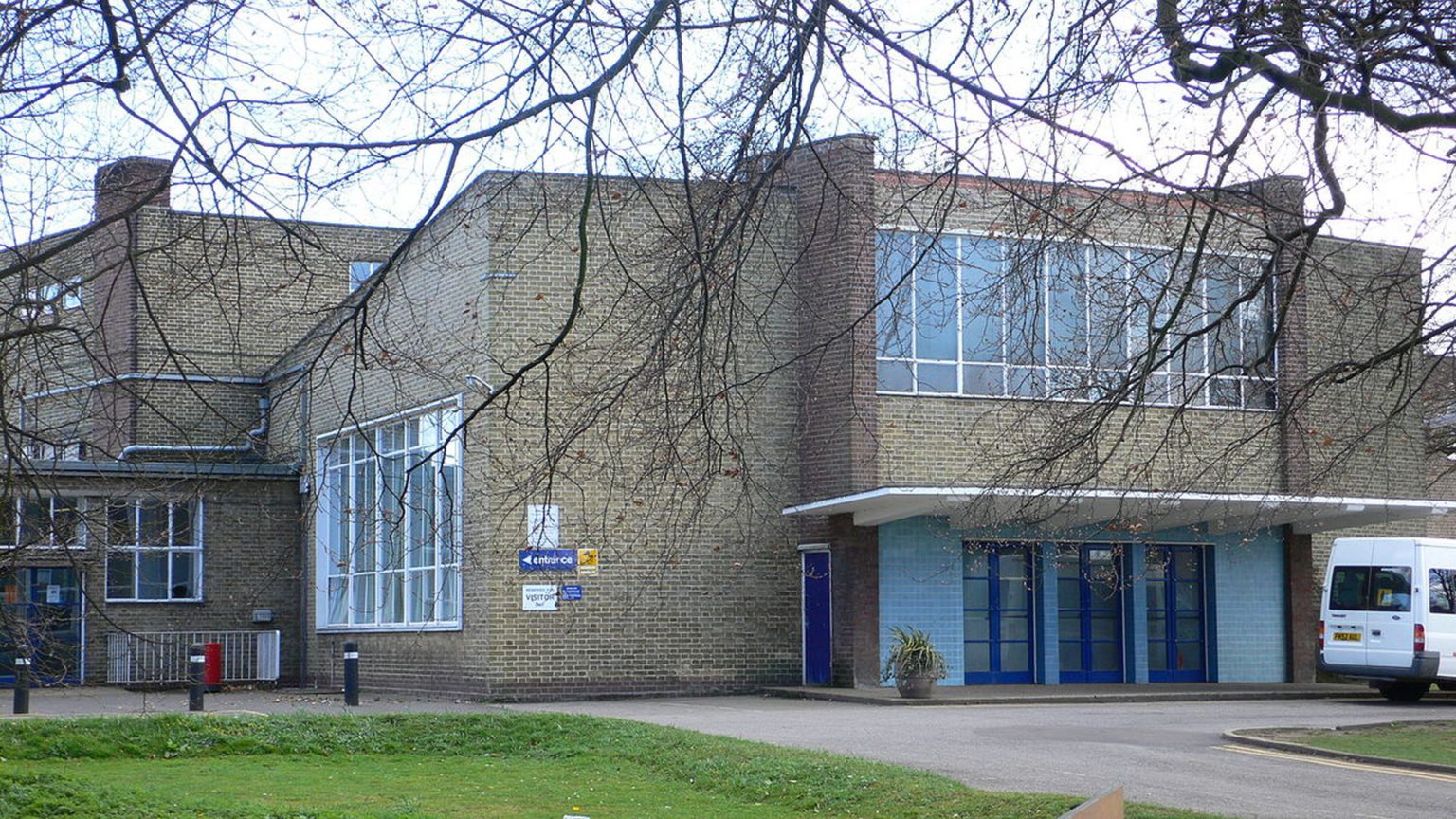 Impington Village College, outside Cambridge - one of the few buildings in Britain built to Gropius's designs.
One often-repeated trope is that the Bauhaus was the origin of modern-design retailing, as seen in Ikea or Habitat. This is to stretch the truth. The Bauhaus offered its own catalogue of products, including chairs, textiles, ceramics, lighting and metalwares. Owing to the precarious financial situation of the school, royalties from these designs were a potential asset, apart from spreading its reputation. In practice, however, as the research of Robin Schuldenfrei of the Courtauld Institute has revealed, the most successful products were not the ones we now associate most strongly with the school.
For example, the metal vessels for use at the table, many designed by Marianne Brandt, were strangely ill-suited either for the needs of a mass market or for the processes of mass production. These luxury items allowed a modern hostess to serve tea from perfectly rounded pots, jugs and tea-leaf strainers. The shapes looked 'machine made' but were actually only practical for making by hand, and, even if they had been available more cheaply, they were of no use to the working-class housewife. In fact, they were more Asprey than Habitat. As Schuldenfrei pleads, couldn't they at least have designed a fork? Even more weirdly, the Bauhaus Muster catalogue omitted one of the best-selling production lines, textiles, seemingly because it did not correspond closely enough to the macho image of the school. Best-selling of all were the Bauhaus wallpapers in plain colours, nowadays largely forgotten. This emphasis on selling was an expedient rather than an effective demonstration of an ideal, and when Gropius was succeeded by Hannes Meyer as director in 1928, Meyer abolished what had become almost a form of indentured labour by students making objects for sale in the school, because he asserted that its primary purpose was education.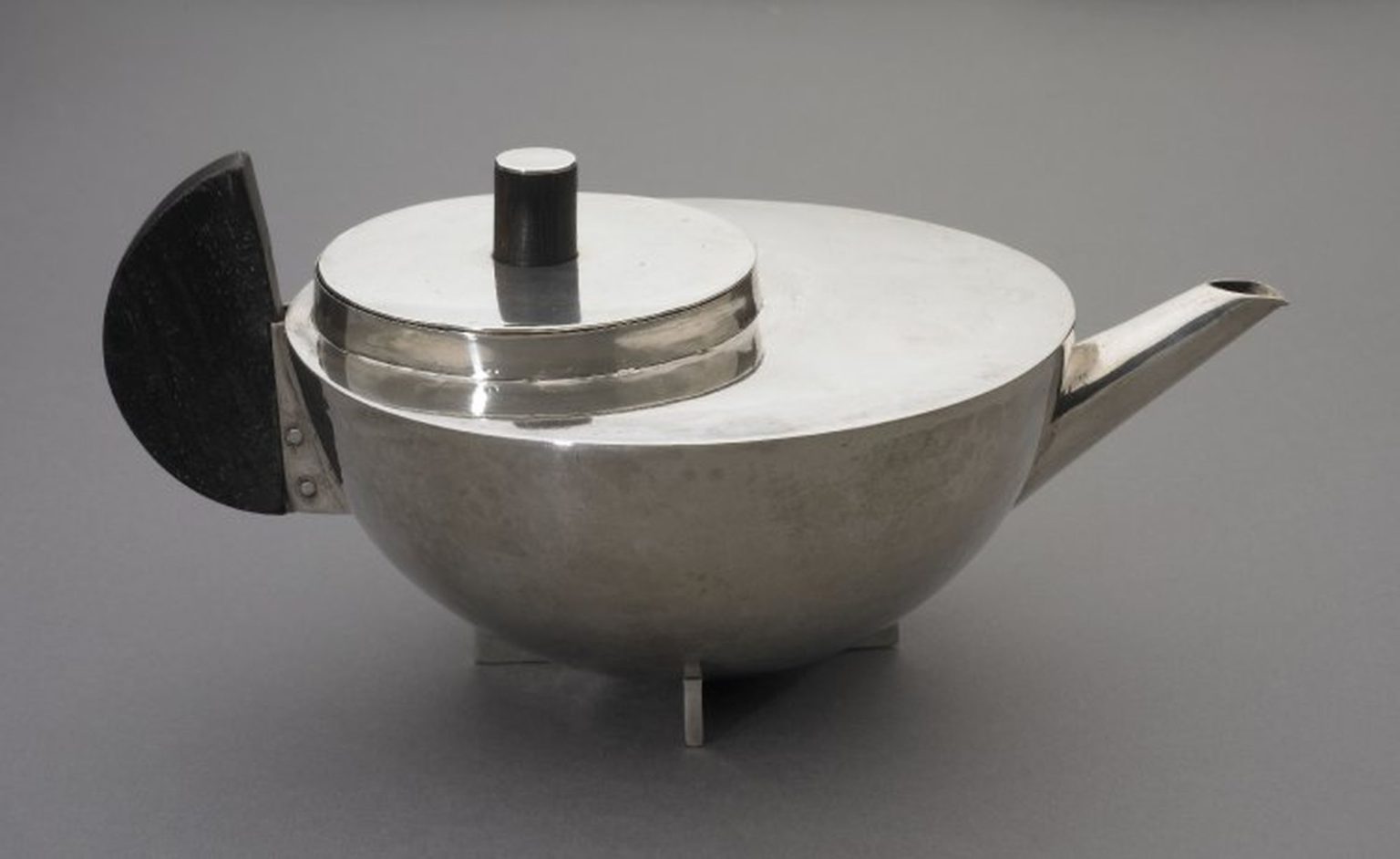 Brandt's tea infuser and strainer, made in the mid-to-late 1920s.
For a practical example of a proto-Habitat, we could look instead to the city of Frankfurt-am-Main, where the municipal housing authority offered its prospective tenants a catalogue of modern designs at affordable prices to furnish their modern homes; but from an English viewpoint, we need look no further than the succession of design-conscious retailers stretching back into the late 19th century, that included Liberty and Heal's, to find evidence that Habitat had a local ancestry that was simply updated by its founder Terence Conran.
In embracing the zombie Bauhaus, British culture has ignored or misunderstood much of its own positive achievement in art and design. Any excuse is usually found to denigrate architecture, products and education because they fail to resemble what was done in Germany in the 1920s. This is a double bind: if they are lookalikes, they cannot be original, while if they look different, they don't count. Any evidence of a less-than-wholehearted embrace of this particular brand of new is taken as proof that the whole country was not up to the mark, then or now. Granted, there is not much meaningful comparability, but why should this particular Procrustean measure be applied? A considerable effort by the state and voluntary organisations went into preparing the way for better design, especially of domestic goods, between the First World War, when the government quite astonishingly sponsored an exhibition of German and Austrian design for emulation, and the 1940s, when, in the phrase used by designer Gordon Russell, they had finally pushed the tank uphill. For those who remember the Design Centre's kitemark of endorsement, the results could be boring and even dysfunctional in their visual austerity, but somehow or another, we managed to make, for example, the Mini to set against the Volkswagen Beetle.
The half-centenary of the Bauhaus arrived in 1969, and, by that time, anyone with their face towards the wind of design fashion was interested in it chiefly insofar as it was cool in a retro way. The Bauhaus was celebrated during the previous year with an exhibition at the Royal Academy sponsored by the Federal Republic of Germany for the benefit of Cold War goodwill, but the school's postwar successor, the Hochschule für Gestaltung at Ulm, closed in 1968 after years of internal dispute over theoretical approaches to design. Meanwhile, in London, the students at the Hornsey School of Art and elsewhere rebelled against the watered-down version of Bauhaus they had been offered and steered themselves away from a materials-based approach, towards conceptualism and theory.
As for the deployment of the Bauhaus on a wider political stage, the zombie version has come back in strength. In preparation for the centenary, the Bundestag voted 17million Euros in funding for the celebrations, seeing this as an effective way of countering the rise of the new right in German politics. The aim may be laudable, but it is still a strange way of using history, and one that is unlikely to help us in understanding the twists and turns of the actual Bauhaus, and the Modernist moment of which it was part.
Alan Powers is a lecturer and widely published author specialising in 20th-century art and design. His new book, Bauhaus Goes West: Modern Art and Design in Britain and America, is published by Thames & Hudson. (Buy this book from Amazon(UK).)
Main picture by Getty Images. Pictures in article all published under creative commons licenses.
To enquire about republishing spiked's content, a right to reply or to request a correction, please contact the managing editor, Viv Regan.