After Christchurch: we need a civic patriotism
To challenge far-right extremism, we must forge a common purpose and shared destiny.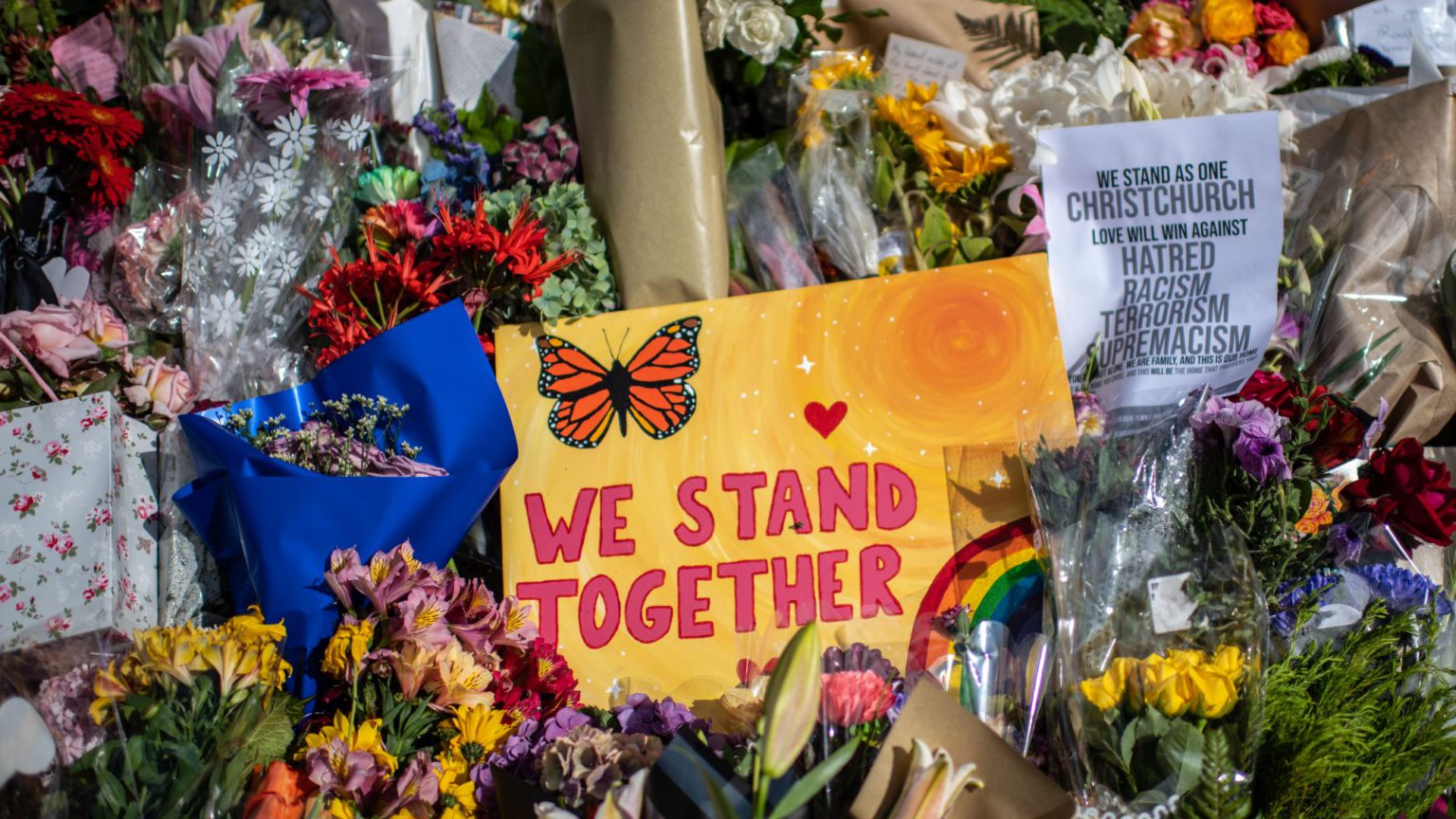 When an airplane crashes, investigators scour the wreckage to find the 'black box' to ascertain how such a disaster occurred. When a terrorist strikes, leaving havoc in his wake, it is to his words – however, twisted – we must turn. Before conducting his attacks in New Zealand, Australian far-right terrorist Brenton Tarrant uploaded a document titled 'The Great Replacement: Towards a New Society'.
Tarrant's warped love-letter to far-right terrorism talks of 'Muslim invaders', heavily implicated in ethnic, racial and cultural 'displacement' across Western countries due to their relatively high fertility rates. As well as making clear his anti-Islamic motivations, Tarrant writes that he is 'anti-immigration, anti-ethnic replacement and anti-cultural replacement'.
But this is by no means the full picture.
While the attacks in Christchurch could all too easily be dismissed as yet more mindless, causeless acts of terrorism, it is important to get to grips with the ideological complexities behind them. Refusing to engage with Tarrant's manifesto – dismissing it as the incoherent ramblings of a far-right terrorist – is unhelpful. To defeat terrorism, we first must attempt to understand the ideological motivations behind it.
Tarrant is a sinophilic, eco-conscious, anti-Muslim, white-preservationist, national-socialist terrorist. This complex, contradictory picture is one we've seen before. Contrary to the widespread, simplistic caricatures of far-right terrorists, they tend to provide detailed justifications for their attacks. Just think of Anders Breivik's 1,000-page ramblings, which went on to inspire the plot of the recently arrested would-be American terrorist Christopher Hasson.
What is also interesting about Tarrant's document is the internally conflicted, but, at times, seemingly insightful, substance of it. He writes in complimentary terms about the very immigrant communities he targeted and killed – of their pride in 'robust traditions', cohesiveness, strong bonds of social trust, and cultured appreciation of architecture.
He also writes about moral decay in the 'brother of nations', or countries of white European heritage. Tarrant expresses frustration about the proliferation of broken family units and the worshipping of feckless, degenerate, drug-taking celebrity icons. He laments that bonds of social trust have been eroded by the aggressive promotion of the individualistic and materialistic values that underpin Western market capitalism. His thinking at times resembles the complaints made in the martyrdom videos left by jihadists.
While viewing the 'Islamification' of the 'brother of nations' as a fundamental threat to these countries' white European, Judeo-Christian heritage, Tarrant appears to demonstrate an appreciation for the family-oriented, traditional, cohesive nature of Muslim immigrant communities. There lies a certain envy, and an overwhelming sense of resentment.
Tarrant's 'brother of nations' concept is, equally, strangely similar to the concept of 'Ummah' (a global Islamic community), which is often mentioned in radical Islamist literature. Both ideas subordinate the nation, placing above it a pan-national higher calling orientated around a set of beliefs. This is how, in the document, Tarrant reconciles his anti-immigrant views with his status as an Australian immigrant in New Zealand. He claims that the two countries share a common white European ancestry, ignoring the Aborigine, Maori and other indigenous peoples.
Tarrant's attacks, livestreamed on his Facebook page, are part of a broader trend. Over recent years, research from the Henry Jackson Society has found that there has been a fourfold increase in far-right terrorist attacks in Western countries.
Compared to Islamist-inspired terrorists, far-right terrorists are more likely to be 'self-radicalised', and are less likely to be affiliated to an established extremist organisation. They are also more likely to be socially isolated individuals who are not as attached to structured networks. In 2016-17, a meagre four per cent of those behind far-right terrorist attacks in the West were known to the authorities. The corresponding figure for Islamist-inspired terrorism was 55 per cent.
Paradoxically, far-right terrorists tend to be disconnected from the very communities they seek to preserve and protect. They are usually loners, and in some cases rejects. They are introverted individuals with little to no social status. This means detecting them can be a tricky task. Indeed, Brenton Tarrant was not known to the security services of either Australia or New Zealand.
So what can be done?
Heightening community awareness of personality traits and behavioural indicators traditionally associated with 'lone-wolf' far-right terrorism would be a step in the right direction. Such initiatives need to involve a range of actors – from community groups, social services and educational institutions to enforcement bodies such as local neighbourhood policing teams.
What's more, a broader counterterrorism strategy needs to attack the ideological roots of both far-right and Islamist-inspired terrorism.
Both Islamist and far-right terrorists call for militant pan-nationalist alliances based on 'shared identities', wrapped up in extremist rhetoric. Tarrant's 'brother of nations' is a white-supremacist call for a pan-national unity based on shared biological ancestry and Judeo-Christian heritage. The concept of Ummah is utilised by Islamists to convince Muslims, irrespective of their race, ethnicity or nationality, to take up arms with the aim of establishing a global Islamic caliphate.
Both represent a fundamental loathing of national identity and the nation state itself.
Trust and patriotism, then, are both critical in this battle. Diversity is only a strength if people of different ethnicities and faiths can come together around shared goals, often national causes, for the common good. Lack of contact between groups breeds suspicion of the unknown, undermining trust. This acts as a barrier to developing an effective national cross-community response to all forms of extremism.
These are symptoms of an illness brought about by our broken politics. In aggressively championing individualism and materialism, the right has been complicit in the destruction of community. By indulging in identity politics and championing difference over integration, the liberal-left has sowed the seeds of group-based social division. What we are left with is a nation in which different groups increasingly live separate existences, without any real sense of common purpose and shared destiny.
Extremism endangers the safety of law-abiding people and seeks to relegate the importance of the nation. The fostering of a civic patriotism is the key to challenging it. The response to Tarrant's warped attack must centre on increasing patriotism and the bonds that join us all.
Dr Rakib Ehsan is a research fellow at the Henry Jackson Society's Centre on Radicalisation and Terrorism. Follow him on Twitter: @rakibehsan
To enquire about republishing spiked's content, a right to reply or to request a correction, please contact the managing editor, Viv Regan.