No Deal is no threat to business
Some of the hysterical claims just don't stack up.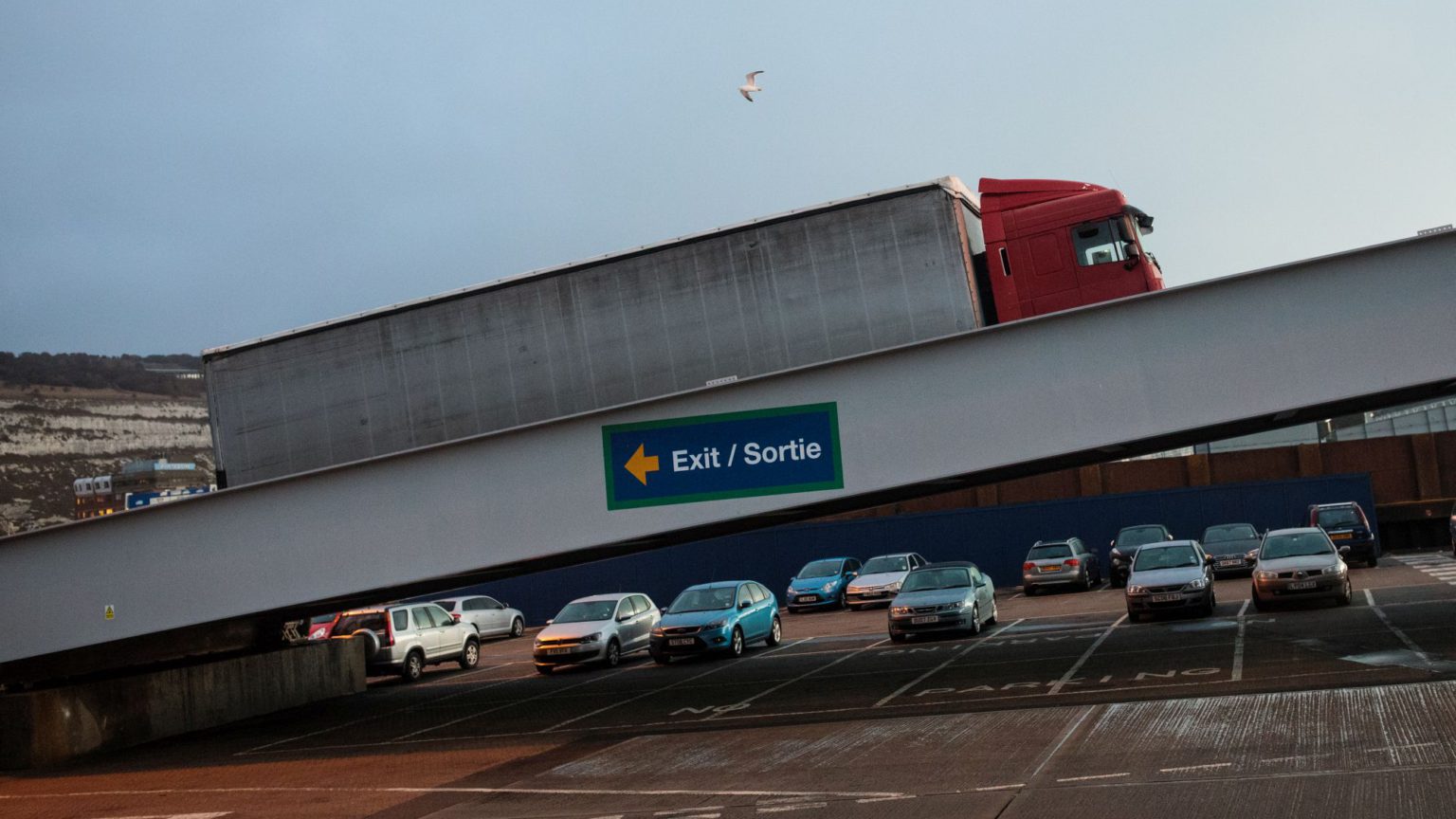 In recent days more and more businesses and business groups have been getting vocal about the supposedly dire consequences of a No Deal Brexit. Having to deal with new border controls, many are saying, would be a disaster for the economy and for jobs. The British Retail Consortium, for instance, joined by big retailers including Sainsbury's and Asda, has warned that leaving without a Withdrawal Agreement threatens the UK's food security. They say it will lead to higher food prices and empty shelves.
The chief executive of Airbus similarly warned that, if no deal is reached between the UK and the EU, then his pan-European company 'will have to make potentially very harmful decisions for the UK'. All the extra paperwork and possible border delays would jeopardise their 'just-in-time' production methods, he said. Predicting the loss of thousands of jobs in Wales, he adopted an historic air, claiming that Brexit is threatening to 'destroy a century of development based on education, research and human capital'.
Meanwhile, Jaguar Land Rover also pointed to the danger Brexit posed to its advanced manufacturing processes. After recently announcing 4,500 job losses due to slowing demand for its cars, especially for the 90 per cent that are diesel-powered, JLR sought to shift the blame on to 'Brexit uncertainties'. It announced that it is going to extend its planned April shutdown in car production because of the potential disruption. Many newspaper reports failed to explain that the April closure for maintenance work is an annual occurrence, and has nothing to do with Brexit.
Of course, business leaders have as good reason as the rest of us to be irritated with our timid politicians and their delays in implementing the referendum decision. The government's incoherent messages on preparing for Brexit have also not made life easier for them. While half the cabinet have been saying there is no chance of a No Deal Brexit, others have been telling business, rather late in the day, that they should really be doing more to prepare for one, including building up stockpiles of essential supplies. In practice, a lot of well-run businesses will have drawn up effective contingency plans months ago. But, unfortunately, the government's lack of decisiveness will have given others an excuse to procrastinate, thereby creating more disruption than would have been necessary.
Genuine frustration, though, is no excuse for business leaders to be telling us stories that are as much Project Fairyland as Project Fear. It seems we are supposed to believe that British business operates today as a well-oiled machine, with supply chains timed to the minute for ultimate efficiency. It seems, too, that regulation and cumbersome paperwork, never mind 'uncertainty', is pretty alien to them as they single-mindedly get on producing their goods and services. One anti-Brexit politician told BBC Radio 4 recently that it is unreasonable to expect businesses, run by engineers and technical people, to cope with all the administrative burdens of being outside the Single Market and Customs Union.
The outlandish predictions of Brexit's disastrous impact on the economy rely on this la-la-land fantasy of British business working like clockwork. The claim that leaving the EU without a Withdrawal Agreement will be a disaster depends on drawing a contrast with this fantasy world. It is also pretty patronising to all the engineers and 'technical people'. If anything, these workers' experience and skills probably qualify them to deal with the sort of business regulation and paperwork that so many in Westminster are talking about.
The reality is that the business leaders issuing all these warnings are aware of what goes on today. Their motivation is not to protect an imaginary, ultra-efficient economy. Rather, like the political class, they have a deep-rooted attachment to the status quo because it serves their short-term interests. As fearful of change as our pigeon-hearted politicians, business managers don't want to risk upsetting what appears to work okay today. Their ingrained aversion to disruption – they marvel at our 'disruptive' economy just so long as they are not the ones being disrupted – leads them to prefer muddling on as they are inside the Single Market, as they have become used to.
So, let's look at a few of the fairyland claims that are being made about our economy in the Brexit debate:
A mountain of paperwork after Brexit?
Running a business today, inside the EU, is already a huge administrative chore. The volume of regulations to be followed is bad enough. But even worse is their continual modification and extension, as previous regulations are deemed as failing to go far enough.
This is not the fault of Brussels alone. Increasing regulatory complexity has been the rule across all advanced industrial countries, especially since the anti-liberal 1980s. By then, businesses already had to cope with extensive tax rules, accounting standards and employment laws, alongside environmental controls, food standards and health-and-safety legislation.
On top of this, we've since seen the proliferation of a lot more: post-privatisation regulations, financial regulations, corporate-governance codes and reporting requirements, tougher accounting rules, as well as more environmental and emissions regulation. Much of the information that would need to be filled in on post-Brexit customs forms is already held and reported elsewhere. This is not quite the arrival of the Four Horsemen of the Apocalypse.
An end to frictionless trade?
For an island country like Britain, frictionless trade is a myth. No such thing exists even inside the EU Single Market and Customs Union. The anti-Brexit Financial Times sent its economics editor to accompany a lorry driver on a 'tightly scheduled journey' across the continent. The intention was to illustrate 'the worry of logistics companies about the long delays that could be caused by customs checks after Brexit'. The slight problem was that this exercise only confirmed that there is already plenty of potential disruption, even within the Single Market.
The writer had to admit that using the Channel Tunnel today is a 'far from frictionless experience'. As the lorry driver remarked, the tunnel 'works well when it works well, but Eurotunnel don't do busy'. While the trip, station to station, only takes 35 minutes, the lorry driver said that the average journey takes two to three hours from entrance to exit. He explained that most of the delays are caused by the sheer weight of traffic, rather than checks and controls.
He did think that 'significant' new customs checks would add to queues, and that Eurotunnel could grind to a halt. (By the way, if queues are initially as bad as some predict this would at least disprove another Brexit fear being mongered: that trade with the EU would collapse overnight.) The driver compared this prospect to travelling into Switzerland, where there is 'lots of queuing to get paperwork checked'.
No one likes to waste time queuing for anything. But it is a common feature of modern transport, for individuals as well as businesses. At Calais, the driver's expectations of delays were realised. The article reported that the terminal was busy, that 'large trucks were everywhere'. Who would have thought to find that at a major commercial cross-channel terminal?
Drivers have become accustomed to queues at Calais, and that's without mentioning the additional delays from bad weather, or road problems, or industrial action. What's more, lorries coming from Europe are now also checked to see if they have migrants on board. Cameras scan the lorries and dogs carry out physical inspections. Drivers have to leave their cabs to have a piece of paper stamped to prove they have had the check.
It is not out of the realm of possibility that customs checks could take place at the same time. In fact, that is the intention of Eurotunnel after Brexit. It expects drivers to arrive with their customs declarations already completed, and intends to scan them into the systems at the same time that the migrant check is carried out. Only those drivers who aren't ready, with customs forms filled out, will be 'controlled' and further delayed. If, as an individual traveller, you turn up at some foreign border without a completed landing card, you will be delayed too. We all learn after the first time.
There are likely to be cross-channel teething problems as everyone adjusts to new ways. Maybe there will need to be more people than anticipated employed or re-deployed to do the scanning task. But we can all adapt, and we will get used to it. We may still hate those extra security delays at airports, but we've had to get used to them. Many of us even plan head to arrive at the airport a little earlier to offset any additional queuing time.
In research carried out for the BBC on the cross-channel route, Imperial College London found that it would take an average of about two minutes for each vehicle to be processed through post-Brexit customs. That might be an underestimate, especially in the immediate aftermath of Brexit.
By contrast, DP World, which operates the container terminal at Southampton port, confirmed that it processes customs declarations in approximately six seconds. But it normally takes about an hour after a vessel arrives at port for the cargo to be completely cleared, and that depends on customs declarations and other documents being submitted in advance.
Are we to imagine an extra hour's delay, never mind two minutes, is really going to bring the country to its knees?
The destruction of just-in-time efficiencies?
'Just-in-time' is a nice maxim, but it is not an exact science. It describes a management approach that Japanese business, especially, popularised from the 1960s and 1970s. In fact, seeking to reduce the time capital is tied up in unproductive periods – supplies sitting on transport, or in distribution depots, or in factory store rooms – goes back to the beginnings of industrial capitalism.
But the notion that today parts are taken off a lorry straight on to the assembly line is another fantasy. There are no assembly lines that would grind to a halt if some scheduled deliveries were late by two minutes, or by one hour. For most, even a delay of more than 12 hours would not be disastrous. Nor are there factories that are unable to handle parts turning up a few minutes or a few hours early. If post-Brexit channel crossings take, on average, a few extra minutes or an hour, perhaps logistics could be scheduled so that goods arrive in Calais a little earlier?
Going back to that Financial Times article, the driver eventually unloaded at his depot near Folkestone an hour late because of (pre-Brexit) border delays. Despite those parts being destined for 'just-in-time' car producer JLR, the norm was for them to stay at the depot until the next day. So even an extra 12-hour delay, never mind a two-minute one, would not have interrupted this particular delivery route.
Empty shelves?
The big retailers remind us that the UK is extremely reliant on the EU for produce, and that stockpiling fresh food is impossible. Perishables need to be moved quickly from farms to the shops.The British Retail Consortium claims that this 'complex, "just-in-time" supply chain will be significantly disrupted in the event of No Deal'. We're in fairyland again, where retailers are apparently unable to store fresh food, which is always moved rapidly on to the shelves.
Today around half of UK food is produced domestically, 30 per cent comes from the EU, and 20 per cent comes from the rest of the world. If all the warnings are correct, than it must be a miracle that, today, non-EU fresh supplies make it on to the shelves without spoiling.
On supermarket shelves today there are plums and peaches from South Africa; raspberries, strawberries and tomatoes from Morocco; blueberries and cherries from Chile; melons from Honduras; broccoli from Kenya; sugar snaps from India, and much more from other distant locations. Retailers therefore have plenty of experience of importing and stocking perishable produce from places much further away than the Netherlands, Spain and France. Somehow they cope with all those border controls without everything rotting in a transport hold or on the back of a lorry.
Back in the real world, most businesses have been preparing. No doubt, some have been sticking their heads in the sand for one reason or another. They, at least in the short term, will have a tougher time if Brexit ever does happen. We can anticipate that their hardships will be the ones illustrating all those 'we told you so' stories from the anti-Brexit media.
But overall, most businesses will do what they always do. If asked about any forthcoming change imposed upon them, businesses always moan a bit and then adapt to the new conditions and push on. We'd all be better served if politicians stopped goading businesses to talk up their anxieties, and instead just got on with leaving the EU.
Phil Mullan's latest book, Creative Destruction: How to Start an Economic Renaissance, is published by Policy Press.
Picture by: Getty.
To enquire about republishing spiked's content, a right to reply or to request a correction, please contact the managing editor, Viv Regan.