The Women's Equality Party has nothing to offer women
This middle-class elitist outfit looks upon many female voters with disdain.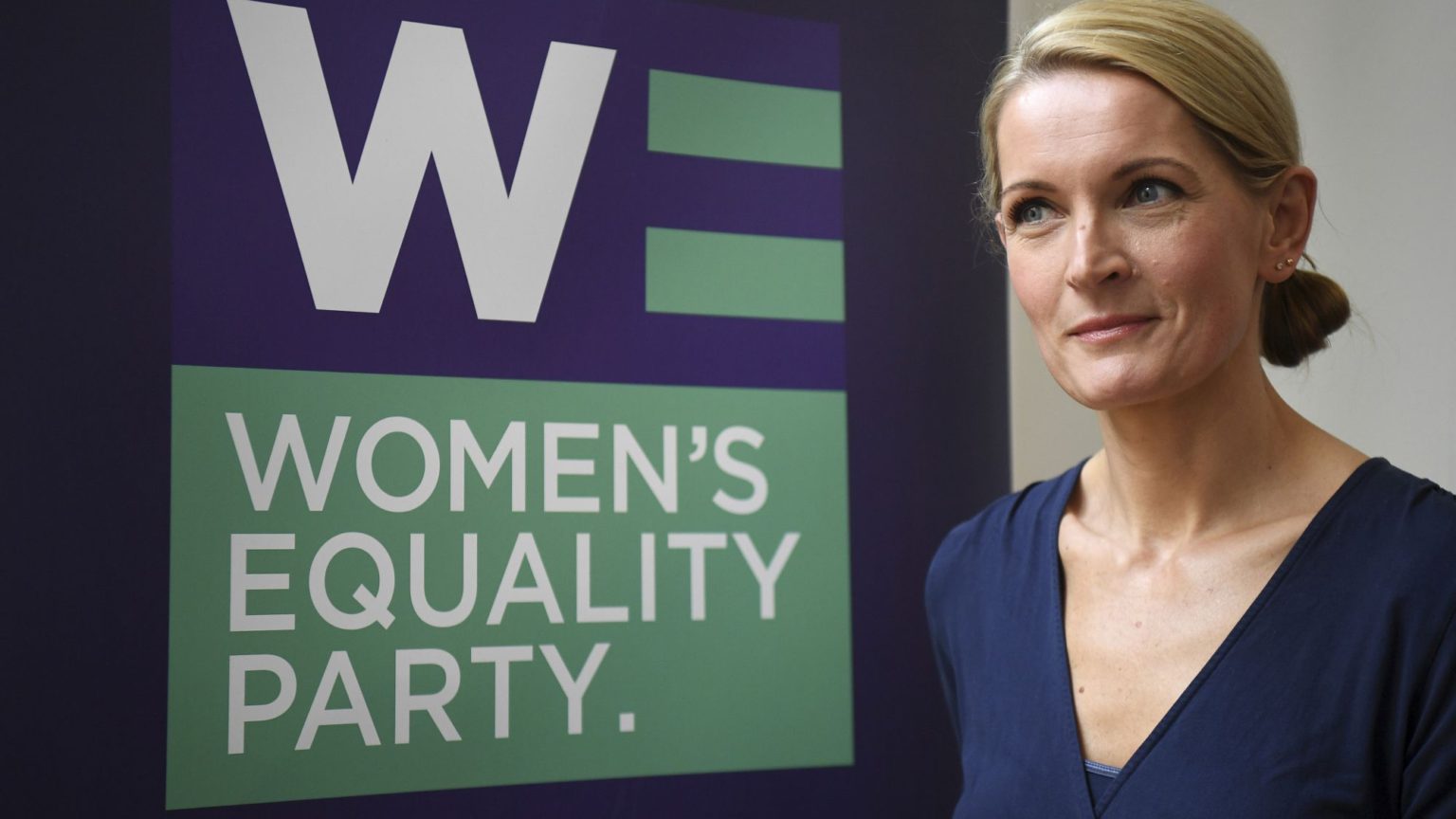 Farewell, Sophie Walker. After four years as leader of the Women's Equality Party, Walker announced this week that she is quitting 'to make space for new voices'. Writing in the New Statesman, Walker explained that 'you can't build a movement of people who look and sound the same'.
This seems like a rare epiphany from someone who has been happy to commit herself to a party whose very existence is designed to bring together people who look and sound the same to campaign for people who look and sound the same. The clue's in the name, Sophie! But, it turns out, it's not the women-only bit she has a problem with.
In her resignation letter Walker writes, 'I am frustrated by complacency in the feminist movement and in political parties about making space for black, Asian and minority-ethnic women, working-class women and disabled women in particular'. The WEP (or just WE, as it was inclusively rebranded) is indeed as solidly middle-class, middle-of-the-road as Radio 4, organic veg boxes and the Guardian.
WE represents a small, elite group of women. Bringing in women who look different, women with disabilities or brown skin, may make for more diverse optics, but it won't, in itself, change the nature of the party. To do that you need people who actually think differently. Yet academic Heather Brunskell-Evans was removed from her post as a spokesperson for the party and accused of transphobia after she argued that 'sex is a biological reality which families and society invest with meaning'. Today, not even a party for women can defend the biological reality of womanhood.
The logic of Walker's diversity checklist is that working-class women are one more diversity group to be ticked off (presumably they are the ones who sound different). To be working class means having a particular cultural identity requiring recognition, one that's useful for adding a sprinkling of authenticity. Working class as cultural identity is safe territory for the WE; working class as a political force is not.
It's the feminism at the heart of the Women's Equality Party that gives it a narrow and elitist political outlook. Feminism sees women, all women, as forming a class with particular interests in common. In this way, women are pitched against men who comprise their own distinct class. According to this view, working-class women who are struggling to make ends meet in low-paid and insecure jobs have more in common with women who work as CEOs or presenters at the BBC than they do with the men who live and work alongside them.
Social class is not a nice, inclusive, intersectional add-on to feminism – it fundamentally calls feminism into question. Yet, as Walker proudly acknowledges, 'I threw myself into preaching feminism with a missionary zeal'. So when, last year, working-class women lost jobs as Formula 1 grid girls or as walk-on girls at darts tournaments, the Women's Equality Party actually cheered their loss of livelihood as striking a blow against the patriarchy.
The lie that WE backs working-class women is further exposed when it comes to Brexit. More women than men voted to remain in the EU, although by a very narrow margin. This gender difference was most pronounced among women aged 35 to 54 in social class AB. In contrast, working-class women, especially older working-class women, were as likely as men to vote Leave. Yet for all her expressed desire to court the working class, when these women express their political opinions Walker's instinct is to ignore them.
Walker claims it was 'overconfident men' who brought us Brexit. 'This was never a choice between the establishment and the people', she tells those of us who thought the referendum was a choice between remaining in or leaving the EU, 'but between the opinions of two sets of privileged men, each nostalgic for a world in which women know their place'. Presumably, then, the millions of women who read newspaper articles, talked to colleagues, friends and family, and perhaps got involved with campaigning before deciding to vote Leave were no better than turkeys voting for Christmas.
Rather than respecting the democratic mandate to leave the EU, Walker has joined others intent on thwarting it. She has argued for a so-called People's Vote in order 'to consult women again on Brexit'. Presumably, in this fantasy rerun, white men will be advised to step away from the polling booth in the name of diversity.
In Walker's eyes, Brexit will cause women 'huge damage' because she sees the European Union as being 'the source of key rights and protections for women'. At a stroke, the Suffragettes, the Grunwick 'strikers in saris', the Ford Dagenham machinists, and all the men who fought alongside these women, are written out of history. When it comes to their rights and protections, women owe far more to previous generations of working-class women and men than they do to EU bureaucrats.
Women today, especially the middle-class women that WE appeals to, are already equal to men in every meaningful way. The idea that politics represents an 'aggressively male space' shaped by 'patriarchal systems that haven't changed for centuries' is a figment of Walker's imagination.
Walker is right to say that 'with democracy so broken, it has never been more important to do politics differently'. But, as the electorate showed first in the 2016 London mayoral contest and again in the 2017 General Election, when Walker lost in Shipley to the Conservative Philip Davies, the WEP is not the difference we need.
To enquire about republishing spiked's content, a right to reply or to request a correction, please contact the managing editor, Viv Regan.