spiked's heroes of 2018
We pay tribute to our favourite free-thinkers of the past year.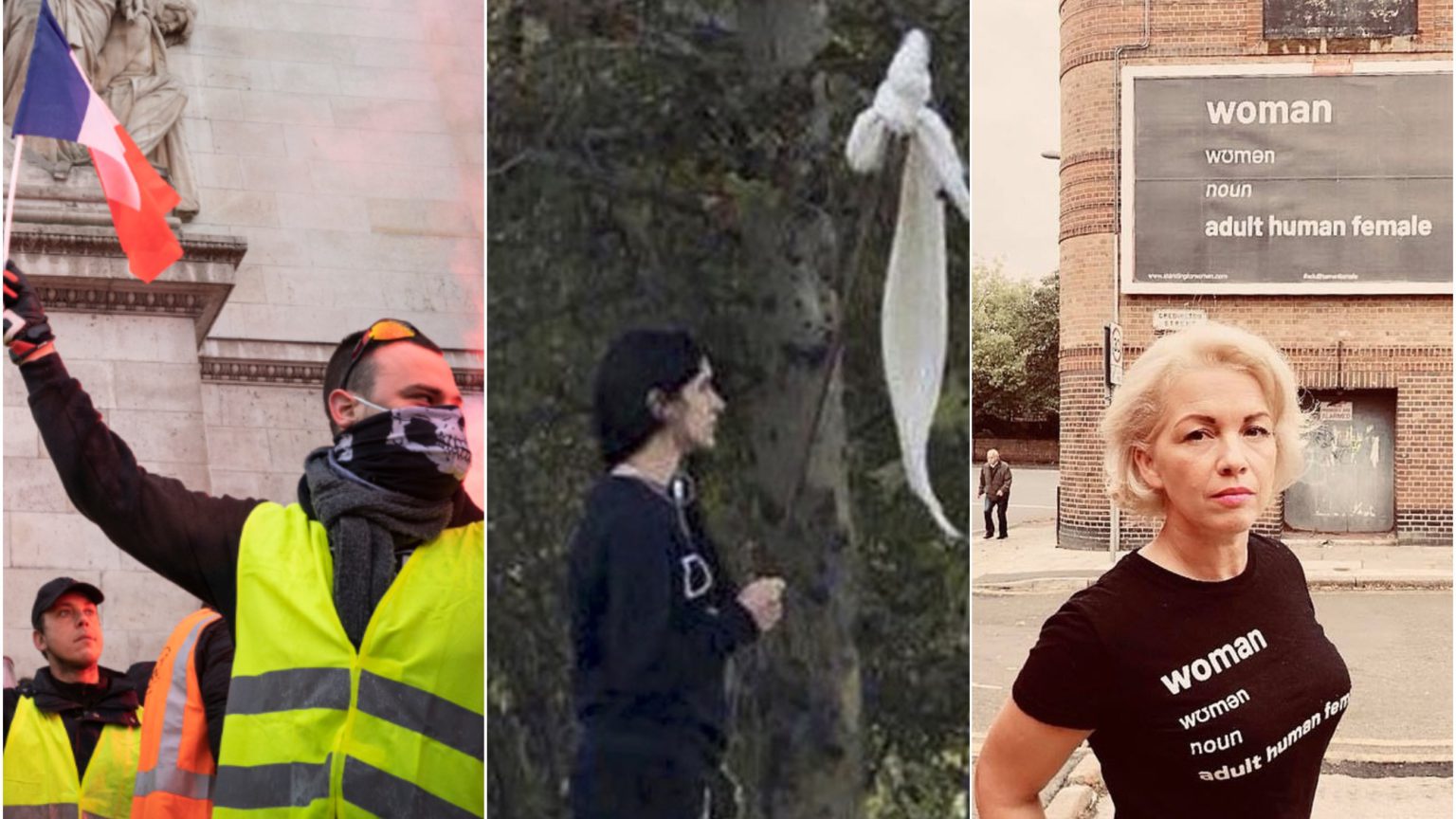 After a tumultuous year, spiked celebrates those who have defied orthodoxy, censorship and even arrest to stand up for their beliefs and ideals.
The yellow-vests movement in France
The French rarely shy away from demos or strikes. And the gilets jaunes (yellow vests) – a leaderless, bottom-up protest movement – are no exception. They have staged the most significant revolt since les événements of May 1968. Since 17 November, when the movement first emerged, hundreds of thousands of yellow vests have protested across France: blocking roads and petrol stations, building barricades and marching through towns. Although the protests were initially sparked by a planned rise in fuel tax, they soon came to embody a more general anger with Emmanuel Macron's rule, poor living standards, and a lack of say in political life.
This was a revolt of the ignored. Many of the yellow-vest protesters came from outside of the big cities, places that have been neglected by governments of various hues for decades. Those who had lived on the peripheries of the cities were peripheral to politics, too. But by donning their striking hi-vis jackets and marching in great numbers, they ensured they would be ignored no more.
The protests have had enormous consequences. The French establishment tried to demonise the yellow vests as far-right agitators and stooges of Vladimir Putin, but to no avail. Their sustained revolt has humbled a once aloof, Jupiterian president. Macron was forced to make major concessions to address the 'economic and social crisis' facing France. The French rebels have also inspired others to take up the yellow-vest symbol across Europe, particularly in Belgium, where gilets jaunes attempted to storm the European Commission building. Let's hope the revolt continues into 2019.
The Girls of Revolution Street in Iran
At the end of 2017, Vida Mohaded protested alone and in silence on Revolution Street, Tehran, tearing off her hijab and waving it on a stick. In doing so, she had violated Iran's strict modesty laws – a central pillar of the Islamic Republic – and was duly arrested and imprisoned. In January 2018, two days after her release, another girl stood in the same spot, on the same street, waving her hijab. She, too, was arrested. Then, social media exploded with images and videos of women removing their veils across Iran. Twenty-nine protesters were arrested – some were subject to beatings and torture, while one woman says she has been sentenced to 20 years in prison.
Later in the year, 19-year-old Maedeh Hojabri was arrested for posting videos of herself dancing on Instagram. It is strictly illegal for women to dance in public. She was dancing at home in the videos, but she was unveiled, and Iran has draconian laws against using social media to 'spread and encourage indecency'. Female dancers took to the streets and social media in solidarity with Hojabri: scores of them were also arrested.
The bravery of these women, defying both state and scripture, is remarkable. The 1979 Islamic Revolution turned a relatively modern, prosperous country into an authoritarian and repressive state, where women's behaviour is tightly controlled. Some of the older rebels who have taken to the street remember the freedoms of the past, while younger ones are no doubt imagining the possible freedoms that the future might bring. It is heartening to see their oppression being chipped away at, even if it is gradually, by small but powerful acts of everyday rebellion.
The feminists challenging trans orthodoxy
This year, the UK government proposed changes to the Gender Recognition Act (GRA) to allow trans people legally to change their gender without medical consultation. So-called self-identification has the support of the political class, the corporate world and even the established church. This has enormous implications for women's rights and women's spaces and so a number of feminists started pushing back. They also raised important questions about the rising number of children who are transitioning.
But it wasn't easy. Anyone who says that trans rights and women's rights had the potential to clash is now labelled a bigot. Some feminists organised meetings on the GRA this year but trans activists prevented them from going ahead. Some trans activists physically blocked them, others made bomb threats to venues to get the meetings cancelled. Many trans-critical feminists face violence, death threats and censorship.
The statement 'women don't have penises' may sound like an incontrovertible, scientific fact. But in Britain in 2018, saying this is tantamount to a speechcrime. When a group of radical feminists distributed stickers with the offending phrase around Liverpool, Merseyside Police took the extraordinary step of investigating them.
At the beginning of 2018, anyone who raised critical questions on trans issues would be dismissed as a bigot and duly ignored or hounded from public life. But it is largely thanks to the feminist pushback that something resembling a debate has emerged. It is still a fractious debate, which often sheds more heat than light. Nevertheless, thanks to the brave pushback, we stand a much better chance in 2019 of reaching a consensus that can better accommodate the rights and freedoms of both women and trans women.
Pictures by: Getty, YouTube and Twitter.
To enquire about republishing spiked's content, a right to reply or to request a correction, please contact the managing editor, Viv Regan.